Monkey Knife Fight
Monkey Knife Fight (MKF) is one of the latest daily fantasy sports (DFS) sites and has made a big noise in the United States in a short space of time. This prop game platform launched in 2018 and offers a quirky alternative to some of the more traditional daily fantasy sports sits people may be used to. MonkeyKnifeFight.com is legal in over 30 states, and it is a fully secure and legitimate company based in San Jose, California.
As DFS fans, we love playing on our mobile and were super excited when the Monkey Knife Fight app. The app is available on Android and the iPhone, and we love using it. The focus of our MKF review will be on the mobile app offered.
The company is owned by a billionaire who is targeting domination of the prop gaming market. So far, the site has paid out millions of dollars in winnings, with a regular weekly handle reaching six figures. Monkey Knight Fight offers a different way to play DFS as opposed to the traditional method of a team-based model at the majority of DFS sites. At Monkey Knife Fight, contests center around what an individual player achieves during a game, rather than the team itself.
One of the fresh and appealing aspects of Monkey Knife Fight is players can look at specific events from games instead of every scheduled contest. This makes the games more manageable, and some feel it gives them more chance of winning some real money. It is this sort of fresh outlook that has seen the brand build a good reputation and compete with big online casino sites.
There is a new wave of social casinos and free-play casinos launching in states such as New Jersey and New York. Players are looking for a different, fun experience from their sports apps, and you certainly get that from MKF. There is lots going on as you try and earn every fantasy point you can to win your matchup.
The operator provides a great alternative in states where legalized sports betting hasn't kicked off yet. This article will explore the daily fantasy prop games, buy-ins, prizes, first deposit bonus, and why the site is taking the DFS world by storm.
Signing up to Monkey Knife Fight
Signing up for Monkey Knife Fight is straightforward. You can do it online or on your mobile at monkeyknifefight.com. When on the website, you will notice that there is a yellow 'sign up' button at the top on the majority of the pages. Click the button, and you will be prompted to create a username, password, and provide your preferred email address. Once you have submitted that information, you will then be asked to provide some basic details such as name, address, and birth date.
Once that is complete, hit the submit button, and your account will be created. If you wish, you can click on the monkey logo in the top right of the screen and access some options to add more information to your account, such as favorite teams and personalization. You will not be asked to deposit any money when you are creating your account. All in you can create an account and be ready to play in under 5 minutes.
Monkey Knife Fight Bonus Information
Monkey Knife Fight offers a generous welcome bonus for new players. This comes in the form of a 100% matched first deposit bonus of up to $50. You can use the Monkey Knife Fight promo code 'GAMBLEUSA' to redeem this deposit bonus offer. Join up at monkeyknifefight.com to claim your bonus.
When signing up, enter the promo code GAMBLEUSA, and MKF will match your first deposit, and you will receive $50 just for creating an account. Monkey Knife Fight focuses on smaller amounts of money than other daily fantasy sports sites available, again emphasizing the point of their different approach.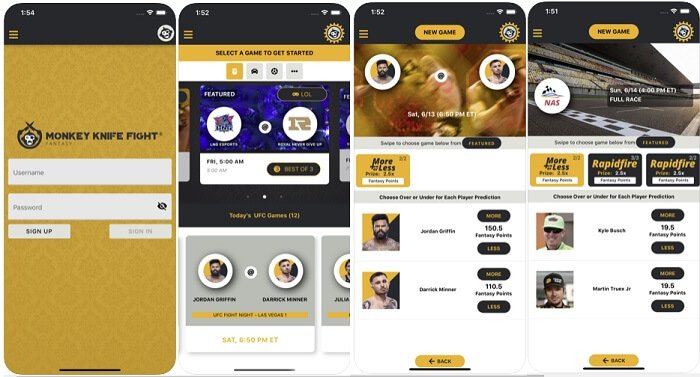 Monkey Knife Fight Mobile
You can splay games on the go with the Monkey Knife Fight iPhone and Android app. iPhone, and iPad users can download the new MKF app from iTunes. Sign up on the mobile site first to claim your account and bonus, then follow the download button to iTunes. Android users can head to the Google Play Store and download directly from there.
The website is fully mobile-optimized, so it works well on mobile web browsers. If you were to access the MKF website on your mobile device, the optimized web version would load automatically.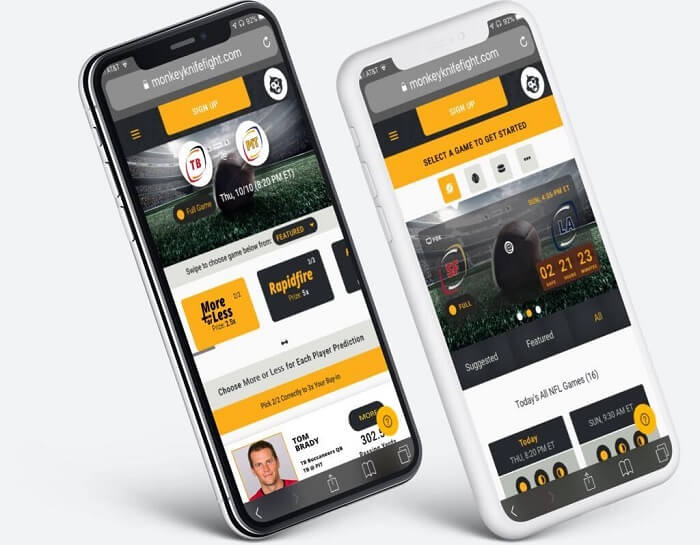 When we tested the site out on mobile as part of our Monkey Knife Fight review, we found it to be responsive, and the experience was smooth. There were no lags or slow load times from our mobile sessions. You can carry out all of the same functions on the mobile app as you can on a desktop without any problems. Although there is no Monkey Knife Fight Android app yet, it is still a great experience playing on mobile.
How Does MKF Work?
Monkey Knife Fight works on a mantra of prop games being fun. To achieve this, it works differently to other daily fantasy sports sites such as DraftKings. Daily fantasy games focus on selecting players to achieve specific benchmarks within games (assists, goals, etc.). The more the players chooses to achieve, the more the score will go up. As a result, your chances of winning in combination with other players is increased.
MKF contests differ as they focus on a set amount. A player may guess the over/under on a player; for example, will Russell Wilson throw for 250 passing yards against the 49ers? The basic premise is choosing over, or under that amount, there is nothing complicated about it.
The whole focus of Monkey Knife Fight is to select players based on their projections; there is no salary cap or lineup building. You will know what your chosen player is required to do before the game begins to win. This is a different way to play DFS but has proven to be successful since the site launched in 2018. You really need to get behind the players you choose, as you would in your NFL fantasy draft.
Available Sports at Monkey Knife Fight
Monkey Knife Fight covers all of the major sports. Below is a list of all the sports you will find when you visit the contest lobby. You should be aware that some of these sports will have off-season periods where you will not be able to play:
Game types are pretty much the same for all sports, but there are some natural differences. For all contests, you will see them labeled as 'Rapid Fire' or 'Over/Under.' However, for an NBA contest, you could choose to try '4-point play' or the NHL version of the same game titled 'Putting Up Points.'
Game Types Available at Monkey Knife Fight
There are different contest types specific to the various sports available in the Monkey Knife lobby, as well as the standard contests. Here we have listed the available contests with a description for each.
Rapid Fire
This game is a similar concept to over/under but with a twist. Users are required to choose players based on a series of player Vs. player match-ups. You will be presented with a list of between 2-5 players and must choose who you think will score more fantasy points. Some of the selections will have additional points attached to them, in the same way, you would on a point spread.
Over/Under
You need to choose a player and decide if they will go under or over a specific benchmark in a game. As added insurance, Monkey Knife Fight offers two out of three options. So, if you pick three over/under scenarios and two come in, then it wins. The multiplier may be less, but this option is only available at Monkey Knife Fight and unique in the DFS industry.
Stat Shootout
This is one of the most popular contests on the Monkey Knife Fight platform. It has different applications across sports, it is known as 'Putting Up Points' in hockey, but the premise remains the same. The idea behind this contest is to accumulate points based on numerous stat types. For example, if you pick three players from the NFL, you could win anywhere from 1.5 to 3 times a stake. Other prop games can be in the 2-5 times range as well. The beauty of this is its simplicity, which is not always the case when playing DFS.
Fantasy Challenge
If you are interested in fantasy points, the fantasy challenge allows you to choose three players that will collect fantasy points to beat the set amount. There are three tiers of prizes up for grabs, with each getting more difficult. If you need any fantasy tips, the Shannon Sharpe Twitter account would be a good place for advice!
Monkey Knife Fight Payouts & Entry Fees
The entry fees on Monkey Knife Fight range from between $2 up to $500. All of the contests in the lobby will state the payout you will receive for a winning selection. How much you win will depend on the odds. With prop games on Monkey Knife Fight, there is a particular multiplier that is clearly displayed.
Monkey Knife Fight uses a decimal format. For example, if you placed $50 on a prop contest, and it paid out 2.28 times, you would receive a payout of $114, which would mean a $64 profit.
Monkey Knife Fight Features
MKF is designed to ensure the experience is user-friendly and fast. The platform is clean and aesthetically pleasing, which is the same for both the mobile and desktop versions. Monkey Knife Fight reiterates the message "Play Fantasy Prop Games. Win Money". That simple message reflects the whole MFK approach.
When you log in, you will be able to access the main contest lobby and click various links to move between the sports. The screen's left is where you will find the FAQ section and links to new games. When you have found the sport you are interested in, click one of the upcoming games to view the contests available.
For example, if you click on an upcoming NBA game, the screen will show all of the contest options. If you click one of the contests, you can see all of the available choices and continue scrolling through them until you find the one most suitable for you.
When you have found the one you are comfortable with, make your picks and choose your buy-in amount. You will be shown your potential payout instantly, and then you can click submit if you are happy. Monkey Knife Fight is a very straightforward platform to use, navigation is simple, and you can find what you are looking for quickly.
MKF Rewards
Monkey Knife Fight offers customers rewards known as 'MKF dollars.' Players can earn these dollars by playing specific promotional contests. As you collect these rewards, players can use them instead of actual cash to enter contests on the website. This is instead of playing for a real cash prize.
MKF will send out various promotions for different contests via email, so make sure you check out your inbox. Furthermore, the MKF social media channels will offer special promotions occasionally, so keep your eyes peeled for those.
A lot of DFS players are moving over from playing DFS to sportsbooks like FanDuel Sportsbook and DraftKings Sportsbook, but daily fantasy sports will always hold a strong proposition to players.
Which states is Monkey Knife Fight legal?
Monkey Knife Fight is a legitimate company based in the US. The company keeps its operating funds separate from their gaming funds, and its directors have been involved in the industry for a long time. The list of states where MKF is legal is below:
Alaska
Arkansas
California
Colorado
Connecticut
Florida
Illinois
Kansas
Kentucky
Massachusetts
Maryland
Michigan
Minnesota
Nebraska
New Hampshire
New Mexico
North Carolina
North Dakota
Oklahoma
Oregon
Rhode Island
South Carolina
South Dakota
Texas
Utah
Washington, DC
West Virginia
Wisconsin
Wyoming
You must be at least 18 years of age and physically lcoated in one of the above states to play for real money on Monkey Knife Fight legally.
Banking Options
There is not a lot of deposit options available on Monkey Knife Fight. The only way to deposit is via a debit or credit card. MKF will automatically refund amounts equal to any deposits to your initial deposit method when it comes to cashing out. You then have the option of requesting any remaining funds to be released via a check. Please note that a check will take between three to five business days to be processed.
Anyone who accumulates $600 or more in net winnings during a calendar year on MKF will need a valid social security number and mailing address.
Ongoing Promotions
When you first deposit on the Monkey Knife Fight Fantasy app, the brand will match the amount with promotional dollars. You can only use these dollars on contests and they are not eligible for withdrawal. The dollars are just credit value on the Monkey Knife Fight DFS platform and if they go unclaimed for over three months, they can be reclaimed.
Players who sign up for this fantasy football app will get bonus funds  for various promotions, such as deposit bonuses and free contests. The dollars operate as site cash until they are used in a DFS contest and won back as real cash.
Customer Service
The customer support service consists of a standard emailing system. There is also a Monkey Knife Fight FAQ and a help button in the bottom right corner of your screen. The site states you should receive a response within 24 hours of your email.
Summary
Monkey Knife Fight is a superb DFS platform for players who are looking for somewhere not as crowded as some of the more significant sites such as DraftKings and FanDuel. New players can access a generous first deposit bonus by entering the Monkey Knife Fight Code 2022. Although there is no Monkey Knife Fight app, you can enter contests on the go through the site's fully optimized web version.
The contests all have decent buy-in ranges from $2 up to $1,000. The majority of DFS sites place a limit on how many people can enter a specific contest, but that is not the case with MKF, which is fantastic if you are late joining the party.
If you want somewhere that is simple to use, where most of the work has already been done for you, Monkey Knife Fight is worth a try. It is great fun! Give them a follow on Twitter @MKF for product updates and special offers too.
FAQs
What happens in Monkey Knife Fight if a player gets injured?
You can edit your selections on Stat Shootout, Over/Under, and Rapid Fire games up to 30 minutes before the game begins. So, if a player gets injured during the warm-up, you can adjust the selection. However, choices can't be edited once submitted.
What is Monkey Knife Fight?
Monkey Knife Fight is a popular daily fantasy sports website with unique ways to win money on your favorite players and sports. There is a mixture of prop and fantasy games available with numerous fun contests to try. We regularly see people ask 'does Monkey Knife Fight offer fun games and fun prop bets', the answer is yes.
Who owns Monkey Knife Fight?
Bill Asher, who founded Fantasy Sports Sharks, a company based in California, is the owner of MKF.
How do you beat Monkey Knife Fight?
There is no magic formula for guaranteed success on MKF; however, playing responsibly and doing some research can boost your long-term success.

Get A $50 New Player Bonus
Get Bonus