Gamble USA strives to improve your online gambling experience. We aim to help you play safely, make informed decisions when gambling, and increase your betting knowledge through our guides.
We adhere to strict editorial integrity; our content may contain links to products from our licensed & legal US partners.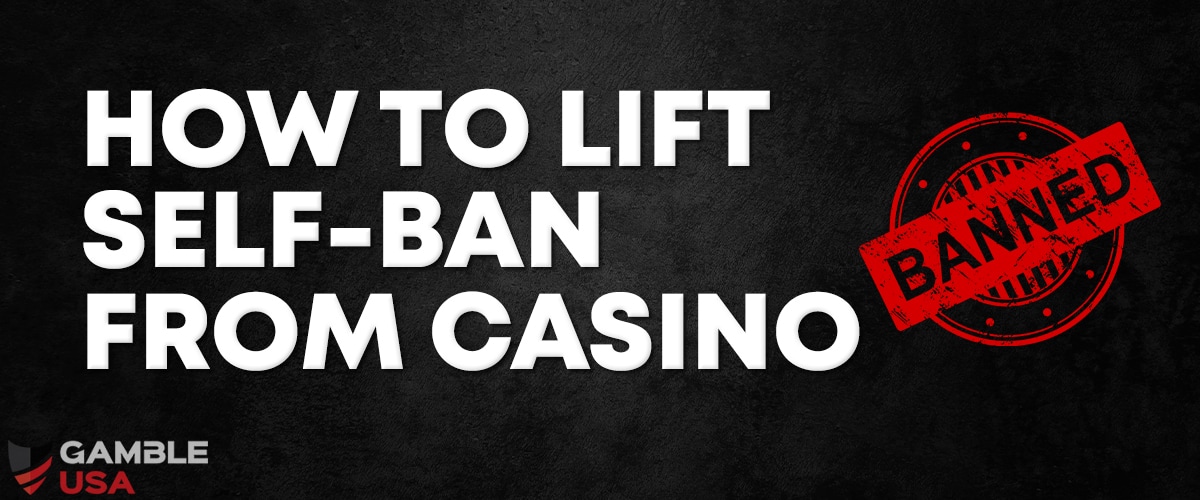 The allure of Las Vegas casinos can be irresistible, offering entertainment and the possibility of winning big. However, for some individuals, the risks associated with excessive gambling may lead them to take proactive measures, such as self-banning, to safeguard their well-being. Self-exclusion programs, implemented by various casinos and regulatory bodies, allow individuals to exclude themselves from gambling establishments for a predetermined period voluntarily.
Yet, for those who have embarked on a self-ban but now wish to reconsider, the path to regaining access to the casino floor is complex. Laws and regulations surrounding self-exclusion vary widely across jurisdictions, and understanding the proper procedures is crucial to ensure a responsible and legal return to the gaming environment.
This article delves into the intricacies of lifting a self-ban from a casino, focusing on the legal aspects that govern the process. We explore the standard regulations set forth by gaming authorities, the requisite documentation and timeframes involved, and the essential considerations one must consider before seeking to revoke their self-ban.
It is vital to underscore that lifting a self-ban is a serious decision, and this article does not endorse impulsive actions or disregard for responsible gambling practices. Instead, we aim to provide a comprehensive casino guide that helps individuals comprehend the legal procedures necessary for self-exclusion reversal, empowering them to make well-informed choices about gaming activities.
What is Gambling Self Exclusion?
Gambling self-exclusion is a crucial mechanism that allows individuals to take proactive measures to curb their gambling activities and avoid the adverse consequences of problem gambling. It empowers players to voluntarily exclude themselves from participating in various forms of gambling, especially in online casinos or land-based casino premises, for a specified duration.
The concept of a self-ban first emerged as a response to the growing concern over problem gambling and its impact on individuals and their families. In the early 1990s, the casino industry recognized the need for responsible gambling initiatives and began developing programs to assist those struggling with gambling addiction or seeking to manage their gambling habits responsibly. However, it wasn't until 1997 that the first online casino self-exclusion program was launched by InterCasino.
Over the years, self-exclusion has evolved significantly, garnering support from regulatory authorities, advocacy groups, and responsible gaming organizations worldwide. As the awareness of problem gambling increased, more jurisdictions embraced the concept, establishing robust exclusion policies and protocols.
Reasons to Self-Ban from a Casino
Self-banning from a casino is a voluntary action individuals take for various reasons, often related to responsible gambling and personal well-being.
Some of the primary reasons to self-ban from a casino include:
Promotion of responsible gaming management
Breaking a casino addiction cycle and gambling problem
Protection of finances and assets
Curbing the detrimental effects of gambling on mental health and stress levels
Improvement of time management and productivity
Online Casino Self-Exclusion Policies
As part of the commitment to player welfare, online casinos maintain self-exclusion policies to provide a safe environment for players who may need a break from gambling or are struggling with potential gambling-related issues.
Below are some specific self-exclusion policies observed across various online casinos:
Self-Exclusion Duration: Online casinos typically offer self-ban periods that range from a few days to several years, allowing players to choose the duration that best suits their needs. These options can include short-term cool-down periods of 24 hours, seven days, or 30 days, as well as medium-term exclusions of 6 months. Some casinos provide durations from 1 to 5 years for players seeking a more extended break or even a lifetime ban!
Platform-Wide Exclusion: Unlike land-based casinos, online casinos often cover a broader range of gambling activities within a single platform. Therefore, self-exclusion on online platforms typically applies to all forms of gambling offered by that specific casino, including casino games, sports betting, poker rooms, and other interactive features.
Account Suspension: During the exclusion period, the player's account will be temporarily suspended, and access to gambling activities and payments will be prohibited. Additionally, the casino may take measures to prevent the player from receiving promotional materials during this time.
Can you Unban Yourself Before the Term Is Over?
Once a self-exclusion period is set, it is essential to adhere to its duration for the player's well-being. If a ban is lifted without proper consideration and a comprehensive evaluation of the player's readiness, it could lead to a relapse into problematic gambling behavior.
As per the standard guidelines of self-exclusion programs, both at online casinos and state level, once an individual enrolls and commits to a specific exclusion period, they are unable to lift the ban until the term is over. The minimum duration to request a ban lift at the state gaming commission or online casino is usually one or five years. For those who opt for the lifetime exclusion option, the ban is mostly irrevocable.
Under no circumstances are individuals allowed to remove themselves from the self-exclusion list before the agreed-upon period expires. Attempts to do so, either by attempting to enter the casino premises or circumvent the exclusion in any way, are considered serious violations and may result in extended exclusion periods or other penalties.
How to End a Self-Ban?
Generally, customers can either choose to self-exclude themselves from a particular casino or go a step further and apply for a ban from all licensed casinos within their resident states. To apply to end your self-ban, you will need to follow the appropriate steps based on the nature of the exclusion program you enrolled in.
Below are the two main scenarios and the corresponding actions to take:
Statewide Programs
In some states, such as California, New Jersey, Illinois, Iowa, New York, and Pennsylvania, statewide exclusion programs cover multiple casinos licensed within each region. If you are part of this statewide self-exclusion list, you should contact the respective state gaming commission or regulatory body to lift the self-ban.
You can do this by following these steps:
Confirm waiting period: Inquire about the minimum duration of the self-ban and confirm that you have met or exceeded this period. States like New Jersey and California demand that customers on a casino ban spend a minimum exclusion term of 1 or 5 years before attempting to lift the ban, and this is the general requirement for other states.
Verify self exclusion status: Be prepared to verify your identity and provide any information required to confirm your self-exclusion status; this typically involves providing personal details such as your full name, date of birth, social security number, and any identification numbers associated with your initial self-ban request.
Fill form to request for removal: The vital step of the process involves filling out the voluntary exclusion form required to request the end of your self-ban formally. This self-exclusion form can be found on the website of each state Gambling Control Commission under the section dedicated to 'Responsible Gaming' or 'Problem Gambling'.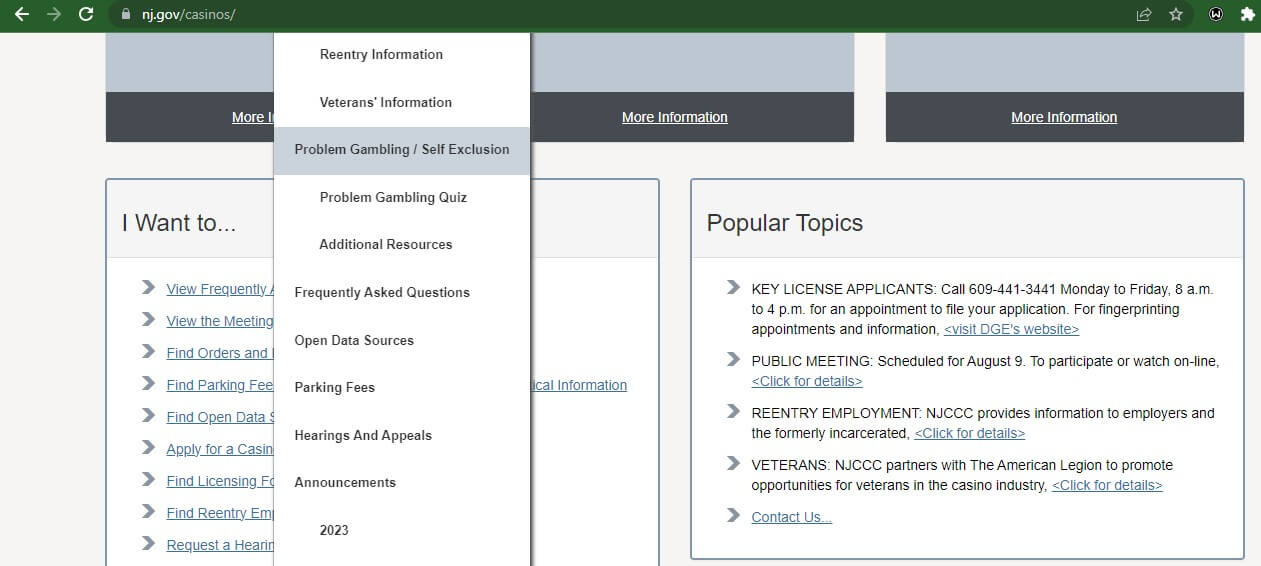 The form to request for removal from voluntary self-exclusion for some states can be accessed via the links below:
Self Exclusion Forms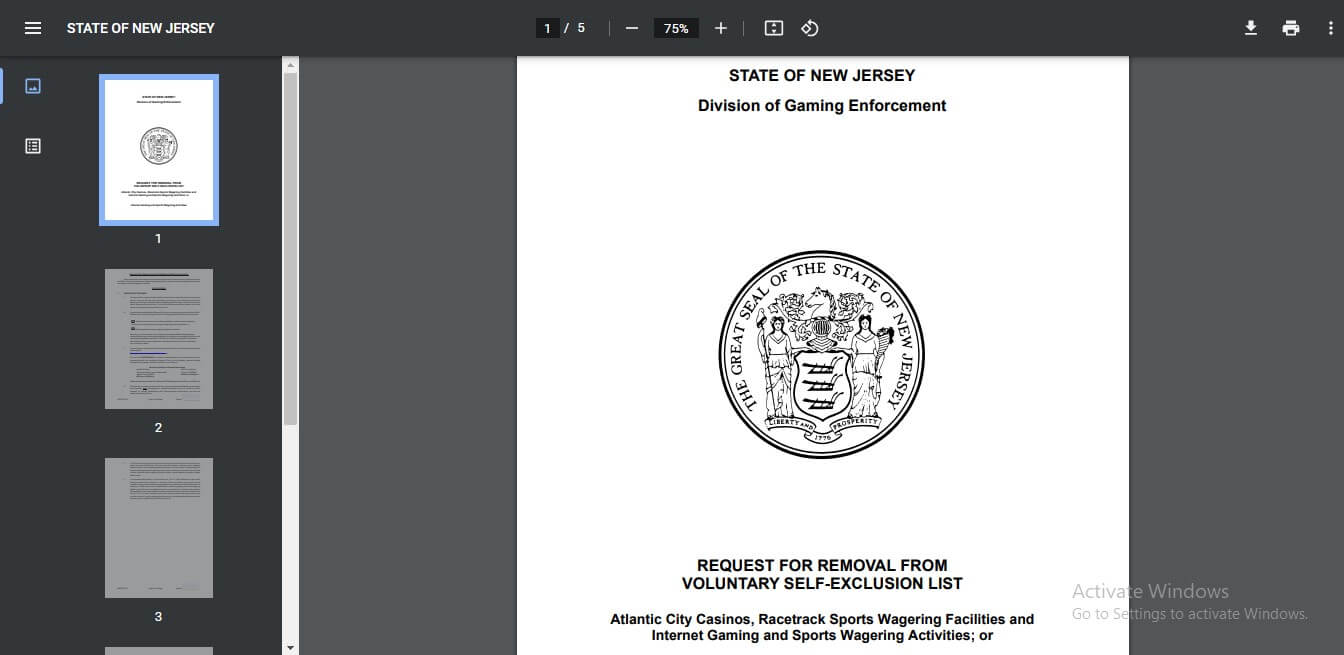 Ensure that all information provided is accurate and complete, then wait for a confirmation letter notifying you that your request has been granted.
Individual Casino Programs
If you're a resident of a state, such as Tennessee or Nevada, that allows patrons to self-exclude from a single casino, you must directly contact the customer support department of that particular casino to lift the ban.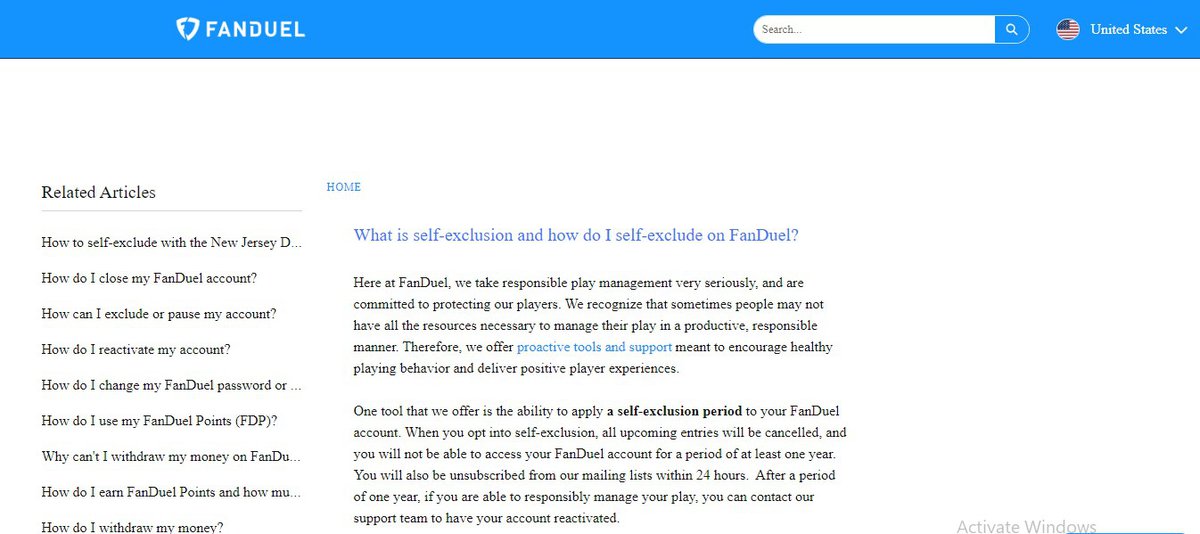 After you confirm that you have spent the minimum required period in self-exclusion, visit the casino's official website and contact customer service. Once you get in touch, express your intention to end your self-ban, and complete an application form containing details such as account ID and personal information to formally request the end of a self-ban.
Is there a Self-Exclusion Refund?
Generally, self-exclusion is intended to be a voluntary commitment where individuals take responsibility for their gambling behavior and choose to abstain from gambling activities for a specified period.
In most cases, top online casinos like BetMGM, Caesars, and FanDuel do not typically provide refunds nor allow access to any remaining funds, prizes won, or unredeemed jackpots on the player's account during the self-exclusion period. DraftKings users, however, can contact customer service to initiate a withdrawal while on voluntary exclusion.
Any funds in the player's account during self-exclusion are typically safeguarded and can mainly only be accessed after the expiration of the specified period.
Can you Start a Self-Ban Over After Ending It?
Individuals can restart a self-ban after the initial self-exclusion period has ended. Restarting a self-ban can be a proactive step for those who believe they may benefit from an extended period of exclusion or those who have experienced challenges maintaining responsible gambling practices.
Starting a self-ban over on most online casinos typically involves reusing the self-exclusion application process. And this generally requires contacting the casino or online gambling platform and submitting a new application or request to re-enter self-exclusion.
Other Measures to Control Your Gambling Activities
While self-exclusion is a powerful tool for managing gambling behavior, there are additional measures that individuals can take to control their gambling activities further. These measures promote self-awareness, limit excessive spending, and maintain a healthy gaming balance.
Some of the standard measures that can complement a casino self-ban include:
Bank Limits: Many online casinos offer players the option to set deposit limits within specific timeframes, such as daily, weekly, or monthly. By imposing these limits, players can ensure they don't exceed their predetermined gambling budget and avoid potential financial strain.
Cooling-Off Periods: A cooling-off period allows players to take a break from gambling activities for a specified duration without implementing full self-exclusion. During this period, which typically ranges from three days to a few months, players cannot access their casino accounts and participate in gambling.
Spending Limits: Similar to bank limits, spending limits enable players to control how much they wager during a specific period. This measure is beneficial for preventing impulsive betting.
Time Limits: Players can set specific time limits for each gaming session. Once the predetermined time is reached, the casino system will automatically log the player out, encouraging them to take breaks and avoid prolonged gambling sessions on slot machines.
Alternatives for Getting Back to Gambling
Self-exclusion from a casino is a responsible decision for individuals concerned about their gambling habits. However, once the self-ban period is over, or if one seeks alternatives, it's essential to proceed cautiously and prioritize responsible gambling practices.
One option is to explore other casinos not part of the initial self-exclusion agreement, ensuring responsible gaming habits are maintained and losses are not chased. Additionally, individuals can consider engaging with sweeps casinos or social gaming platforms, offering a more relaxed gambling environment without the risk of real money gambling.
FAQs
How do I cancel my self-exclusion at a casino?
To cancel your self-exclusion at a casino, contact the casino's responsible gaming team or support. They will guide you through the process, which usually involves submitting a formal request to lift the restrictions on your account.
How long does casino self-exclusion last?
Casino self-exclusion durations can vary depending on the casino and its policies. Typically, self-exclusion periods range from 6 months to 1 year or up to 5 years. Some casinos may offer options for customers to restrict their accounts permanently.
How does a casino self-ban work?
During self-ban, the individual commits to abstain from gambling activities for a specified duration, usually months to years. This decision is binding, and the casino enforces measures to prevent the individual from accessing gambling services during the self-ban period.
Can you start a casino ban for life?
In some cases, starting a casino ban for life is possible. Some casinos offer the option of permanent self-exclusion, where individuals can voluntarily ban themselves from the casino indefinitely. This decision is binding and cannot be reversed or lifted.
What is a self-exclusion refund?
A self-exclusion refund refers to a reimbursement of money to a player who has initiated a restriction on their casino account but wishes to revoke it before the agreed-upon exclusion period has ended. However, it's important to note that self-exclusion refunds are typically uncommon.
How do I lift a self-ban from a casino in New York?
To lift a self-ban from a casino in New York, contact the New York Gaming Commission, which oversees the statewide exclusion program, verify your identity, and check for any waiting periods. Complete necessary forms or documentation, and be prepared for a responsible gambling assessment.
How do I remove self-exclusion on bet365?
To remove a self-ban on bet365, review the self-exclusion terms, contact their customer support, verify your identity, and inquire about the process for lifting the ban. Comply with any waiting periods and undergo a responsible gambling check if required.
Is it possible to self-ban from all casinos at once?
Yes, it is possible to self-ban from all casinos through statewide self-exclusion programs. Several states in the United States have established statewide programs that cover multiple casinos within their jurisdiction. These programs allow individuals to voluntarily exclude themselves from all participating casinos within the state for a specified period.