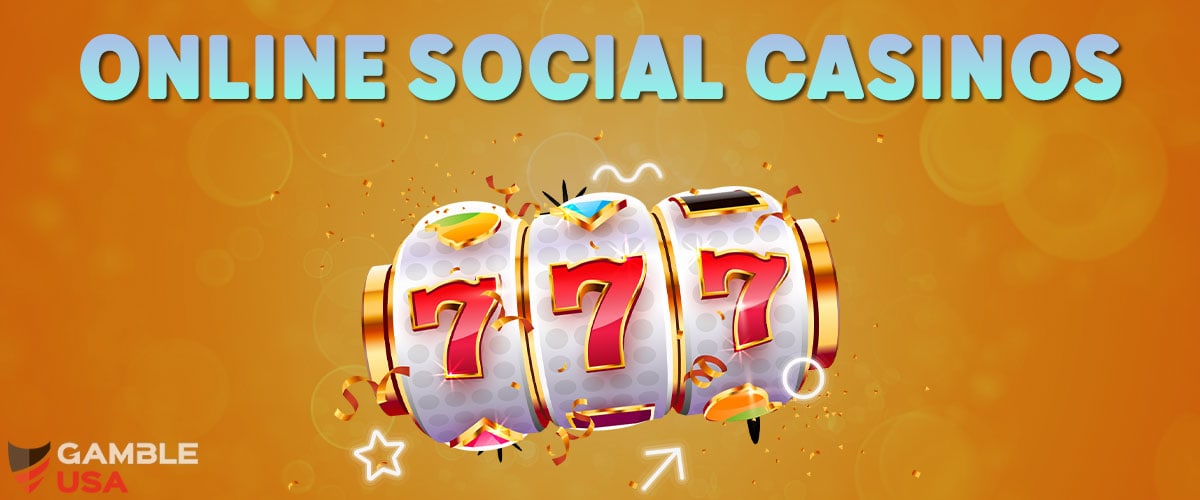 Social casinos offer customers the chance to play on their favorite slots and games without the need to part with their hard-earned cash.
If real money online casinos aren't yet available in your state, then this new breed of social casinos can tick a lot of boxes for players looking to get the thrills of a real money casino. Although online gambling is still relatively new in the US, it is growing at a fast pace. Currently, only players from some states can play online casino games win real money; however, social casinos online are a fantastic legal alternative for players from all states.
There is no opportunity to play social casino games for real money, which means social casinos are not treated as gambling at all. They work in a very similar way to an NJ online casino, or a PA online casino, but without the need to play with real money. You may have heard of sites like Chumba Casino or Big Fish Casino as they continue to expand and attract players who want to gamble without the added pressure of playing for real cash.
Social casino gaming allows players to experience the best casino games in a risk-free atmosphere. Players can enjoy playing social slots against their friends without worrying about losing money. Additionally, bettors can replicate the experience of playing at online casinos or real casinos without needing to deposit.
This page covers all of the crucial information regarding social casinos. We will look at the differences between social casino apps and real money online casinos, a list of social games, live social casino games, and if you can play social casinos for real money. Additionally, we will mention some of the best social casinos for you to try and social casinos where you can win real prizes.
Social Casinos With Real Cash Prizes
If you are looking to play from home sweepstakes online, then check out the best new social casinos:
What Is A Social Casino?
There are some key differences between social casinos and real money online casinos that players must understand before playing. Anyone who is interested in wagering real money may not get what they want from a social casino site, but if you just want a fun experience, social gaming certainly provides that.
If you are wondering, 'is playing at a social casino gambling'? Despite the word casino being mentioned, as you are not playing for real money, you are not gambling. You can be playing a Facebook slots game, video poker, or roulette; however, as you are just playing for things like free coins and free spins, you are not considered to be gambling.
Essentially, a social casino is a platform that allows you to enjoy your favorite casino games for free.
Are Social Casinos Legal?
Anybody living in America interested in gambling games will know that all online gambling activities are restricted and fall under stringent rules across the country. In fact, it is still not legal in most states to offer online casino games to players, which is why most people cannot yet access such games for real money.
However, it is an entirely different story when it comes to social gambling and social casino sites like LuckyLand. The US government does not consider social gaming to be gambling. Because no money is being risked or changing hands, social casinos are completely legal to play within every state except for Washington.
Consequently, social casino sites are an excellent alternative for players looking to play slots or table games but aren't allowed to do so for real cash. Social slots are legal, and bettors can play them and enjoy the experience without any legal risks.
Bear in mind the fact that because you are playing at social casinos, it doesn't automatically mean you can legally sign-up at real money casinos as well. Always make sure you know exactly what is legal within your state before you create an account on any gambling site out there.
How Are Social Casinos Different From Online Casinos?
As we have mentioned above, it is not considered gambling when playing at a social casino as no money is being risked. Let's take a look at some key differences regarding social casino sites compared to traditional real money casinos.
Playing for free with Gold Coins or Free Coins
Real money casinos will require new players to deposit cash into their balance before playing. However, players can enjoy social casino games without any real money risk. Once you create an account with a social casino, players will be awarded free coins or gold coins which can be wagered at slots and other games. Any wins generated will be given in the form of free coins, with bettors competing at accumulating the most coins without risk. LuckyLand Slots hacks and Funzpoints Casino cheats can help win more coins playing there.
In addition to using a gold coin or free coins, some swepstakes casino sites use sweep coins. A sweep coin acts in the same way, in that it is not real money but is used to wager on the games. For example, sweeps coins are used by Global Poker to participate in their sweepstakes promotions.
Social Features
The primary reason players play social casino games is to play against friends and meet people they have things in common with. Social gaming sites provide features allowing players to interact and compete against each other in tournaments and matches and share their rewards and coins with friends. This makes these platforms a fun place to spend time.
Social Casino Apps
Players have the opportunity to play social casino games on the go via social casino apps. They provide the same functionality as desktop sites but have been optimized to fit mobile devices. Most social casino apps are available to download on both iOS and Android devices.
How Much Does It Cost To Play At A Social Casino?
As we have mentioned, you can play at social casinos for free.
Advantages Of Playing At Social Casino Slots
The most obvious benefit of playing slots at a social casino is that you don't have to deposit any money to enjoy them. You can play without the pressure or fear of losing money. Slots are among the most popular online casino games, and social casino sites provide some of the best titles available.
Disadvantages Of Playing Social Casino Slots
You should keep in mind that most social casinos do allow players to spend money to purchase coins to play in slots, and players can become addicted quite quickly. This leads to them spending more heavily and transferring more cash to the site than they can afford. Also, there are plenty of shady and untrustworthy platforms like Game Vault and Casino Mania, for example, that may misuse your info or refuse to pay out.
The games on offer at social casinos resemble those at real money online casinos and can be addictive if not taken in small doses. Additionally, playing at social casinos and then becoming addicted could then lead to customers progressing to real money play and potentially losing large amounts of money.
Is it worth playing at Social Casinos?
We understand the thrill of beating the casino and winning some extra cash is attractive. Playing a casino game knowing there is something riding on it, can offer lots of excitement. However, for those new to online gambling, the best social casino sites can replicate that excitement as you learn the ropes.
In lots of cases, you will get free chips just for signing up to a social casino app. Once you have claimed them, you can unlock more social slot games by winning specific games or purchasing more chips. You can use these chips to advance up the ranks and win player rewards.
The latest social casinos use top software from the leading providers. Like cash casinos, they are exact replicas of a slot machine you may find at retail casinos, with the same exciting casino play and RTPs.
Money doesn't have to be the only appealing factor to gamble online. You can just enjoy a social game for the experience and still have access to the classic slots that always stand out in any casino review. Playing casino games should be fun and if you are new to online gaming, we certainly recommend trying out some online social casinos.
FAQs
Is social gambling legal in the US?
Yes, social gambling is legal in every US state except Washington, whereas real money gambling is much more restrictive.
What does social gambling really mean?
As the name implies, Social gambling allows players to play gambling games without any monetary risk. Additionally, these sites offer a significant social aspect to gameplay where players can interact with each other via chat features.
What is the difference between social casino games and online casino games?
When you play social casino games, you are not playing for real money. However, when you sign up and play at a real money online casino, you must make a monetary deposit before playing to win real money. Real Money Casinos offer a free demo mode to test most games.

Sweepstake casinos act as the middle ground; they are widely available to players in the US. They can be played for free, but gold coin packages can also be bought with gifted sweeps coins attached that can be played and redeemed for real money prizes.