DRF Sportsbook
DRF Sportsbook (Daily Racing Form sportsbook) is a subsidiary of Affinity Interactive. Although widely popular in the horse racing industry for having over 130 years of experience and expertise under its belt, DRF Sports was founded in January of 2022. Even with this, it has been making waves. It has become one of America's fastest-growing online sports betting platforms offering a vast number of sports and events to sports enthusiasts. Currently, DRF is only available to players in Iowa, and the IA sportsbook can be accessed from the website and a mobile app, making betting seamless.
Bettors in Iowa can choose from a range of DRF sport markets in addition to an excellent racebook. The DRF sportsbook Iowa goes well beyond just horse racing betting and offers users a range of betting options. There is currently no DRF online casino available but this may change in the future.
In this DRF Sports review, we will be talking extensively about its wide range of sports coverage, how you can download and bet easily using the mobile app, and how to get up to a $500 juicy, risk-free bet as a new player.
Overview
DRF online and mobile sportsbook was first launched in January of 2022. While the operator is quite new to the iGaming industry, the DRF brand isn't. If you are a fan of horse racing and have ever looked or horse betting tips you surely would have heard of DRF Bet and visited the sports betting site. The Daily Racing Form group – DRF – has been America's Turf Authority since 1894. Through DRF Bets, players have been betting on horse racing in over 40 states across the United States long before the dawn of the internet. The brand, through DRF bets, provides an iconic daily racing form to horse racing fans at different physical locations before expanding to the web. Having met great success in providing world-class race betting and premium data on different events, the brand, through Affinity Interactive, decided to take the iGaming world by storm by launching its sports betting products.
In January, James Zenni, the chairman of Affinity Interactive, announced launching their first digital sports betting product in Iowa. Picking Iowa for the first sportsbook offering makes sense given Affinity Interactive and DRF's established presence in Iowa at Lakeside Casino in Osceola. Since its launch, we've seen major sports product rollout on the operator's mobile wagering platform, with international and college sports well represented there. There are 14 sports markets available to players on both the website and mobile app, with almost limitless betting options. Online sports betting is growing and DRF want a slice of the pie!
While the online betting presence is only available in Iowa, sports enthusiasts from all states aside from Washington DC can also partake in the DRF Cash Grab, where they can make predictions on games for free and win cash prizes.

Joining DRF Sportsbook
Registering at DRF Sportsbook can be done swiftly, and you can decide to sign up on the app or website. If you want to join through the website, visit drf.sportsbook.com and click on the "Register" button at the top right corner of the home page. This will open the two-page registration form.
The first step will require filling in your mail address and password. However, before doing that, select the new player offer if you are interested and then submit it by clicking on "Continue." After doing this, you will be taken to the second and final page, where you will fill in personal details like full name, date of birth, SSN, and phone number. Personal information given during registration is safeguarded by industry-standard cybersecurity and can't be accessed by any unauthorized person.
After you've filled this, a confirmation email will be sent to your registered address which you will need to click. Although DRF Sportsbook is only available to players in Iowa, registration can be done in any state in the US from anyone over 21 years old.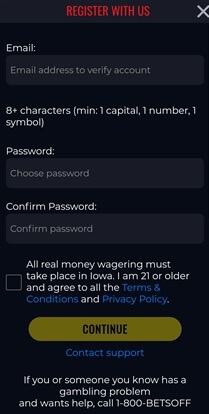 DRF Mobile App
The early iOS and Apk DRF app launch represents the online sportsbook's commitment to providing outstanding sports betting to players with ease. The app is free to download, and getting it on your phone will only take a minute. Are you an on-the-go player looking for convenience in sports betting? Well, here is how to download the DRF mobile sports app.
Downloading DRF Android app
Players who want to download the DRF Android betting app on their mobile phone can visit the official website and click on the "mobile" tab. There, you will see the option to "Get it On Google Play." By selecting this option, you will be redirected to the Play Store, where you can download the app. The app can be downloaded from any US state, and you don't need to already have an account to download it as you can sign-up using the app. Aside from going to the website, you can also search for "DRF Iowa Sportsbook" on Google Play Store to download.
To be able to download the app, your android tab or smartphone must have a minimum operating system of 5.0. Also, regardless of your phone's screen size, the app auto-resizes itself to give optimal user satisfaction.
Downloading DRF iPhone app
DRF Sportsbook app is available on iTunes and App Store for users using iPhone, iPad, and iPod touch. Players who do not want to go to the DRF Sportsbook website can simply head to any stores mentioned above and search for "DRF Iowa Sportsbook" to download the app.
Unlike the Android app, which doesn't require players to have any recent operating systems, you need an iOS of 14.1 or later to download the mobile app on your iPhone. This requirement is high and somewhat unreasonable compared to iOS version 10.0 – 12.0 other reputable sportsbooks like the DraftKings and FanDuel apps demand. You are sure to get your money's worth if your device can afford the iPhone sports betting app.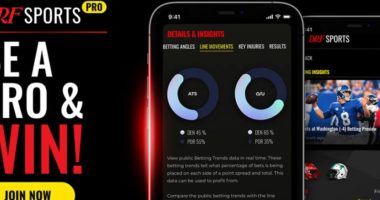 DRF Sportsbook Bonus & Promo Details
Whether you are a new or existing player, the DRF sportsbook has exciting incentives for you. The sportsbook offers do not only give you leverage to make more through betting, but they are also constantly modified to keep things interesting. Here are some of the bonuses you'd find at DRF Sports, including a generous risk free bet.
$500 Risk-Free Bet
New players just signing up at DRF Sportsbook can get up to $500 in risk-free bets on their first bet. To claim, new customers must deposit a minimum of $50 and lose at least $10 on any sports. You are not entitled to this bonus if your first bet is a win or gets voided. To withdraw your winnings, you must clear the 1x wagering requirement. This free bet offer makes DRF one of the best sports betting sites for beginners. This is an excellent bonus offer, and with no bonus code needed it will be added to your account as soon as you sign up.
Sounds good? Head to DRF to claim your bonus. There is no sportsbook promo code required to claim this offer at the DRF sportsbook IA.
Refer A Friend Program
Referral services are great ways for sportsbooks to expand, and it's no surprise that DRF leverages this. Players can win up to $250 by referring 5 friends to DRF Sports. To claim this bonus, head to the "Refer A Friend" tab in the account menu. You can copy your unique referral link or fill in your friends' names and emails. You get $50 in free bet when a friend uses your link to register and deposit a minimum of $50. The max you can get from this bonus is $250, and it can be used to bet on any sports market. There is a wagering requirement of 10x, which must be cleared within 7 days of getting the free bets no deposit.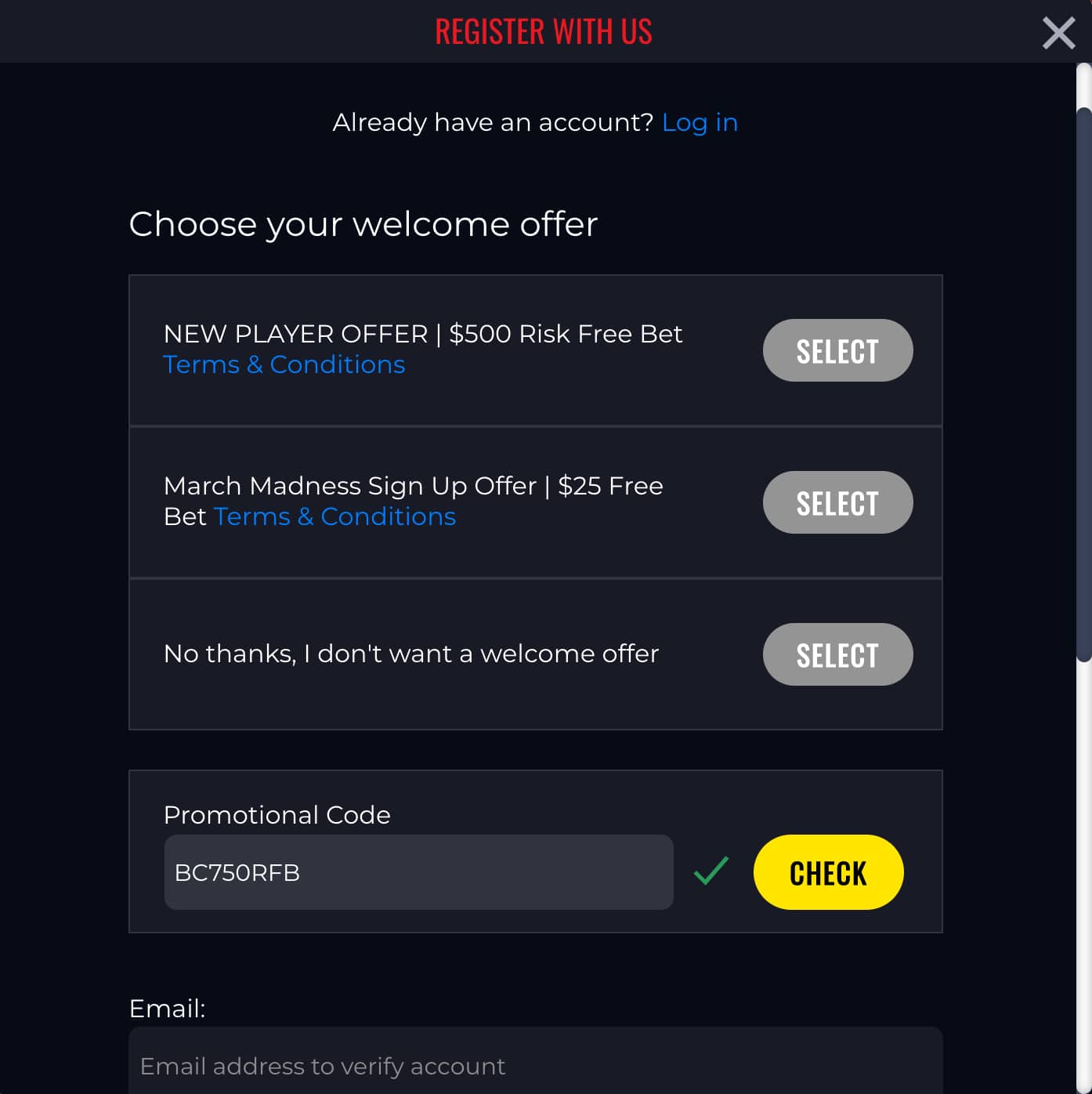 States where DRF is available in
Although DRF Racebook is available and licensed in 40 US states, the sportsbook is only live in Iowa. Players from other states can view the sports markets and check out all the sportsbook's products. However, they can't place bets on any sports events or leagues.
Currently, work is underway for DRF to reach more states, and we hope to see it become legal in states like New Jersey, New York, and Pennsylvania very soon.
Geolocation with the DRF Sportsbook and App
As sports betting isn't legal in all US states, geolocation is vital for operators. Sportsbooks employ a geolocator software to verify whether bettors are within a legal state. Bets can only be placed for players who are within Iowa at the minute. DRF Sportsbook geolocation is one of the best in the market, as you do not need to make an additional download of the plugin on your browser or the app like you would for other sportsbooks.
For punters who want to bet via DRF's site or mobile app, the operator automatically activates the location service on their device and uses their Wi-Fi signals to pinpoint their location. This will be done in split seconds, so you do not have to worry about it taking time.
If your location service isn't on, you can head to the settings on your phone and click on the "location" toggle to switch it on. Unlike the KYC verification done only once, the geolocator is always active during your session on the site or app and would verify your location every time you want to place a bet. DRF's geolocator is quite effective as it's strong enough to detect VPNs and location spoofing.
Sportsbook Features
There are many exciting features on DRF Sports, which explains why Iowa punters are choosing this sportsbook above others. DRF operator offers competitive odds to players. While this doesn't necessarily mean it's better than most top sportsbooks, players are given the option to display the best lines and odds for certain events.
Aside from its competitive odds, lines are also released early enough for players to make their own analysis on games. While discussing the sports markets available in DRF in the subsequent section, here are a few of the betting options you will find at this leading provider.
Moneyline
If there is a bet option that is both profitable and easy for DRF players of all levels, it's the money line bet. This type of bet only requires picking who will win between a team in a contest or match. Here, the point or score difference is neither considered in the game nor the amount a player would win.
Props Bet
This type of bet is also known as proposition bets. DRF prop bets are placed on minor inconsequential subevents in a match. Bets are often centered around players, the time a team will score, who will win in a coin toss, etc. DRF Sportsbook has a wide range of prop bets for different games, so players are in for a treat.
Points Spread
In a point spread bet, instead of wagering on who will win, punters are wagering on the point difference in which a match will be lost or won. This kind of bet provides the underdog team – the one predicted to lose a match – with extra points to give a matching opportunity to the two teams. Underdogs are the team with a positive number in front of them, while the favored team has a negative number.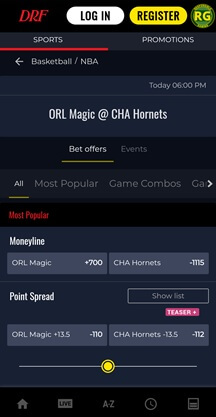 Parlay
Also known as multi-bets, the DRF parlay betting app allows players to add different bets to a single bet slip. In other words, you can bet on multiple games with just a single stake. While this increases your chance of winning a huge amount, a single loss from the collection of bets will result in a total loss of your bet. Players can only add up to 12 games to a bet slip, with same-game parlays also offered by the book.
Round Robins
This is similar to parlay games but only differs in the risk involved. In round robins betting, you will pick a specific number of teams which will be divided up into smaller groups to form smaller parlays. Even if you lost a parlay, you could still win some with this making round robin a sustainable strategy for long term betting on DRF sportsbook.
Futures
Futures bets are often placed at the start of a season. As its name alludes, the bet isn't placed on a single match but on who will finish first in a league etc. Such bets can take weeks or months to come through, but they can be very profitable in the long run.
Live Betting
While most betting options we've discussed need to be placed before the match commences, live or in-game micro betting offers something unique. The DRF live betting feature allows players to bet on matches that are still in play. You can check out all live games or upcoming ones from the DRF Sportsbook app or site by clicking on the "Live" tab. While you wouldn't be able to live stream games as you would in DRF Bets, the operator often gives live stats and updates on live matches to keep players abreast. DRF has one of the most extensive data coverages in the industry, so you are sure to get all the important details needed to form your bet decision right from the app.
DRF Racebook
While DRF Sportsbook is new to the industry, DRF Racebook has been America's turf authority since 1894. Being one of the first and leading providers of race betting in the country, DRF has made a name for itself by offering excellent extensive bet options for over 300 tracks available on the site. Even though the racebook is over a century old, it has gained continued momentum by providing world-class betting on horse racing for events worldwide. It also provides bettors with horse racing news, handicapping analysis, and expert picks. No much of a surprise DRF is instantly considered the most reliable US sportsbook.
Live updates, live streaming and audio are some of the stand out features of DRF Racebook. Anyone over 18, located in currently 40 US states can bet on the platform.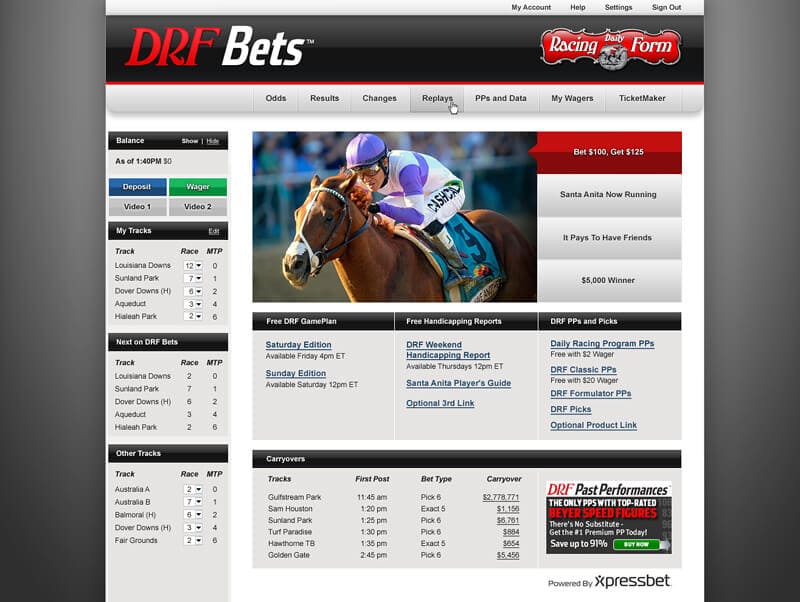 Available Sports in DRF
DRF Sportsbook sports markets cover about 14 sports. Their digital sports betting products cover both national and international leagues, making it a confluence point for sports fans to wager on virtually any significant event or league. The sports markets and bet options are available on the DRF site and mobile app, so you can be assured of getting all the operator's offers regardless of the way you like to bet. The following are the sports available to players at DRF Sportsbook.
Aussie Rules
Cycling
Golf
Motorsports
Rugby
Tennis
UFC/

MMA
From major league events like the NFL, NBA, UFC, and MLB, players can also bet on collegiate sports like the NCAAB. DRF has one of the best NFL betting apps for players in Iowa, as there are a series of betting options on all events.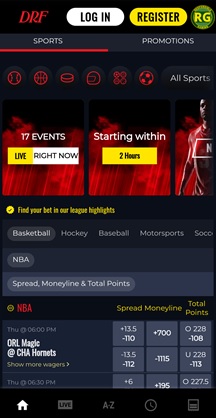 Loyalty Program
Once you have opened your DRF bets account, you can then join the rewards program. Of course, as you won't have bet any real money on a horse race or an NFL game, you will start at the bottom of the five-tier ladder. The first tier is Bronze, while the highest is Diamond. The more you bet on the app, the higher you will progress up the ladder. Of course, the higher the level the better the prizes which include cash bonuses, weekly cashback and unique promos.
If you reach Diamond level, you may even win trips to Las Vegas or special dining packages.
DRF Banking Options
There aren't many banking options for players in DRF Sportsbook. The few available are secured with an advanced firewall that protects all players' financial information. While there are card options at this online sportsbook, only debit cards are accepted. Punters can deposit a minimum of $10 using any banking options, and all the methods are instant and free. One downside we find here is that the sportsbook doesn't have any e-wallet option.
MasterCard
Visa
PayNearMe
Cage
For $500 and lower deposits, bettors can use the PayNearMe method in Family Dollar, CVS outlet, or 7-Eleven stores. The Lakeside Casino cage cashier is your only alternative for a higher cash deposit at DRF.
The featured withdrawal methods at DRF Sportsbook are fewer than what you will find in most online sportsbooks. However, the two methods here are fast and easily accessible. Players can withdraw at least $10, and withdrawals are only approved after new customers have verified their accounts by uploading a government ID and Utility bill.
Withdrawals Processing Times
The processing time at DRF Sportsbook depends entirely on the option you opt-in for. After initiating a withdrawal, it takes up to 72 hours to be reviewed by the sportsbook's team. After this, the individual withdrawal processing time kicks in. When your withdrawal is reviewed, you can reverse it or "Lock" it to make it irreversible. Withdrawals, like depositing, are free. Here is the processing time for each withdrawal method.
Online Banking by Trustly – immediate credit once approved by the iGaming Security team.
DRF Play+ (prepaid card) – 5 business days
Customer Support
Anytime you hit a roadblock on the site or app, DRF customer support is always there to lend a helping hand. An extensive FAQ section covers most of the queries you might have. Answers span from how to deposit to registration, withdrawals, tax, responsible gaming, etc. In the unlikely case of not finding a suitable solution in the FAQ section, the support team can be contacted via mail or by submitting a ticket. A DRF support team member would read your issue and reply with a solution within 24 hours.
The quickest way to reach customer support is via live chat which can be accessed at the bottom of the customer support page.
Is DRF Sportsbook legal?
Although DRF Bets for horse racing is legal in over 40 states, the sportsbook is only legal in Iowa. The sportsbook is licensed by the Iowa Racing and Gaming Commission (IRGC) through its partnership with Lakeside Hotel and Casino. As such, players who prefer to bet physically can do so at Lakeside hotel.
If you are a sports enthusiast but located outside Iowa, DRF has got you covered with its expanded suite in sports betting – DRF Cash Grab. DRF cash grab is another way players from all US states except for Washington DC can make money through sports betting. On this side of DRF sports, players can make predictions on matches, and if they are right, they stand a chance to win real cash prizes. Unlike in DRF Bets or Sports, the cash grab is free to play, and the app is also available on both the App Store and Google Play Store.
Areas for Improvement
To be candid, coming by an area that needs improvement in DRF Sportsbook isn't as easy as one would expect. The operator is still in its early days of launching and already has 14 sports markets present there, covering international and national events. Also, the quick mobile app launch on Google Play Store, iTunes Store, and App Store for on-the-go players indicates Affinity Interactive's ambitious plans to make DRF Sports one of the big players in the US betting industry.
However, the only area that needs improvement is its online gaming offerings coverage. Since DRF is a known brand in the horse racing industry in Iowa, it makes sense the state is a natural choice to begin the mobile sportsbook. It will be great to see DRF Sports expand to other sports betting-friendly states like New Jersey, New York, Indiana, Tennessee, Pennsylvania, and Michigan.
Also, the banking methods can be expanded to include e-wallets like Skrill, Neteller, and even PayPal. This way, players who don't want sports betting bills to appear in their transaction history can use these alternatives.
Summary
DRF Sports is an all-around operator that offers players a world-class sports betting experience by providing a wide range of sports markets, limitless bet types, and lucrative bonuses to up their winnings. Regardless of whether you prefer international sports or major leagues, you will definitely find many events to bet on. Also, this sportsbook has one of the most extensive collegiate sports offerings in Iowa, so if you are feeling patriotic, you can bet on any of the NCAAB and NCAA events.
Aside from providing outstanding bet types of sports, the operator has one of the most well-designed, easy-to-use mobile apps. The app is available for Android and iOS users giving players easy access to their accounts and betting flexibility.
DRF is also considerate of players who suffer from gambling problems, with several responsible gaming features like self-exclusion, deposit, and gameplay limits available for curbing excesses. DRF Sportsbook might be new, but it has made its name in the Hawkeye State and ranks as one of the most reputable online wagering platforms. With its expansion to other states, we have no doubt that DRF Sports will be redefining sports betting.
FAQs
Who owns DRF Sportsbook?
DRF stands for Daily Racing Form, and it's a subsidiary of Sports Information Group. Its merger with Affinity Gaming birth not only Affinity Interactive but also DRF Sportsbook.
Can I bet on sports in any US state?
Aside from Iowa, where the sportsbook is licensed and regulated, players from other states cannot wager on the online sportsbook. However, DRF Cash Grab is a great alternative to sports enthusiasts and is available in all US states except Washington DC. On the other hand, if you are a fan of the horse racing industry, you should try placing bets on horse racing via DRF Bets, accessible in almost all US states.
Does DRF Sportsbook offer risk-free bets?
Yes! New players can claim up to $500 risk-free bets after losing their first wager in the sportsbook. For existing players, there are up to $250 risk-free bets up for grab through the Refer A Friend promo. While the welcome sportsbook bonus doesn't require a promo code, individual players need to send their unique links to friends and family to claim a risk-free bet bonus.

New Player $500 Risk-Free Bet
Get Bonus