Gamble USA strives to improve your online gambling experience. We aim to help you play safely, make informed decisions when gambling, and increase your betting knowledge through our guides.
We adhere to strict editorial integrity; our content may contain links to products from our licensed & legal US partners.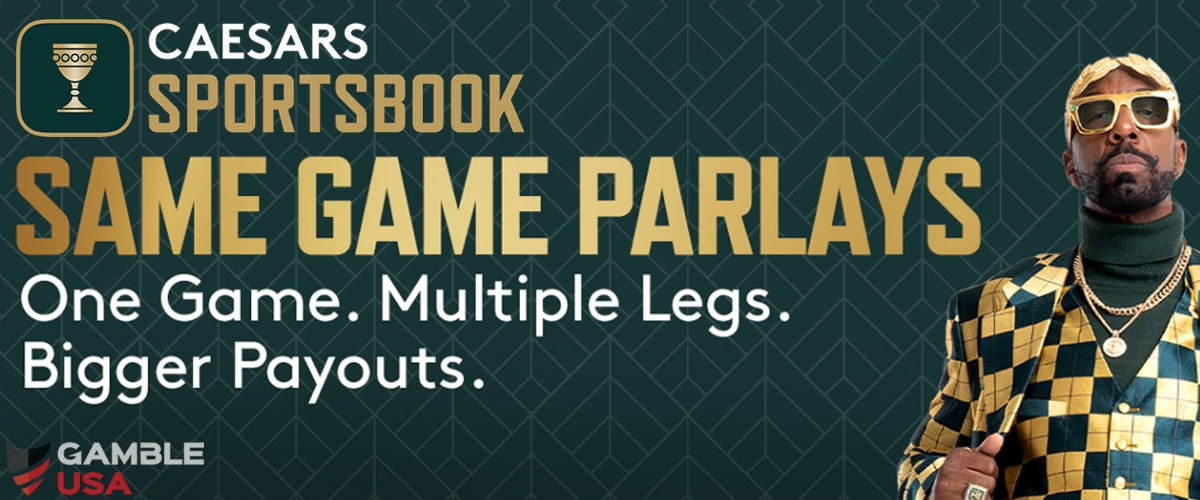 Now that legal online sports betting is available in many states, the leading sportsbooks have become very creative in coming up with innovative new ways to bet. Caesars Sportsbook is one of the betting sites that is heavily promoting a type of wager called Same Game Parlay (SGP).
Sports bettors love parlays because they get to combine multiple bets into a single wager, and it not only costs them a lot less than betting the same amount on each outcome separately. The potential payoff is also much greater.
So, it is no surprise that all major sportsbooks offer parlays. However, only a handful offer same game parlays, and Caesars, the focus of this article, is one of them.
Promo Code: GUSA1000
$1,000 First Bet on Caesars
21+. T&C Apply
21+. T&C Apply
Promo Code: GUSA1000
Massive welcome bet offer
Earn Caesars Rewards
Caesars Same Game Parlay Guide
A same game parlay is a betting option that combines multiple outcomes relating to the same game into one bet. For example, an SGP can include any or all of the following:
Point Spread

Total
Player prop: i.,e., the total number of touchdowns scored by a particular player
Team prop: i.e., the total number of points scored by a team in the first quarter
The minimum number of components or legs you can include in a parlay is two. But as you keep adding more, the odds and the payout if you win go up.
Different sportsbooks may call this wager by slightly different names. Thus, Caesars, BetMGM, DraftKings, and FanDuel Sportsbook all use the term "same game parlay," while PointsBet Sportsbook calls this bet a "single game parlay." However, the terms are synonymous. Here in this article, we use the term "same game parlay," as that is the most widely used.
Same game parlays are an attractive betting option, especially for small bettors, who might not have a sufficient bankroll to place bets on a lot of different games taking place on the same day. Instead, they can focus on one game that they feel strongly about and ideally can watch to follow every step of the action. What is especially appealing about a same game parlay is the potential for a big payout risking just a small amount of money.
How Caesars Same Game Parlay Bets Work
A same game parlay is similar to any parlay because rather than requiring separate bets for each outcome you wish to wager on, you combine them into a single bet. It not only saves you the time and trouble of completing additional bet slips, but you do not have to worry about multiple games.
The difference between a same game parlay and other parlays on Caesars is that the separate outcomes must pertain to one game only.  Let's say you were interested in either or both of the following MLB night games: the LA Dodgers vs. the NY Mets or the Houston Astros vs. the Los Angeles Angels. Earlier that day, Caesars Sportsbook posted the following betting lines on these games.
⚾Team
💵Money Line
🏃‍♂️Run Line
🏁Total Runs
LA Dodgers
B. Miller
-105
+1.5
-205
Over 8.5
-120
NY Mets
M. Scherzer
-115
-1.5
+170
Under 8.5
+100
⚾Team
💵Money Line
🏃‍♂️Run Line
🏁Total Runs
Houston Astros
C. Javier
-125
-1.5
+122
Over 10
-110
LA Angels
T. Anderson
+105
+1.5
-145
Under 10
-110
As long as the components for your bet were selected and the bet slip was completed before the applicable game started, you could have placed either a traditional parlay using both games or a same game parlay entailing either one of these games only. Either way, you would not be limited to betting on one of the outcomes shown in the above tables; you would have had a choice of many other components to incorporate into your bet in addition or instead. For example, for a single game parlay, these were three of your options:
A moneyline bet that a particular player would have a home run
A moneyline bet on whether or not there would be any scoring in the first inning
An over/under bet on how many batters a particular pitcher will strike out
The betting terminology used to refer to each component of a parlay is a leg. Every parlay must contain, at the very least, two legs, but you can also shoot for a bigger payout by adding more legs. Adding more legs does not increase the cost of the bet, but it does raise the odds and the amount you stand to win if the parlay hits. A Caesars same game parlay lets you include as few as two legs up to as many as 10 legs. Obviously, the payout on a winning 10-leg parlay will be much greater, but it is also much harder to hit.
Keep in mind that with a parlay, every leg must win. Winning 9 out of 10 of your picks or 4 out of 5 won't cut it. Caesars does not offer same game parlay insurance. If even one leg of your parlay loses, the entire wager goes down.
Same Game Parlay Bets
Promo Code: GUSA1000
$1,000 First Bet on Caesars
21+. T&C Apply
21+. T&C Apply
Promo Code: GUSA1000
Massive welcome bet offer
Earn Caesars Rewards
When Caesars Online Sportsbook introduced this form of betting in 2021, you could only make an football same game parlay or an basketball same game parlay. However, Caesars has recently added Major League Baseball.
The different types of same game parlays you can make at Caesars Sportsbook include any of the following:
Player Parlay
This consists of two or more props describing what a specific player or players will accomplish during the game. For example, in the 2023 Super Bowl, you might have been able to bet the following 3-leg parlay on Patrick Mahomes:
Over 288 ½ passing yards
At least one interception
MVP of the game
Despite throwing two interceptions, the Kansas City Chiefs won and Mahomes was named the MVP. However, the hypothetical parlay would have lost because Mahomes' total number of passing yards fell short.
Moneyline Parlay
Sports bettors who make this type of parlay wager usually parlay two or more favorites on the moneyline. There are two reasons why. First, the bet has a higher probability of winning. Second, they are getting better odds than if they bet on each favorite separately.
Point Spread Parlay
This type of parlay differs from a moneyline parlay because the object is not to pick the outright winner but simply which team will beat the point spread. Point spread parlays are very popular in bets involving multiple games, but you can also place a same game parlay bet consisting of a point spread bet on the whole game with one on the first quarter.
Over/Under Parlay
Over/under bets can either be for both teams combined or team totals or player totals. Frequently, a half-point will be added to prevent the possibility of a push.
Your parlay does not have to be limited to just one type of bet. Many same game parlays can be created using a combination of bet types.
Caesars SGP Rules
If you are contemplating making same game parlay wagers at Caesars Sportsbook, you need to be familiar with the Caesars Sportsbook parlay rules. However, because SGPs are still a relatively new sportsbook offering, some of the current rules and policies might change.
Also, while other sportsbooks will probably have the same rules for the most part, certain specific rules might vary between one sportsbook and another. For example, some US online sportsbooks might permit SGPs across a wider range of betting markets and offer more betting options than Caesars. Always double-check the applicable rules with the sportsbook directly to make sure your information is accurate and up-to-date.
Here is a summary of the important Caesars SGP rules as of this writing.
Caesars currently accepts SGPs on the following sports only: NFL, NBA, and MLB. Keep in mind that other sports and sports leagues might be included down the road.
All SGPs must be completed before the game starts. No live or in-play betting is permitted.
If a given leg of the parlay pertains to a specific existing market, the rules for that market apply. For example, the criteria for an anytime touchdown are different than for a passing touchdown. The quarterback will be credited for a passing touchdown simply by throwing the ball into the end zone and having a player on his team catch it. However, he will not be credited for an anytime touchdown unless he actually runs the ball into the end zone or catches it there himself.
If any leg of a same game parlay bet is rendered void or is settled as a push, the outcome of the entire bet is typically also treated as a voided bet or a push. For example, if a player used in a player prop is a late scratch from the lineup, the entire bet is canceled. If part of the parlay includes a point spread or over/under bet that falls exactly on the number, the entire parlay is treated as a push.
The minimum number of legs that a same game parlay can have is 2, and the maximum is 10.
Every leg of the same game parlay must pertain to an outcome of the same game. SGP wagers cannot combine the outcomes of different games.
If a given leg of the parlay applies to either of two named players, the bet still stands even if one of them doesn't play.
Steps to Bet Same Game Parlays at Caesars Sportsbook
Before you can place a same game parlay at Caesars Sportsbook online or with the Caesars app, you must have a valid Caesars Sportsbook account with sufficient money to cover your bet. You must also be physically present in the state where the account was opened at the time you are making your wager.
Promo Code: GUSA1000
$1,000 First Bet on Caesars
21+. T&C Apply
21+. T&C Apply
Promo Code: GUSA1000
Massive welcome bet offer
Earn Caesars Rewards
Here is a step-by-step guide on how to bet on Caesars Same Game Parlays.
Create an account at Caesars Sportsbook if you do not already have one.
Choose a  game to bet on. Locate an NFL, NBA, or MLB game taking place on the same day that you would like to use for building your parlay. It cannot be a game that has already started.
Review your same game parlay options. If the game displays the letters SGP, that means you can place same game parlays on it. Click on the team you want to bet on and then on the Same Game Parlay tab above the game to see your betting options.
Make your selections. If you wish, you can create a simple 2-leg parlay (i.e., a moneyline or point spread bet combined with a total). Or you add one or more team or player props or create a parlay using team or player props exclusively. Despite being limited in your betting to one game only, you have many options!
Enter the amount of your bet. Each of your picks will appear on your bet slip at the right of the screen. As soon you have completed making all of your selections, enter the dollar amount you wish to bet. The bet slip will display the amount the parlay will pay if you win.
Submit your wager.
Here is an example of a hypothetical 3-leg same game parlay that Caesars Sportsbook would have accepted on the MLB game between the Seattle Mariners and the Detroit Tigers.
| 🌀Selection | 💵Bet Type | 🤑Single Bet Odds |
| --- | --- | --- |
| Seattle to win | Moneyline | -190 |
| Total runs over 7 | Over/Under | -115 |
| Teoscar Hernandez to hit a home run | Player Prop | +260 |
Parlay odds: +700
Total Cost: $20.00
Total Payout: $160.00
The bet would have been a loser. The final score was 5-4, but the Tigers won and Hernandez did not hit a home run. Picking winning same game parlays is not easy!
Pros and Cons of Same Game Parlay Bets
Same game parlays are not only fun and exciting; they can be very profitable, too, but they are not for everyone. The pros and cons in the following table will help you decide if you want to give this form of sports betting a try.
| 🏇Same Game Parlay Feature | ✅Pros | ❌Cons |
| --- | --- | --- |
| Can win a big payout on a small wager | ✅ | |
| Better odds on favorites than betting on them separately | ✅ | |
| Don't have to sweat the outcome of multiple games | ✅ | |
| Don't have to keep changing channels | ✅ | |
| Can use bet credits | ✅ | |
| Only available for a few sports | | ❌ |
| If one leg loses, the entire wager loses; no same game parlay insurance | | ❌ |
| Cannot use odds boosts | | ❌ |
| No in-play bets | | ❌ |
| No early cashouts | | ❌ |
Caesars Same Game Parlay Betting Tips
Here are a few helpful tips and strategies that will improve your chances of winning.
Use smart money management and dabble in these wagers only occasionally, as the cost of multiple losing parlays can add up quickly. Spend a much greater percentage of your sports betting bankroll on straight bets where your probability of winning is much higher.
Be willing to spend the necessary extra time researching the teams and players so you can pick your spots wisely.
Save your same game parlay bets for days when there are not many games on the schedule. The Monday night football or Thursday night football game is a good choice.
Keep your parlays simple and limit them to two or three legs. The more legs you add, the higher the odds will be stacked against you. The payout on a 10-leg parlay might be astronomical, but these bets hardly ever win.
Stay clear of multiple huge underdogs for the same reason.
Sports to Bet Same Game Parlay on Caesars
Caesars currently allows same game parlay bets on the following three sports:
NFL games
NBA games
MLB games
Before introducing this form of wagering, Caesars only allowed parlays combining multiple bets from different games. Multiple outcomes of the same game could only be bet on separately, which could get very expensive.
Caesars Parlay Builder Tool
The Caesars Parlay Builder tool allows you to customize and place same game parlays quickly and easily. After you locate the game you want to bet on, click on the same game parlay tab. Then create your SGP from the extensive list of available options on the dropdown menu. Caesars will show you the odds and how much a winning parlay will pay.
FAQs
What are the Caesars same game parlay rules?
The same game parlay rules at Caesars are as follows:



NFL, NBA, and MLB only


Bets must be made before the game starts.


The minimum number of legs is 2, and the maximum is 10.


Every leg must win to cash your bet.


Can you bet same game parlays at Caesars?
Yes, Caesars accepts NFL, NBA, and MLB same game parlays.
What is the best parlay strategy?
The best parlay strategy is to use favorites and limit your parlays to two or three legs.
Is it better to straight bet or parlay bet at Caesars?
Straight bets are better because you have a higher probability of winning. But Caesars SGP can lock in some better profits - if you are willing to take the risk.