Iowa To Start Legal Sports Betting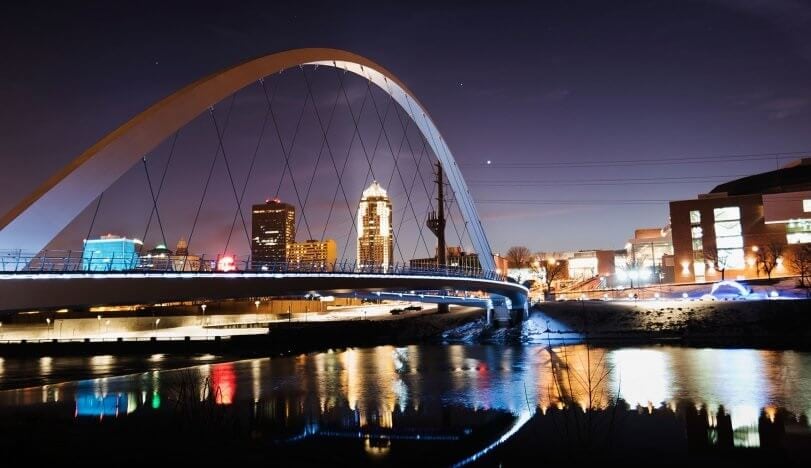 Legalized sports betting is coming to Iowa with the launch date set for Thursday, August 15, although under Iowa law official sports gambling must occur at one of the Hawkeye state's casinos – at least until January 1 2021.
That restriction is going to restrict Iowa's sports betting market potential, with bettors unable to register and fund their online/mobile accounts remotely from anywhere in the state before that date.
Still, for at least the remainder of 2019, Iowa will enjoy regional exclusivity for sports betting, having become the 11th US state to legalize sports betting operations after it was legalized by the US Supreme Court in May 2018.
None of the six states that border Iowa – namely Missouri, Illinois, Wisconsin, South Dakota, Minnesota, and Nebraska – allow legal sports betting currently. Of these, only Illinois has passed the necessary legislation but that state's casinos aren't expected to begin offering legal sports betting until 2020.
It's estimated that Nebraskans already spend $300m at Iowa casinos annually due to geographical convenience – five of Iowa's 19 casinos are situated on the state's eastern border with Nebraska. That figure will surely grow thanks to legal sports betting.
Minnesota is another strong feeder market for Iowa casinos. Earlier this year Minnesota state lawmaker, Rep. Pat Garafalo, tweeted: "Great news for Diamond Jo's Casino, which is just across the border in Iowa." He added: "Look for a steady stream of Minnesotans and their spending to be going to Iowa this year."
According to a 2017 study from Oxford Economics, Iowa has the potential to see around $4 billion in annual sports betting handle (total amount wagered by bettors), which could translate into around $250m in gaming revenues.
That's not unrealistic by any means and it's easy to see how such revenues will be generated – licenses for the regulated state market will cost $45,000 and all operators will be subject to a tax rate of 6.75%" on their annual sports wagering net receipts.
That all spells good news for Iowa's 19 brick-and-mortar casinos, especially as casino admissions have been declining for a few years now. One of these, Penn National Gaming's Ameristar Casino in Council Bluffs, is ready to roll from the launch (along with seven others) and Iowa Hawkeyes legend Tim Dwight will be placing the first legal sports bet as part of the opening ceremony.
General Manager Paul Czak said this week: "Customers have been clamoring to place sports bets since the law passed earlier this year. Collegiate and professional sports are embedded in the culture of Iowa and Nebraska. We look forward to welcoming customers from across the region at the incredible new sportsbook at Ameristar Casino Council Bluffs."
Who else is coming?
It will compete against the likes of UK-based books such as Betfred, who has partnered with Iowa's Elite Casino Resorts for its maiden sports betting venture in the US and William Hill. The latter book is set to open four retail sportsbooks on the launch date (August 15), including the Prairie Meadows Casino & Hotel, the top gaming revenue-generating casino in the state.
Hall of Fame baseball player Andre Dawson will place the first ceremonial bet at another of William Hill's properties, the Isle Waterloo Casino, while Joseph Reynolds, a World War II veteran who resides in Clarke County, will make the first wager at Lakeside Casino.
Operators that have secured a license are able to enter partnerships with up to two entities to set up additional sites for sports betting, but only if the third party doesn't already hold a license in the state. Betting is permitted on both professional and collegiate sports, although bets on the performance of any players who represent a college team in Iowa are banned, while a temporary ban applies to daily fantasy contests on collegiate players until May of next year.
The launch of legalized sports betting in Iowa could not have come at a more opportune time for those holding licenses with the NFL about to start it's pre-season ahead of the new season opening on Thursday, September 5th, while the 2019 NCAA college football season is just a few days away. Iowa will be hoping to follow in the success of New Jersey with mobile betting and online betting really taking off.
Relevant news