Virginia skill games, or gray machines as they are sometimes known, are a hot topic at the minute in VA.
There are over 10,000 VA skill machines located throughout the state, and for a land based casino to have them, they need to be licensed and only have a maximum of 8 terminals. A lot of voices in the state are calling for them to be removed as they are taking away players and money from the lottery. The other side of the argument is that if these games are removed, those keen to play will look for other, illegal alternatives.
Regarding the online gambling market, games of skill appear in numerous different formats. Skill-based games are not new; they have been present in the casinos of Atlantic City and Las Vegas for a number of years. Casino slots have been available for decades, and people have tried to discover slot cheats to overcome the odds. As gambling continues to expand across the United States, players are discovering skill games they like and are playing them in an attempt to strike lucky and win some cash. More casino games are available in the US than ever before, with online slots seeing the introduction of free slots offers and a few casinos rising to prominence.
5 FREE Sweeps Coins + 600 Diamonds + 250 GC
Lots of bonuses
400+ Slot games
Daily rewards
5 FREE Sweeps Coins + 600 Diamonds + 250 GC
One of the states that have recently expanded its general gaming options in Virginia. On July 1, 2020, Virginia sports betting became legal, and residents can now place legal sports wagers at licensed VA online sportsbooks. Additionally, mobile betting is also available in the state via several sports betting apps. The hope is that by legalizing sports betting, tax revenue will increase in the state.
As it stands, online casino gaming remains illegal in the Old Dominion. Virginia's strict gambling laws prohibit users from wagering money on casino games online. That means there are no online slots available unless you want to participate in illegal gambling with offshore sites. Virginia lawmakers are looking at plans to introduce legal online casinos, but when this will be live, we aren't too sure. There is an option for keen casino players in the state to play real money games, and that is on one of the growing number of sweepstake casinos that are legal in Illinois. With that being said, the State did legalize and tax skill game machines during the midst of the COVID-19 pandemic last year. The Virginia Lottery and Virginia General Assembly, and Governor Ralph Northam provided skill games in Virginia with a temporary legal footing in April 2020. The law legalized skill games for cash through to July 1, 2021. Consequently, you can legally play a skill-machine game in VA.
However, Coronavirus has not gone away, and it is expected that the law will be extended until July 1, 2022. As they are currently legal, bettors can play slot machines at convenience stores, bars, and various other types of businesses. When playing online skill games for cash, players must be entirely concentrated to beat them.
Apart from a skill slot machine, other games that fall under the skill category in Virginia include Blackjack, Draw Poker, and Pai Gow. Additionally, players can access all-in-one options, such as the Queen of Virginia Skill & Entertainment terminal. This game machine requires no internet connection, and there is no need to visit convenience stores to play.
Online gaming companies in Virginia provide many opportunities for players to test themselves as they play for real money. However, many bettors may be unfamiliar with gaming terminals or similar and want to know how to play a Virginia skill game. You can find these games of skill in VA in several places across the state, including gas stations, bars, convenience stores, and restaurants. There are over 10,000 machines registered with the Virginia Alcoholic Beverage Control Authority (Virginia ABC), and so far, they have generated over $70 million in revenue.
This article covers Virginia skill game tips, how VA skill games work, and how you can beat them. Let's take a look at some Virginia skill game cheats.
How To Beat Virginia Skill Game
Everyone wants to know the inside information and tips on beating the house and giving ourselves as much chance of winning as possible. Consequently, it's helpful to know how to cheat Virginia skill games. Fortunately, you can increase your chances of success if you are aware of the rules and steps of winning a Virginia skill game. This would apply to any state you are in; for example, this approach would be true if you were playing a Pennsylvania skill game.
Below you will discover some tips related to how to overcome a VA skill game. Are skill game hacks really possible? Let's take a look.
Tips To Beat VA Skill Games
Before anything else, you need to visit a store or location that has the Living Large slot machine.
Have a look at the viewer on the $0.40. If there is no winner, the below steps will apply.
Spin 4x with a wager of $0.40 by choosing the middle tile each time. It doesn't matter if other tiles win; keep choosing the center tile.
Up the stakes and bet $0.80 on your first spin, then choose the tile on the top left. On your second spin, choose the top middle tile.
On the third spin, select the top right tile. Always remember to continue to choose these tiles even if they are not winning from the spin; nothing should change your choice.
Now you need to decrease the amount you are wagering to $0.40; You will now be betting $4.00 per spin. Take a glance at the prize view but don't do anything.
Next, take the bet back down to $2.00.
Spin 4x by choosing the winning spins. If you are observing and spinning is not a winner, choose nothing and then hit the bet button again. You will notice the fifth spin will be a 1x,2x, or 3x bonus, and this should give a payout between $100–$240.
You can now keep betting $2.00, and the free spins will occur in the next five spins. This will give you between $300-$1,200.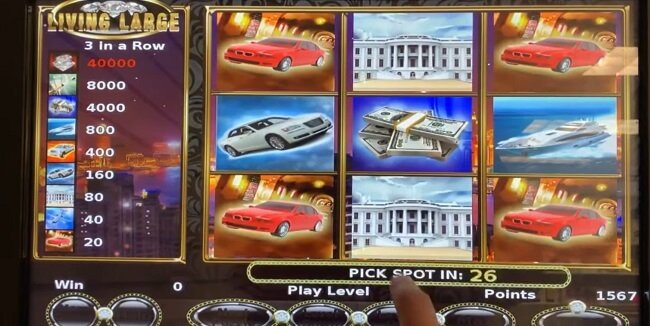 If you follow the above steps, you will have more chances of beating a Virginia skill game. These aren't slot machine cheats, more useful tips on how to beat a casino game by getting a winning combination or a winning spin. You can also attempt similar strategies on other skill games, such as Fishy Loot, Pirates, Lucky Loot, and Bombs & Bombshells.
If you are in the mood to mix it up and want to play some other games online, there are numerous online casinos with sign-up offers that you can play at, giving you the chance to win real money.
Summary
A VA skills-based game differs from regular gaming terminals as there is a certain degree of skill required. We use the phrase 'degree' as these games don't give you a huge opportunity to beat the house edge. As part of a COVID-19 relief fund for the state, these skill games will be legal in VA through to July 1, 2021.
FAQs
What is considered a game of skill?
A game of skill is defined as the outcome being decided by a player's capabilities rather than chance. For example, Chess is a game of skill as players develop strategies to try and determine the contest in their favor.
Are Internet sweepstakes legal in Virginia?
Sweepstake online casinos are legal in Virginia as they work on a double currency system. They are a legal workaround giving players the chance to win real cash prizes. They work just like any typical gambling game, but your winnings will be rewards such as a Gold Coin or coins packages rather than real money.
Are games of skill legal in Virginia?
Yes, there are four different forms of gambling currently allowed under VA law, including skill gaming.
How can you beat a Virginia skill game?
If you look at our article above, you will discover ways to overcome the house and 'beat' a skill game, earning yourself a nice profit in the process.