Gamble USA strives to improve your online gambling experience. We aim to help you play safely, make informed decisions when gambling, and increase your betting knowledge through our guides.
We adhere to strict editorial integrity; our content may contain links to products from our licensed & legal US partners.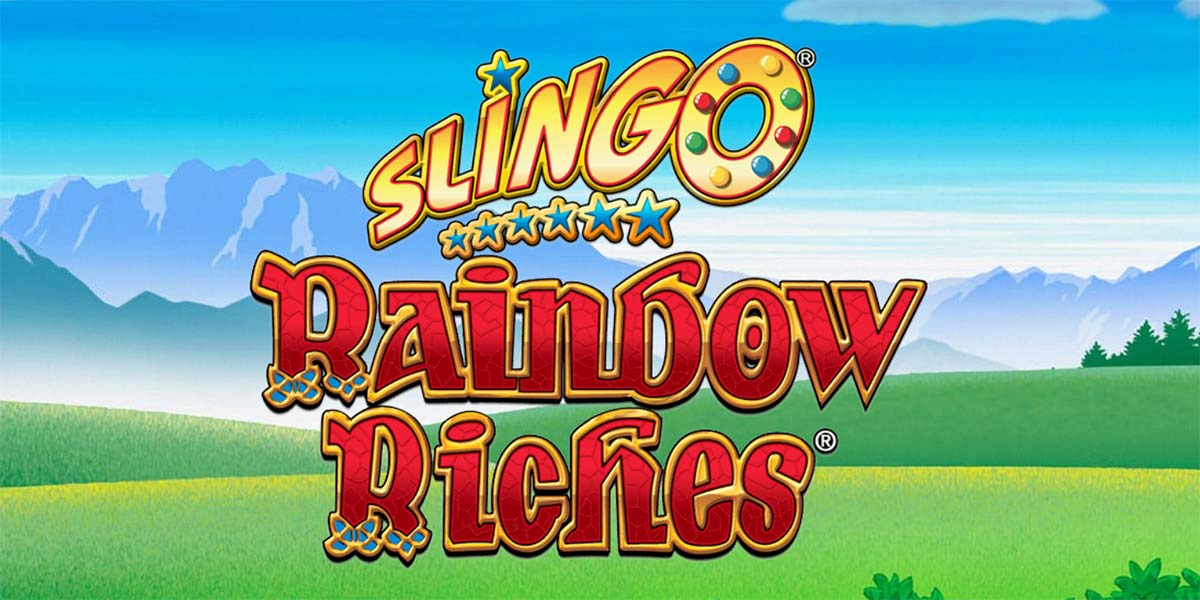 Slingo Rainbow Riches mixes the most famous Irish luck-themed slot machine with a traditional bingo game. The Irish Leprechaun greets you to play, and you'll also see a pot of gold and a rainbow. The original game's bonus features have been transferred across, as have the charm, excitement, and thrills.
Slingo Rainbow Riches is a collaborative effort between Slingo Originals and Barcrest (Distributed by SG Digital). The game works like classic Bingo, intending to mark off the numbers on your 5×5 bingo card. The traditional grid has 25 Slingo numbers, 12 winning lines, and five spinning reels beneath the grid.
This popular Slingo game has a 95.6% RTP and can be played on desktops and mobile devices with a minimum bet of $0.50. Slingo Rainbow Riches is an action-packed game with plenty of chances to win real money rewards, with seven bonus rounds and a maximum payout of up to 1,000x your stake. Keep reading our complete game review to learn how to get started and about all the fantastic features.
🎰Slingo Rainbow Riches
RTP
95.6%
Volatility
Medium 3/5
Developer
Slingo Originals / 2018
Reels/Rows
5x5
Paylines
12
Bets Range
$0.50 to $200
Special Features
Free Spins, Jokers, 7 Bonus Games, Unlimited Extra Spins
Theme
Irish Luck
Maximum Win/Jackpot
1,000x
Compatibility
Instant Play Online, Desktop, Mobile, iOS, Android, HTML5
Slingo Rainbow Riches Bonus Offers
$50 No Deposit at DraftKings Casino + 200 free spins at Golden Nugget Casino
Play Free or Real Money Slingo Rainbow Riches in the US
As soon as the ball started rolling and states began to legalize casino games, Slingo was readily available. Players in NJ, MI, PA, CT, and WV can find a large variety of Slingo games to play with real money. Welcome offers, reload bonuses, and no-deposit free spins are other great ways to jump into action for a free chance to play Rainbow Riches Slingo and win real money. The following are the best casino apps with Slingo games:
Theme, Graphics and Gameplay
Slingo Rainbow Riches features a bright Irish theme and pleasant, colorful graphics like the original game. Since the late 1880s, the Irish have been linked with good fortune, so it's no surprise that many online slot games include the Emerald Isle as a theme. A 5×5 playing grid is set against a backdrop of Emerald Isle rolling hills and a yellow brick road. The sun shines brilliantly, and the sky is clear; even the soundtrack tells you that the day will be perfect.
On the grid are the traditional 25 random numbers ranging from 1 to 75, with a pot of red balls to the right representing the available spins. Because of the setting and additional features inspired by Rainbow Riches, the design is identical to the classic slot machine. This design, however, is more admirable than the original due to greater attention to detail. While spinning the reels, the cheerful music in the background beautifully represents the Irish theme.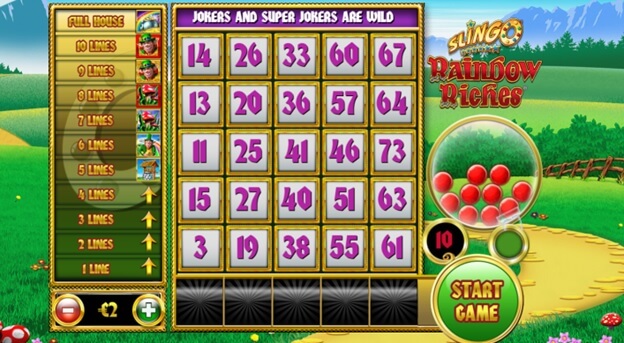 In Rainbow Riches Slingo, a colorful rainbow surrounds you, and your bonus rounds will include lucky coins, toadstools, wishing wells, and pots of gold to highlight the happy Irish theme and the great prizes awaiting you. Overall, the Irish music is enjoyable, the graphic style is appealing, and the game is simple to grasp.
How to Play Slingo Rainbow Riches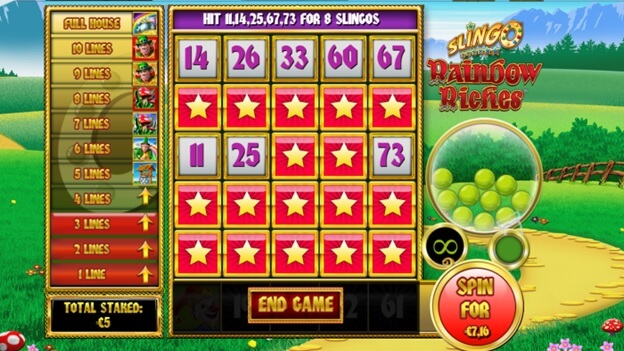 This Irish-themed game combines slots with bingo, with the action taking place on a 5×5 bingo card in the center of the display. Instead of drawing numbers as in traditional bingo games, the numbers in this game are picked by spinning slot reels at the bottom of the screen. Here are easy to follow steps on how to play Slingo Rainbow Riches online:
First, create an account at one of our recommended

online casinos

and choose a game from the library.
When you initially start the game, you must select the size of your stake using the + and – The betting range can extend from $0.50 to $200, making it appealing to players with a broad range of budgets.
After that, you will be given a bingo card with 25 numbers placed in a 5×5 grid. You can start the game by hitting the 'Start Game' button in the lower right corner. Each game takes ten spins, and five reels beneath the card spin to reveal five numbers.
If the number on the reel matches a number on your card, it will be immediately marked off. You'll win a Slingo if you mark off five digits on one of 12 win lines, which can be vertically, horizontally, or diagonally. With each Slingo you win, you'll move up the prize ladder on the left side.
To unlock one of seven exciting bonus rounds, you must score five or more Slingos. If you haven't won before the end of the game, you'll be given the option of paying extra for purchasing extra spins.
When players enter one bonus, the game commences. You can start a new round anytime with the same bet, with or without buying additional spins.
When playing Slingo Rainbow Riches, the most you can win is 1,000x your bet. You must play with the max bet, get a full house, and secure the x1,000 pot while playing the Pots of Gold bonus round.
Along with the Bingo numbers, there are a few valuable and fun symbols to assist you along the road, such as jokers and free spin symbols. We'll go through these unique symbols in further detail below.
Slingo Rainbow Riches Special Symbols
While playing Slingo Rainbow Riches, you'll discover special symbols which help you get to the pot of riches. As all ordinary symbols are merely bingo numbers, there are four unique symbols to watch out for. The special symbols will appear randomly on the bottom reel and affect your gameplay in various ways.
Joker: The joker symbol serves as a wild, allowing you to mark out any number in the column above to help you complete Slingo lines.
Super Jokers: You can use the super joker symbol to mark off any number on the entire grid.
Devil Symbol: Devils are blocking symbols as they block the entire column above with an evil grin. It appears only on the center reel, preventing symbols from being transformed into stars on that column.
Free Spin Symbols: When the free spins symbols appear on the reels, you are awarded extra free spins in that round.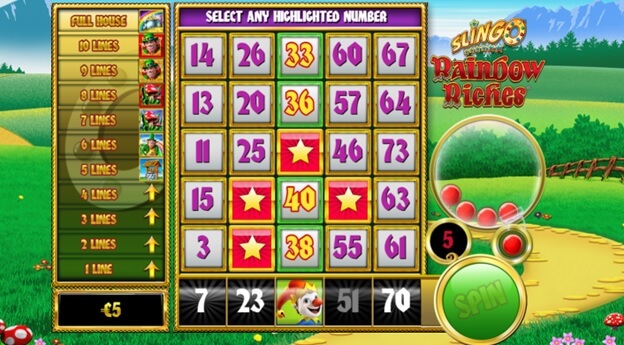 Slingo Rainbow Riches Bonus Features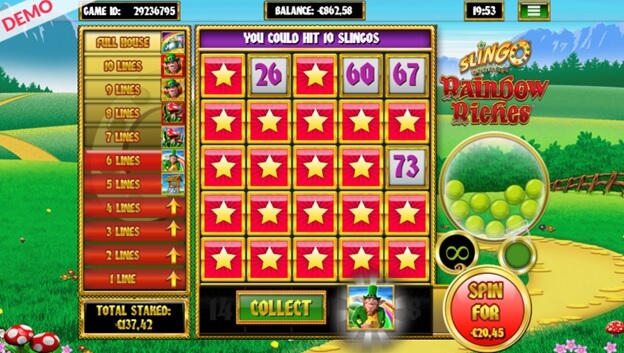 Slingo Rainbow Riches includes all of the bonus games available in the original game. Collect more than 4 Slingos to unlock these, and the further you climb the bonus ladder, the bigger your bonuses.
Wishing Well – This bonus round is unlocked after completing 5 Slingos. You will see three wishing wells in front of you and must choose one to reveal your multiplier reward.
Cash Crop Bonus – When completing 6 Slingos, you can enter the Cash Crop bonus round, which involves 50 coins spinning to reveal winning values. You can move to the next level if you win and receive multipliers of 0.5x, 1x, 2x, and 10x.
Magic Toadstool – Completing 7 Slingo lines unlocks the Magic Toadstool bonus, in which you will select three mushrooms to reveal win value ranging from 1x to 5x or a fairy. If you catch a fairy, you will be given three additional selections, and each fairy will award you three more multiplier values, potentially raising your overall win.
Magic Toadstool Red – It is activated after finishing 8 Slingos and is identical to the above-described feature. The difference is that you receive four selections in this bonus round, giving you an extra chance for big wins.
Road to Riches – 9 Slingos activate the golden trail of the Road to Riches spin bonus, in which you spin a wheel and progress down a multiplier trail until you reach to collect. It continues until you reach the maximum multiplier of 500x or until the wheel lands on collect.
Road to Riches Red Bonus – It is similar to the Road to Riches bonus spin, except it is triggered after finishing 10 Slingos. The main difference is that the multipliers in this one are substantially more significant, and the maximum win is 1,000x your bet.
Pots of Gold – Lastly, a Full House will take you to the Pots of Gold bonus. When the Gold, Silver, and Bronze pots stop spinning in front of you, the randomly selected pot will award you a multiplier ranging from 50x to 1000x your stake.
Slingo Extra Spins Strategy
All Slingo Games involve a set number of free spins, usually set at 10 or 11. Players are unlikely to scratch off all the bingo numbers within the initial 10 spins, activated with a single wager.
Slingo Rainbow Riches provides extra spins after the initial 10 are completed for an additional cost. This is where the game can quickly turn expensive, significantly more than slots, with each spin costing far more than the previous ones.
Another thing to note is that the closer you are to a full-house Slingo, the more expensive each extra spin will be. Buying spins is an excellent Slingo Rainbow Riches slots strategy, but only when used with caution. Players should not break the bank, hoping the next spin will help them match the remaining numbers, especially by betting money they cannot lose.
Do buy extra spins if your initial ten spins brought you near a bonus, but only then. Check out our complete guide to Slingo if you want to find some extra tips and strategies for playing Slingo optimally and close to the listed RTP levels.
Slingo Mobile Compatability
Slingo Rainbow Riches is optimized for mobile and tablet play, just like the other Slingo games, so you can play anywhere you wish. It's a fun game to take with you on the go, and all you'll need to get started is an Android, iPhone, or iPad. With its charming Irish theme and seven bonus rounds, you'll enjoy high-quality graphics on all your small-screen devices.
By registering an account, you can play this game or other free slots on our top-rated online casino sites or apps. The gameplay will be the same as on a PC, and your gaming experience will be enhanced by our high-quality gaming platform and user-friendly layout. Regardless of your devices, the game runs flawlessly without bugs or glitches.
RTP & Volatility
Players interested in the game's technical aspects should know that Slingo Rainbow Riches has an RTP of 95.6%, slightly lower than the industry average online (96%). RTP (Return to Player) is the expected proportion of bets that a particular game will return to the player over time. It indicates that for every $100 played on Slingo Rainbow Riches, it should pay $95.60 in the long run.
Most Slingo games offer an RTP over 95%, with a few outliers in the 97%+ range, quite comparable to their online slot counterparts at the casino.
It's worth noting that Slingo Rainbow Riches has a medium level of volatility, rated 3/5. The risk component linked with slot games is volatility, which measures how frequently and how much you may expect to win. Because of its medium volatility, this game will provide you average size wins compared to low-variance slots with lesser payouts.
Go Hunting Gold Pots with Slingo Rainbow Riches Today!
Slingo Rainbow Riches is one of the best Slingo slots because of the lucrative extra features inspired by the original Rainbow Riches slot machine. Slingo Originals has successfully converted this hugely popular slot to the Slingo platform. The artwork and Irish charm stay unchanged, and we admire how they managed to squeeze all of the other features inside the game.
Slingo Rainbow Riches' play style is similar to other Slingo games in that you match numbers on your reel with those on your grid to complete lines and move closer to activating bonus rounds. Stack your slingos to get more bonus rounds and higher payouts. You may also benefit from the Joker, Super Joker, and Free Spin symbols, but avoid the Devil symbol because it will block the numbers.
Overall, this combination of slots and bingo is exciting and might pay off handsomely if you are patient and play wisely. The Irish music is enjoyable, the graphic style is appealing, and the game is simple to grasp. So, use our links above to try it out today and join clever leprechauns in their pursuit of gold pots.
Slingo Rainbow Riches FAQs
Where can I play the Slingo Rainbow Riches slot?
You can legally play Slingo Rainbow Riches on any online casinos in the following five US states:

We have selected the top online casinos where you can enjoy and play Slingo and other free games for real money safely and with outstanding bonuses.
What is Slingo Rainbow Riches' RTP?
Rainbow Riches Slingo RTP of regular spins is 95.6%, while buying extra spins lowers the RTP to 94.92%. So, while extra spins are less profitable long term, you may still buy them if you believe you need a few extra spins to unlock the bonus you desire.
Is it possible to play Slingo Rainbow Riches on mobile devices?
Yes, Slingo Rainbow Riches is optimized for all smaller displays, making it ideal for playing on the go. You can play this mobile slot game without problems, whether using an Android, iPhone, or tablet. It is built with HTML5 technology to adjust to multiple screen sizes, making it easy to play on all devices.
What is the volatility of Slingo Rainbow Riches?
Slingo Rainbow Riches is a medium-volatility slot, so you can expect to get average rewards regularly. However, they will be more rewarding in size than low variance slots and less rewarding than high variance slingos like Slingo XXXtreme.
How to win at the Slingo Rainbow Riches slot?
You'll win a Slingo by marking off five digits on one of 12 win lines, just as in any other Slingo game. In this game, the minimum number of lines required to activate a feature that allows you to win big is five.
Are there similar slot games to Slingo Rainbow Riches?
Yes, there are numerous other Slingo Originals games as well. You can try Slingo XXXtreme, which allows you to win up to 1000x your stake in a fast-paced, action-packed environment. Slingo Cascade is another perfect pick, as when a Slingo is finished, all five squares in the grid burst, producing a cascade of new squares to fall in. A similarly themed game is also Slingo Riches, although less lucrative.

Like online slots, new Slingos are constantly being released with more recent games such as Stinkin' Rich Slingo, Slingo Stampede, Slingo Da Vinci Diamonds, and Slingo Shark Week.
Who is the software provider of Slingo Rainbow Riches?