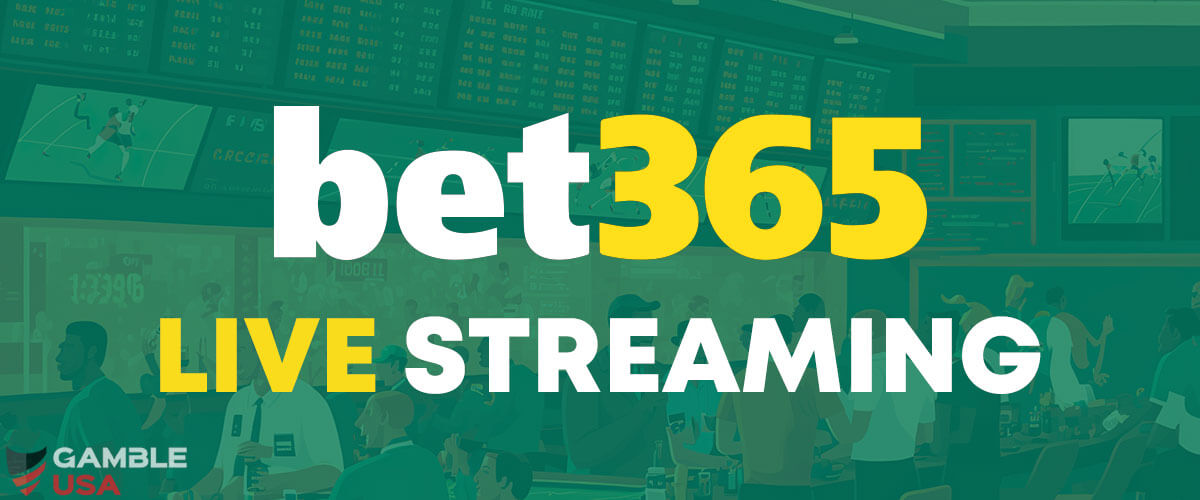 To add to the excitement of in-play betting, you can now watch games online & mobile thanks to the bet365 live streaming service.
bet365 are one of the most well-known sports betting operators globally. Players regularly sign up for an account at the bet365 sportsbook to access numerous betting markets and several types of bets. One of the factors that make your betting experience even more enjoyable is bet365 live streaming. A bet365 live stream allows customers to watch sports events while wagering at the same time. As a market-leader, bet365 covers numerous sports from across the world.
bet365 signed an official partnership with Genius Sports in January 2022. The deal means Genius Sports provides the online sportsbook with premium streaming and official data on competitions like the English Premier League, La Liga, Serie A and the NFL.
With bet365 US streaming, players can access bet365 soccer live and various other bet365 tv specials. Additionally, when you sign up, you can take advantage of features such as bet365 live streaming football, you can claim the bet365 Bonus Code NJ. Watching live soccer and receiving betting tips as you look to place wagers from the comfort of your home is an excellent service.
Essentially, when you have created your account, live broadcasts of a massive number of matches are just a few clicks away. Customers can access the live sport streaming service via their mobile device or desktop, so you can watch your favorite teams and sports anytime while on the go.
New customers can access football live streaming or a stream on any other sports event if they place a bet straight away. Please make sure you have funds in your account and have placed a bet in the last 24 hours before using bet365 streaming in the US. The service will not work if those conditions are not met.
How To Use Live Streaming At bet365
Bet $1, Get $365 In Bonus Bets
21+. T&C Apply
21+. T&C Apply
Easy and fast banking options
Huge welcome bonus bet
To watch your favorite sports events via bet365 live streaming, first, you need to have an active bet365 account. This applies to any betting site. To access bet365 live scores and watch live action, follow the below steps:
Create a new bet365 account at

bet365.com

or log in to your existing account.
Head to the live streaming section.
Select the event you want to watch or choose from the live streaming list.
Click on your preferred event and enjoy.
One of the benefits of live streaming is that you can use it while on the go. All you need is a smart mobile device and an internet connection. Having used bet365 many times in the past, we can confirm that the quality is fantastic. There is the occasional lag and buffering time, but that is typical of any sportsbook. The crucial thing is you can live stream all major events with no interruptions. Whether it is the World Cup or any other sporting event, you can watch a live match with bet365 streaming and access the betting options as they appear on the screen. Additionally, bet365 live streaming full screen is available, so there is no need to watch the action in the corner of the screen.
Furthermore, you can place bets while the action is happening in front of your eyes. The bet365 sportsbook offers a considerable amount of in-play betting markets, so there are enough options to keep everybody occupied. We have been using the service since it launched in NJ back in 2019 and found it pretty seamless. It really helps to have a strong WiFi or cell signal. That way you can watch games uninterrupted and without any lagging or freezing.
bet365 Live Streaming Costs
As an account holder, there is no additional costs to live stream sports with bet365. There is no monthly subscription or hefty one-off fee to watch any of the sports available on the live channel. You do however need to have a funded account or to have placed a wager within the last 24 hours before using the bet365 streaming service. Sign up and use the bet365 promo code when you join to claim $500 in bet credits.
How to set bet365 Live Streaming Full-Screen Mode
When you watch your team play, whether you are watching an NBA game in the UK, Australia or the US, you want to be able to see everything on a full screen. There is nothing worse when you are trying to concentrate on an event and a message pops up on the screen, and this is even more annoying if it is an event where you have got money riding on it.
The good news is bet365 live streaming offers full screen mode and it is easy to use. Lots of punters prefer viewing in full screen as they get a better picture of what is happening, which may influence what they will wager on as the game unfolds. It can be difficult to watch things in full screen on a desktop device but there is a simple and efficient solution to this.
If you want to enjoy full screen mode, we recommend you download the bet365 mobile app. There is a tool you can use on your mobile is made for chrome browser which is referred to by many bettors as the bet365 full screen chrome. This is because its a Google chrome extension which is already installed on your home browser. To use this tool, you must  have a chrome browser installed on your device which will enable you to access the bet365 live stream and watch NFL, NBA, or any other sport in full screen.
What sports are available on the bet365 streaming service?
There are loads of viewing opportunities with bet365 US online, and you can watch the following sports online, or on your smartphone:
There is a betting market for everyone on this sportsbook. When you are on the bet365 NJ site, you can see which games are available to watch as they will have a small Play icon next to the fixture. Tap the button on the bet365 stream will start to show as long as you are logged in and have sufficient coverage, and have funds in your account, or made a recent qualifying bet. Watch soccer, tennis, live football, horse racing, golf, and many more sports straight from your smartphone.
bet365 Soccer Live
Watching live sport on the internet has become big business. Choosing your favorite sports station whether it be ESPN of Fox to tune in a game (Football, Basetball, Soccer, Baseball etc) will always remain a popular option. However, if you don't have access to those channels you can still enjoy watching via the web by accessing a live stream. Luckily, bet365 covers all of the prominent sports via its live streaming service and one sport in particular, soccer, has become one of the most popular options for live streaming.
The reason for this is Soccer has the most significant share of events across the board on the bet365 platform. You will find major European leagues such as the English Premier League, Spanish La Liga, Italian Serie A, German Bundesliga, Dutch Eredivisie, UEFA Champions League, UEFA Europa League and MLS. The operator covers all of the big matches around the world and even some smaller matches and tournaments for those ardent soccer fans.
Another reason why bet365 soccer is so prominent is the amount of in-play options you have available to you while watching a match. You can bet on the half time score, first goal scorer, next goal scorer, next player to receive a yellow card and in some cases even the next team to get a corner kick. There are lots of things going on during a soccer match and you can wager on most of them. The odds will constantly change to reflect what is happening so make sure you are ready to react accordingly.
Ultimately the bet365 soccer live streaming option is a great way to keep up to date with your favorite leagues and teams even if they are from a different country. Via the bet365 mobile app, you can also watch a game on the move so there is no need to be at home to watch. The live streaming is high quality and as long as you have a stable internet connection there will be no glitches and you can watch the match uninterrupted.
Where is bet365 streaming available in the US?
bet365 sportsbook is only available in NJ at the minute. You can sign up to the sportsbook at bet365.com from any US state, you can even fund your account as well. But, like placing a wager, you do need to be physically in The Garden State before being able to watch any of the streamed sports.
You will need to make sure location settings are enabled on your smartphone (geolocation) to confirm you are in NJ. If you are planning to stream the game on your PC, laptop, or Apple device, you may need to use a GeoComply plugin to help confirm your location in New Jersey.
Is bet365 streaming legal?
Yes, 100%. bet365 is one of the biggest and most popular sports betting operators on the planet and watching sports via their live streams is 100% legal and safe to do. Live streaming rules apply to any event you are watching, so make sure you read the terms and conditions before accessing the service.
Benefits of bet365 Live Streaming
Most bettors these days expect to have a quality streaming service on an online sportsbook so they can watch various sports events. The bet365 has an excellent in-depth in-play betting section which works well with its streaming service. Consequently, bet365 have become one of the top live streaming betting sites available in the United States. It allows you to enjoy high-quality streaming in full screen, along with a comprehensive live streaming schedule for multiple upcoming sporting events.
The in-play betting service now offers the convenience of you watching the game while the odds change in real time to reflect what is happening. This means if you notice a trend or believe the game will head in a certain direction, you can jump on it instantly for the best value.
bet365 Live Streaming Sports
Bet $1, Get $365 In Bonus Bets
21+. T&C Apply
21+. T&C Apply
Easy and fast banking options
Huge welcome bonus bet
These days, you can watch a wide range of sports on TV through the vast amount of channels available. However, the days of sitting around waiting for the outcome of the match to see if your bet has won are long gone. Thanks to live video and live score updates, you will not miss a second of the action.
If you have yet to create a bet365 account, the registration process is straightforward. You can visit the website and be ready to go within minutes. If you have a promo code, remember to enter it to get instant access to the welcome bonus. You may get access to bet credits from bet365 to wager on your favorite sports, or pick up one of several bonus bets offers available. There is also a bet365 live casino available if you fancy a flutter on some blackjack. Check out our guide for the sportsbook to see how to claim the welcome bet and other offers available with the bookmaker.
Please bear in mind that there are some restrictions and limitations. First, the bet365 sports betting platform, and features such as live streaming may be restricted depending on your geographic location. If you receive a 'bet365 live streaming not working' error message, it is likely because of where you are located. Additionally, there are restrictions in place specific to which region you are in as well as age restrictions. Players can only place a bet if they are over the age in which gambling activities are permitted.
bet365 Mobile App
Being one of the biggest online sports betting companies in the world, bet365 is renowned for offering top-quality services and innovative features. One of these top-quality services is the bet365 app. Downloading the app to your mobile device is a breeze, and you will soon discover that it is an excellent platform for in-play betting.
Using the app, you can access the live streaming service, and you will have the full list of the available in-play betting markets. The is a plethora of live betting markets, with mobile live streaming football in particular heavily featured.
Overall, the bet365 platform is a superb option to watch sporting events live and bet on them as they happen. Additionally, if you enjoy gambling at online casinos, bet365 has a casino app so you can play roulette, slots, and blackjack on the go. The odds on the mobile app are exactly the same as on the regular desktop site, as are the available betting markets.
Using bet365 Cash Out with Live Streaming
The best betting sites, in addition to allowing you to watch a live event via live streaming, will also allow you to cash out of your wager early. Cash out is an excellent option that lets players take your cash out that would remain into a locked bet awaiting for a final outcome if you just let it run. Whether you are betting on the Super Bowl, a tennis grand slam, a horse race or Real Madrid in LaLiga, you can take the money back from your bet before the content ends. Alternatively, you could place some pre-match bets but then decide that you want to cancel them. The bet365 cash out feature allows you to do this.
Live streaming allows you to watch your event via bet365 and utilize all of the cash out options that are available. This is great as you can see the action develop in front of you and if you feel the wager isn't going as well as you hoped it would, you can at least lock in some profits early and get some return on your investment.
Of course, the counter to using cash out is that sport is unpredictable. So even if you think the bet isn't going well and decide to cut your losses, the game could then flip the other way and turn again and you might regret stopping the wager early instead of letting it naturally play out. As always, you can read any betting tip you like but ultimately you have to go with your gut instinct and trust your judgement.
bet365 Sportsbook Features
One of the significant reasons that the bet365 brand continues to grow is its strategy of continually improving its products. The operator regularly introduces new features and is typically the first one on the market to do so. That is one of the significant factors that make bet365 one of the giants of the industry with a huge fan base.
The online sportsbook operator is one of the largest betting companies on the planet and has one of the best live sports streaming services going. Most popular sports are available to view, but tournaments like the champions league are not yet available. You can check out the action in the Bundesliga, and watch a cricket match on the move.
FAQ's
How to watch live sports at bet365?
To watch live sport action on the bet365 sportsbook, first, you need to create an account. Once the account has been verified, log in and click on 'live streaming.' Then choose the event you want to watch from the 'live now' or 'schedule' options. Select the event you want, and the live feed will begin.
How much is bet365 live streaming?
As long as you have funds in your account and have placed a bet in the previous 24 hours, there is no charge to stream. The minimum deposit with the operator is $10 which you will need to do to fund your account.
What are the system requirements for live streaming?
The requirements vary for live streaming depending on which sportsbook you are using. You should be all good if you are using an up to date tablet device. These will stream NFL and other sports in clear definition. Bear in mind geo restrictions apply depending on where you are betting. The bet 365 live streaming service is among the best of online US sportsbooks. The operator has made it a simple process to access the service and also ensured there are numerous sports to choose from as you watch the action live.