Gamble USA strives to improve your online gambling experience. We aim to help you play safely, make informed decisions when gambling, and increase your betting knowledge through our guides.
We adhere to strict editorial integrity; our content may contain links to products from our licensed & legal US partners.
The DraftKings Playbook should be every sports bettor and DFS player's go-to site for game previews, tips, and betting advice.
We take a look at what the Playbook from DraftKings offers readers and why you should bookmark the site.
DraftKings is the US' leading daily fantasy sports and sports betting provider. DraftKings allows players to enter daily and weekly fantasy sports-related contests and win real money based on individual players or a team's performances in all five of the major American sports (NBA, the NFL, the NHL, MLB, and the PGA), English Premier League (EPL) and UEFA Champions League (UCL) soccer matches along with NASCAR racing, Canadian Football League betting (CFL), the XFL, Mixed martial arts (MMA) and even Tennis betting.
Up To $1,000 Deposit Bonus
21+. T&C Apply
21+. T&C Apply
The best sportsbook
Amazing odds & offers
Awesome betting app
Up To $1,000 Deposit Bonus
21+. T&C Apply
21+. T&C Apply
Their most popular contest is Fantasy football, a game in which the players take the role of general managers of their own virtual professional American football team. The players select their rosters by participating in a serpentine draft in which all active NFL players are available. Points are tallied based on the real-life performances of the players in the NFL. After you have drafted your team, you can make trades with players in your league if both parties are happy with the trade.
DraftKings not only offers fantasy sports, but it is also one of the US' most popular sportsbooks.

DraftKings Sportsbook
DraftKings Sportsbook launched in New Jersey in August 2018, making it the first operator to offer legal online sports betting. DraftKings since then launched mobile operations in Indiana (IN), Illinois (IL), Pennsylvania (PA), West Virginia (WV), Colorado (CO), Tennessee (TN), Iowa (IA), New Hampshire (NH), Virginia (VA), Michigan (MI), and, Wyoming (WY).
New players at the DraftKings Sportsbook can take advantage of the DraftKings welcome offer in which you can claim up to $1,000 in free bonuses. Just head to sportsbook.draftkings.com and sign up for your account. There is no promo code needed.
What Is DraftKings Playbook?
DraftKings Playbook is a service set up by DraftKings & SB Nation to provide players with the latest fantasy sports news, sports betting news, including their expert's daily advice for fantasy lineups and the DraftKings NFT Marketplace.
Articles are published daily to provide players with the latest insights into upcoming events & competitions. This is one of the aspect setting DK as the best in-game betting app in the US.
What Is DraftKings Daily Fantasy Sports?
The basic rules of Daily Fantasy Sports (DFS) are that you have a salary to build your team for the following night's games. We will use the NBA as an example here. However, corresponding rules to your favorite sport can be found on the DraftKings website.
NBA Classic
Users playing salary cap contests will create a DraftKings lineup by drafting players listed in the Player Pool for the games happening that day. Every player listed has an attached salary, and a valid lineup must not surpass the salary cap of $50,000.
Competition results will be decided by the total points accrued by each lineup entry; the scoring goes as below.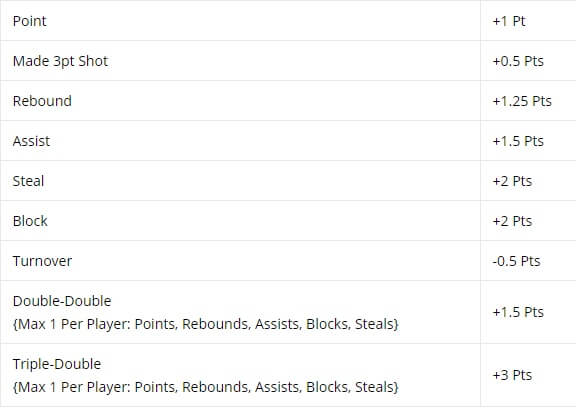 DraftKings offers a range of daily fantasy sports contests for players at all levels of experience. Contests cover beginner contests for amateur players, "Step" contests where players can win tickets or tokens at different levels so they advance to the next level to have your chance at winning more money. "Multipliers" (also called "Boosters"), which allows players to speedily boost their entry fee by getting higher scores, "50/50" contests, where players can win by finishing in the top half of their league, "Head to Head" contests, where two DraftKings players face each other, and "Guaranteed Prize Pools" (also known as GPPs). In these tournaments, a lower number of players can win more significant amounts.
DraftKings Playbooks Picks
As mentioned previously, the experts at DraftKings provide us with daily free predictions in which they believe are going to happen, but just how accurate and reliable are they for players to risk money at the DraftKings sportsbook?
NBA Playoffs Round 1 Predictions
Prediction – Brooklyn Nets vs. Toronto Raptors (GM1): Under 222 Total Points
Result– Brooklyn Nets vs. Toronto Raptors (GM1): 244 Total Points
Prediction – Philadelphia 76ers at Boston Celtics (GM1): BOS -5.5
Result– Philadelphia 76ers at Boston Celtics (GM1): BOS 109 – 101 PHI
Prediction – Boston Celtics vs. Philadelphia 76ers (GM2): 76ers +5
Result– Boston Celtics vs. Philadelphia 76ers (GM2): BOS 128 – 101 PHI
Prediction – Los Angeles Clippers vs. Dallas Mavericks (GM2): Clippers -6.5
Result– Los Angeles Clippers vs. Dallas Mavericks(GM2): LAC 114 – 127 DAL
Prediction – Denver Nuggets vs. Utah Jazz (GM2): Nuggets -5
Result– Denver Nuggets vs. Utah Jazz(GM2): DEN 105 – 124 UTA
From the above, it's clear to see that their experts don't have the greatest insight, being correct on two of five selections; both of the correct picks being on the Celtics vs. 76ers, where it's somewhat predictable what is going to happen after Ben Simmons went down with an injury before the series started, leaving the 76ers without their primary ball-handler & All-NBA defensive talent, which has been sorely missed on Celtics Star Jayson Tatum.
When it comes to the more competitive series in the NBA, the experts are very inconsistent with their picks. I would stay clear of using their predictions for NBA games and perform your research as I feel it was very predictable that the Utah Jazz would bounce back with a win after Jamal Murray & Jerami Grant over-performed in the Nuggets game one overtime victory with a combined 54 points; In contrast, many Jazz players couldn't get it going on both ends of the floor, carried by the historical efforts of Donovan Mitchell who finished with 57 points.
The NBA DraftKings playbook is one of the most popular, and best places to go for all things related to NBA news.
MLB Predictions
Prediction – San Diego Padres vs. Texas Rangers: UNDER 8 TOTAL RUNS
Result– San Diego Padres vs. Texas Rangers: Padres 6 – 3 Rangers
Prediction – Chicago White Sox vs. Detroit Tigers: Moneyline – DET
Result – Chicago White Sox vs. Detroit Tigers: White Sox 6 – 3 Tigers
Prediction – Cincinnati Reds vs. Kansas City Royals Game 2: Moneyline – CIN
Result – Cincinnati Reds vs. Kansas City Royals Game 2: Royals 0 – 5 Reds
DraftKings Playbook is a lot more reliable when it comes to the MLB predictions, with a 2/3 success rate. However, the game they incorrectly predicted, it was very obvious that the Padres would give you a minimum of 5 runs on this Rangers team as the Padres put up 20 total runs in the two previous meetings with the Rangers.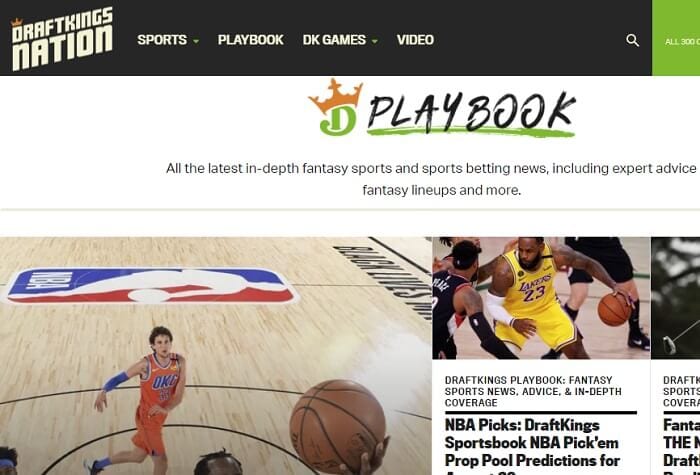 Overview
Overall, their expert picks look more to be a guess with no logical thinking behind them. I would not recommend using these predictions as a reliable source of your online sports betting. Their MLB & NHL predictions do seem to be correct a higher percentage of the time when compared to their NBA & Soccer bets.
To get involved with DraftKings Playbook, head over to sportsbook.draftkings.com, and see what all the fuss is about.