Gamble USA strives to improve your online gambling experience. We aim to help you play safely, make informed decisions when gambling, and increase your betting knowledge through our guides.
We adhere to strict editorial integrity; our content may contain links to products from our licensed & legal US partners.
Among all the casino games, the Blackjack game is one of the very few where you can incorporate your own understanding. It's usually the basic Blackjack strategy that most players try to use, but there's more where that comes from.
In this guide, I'm planning to take you through the basics of how to play Blackjack as well as share tips on how you can dominate the Blackjack table.
Play at the Best Online Blackjack Sites
Before I go into the details of Blackjack tables, I believe you should have access to the best online casinos in the US where you play the game. I'm all about adding variation to your experience so most of these brands have multiple games on offer at once.
Moves and Strategies at Blackjack
Before you can start winning at Blackjack games, you first need to know about all the moves and the betting strategies. You may already know that it's a card game where you start with 2 cards along with the dealer.

Here's a basic outline of what the moves in online Blackjack games are and what they mean.
Stand: If you're happy with the cards you've received and you want to stick to it, you "stand".
Hit: If you want additional cards after the initial 2 cards, you "hit". The dealer will draw cards every time you hit.
Split: In case you get 2 identical cards, you can split them into 2 separate bets. There are certain instances where you should and shouldn't split but that's a discussion for later.
Double Down: Doubling down is essentially doubling your bet value because you're confident that you have a very strong hand. However, keep in mind that it's a gambling game so there's always a chance that you might lose.
Dealers Rules
When you play Blackjack games in the USA or any other country, you're essentially playing against the dealer, and ultimately against the casino. All of it has to do with the game rules that you can also call dealer rules.
In this section, let me outline the rules on how to play Blackjack and what kind of flow you can expect from the dealer.
Number of Players
This is a very good place to start with a casino Blackjack table. How many players can there be?
Well, it depends on what kind of game you're playing. If it's an RNG Blackjack, you can play on your own. The dealer in this case is the software so you don't really need other players.
On the contrary, if you're playing live dealer Blackjack, the table needs at least 2 players. The number can go up to 7 for the most part, but you can always find exceptions.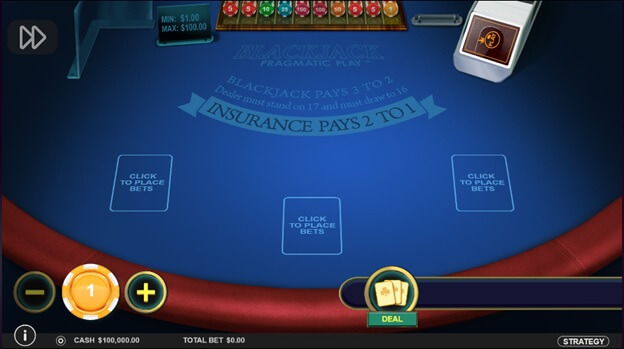 Number of Decks
It's also going to depend on the game itself. It can be one Blackjack deck only or it can be a whopping eight decks. The more decks are used in the game, the less you can count cards. The house edge also varies from game to game based on how many decks it's using.
The Objective When You Play Blackjack Games
You might be aware that Blackjack is also known as Twenty-one and Vingt-en-Un (translating to twenty-one in English).
It's simply because the maximum hand value in the game is 21. The closer you can get to it, the more chances you have to win the round. If you go over 21, that's a bust. If the first 2 cards that you get give you a 21, that's a Natural Blackjack. It means you win automatically. However, it's "push" if both you and the dealer have a Natural Blackjack.
The Card Values at Blackjack Tables
To know exactly what your hand is, you need to know how each card is valued in Blackjack. Cards 2 through 10 have their face value. Picture cards, as in the Jack, Queen, and King are valued at 10. The ace, however, can have 2 different values. It can either be 1 or 11. Don't worry because I'm explaining how it works in the very next section!
The Play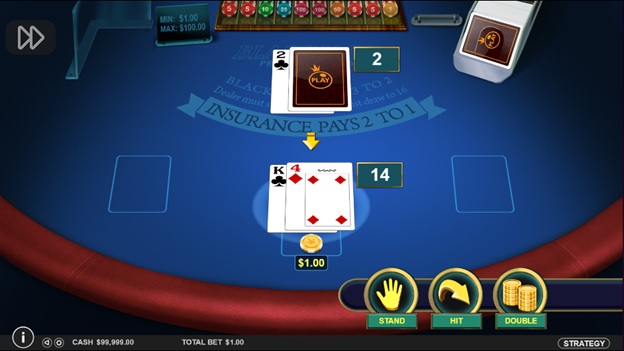 So, the dealer starts dealing cards to all players including himself/herself, one at a time. Once he goes through the table, the same process is repeated. But this time, the dealer's card is face down, known as the hole card. The dealer is going to reveal it at the very end of the round.
Now, coming to how the Ace can have 2 different values. You already know that your goal is to reach as close to 21 as possible. So, if one of the cards you get is an Ace and another card is a 10, you can consider the Ace as 11 and make it a Blackjack winning hand.
However, if the other card is a 3, for example, you can only get to 14 if you consider the Ace as an 11. It's not a very good hand. Now, you have the option to "hit" and take another card to help you get closer to 21.
Let's say it's a 10 this time. Your total hand value becomes (11+3+10) = 24, which is a bust. In such cases, you consider the Ace as 1. So, your hand value comes down to 14 again. You can always hit again to improve your chances.
When you have the room to change Ace's value, it's known as a "soft hand". And if you can't change it, that's a "hard hand".
After all the players are done with their moves, the dealer reveals the hole card. If the dealer busts, the next hand wins. It's very possible that the dealer has the highest hand. If that's the case, the house wins.
10 Tips to Win at Blackjack
In this section, I'm going to take you through some tips that might help you recover from a losing proposition. The game itself goes beyond just Blackjack hands. These tips are generated from my own experience over the years of playing Blackjack games as well as using the betting strategy tips I learned back in the day.
#1 Play at Tables You Can Afford
This might seem cliché to a lot of you but this is how you start winning at Blackjack tables. If you directly go for tables that you "think" you can win and they have a high minimum bet value, it might turn out horribly for you.
The great thing about online casinos in the US is you get all kinds of games to choose from. That surely includes the low minimum tables as well as the high roller tables. If you're not sure which one to go for, just ask customer support.
#2 Follow the Basic Blackjack Strategy Rules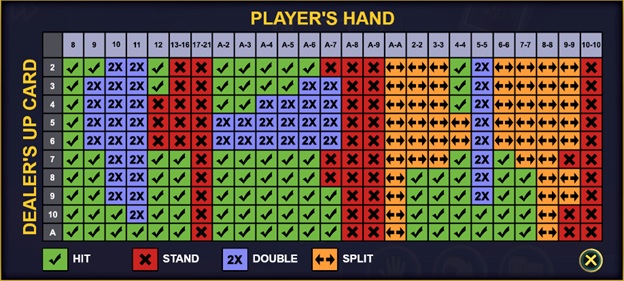 The basic Blackjack strategy I've been mentioning over and over again, it's actually a matrix where all possible hands and the corresponding actions are listed. You don't have to play accordingly at all times, but that's an amazing starting place, especially if you don't have any prior experience with Blackjack, let alone winning at Blackjack.
You can simply search for Blackjack Strategies on the Internet and find the basic strategies we've been hinting at. Just download it and keep it handy for the next time you play at Las Vegas or an online casino.
#3 Always Split Aces and 8s (For the Versions that Allow it)
Remember the section where we mention what a "split" is? Although you can make the move every time you get identical cards, you shouldn't. Experts always suggest that you should split Aces and 8s. It's simply because when you hit after splitting your bet, you have a higher likelihood of winning at Blackjack.
Other cards, let's say a pair of 10s, may also seem like a juicy opportunity for splitting, the odds of getting the right cards for a Blackjack or a hit opportunity are low. This is one of the many great tips I've picked up during my time at different casinos.
#4 Remember the Dealer Rules
The things I have mentioned in the "Dealer Rules" section are basically everything you need to remember while playing Blackjack. When you start playing, it'll be hard to remember even the simple rules. You might be confused with components like the insurance bet and other side bets.
Keeping the basic strategy as well as the dealer rules handy will help you get the best odds of winning.
#5 Always Double Down on an 11
Doubling down is one of those moves that even many experienced players don't want to use. As you're essentially doubling your bet, you're risking double the money. The optimal way to play this move is when you have an 11.
The reason you want to do that is if you hit once or twice, it can take you really close to the Blackjack winning hand. For the most part, you're very unlikely to go over 21.
#6 Manage Your Bankroll
When you read about a betting strategy for optimal play on the internet, you're basically reading bankroll management techniques. You're free to use well-known methods like Martingale, D'Alembert, Fibonacci, etc.
What these do is introduce special rules when you're playing with real money. You bet only a certain amount in the beginning and increase or decrease the bet based on the outcome.
Most of these methods are negative progression, which means you increase your bet every time you lose. The goal is to sweep all the losses with one winning hand. You can either stop playing after that or start from the very beginning.
#7 Double Down Aces Against 6
When you have an Ace against 6 and the dealer stands, you basically have a soft 17. That's an amazing time to double down because you can either win the round on its own or you can hit while bringing the Ace value down to 1. Doubling down on a soft 17 gives you more wiggling room, giving you a chance to win more money.
#8 Never Split Cards that Total 10
For a hand that you can split but it also makes a 10, you must get two 5s. According to experts, this is one of the worst cases of splitting. On paper, it's as simple as not having a large enough building block to win the hand. Even if you hit multiple times, you're unlikely to get a Blackjack.
Even if the dealer doesn't have an Ace up card, the odds just don't support this move.
#9 Raise Your Bet When on a Streak
Winnings often come in streaks in Blackjack games. Whether it's a single deck game or multi-deck, you should raise your bet when you're on a streak. It's not only going to boost your winnings but also help minimize any potential losses.
#10 Research the Table Rules in Advance
"Blackjack" as a whole has some ground rules. Based on these rules, most casinos offer many versions of the game. There are American Blackjack, European Blackjack, Perfect Pair Blackjack, and whatnot.
Key Takeaways
I'm aware that all real money games are "games of chance" but it's just one of the simple tips that I've picked up during my time. Most of the casual players will agree with me on this.
As a player, you should always learn about these rules before you commit real money, instead of relying on the gambling horoscope as a strategy. Some of the versions may offer a side bet while others may not. Some versions pay 3 to 2 while others pay 6 to 5. In some games, the dealer shuffles while in others, a helping hand might be there. It's all these things that create your overall impression. It's one of those things that go for other casino games as well.
Always play responsibly and don't try to count cards in online Blackjack. It just doesn't work with all the shuffle tracking and special rules in place in modern games.