Gamble USA strives to improve your online gambling experience. We aim to help you play safely, make informed decisions when gambling, and increase your betting knowledge through our guides.
We adhere to strict editorial integrity; our content may contain links to products from our licensed & legal US partners.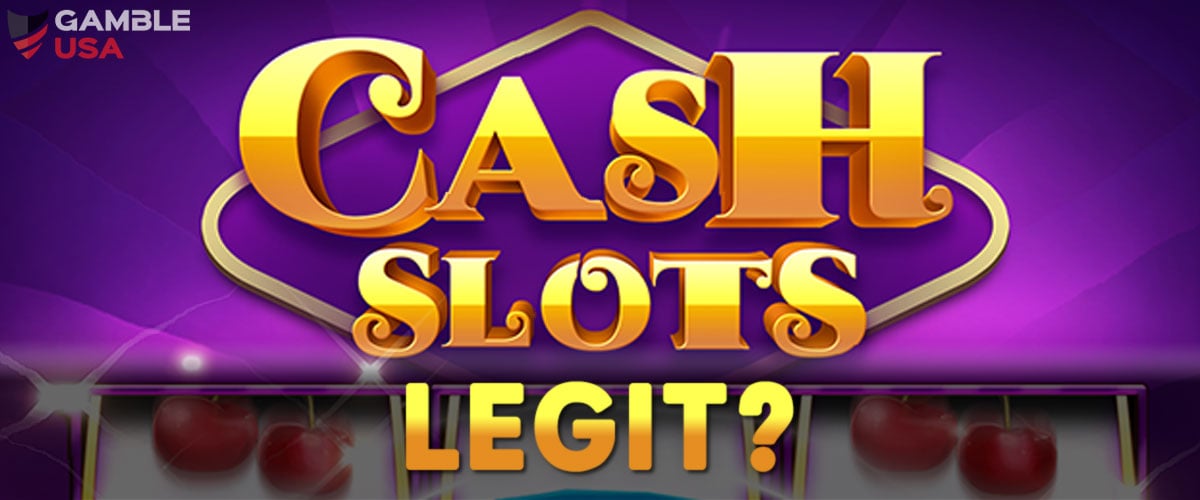 Everywhere you turn on the internet, there's an online slots app promising to lavish you with real money prizes, but how many of them make good on that promise? And Cash Slots seems to be one of those apps.
We would not say this gambling app is legit, but this review thoroughly examines Cash Slots to determine that. We'll delve into its inner workings, whether the games are fair, and if it actually pays real money.
Read on to find out all the details although we urge you stick with legit gaming apps that pay real money such as:
Cash Slots Early Access App Review
The table below shows a brief overview of Cash Slots and its features:
🎰Cash Slots
🧑‍💻Developer
Slotshca
📅Launch Date
May 2022
🎲Game Type
Online Slots
💳Payment Options
PayPal, Cash App, Tez, Coinbase, Messenger, Line Pay, Alipay, Nubank, and Banco Intel
📱Compatible Devices
Android
⭐Reviews
No reviews
Cash Slots is a free casino app that you can download from the Google Play store (currently not available for iOS users). Although it claims to be legit and has numerous downloads, there are no app reviews on mobile but some on desktop, which immediately raises red flags.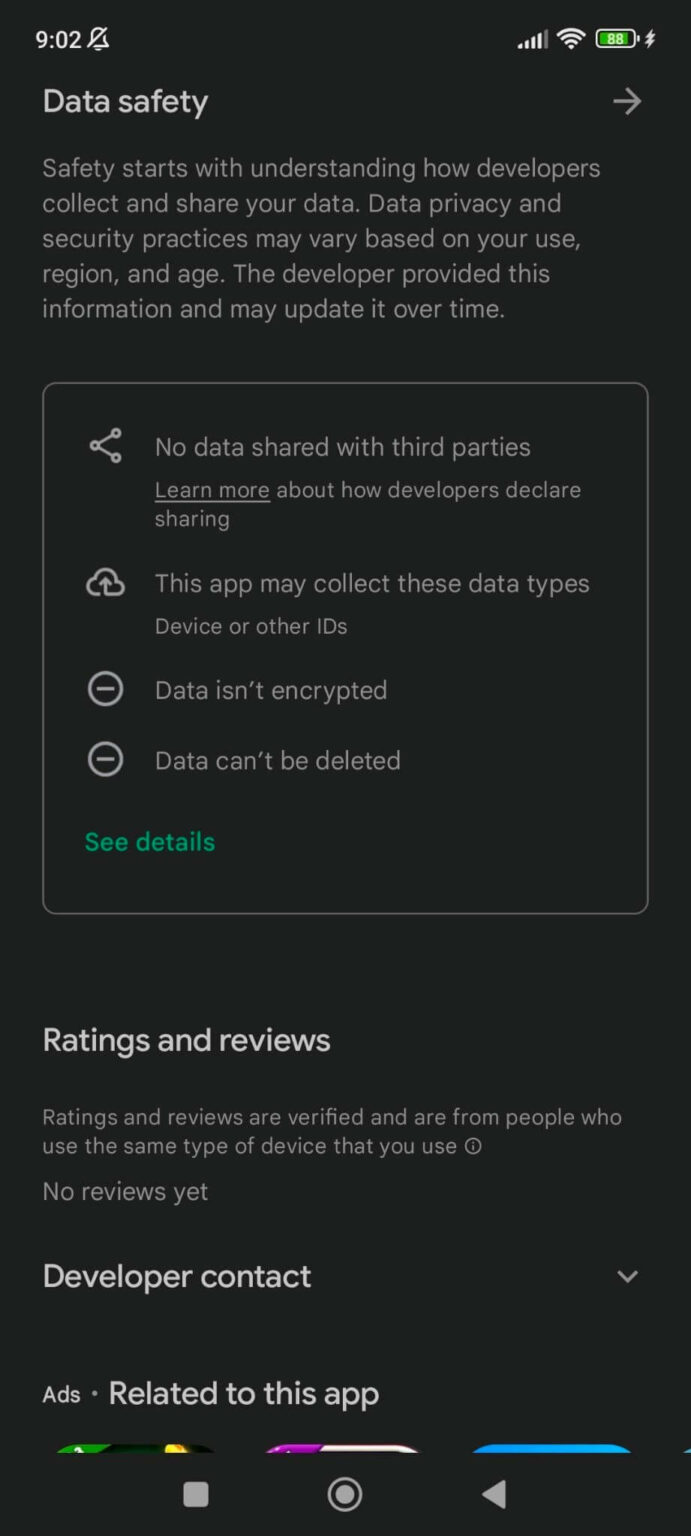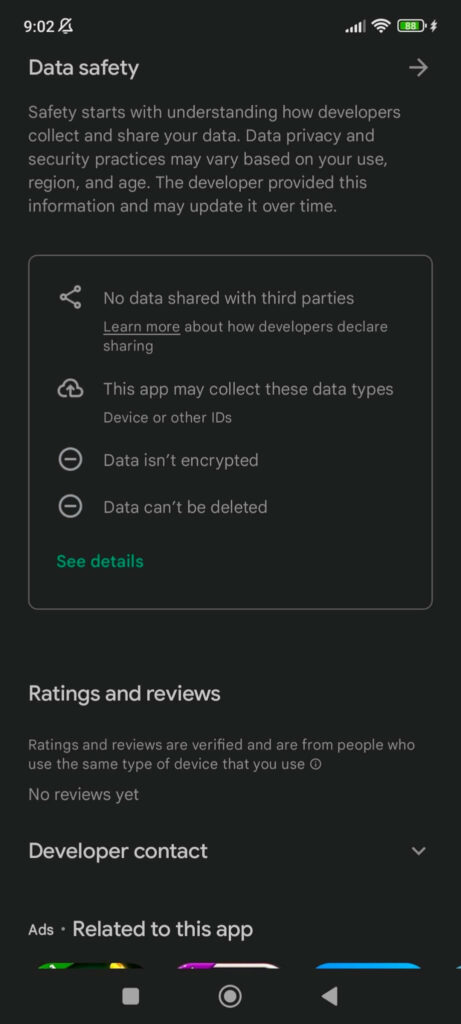 And for things to be even more unsettling, the desktop reviews are far from glowing. So, we're off to a rocky start but let's see what else Cash Slots promises and (not) delivers.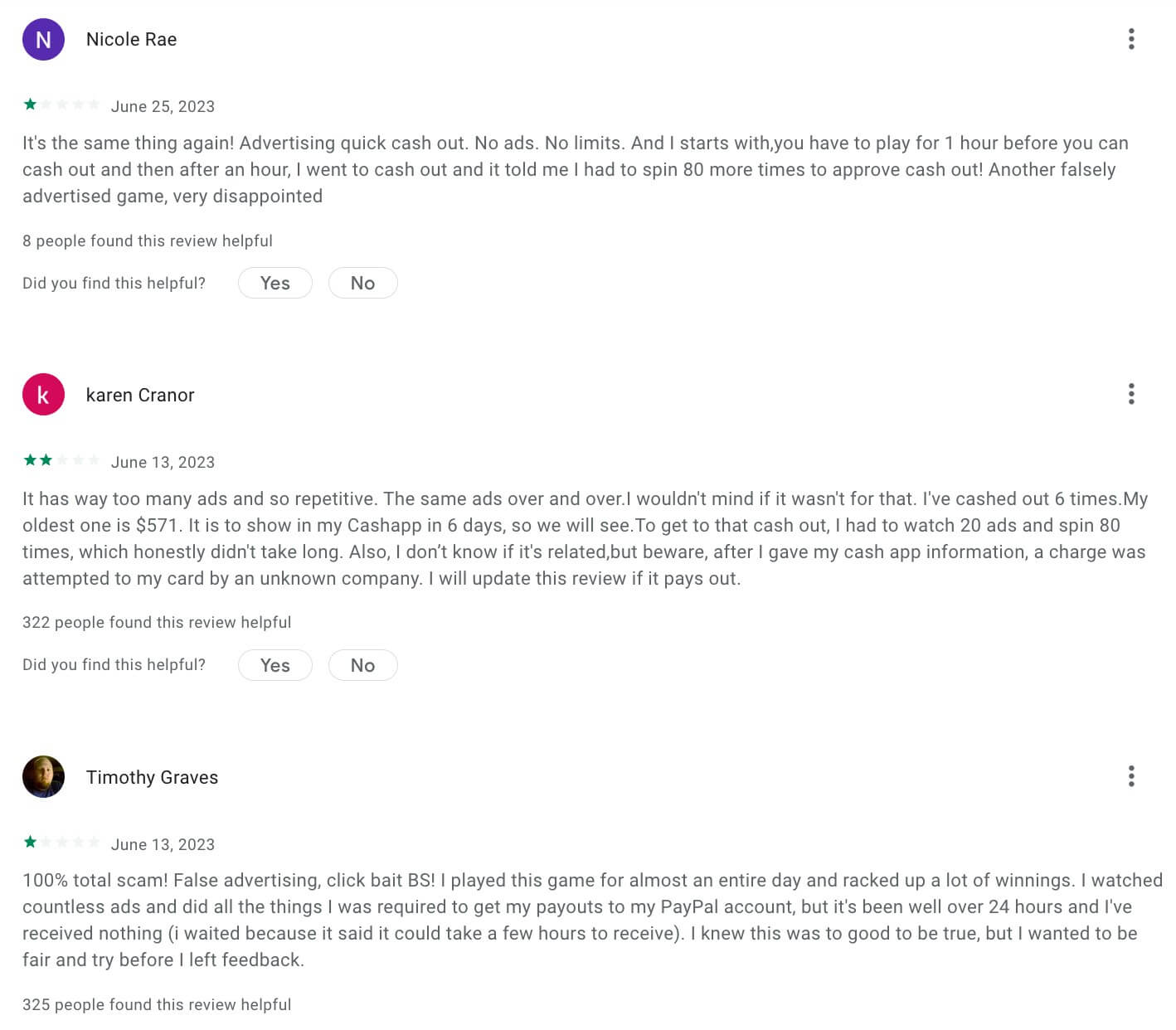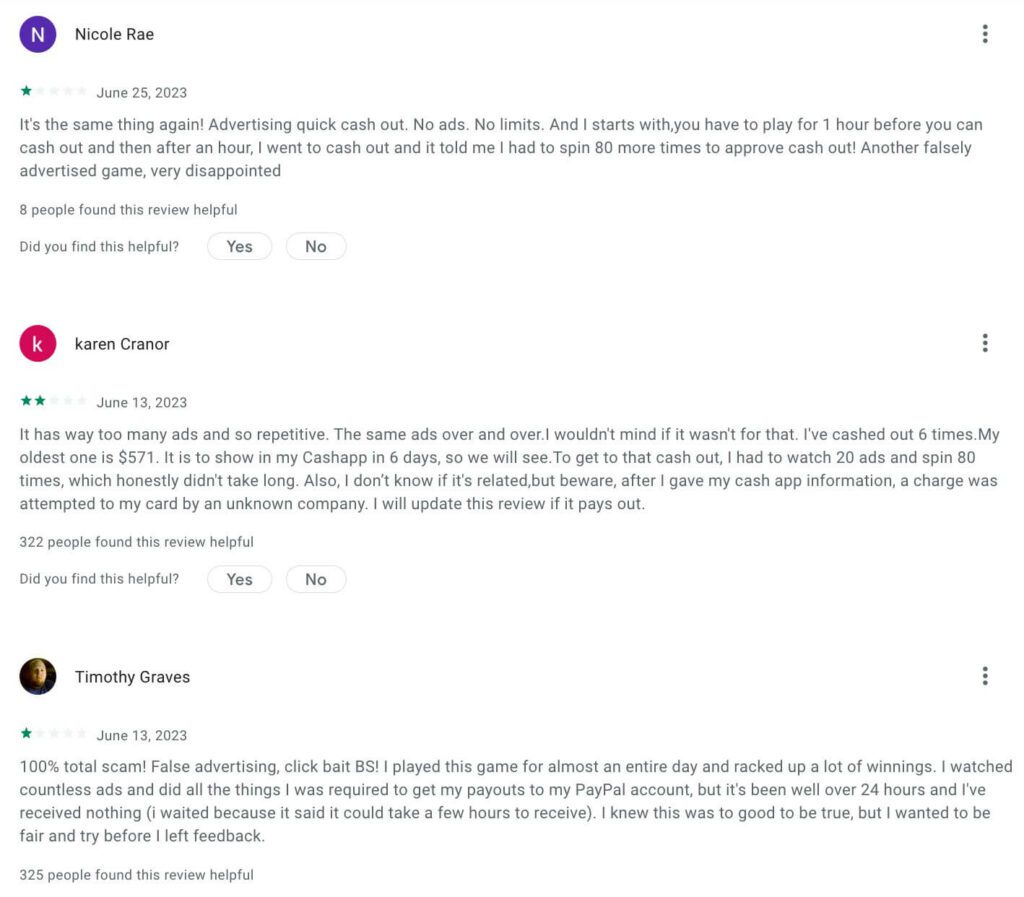 What is the Cash Slots App?
Cash Slots is a mobile gaming application with an online slot machine interface that claims to offer cash prizes and other rewards when players land winning combinations. The entire premise of the app is to spin the reels of the slot game, accumulate your earnings, and withdraw cash into your bank account.
Unfortunately, it turns out that this app is nothing but a scam designed to trick players into investing their time and efforts without ever delivering on the promise of paying out their hard-earned winnings.
As you can learn in this review, Cash Slots uses several deceptive strategies to keep users hooked on the app while bombarding them with unskippable video ads to fatten its developer's pockets. If you are interested in playing slots online for real money, trust me when I say there are way better alternatives that genuinely follow through on paying out winnings.
Unlike Cash Slots, where you can only access one lackluster slot machine, online casinos like WOW Vegas, Fortune Coins, and Stake.us offer an impressive assortment of high-quality slot games from some of the best software providers in the gaming industry and allow free play with potential real money prizes.
All these online sweepstakes sites have excellent reputations and will readily pay out your well-deserved winnings without any unnecessary obstacles.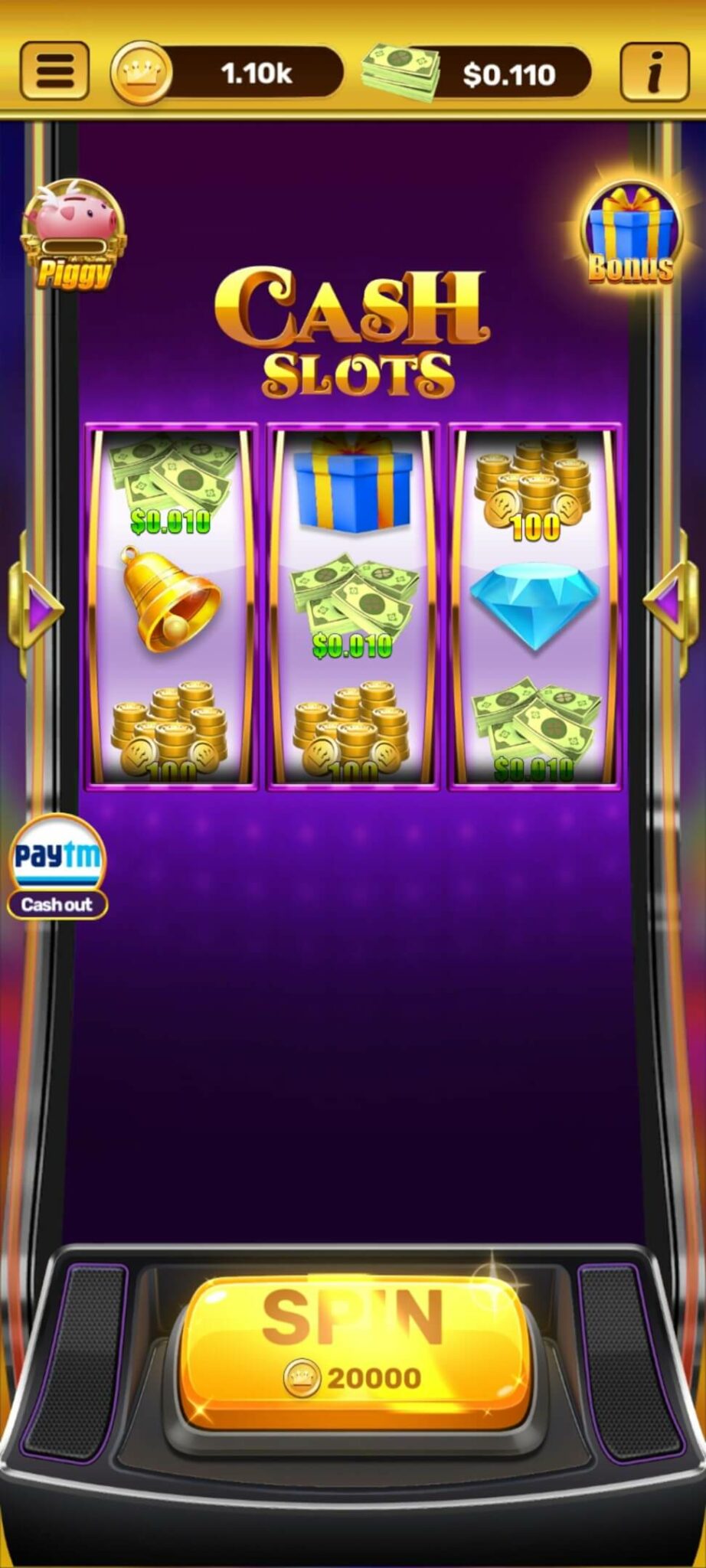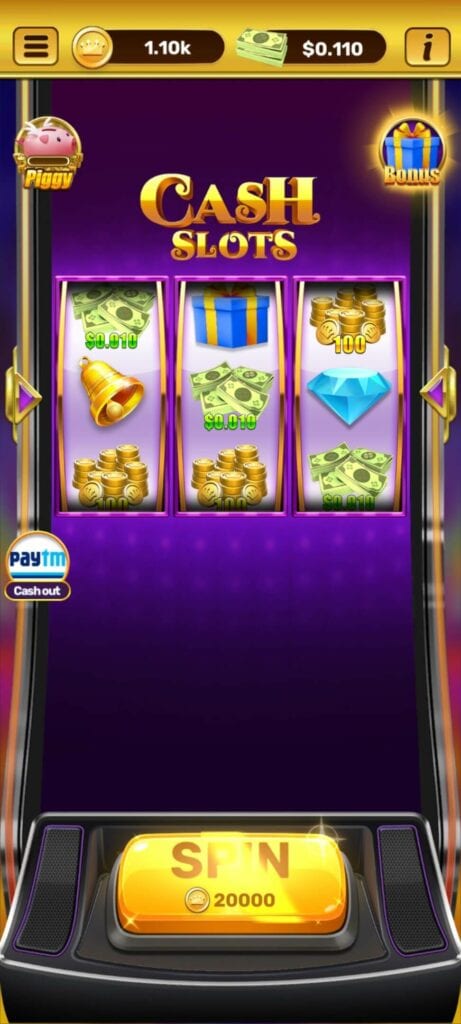 How it Works
The Cash Slots app is available on Google Play and works with Android mobile devices with an operating system of 5.0 and above. It is currently unavailable to iOS users.
The slot machine in Cash Slots resembles the classic titles you'd find on online casino platforms. It has a 3×3 grid and features basic symbols like gold coins and cash notes alongside mystery icons, such as diamonds, bells, amazon cards, a golden coupon, bonus cards, and a gift box. Similar to other online slots, winning involves landing matching symbols along the reels.
When playing Cash Slots, you can either accumulate virtual cash or in-game currency. The in-game currency is represented by a gold coin with a crown emblem, while cash notes represent the virtual currency. The app leverages precise geolocation data to determine a user's country of residence and displays the appropriate virtual currency. For example, it shows the US dollar virtual currency to players in the United States, while Malaysian players will see RM virtual currency.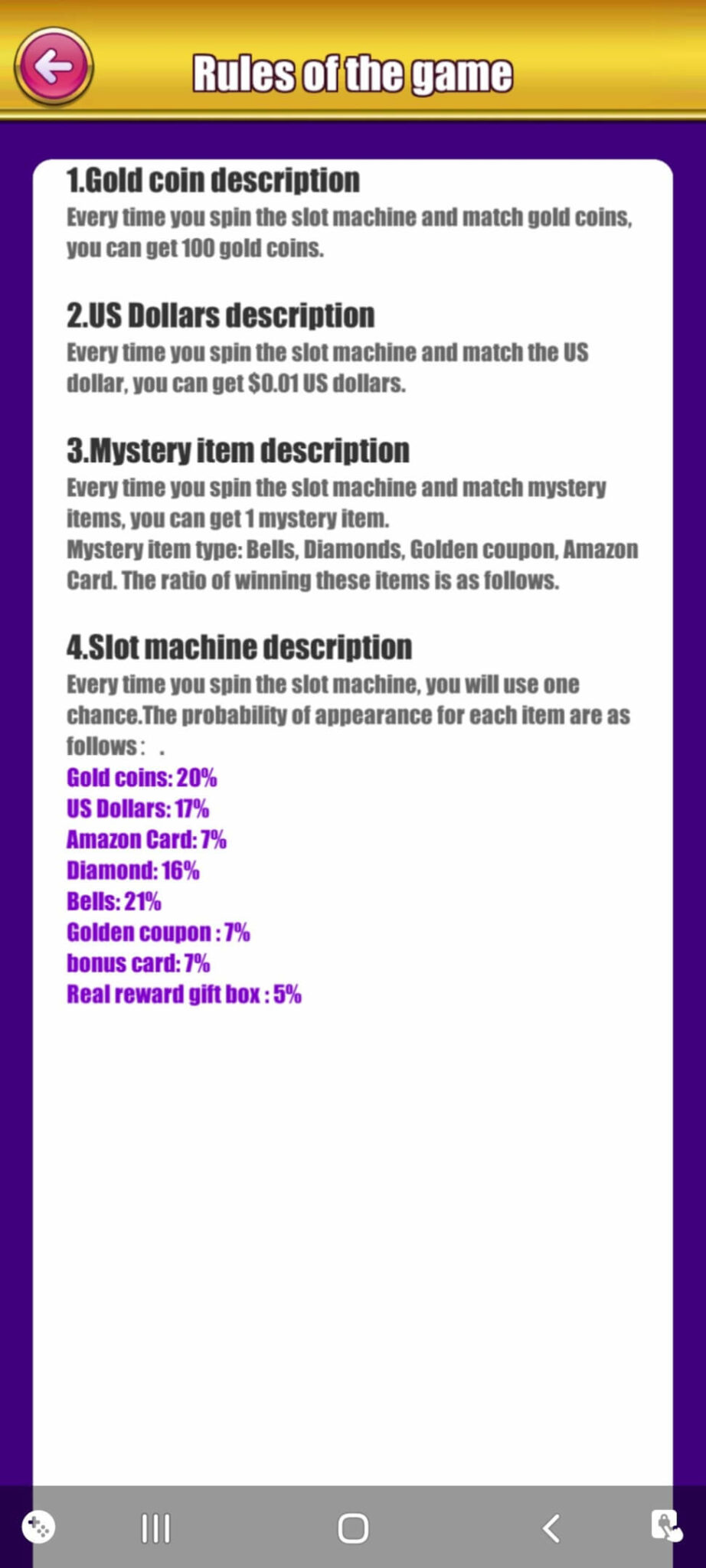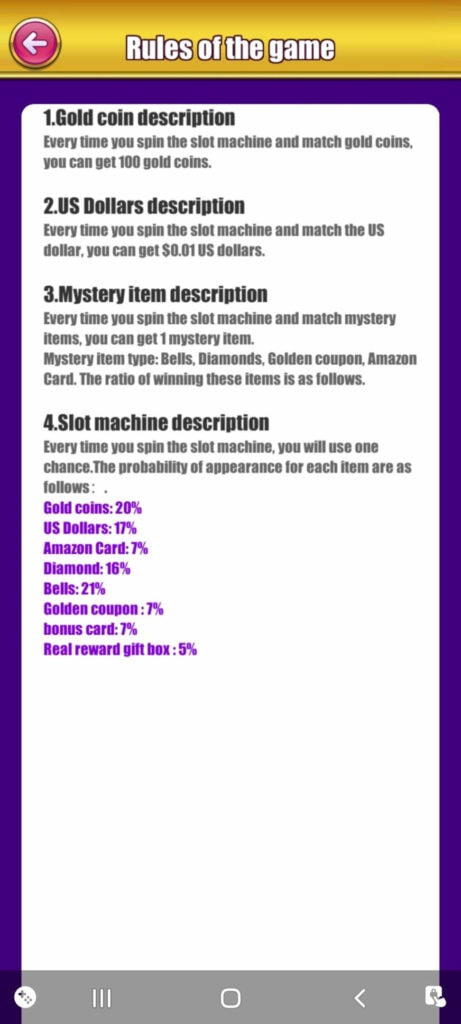 How Can You Win on the Cash Slots Game?
Don't be deceived – there is no such thing as winning on Cash Slots. While you can download the game and follow the developer's instructions to the letter, the sad truth is that your earnings will never land in your bank account. Instead of wasting your efforts on this app, visit online gambling sites like Pulsz or High 5 Casino to enjoy tons of fantastic slot games and win cash prizes.
Curious as to what the gameplay on Cash Slots looks like? Here's a quick summary:
When a player launches Cash Slots for the first time on their device, it starts with a tutorial demonstrating how to navigate the app.
Like other online slot machines, clicking on the "Spin" button at the bottom of the page starts the gameplay by spinning the reels. There is an Auto-spin slot feature that speeds up the gameplay.
At the start of each session, users receive 10 free spins plus an additional spin every 2 minutes as the game progresses. However, if you exhaust the spins faster than they replenish, the game offers the option to watch a video for 10 more spins.
The objective of Cash Slots is to land three matching symbols on the reels, and when this happens, the game awards a prize depending on the symbol's worth. For example, a player will receive 100 gold coins for matching 3 gold coin symbols, while three cash note symbols are worth $0.01. Sometimes, a wild symbol appears and replaces other icons on the reels to create a match.
Besides the notes and gold coins, players can unlock mystery items like bells, diamonds, bonus cards, golden coupons, and gift boxes when they play Cash Slots. Matching 3 of these symbols triggers unique modes that supposedly boost the final winnings. For instance, landing 3 bonus cards unlocks the fever mode, a bonus game that grants a 100% match for all symbols for up to 1 minute.
Lastly, players must accumulate a specified amount of virtual currency to meet the withdrawal requirement. For US players, the minimum withdrawal limit is $300. Sadly, meeting this requirement does not guarantee you will receive your earnings. Cash Slots gives players false hope and keeps them waiting for money that will never come.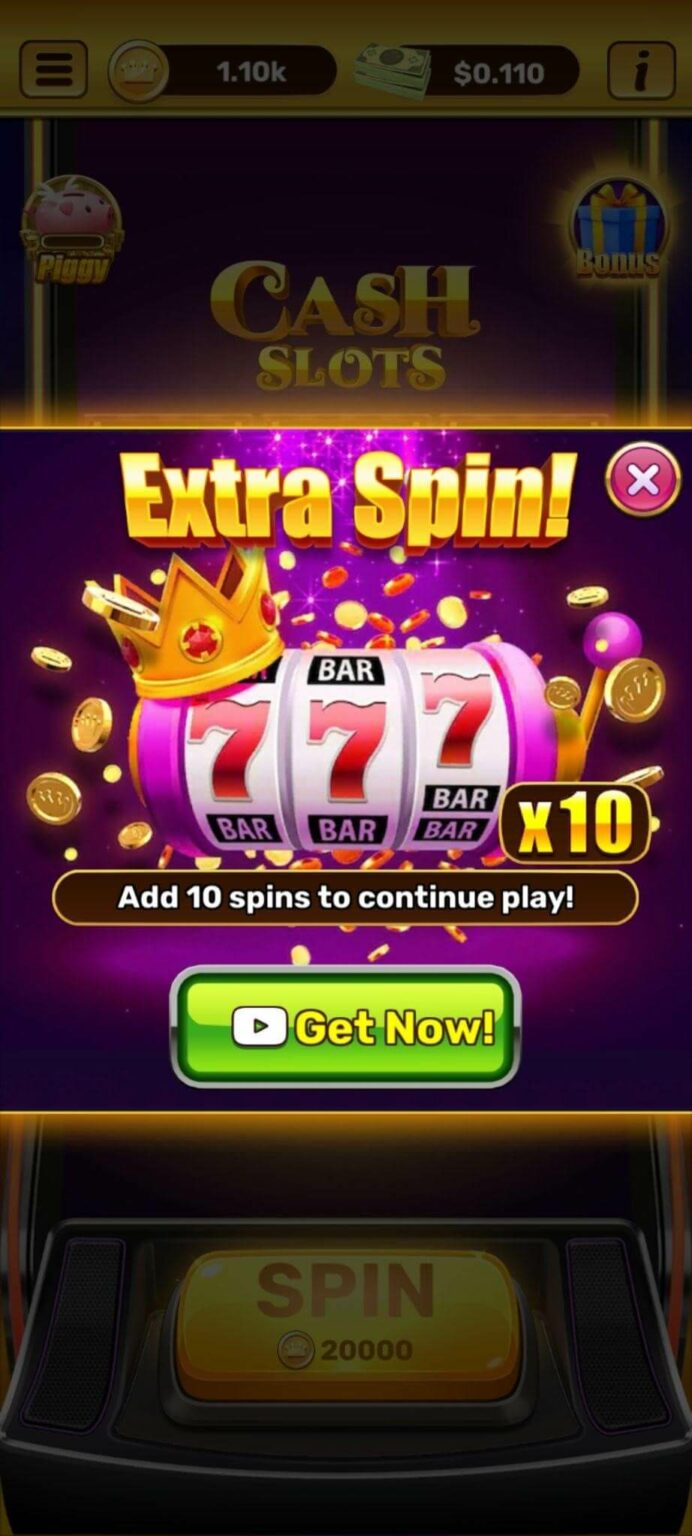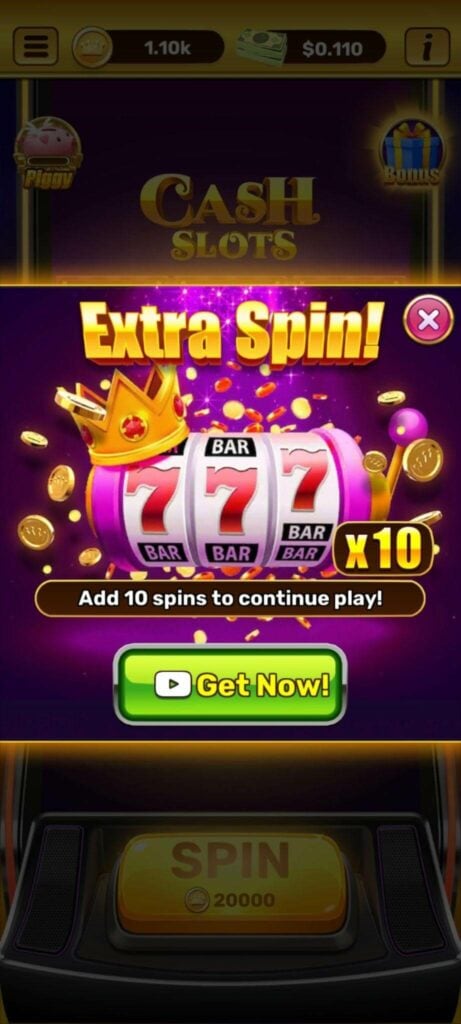 Does Cash Slots Pay Real Money?
Cash Slots claims to offer real money prizes and other rewards to players without imposing a deposit requirement. Upon closer inspection, I found this claim false as the game developer makes users jump through several hoops to fulfill its withdrawal criteria. And even after struggling to meet the conditions, there is no assurance that you will receive your winnings.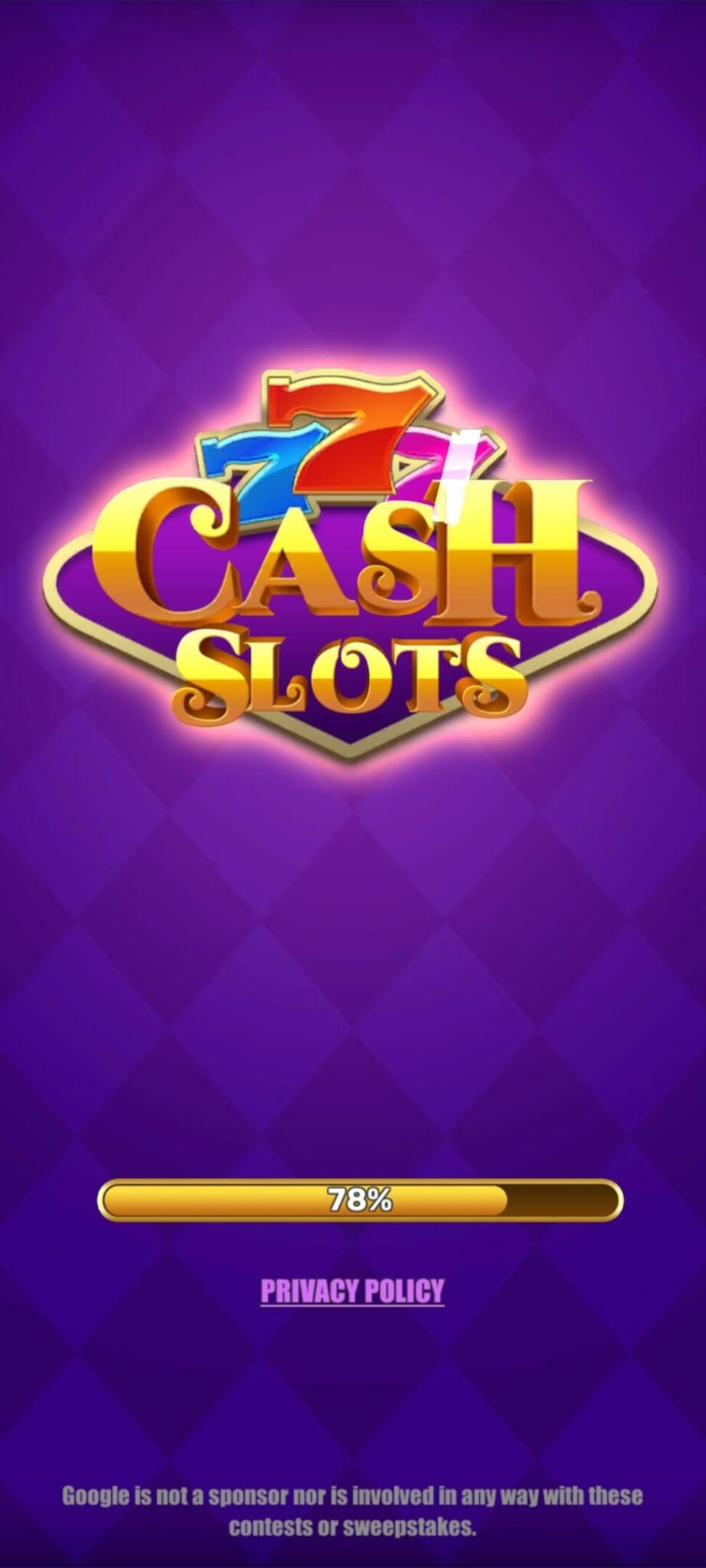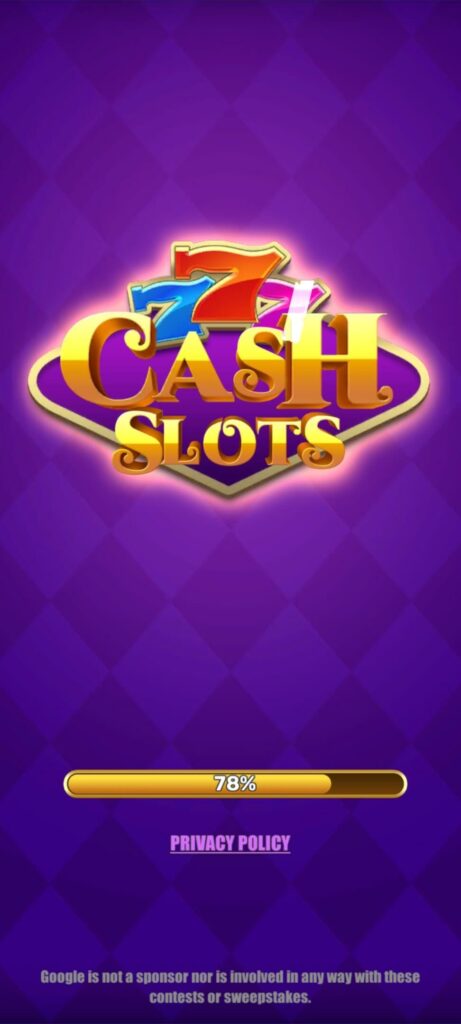 How to Cash Out Prizes from Cash Slots?
When you play slots on online casino sites, there is usually a minimum amount of winnings you must accumulate before you can submit a withdrawal request. The Cash Slots app follows a similar process, where you need to accrue a specific amount of virtual currency to cash out your earnings. Currently, the minimum withdrawal limit on the app stands at US$300.
Once your virtual currency balance hits $300, you can initiate a withdrawal using the available payment methods, including PayPal, Cash App, Coinbase, Messenger, and a few others. To begin the process, click the "Cashout" button, which directs you to the withdrawal page. From there, select a banking option and enter the necessary details. According to the developer, you should receive your winnings in 3-7 business days.
Now what really happens when you attempt to cash out your earnings from this online gambling app? Like I've said before, the chances of actually receiving your winnings from Cash Slots are practically nonexistent. Even after meeting the withdrawal requirement, the app deploys various deceptive tactics to prolong player engagement without fulfilling their end of the bargain.
It starts by setting a 7-day waiting period for you to receive your cash prize, or you can continue playing until your balance hits $500 for an instant withdrawal. Many users have expressed frustration regarding the excessive number of ads they are subjected to before they can access the withdrawal form. To make matters worse, these ads are unskippable, forcing you to watch them from the beginning to the end. There have also been instances where the app displays a notification falsely stating the user entered incorrect banking details or conveniently disconnects from the network, effectively avoiding the payment of real money to deserving players.
All these tactics are simply a ploy to trap users within the app, ultimately boosting user engagement and generating revenue for the developer. Despite any effort you may put into surmounting the hurdles the free slots app throws your way, the developer will never honor their commitment to pay out your winnings.
Have Any Players Won Money From Cash Slots?
No. Cash Slots has never paid out winnings to any player since it launched in 2022. There have only been reports of the slot games app employing several fraudulent strategies to avoid keeping its promise. Fortunately, Cash Slots does not require any monetary investment, so the only risk involved is the potential waste of time and effort. If you're looking to enjoy real money slots and actually receive your winnings within a reasonable time frame, it'd be best to try other slot-themed apps on Google Play or visit online casinos with a plethora of titles to explore.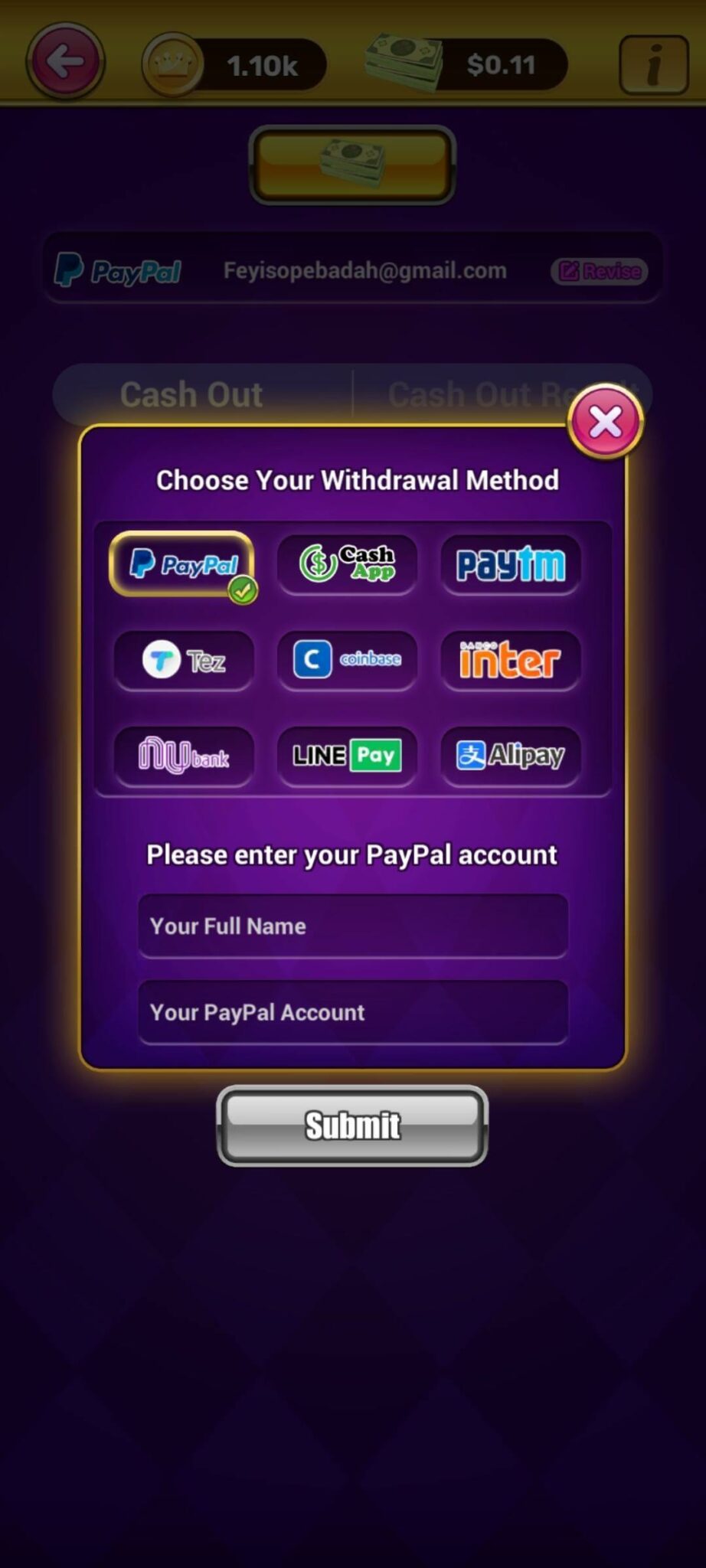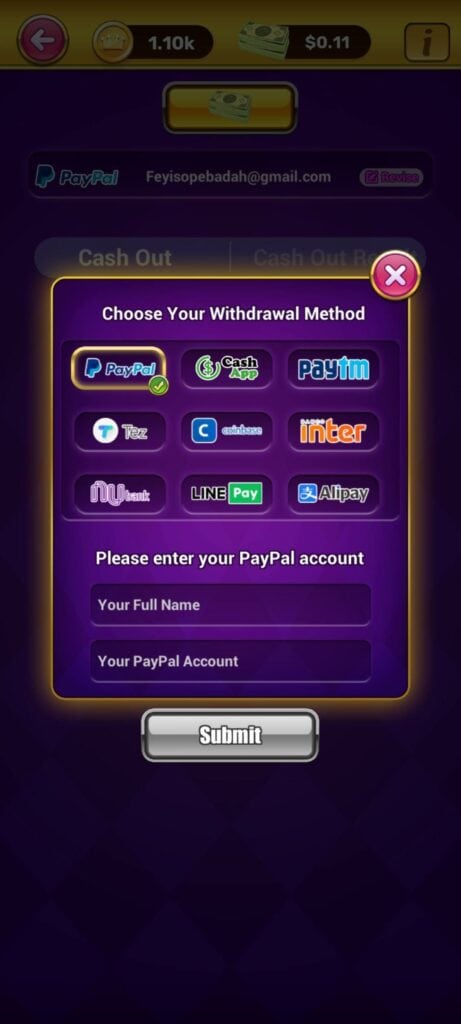 Is the Cash Slots Game Fair or Rigged?
The Cash Slots game operates on rigged mechanics. While it may look like it randomly hits winning combinations at the beginning of a gaming session, many users have complained about the increasing difficulty of matching three cash symbols once they start approaching the $300 withdrawal limit.
As if that is not enough, the game uses different cunning tactics to frustrate players and leave them empty-handed. It is not uncommon for the app to suddenly experience network disruptions during payout processing, block accounts of players who have submitted withdrawal requests, or bombard them with intrusive ads that it is impossible to reach the final step in the withdrawal process.
While Cash Slots may give the impression of fairness on the surface, it, unfortunately, possesses far too many characteristics of a rigged game to be considered anything but a futile adventure for players seeking a genuine real money gaming experience.
Is the Cash Slots App Legit? Review Verdict
In conclusion, Cash Slots is not legit. It is a dubious gaming app that lures players with the illusion of rewards, only to disappoint them when it's time to pay out their earnings. The app is notorious for its misleading withdrawal conditions, an overwhelming use of intrusive video ads, and other tactics it uses to avoid paying users. Quite frankly, the app's primary focus is on generating revenue for its developers through video monetization rather than delivering real money rewards to players.
If you're searching for a dedicated app where you can play slots and cash out your winnings, steer clear of Cash Slots, as the odds of that happening are practically zero. It makes no sense to invest your valuable time and effort into something that offers no tangible rewards, especially when there are much better alternatives available.
Instead, I recommend exploring other slot-themed apps or visiting reputable online sweepstakes platforms like WOW Vegas, Fortune Coins, Stake.us, Pulsz Casino, and High 5 Casino. These platforms offer a diverse range of exciting slot games and are known for their staunch commitment to paying out real prizes as quickly as possible.