Gamble USA strives to improve your online gambling experience. We aim to help you play safely, make informed decisions when gambling, and increase your betting knowledge through our guides.
We adhere to strict editorial integrity; our content may contain links to products from our licensed & legal US partners.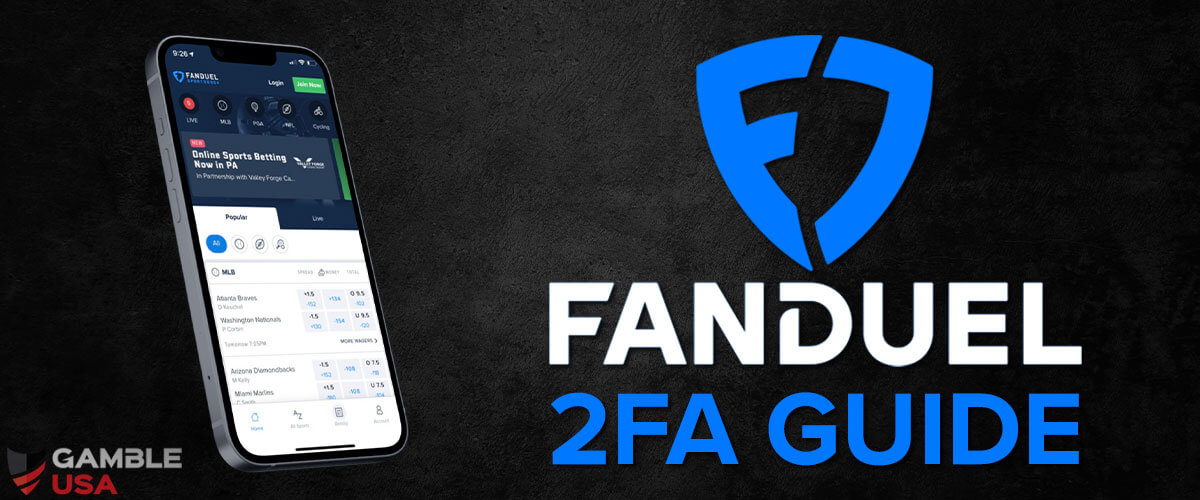 Originally founded in 2009 to serve as a daily fantasy sports provider, FanDuel has expanded its online gambling operations over more than a decade to include casino games, horse racing, and sports betting.
While DFS from FanDuel is available nearly nationwide, access to the popular online sportsbook and casino may not be available in your state. For a full write-up on FanDuel sportsbook, read our review. All of the online gambling company's offerings are accessible by a web browser or mobile app.
The highly-rated company offers two-factor authentication as an extra layer of security to ensure only the account creator has access to the FanDuel account. For users who feel a password isn't enough protection, two-factor authentication, sometimes referred to as multi-factor authentication, is a great way to reduce the risk of hacking, fraud, or other unauthorized logins to your FanDuel account by requiring a six-digit code.
Whether you're already familiar with the two-factor authentication process or hearing about it for the first time, we've got you covered. Below we break down everything you need to know about two-factor authentication, including where it's required, what authenticator apps to consider, and how to enable it on FanDuel.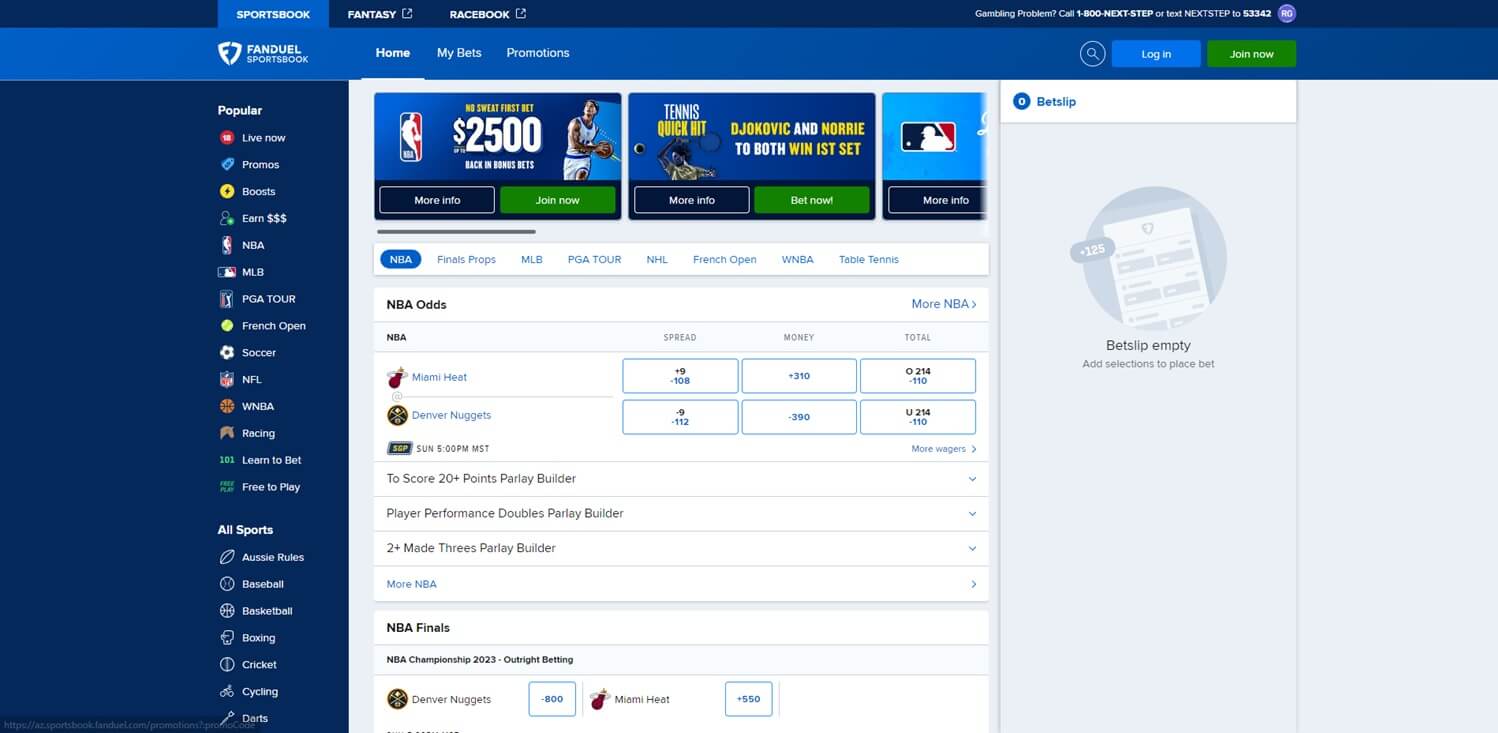 What is Two-Factor Authentication on FanDuel?
FanDuel takes industry-leading precautions when it comes to protecting accounts and sensitive user data, but it never hurts to take some of your own.
Assuming you already have a FanDuel sportsbook, DFS, or casino account, enabling two-factor authentication takes just a few minutes to complete. Users can link an authentication app to their FanDuel account or receive verification codes via SMS text message.
Once two-factor authentication is enabled, users will need to take a second step when signing into their FanDuel account by entering a six-digit code that's generated using an authenticator app or sent through a text message. As a result, no one can log into your FanDuel account without having access to your phone.
A text message is the easiest option to authenticate your FanDuel account, but you can't change the phone number once entered, without downloading an authentication app and jumping through some hoops to get back in. Make sure this is a phone number you will always have access to. FanDuel will text a verification code to the phone number provided to link with your account.
If you're new to FanDuel, the sportsbook offers a $1,000 no-sweat first bet to grease the wheels, which can be claimed through our links. FanDuel sportsbook will refund you in bet credits in the amount you wagered if your initial wager settles as a loss. Be sure to read the fine print before making any money moves.
No Sweat First Bet Up To $1,000
21+. T&C Apply
21+. T&C Apply
Convenient banking
Massive choice of sports
No Sweat First Bet Up To $1,000
21+. T&C Apply
21+. T&C Apply
In which states is the FanDuel 2FA Required?
Due to state regulations, all sportsbook users in Connecticut, Illinois, New Jersey, and Pennsylvania must use two-factor authentication. Furthermore, any FanDuel account with previous activity in New Jersey will also be required to use two-factor authentication in their home state.
To open a FanDuel account, users must be 21 years of age and physically located in one of the 19 authorized states (AZ, CO, CT, IA, IL, IN, KS, LA, MA, MD, MI, NJ, NY, OH, PA, TN, VA, WV, WY). FanDuel does require users to provide verifiable personal information, including their name, address, date of birth, phone number, email, and last four digits of their social security number.
The verification and geolocation checks that are performed each login attempt are just a few of the many ways FanDuel sportsbook protects the user.
FanDuel 2FA Guide & Questions
I recently added two-factor authentication to my FanDuel sportsbook account, and here's everything you need to know about beefing up your account security. It may seem like a tall order but fear not. To FanDuel's credit, it takes longer to read the steps to enable two-factor authentication than it does to complete them.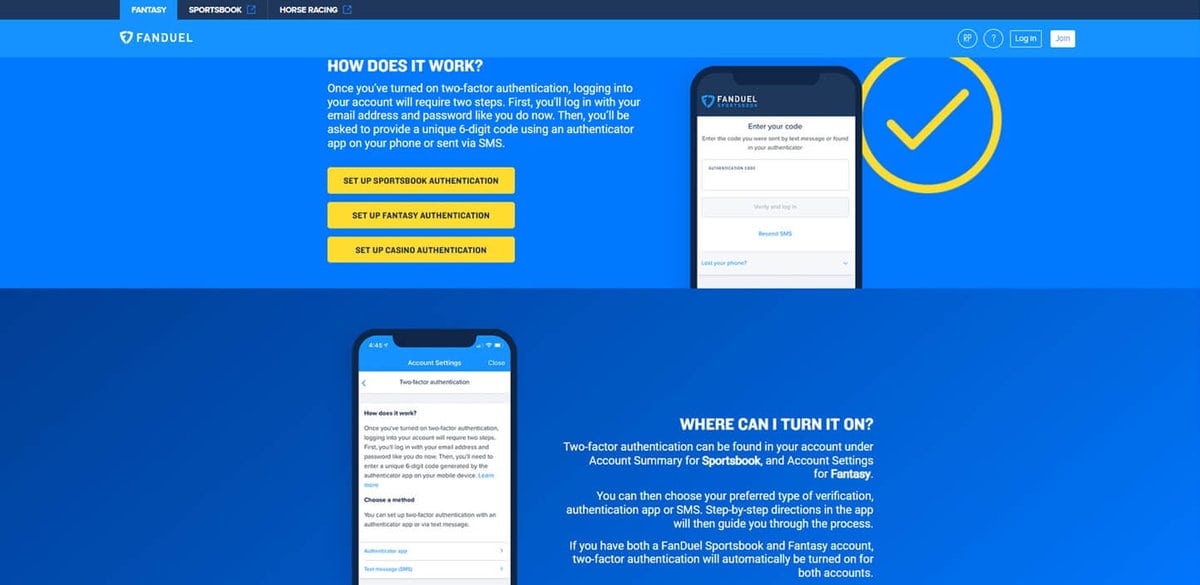 How do I enable Two-Factor Authentication on FanDuel?
Depending on the FanDuel platform, users can find the two-factor authentication feature nestled in their FanDuel account summary or account settings.
If using a web browser, click the FanDuel account icon in the top right corner of the page and select account overview. Account settings will be listed as the fourth option on the left side of the screen. FanDuel mobile app users can find the same page by locating the same person icon at the bottom right of the screen.
If you have both a FanDuel sportsbook and a DFS account, two-factor authentication will automatically be turned on for both accounts. FanDuel casino users will need to set up two-factor authentication separately using the same method. Users who have 'remember me' checked, won't have to log in again or enter an authorization code when they return to FanDuel unless it's been 14 days since their last visit from that device. To be remembered check the box below when you enter your authorization code.
Instructions to complete the SMS text message linking process:
Login to your FanDuel account
Click the account icon
Select account overview
Choose account settings
Pick two-factor authentication from the options
Specify authenticator app or text message
If using SMS, enter your phone number
Hit send verification code
Enter the six-digit code on FanDuel
Click to confirm
How to add FanDuel to the Authenticator App?
Users who've decided to go the authenticator app route will need to select the authenticator app tab when faced with the two options. Along with a QR code, FanDuel has posted the five steps to complete the two-factor authentication process.
To add Fanduel as an authorized option, open the authenticator app, choose to add an account, then select the option to use a QR code, and scan the QR code provided by FanDuel using your phone or tablet camera. Enter the six-digit code from your authenticator app in the field presented by FanDuel and click confirm.
Just like that, you're protected. Both authorization options are instant.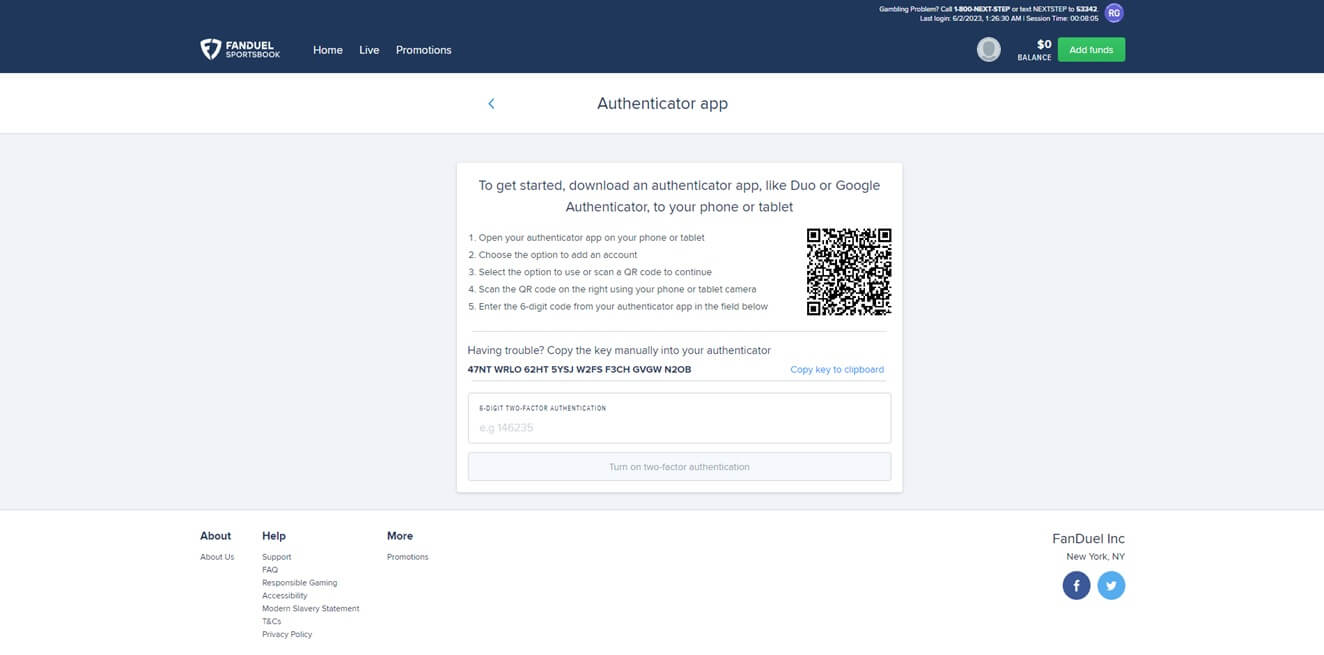 How do I get my Authenticator Code for FanDuel?
If you choose the authenticator app option, you'll need to search for, download, and install a third-party authenticator app like you would any other mobile program. Android and iOS device users can search for authenticators in their respective app stores.
Most authenticator apps will work, but FanDuel recommends the Google Authenticator App. Other secure and reliable authenticator apps include Authy, Duo, Microsoft, and LastPass. There are thousands of reviews on Google Play and in the Apple app store to help you find the right fit.
Do I need a Separate App to get the FanDuel Authenticator QR Code?
You don't need a separate app to get the FanDuel authenticator QR code. The QR code provided by FanDuel can't be missed on the authenticator app page. If you're having trouble scanning the QR code, there is a manual key you can enter into the authenticator app to generate an authorization code.
What to do if FanDuel Two-Factor Authentication Is Not Working?
Along with a worthwhile FAQ, FanDuel has top-notch customer support that can be reached via live chat or email. If you set up two-factor authentication using the text message option and have since lost access to the phone number, you'll need to set up an authenticator app to recover access to your FanDuel account. FanDuel is not permitted to modify or delete the phone number that was originally registered to your account. That means you'll be locked out of your FanDuel account until completing the alternative method of authorization.
How do I Turn Off FanDuel Two-Factor Authentication?
Turning off FanDuel two-factor authentication is done the same way you activated it. Head over to your FanDuel account settings and click through the options to disable two-factor authentication. Look for the big red button that says turn off two-factor authentication and hit it. It's a quick process if you just want to check it out.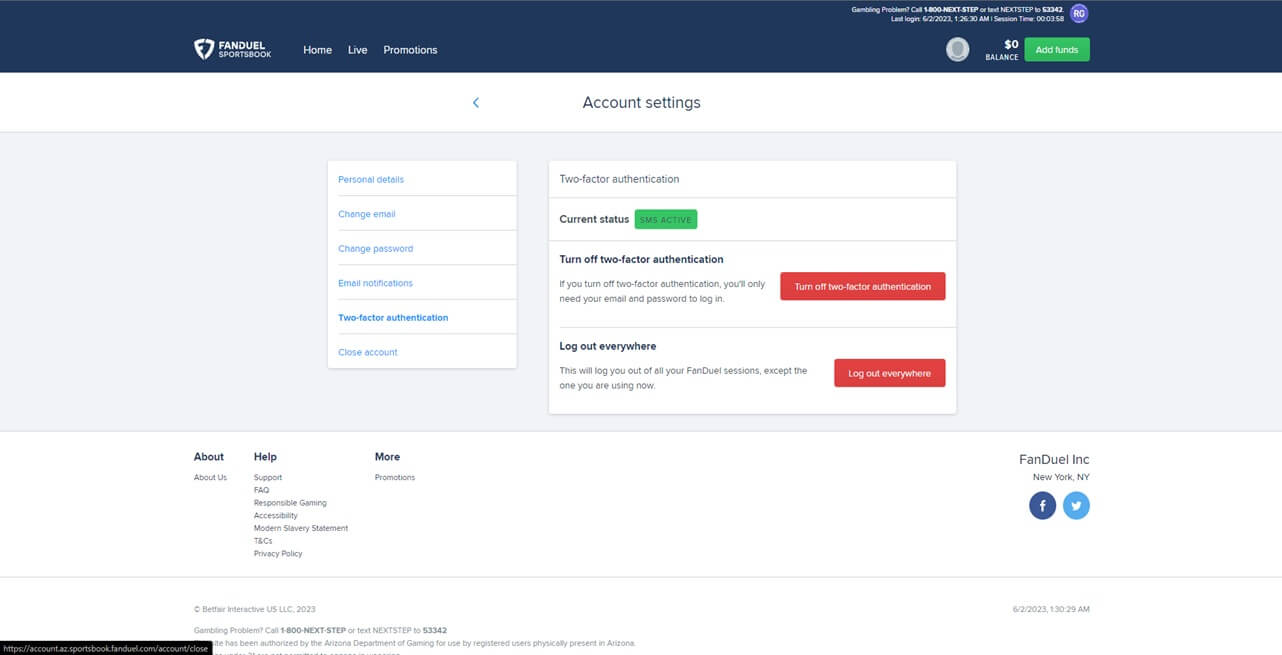 FanDuel 2FA Pros & Cons
The added level of security provided by FanDuel two-factor authentication may be overkill for some, others may find it necessary. FanDuel has done its best to make the two-factor authentication process as painless as possible.
The 'remember this account' feature helps alleviate some of the issues but kind of defeats the purpose of having an extra layer of protection for your FanDuel account. The improved security of two-factor authentication can only do so much. FanDuel account logins are still vulnerable to being bypassed if a bad actor has access to their phone.
While not the intended purpose, two-factor authentication can also help keep impulsive bettors in check by putting a speed bump in place when signing in. Two-factor authentication is just enough of a nuisance to keep a user from spontaneous scrolling and impulse bets.
Is 2FA Required on all Betting Apps?
Two-factor authentication is not required on all online betting apps unless you live in Connecticut, Illinois, New Jersey, or Pennsylvania, but it's recommended.
The slight inconvenience of requiring a second step when signing into your FanDuel account could avoid a big problem with your balance down the line. As they say, it's better safe than sorry.
Summary
While occurrences of unauthorized access to FanDuel accounts are rare, enabling two-factor authentication does give the user peace of mind. Besides being annoying, there is little downside to FanDuel two-factor authentication, especially for users living in residences with multiple occupants or mischief makers, and want to avoid having their account fall into the hands of the wrong person. If anyone is going to take your money, it should be a bad beat by FanDuel or a fellow bettor, not a fraudster.
There are plenty of trusted authenticator apps to pick from, but it's probably best to go with the recommended Google authenticator app or another reputable company like Microsoft. If you're planning on changing your phone number soon, you might want to wait on linking your FanDuel account through text message.
Sports bettors who are new to FanDuel can claim the welcome bonus no-sweat first bet of up to $1,000 by clicking below. If your first bet falls flat, you'll be refunded in bet credits in the amount staked. A minimum deposit of $10 is required. Other terms and conditions apply.