Blackjack is one of the most popular card games out. We all love to play the game in a casino, and now we can play online and on our Android mobile.
Thanks to technology, we no longer have to trek to a casino to play our favorite card game. But when it comes to playing Blackjack on your Android mobile, what is the best Blackjack app for android? In this article, we explore the options for mobile players looking to play Blackjack on their Android smartphones.
Top online casinos to play Android Blackjack
These are our favorite online casinos in the US to play Android Blackjack for real money
The game of blackjack, otherwise known as twenty-one has been popular for hundreds of years, originating in France around the early 1700s. The rules for Blackjack are simple, just have a higher hand than the dealer without going over 21, go over 21, and your hand is bust, meaning you've lost that round. The simplicity and the profitability of the game have made it very popular amongst casual and dedicated players, but gone are the days where you would head down to the casino to have a few rounds of blackjack; everything is done digitally nowadays. So we have put together a guide on the best way to get involved using your Android mobile.
If you want to try games for free, you can use a no deposit bonus at an NJ casino to try out some games for free.
Why Would I Use My Android To Play Blackjack?
By using an app to play Blackjack, you eliminate many dangers. Playing at a table allows players to get a massive upper-hand using a black-hat Blackjack strategy called card counting in which they have learned the deck and kept a note of all the cards dealt, giving them a good idea of what cards the house is going to draw, thus obviously giving them a huge advantage. Although Card Counting is not illegal, casinos have the right to deny service to any player they find counting cards.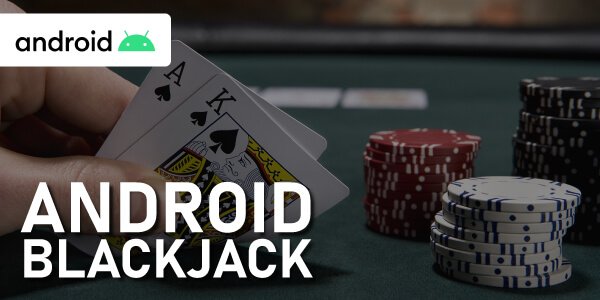 By using a blackjack app to play, you can ensure that nobody is breaking any blackjack rules in order to get an upper hand. You also have the added luxury of being able to play wherever you want, given you have an internet connection. Now that you know why you should be playing Blackjack on an app let's see what we think is the best blackjack app to use for both beginners & experienced players; all of our choices do allow players to play with no app purchases and also allow players to partake in real money blackjack.
I'm new to Blackjack, What Is The Best Blackjack App For Android?
Newer players to blackjack are usually overwhelmed by most online casino games due to how many tables are available with different buy-in amounts, we understand that. That's why we recommend downloading the 888 Casino app; their app is designed around user experience. Starting with their color scheme, a very simple black, and green, making everything stand out and making it very easy to use later at night where bright apps usually cause eye strain.
Many blackjack apps use a very complex menu system in order to fit all the blackjack games they offer info on, this usually puts players off, but not 888 Casino, they use a very streamlined menu system, allowing you to get where you need as fast as possible. The operator also runs the 888 Poker site & app which is just as easy to use, if not more, so if poker is more your thing, give them a try. If that wasn't enough, they are currently running a promotional offer in which new players get $20 free to play with, absolutely free with no deposit. We'd recommend taking that free money and playing what we consider the best blackjack game, Blackjack Blazin 7s, where if you play your cards right, you can win some real money.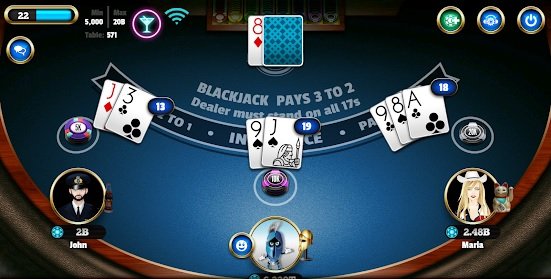 We believe that Casino888 is the best Android blackjack app for new players due to the simplicity and the potential winnings it offers.
I'm An Experienced Blackjack Player, What's The Best App To Use For Android?
Experienced players have a wider pool of online casinos that we can recommend, due to them having a deeper understanding of the game and the money blackjack can generate so quickly. With that in mind, we have two blackjack apps we would recommend for the more experienced player base.
PartyCasino is personally my favorite app as it provides the best live online blackjack games on the market, offering an infinite blackjack game, allowing an infinite amount of players at the table at once, meaning no waiting time for a spot at a table. This game runs insanely smooth on Android; however, the app does need to be downloaded from the Party Casino website, the only negative I could find. On top of that, new players also receive 200 free spins on any of the other casino games they offer.
The other online casino whose app I would recommend for any Android blackjack player would be Harrah's, similar to PartyCasino; their app needs to be downloaded from their website. However, once downloaded the app has a boatload to offer, with a plethora of free blackjack games you can play, our personal favorite being Frankie Detorris Magic Seven Black Jack.
Using their live casino, players can use real money to take part in their version of infinite blackjack, limited to $5,000, the presentation of the live casino is one of the best we have ever seen and runs smoothly on not only the newest Androids, but older models do not see a dip in results, meaning it's more accessible to players. They are constantly releasing new & exciting games that are revolutionizing the live casino as we know it, we see them doing what Full Tilt Poker did for the poker industry.
You may also want to read our guide on Samsung Casinos if you use a Samsung mobile.
Now That I've Found My App, How Do I Begin Playing?
Now you have downloaded your chosen Android blackjack app, it's time to begin playing. Most online casinos require you to create an account in order to keep track of winnings, deposits, and withdrawals. After creating and verifying your account, you will need to deposit to funds in order to take them to the table with you, unless you use 888 Casino mentioned above. Most online casinos have a minimum deposit, usually, $5, however, some have it set at $10, simply use an accepted payment method to transfer the funds over.
Now that you have the funds in your account, make your way over to the casino or live casinos if you wish to play with other players. Once there, select the game or table you wish to take part in, newer players should be looking for a table with lower limits to reduce risk, the best way to we found to play as a new player is to only double down when you have 20,21, giving you a huge chance of winning. This allows you to stay at the table and get a feel of the game, increasing your knowledge.
You do need to be aged 21 or over to play and in a state where online and real money mobile casinos are legal. These are New Jersey, Pennsylvania, Michigan, and West Virginia currently, but more states will be legalized soon. If you want to play online for real money in any other state, then check out these sweepstake casinos.
You may also want to read our guide to Android sports betting apps and our guide to finding the best Baccarat apps.
Is There A "How To Play Blackjack" Android App?
If you're still feeling a bit uneasy about putting money on the line, you can practice your skills and play blackjack free using our personal favorite app Blackjack 21 Pro. This allows you to play unlimited rounds of blackjack versus a computer of increasing difficulty. A lot of experienced players use Blackjack 21 Pro in order to keep on top of their game when away from the table.
There are no in-game app purchases on this app unlike other blackjack simulators, so you can be sure that you can practice blackjack for free. Although there are 100's of apps out there on Android that will help you get better at blackjack and more familiar with how blackjack works, we personally think that the best blackjack simulator out there is blackjack 21 pro, ready for when you are ready to move onto an online casino real money blackjack app for Android.
If you love playing on your mobile, you can also check out our Video Poker mobile guide, Video Roulette, and online Roulette slot machines.
FAQs
What is Online Blackjack?
Online Blackjack is simply a digital reproduction of blackjack played at casinos worldwide. However, Online Casinos give players the option of playing against an AI-powered dealer or a live dealer who streams the hands in real-time.
What is the best blackjack training app for android?
Generally, any of the free to play blackjack apps you can find in the play store are worth using as you don't have to play with real money. These will get you used to sitting at a table on your mobile and also see what kind of hands you can play with.
How To Play Blackjack?
The objective of blackjack is to get a higher hand than the dealers without "busting" by exceeding a total of 21. You should familiarise yourself with the rules of blackjack before betting real money.
Are Apps Less Reliant Than Real Life?
It may seem on the surface that companies may be able to change the odds massively in their favor without people knowing when players use an app. However, it is required by law that all odds are equal at all times unless stated in the terms and conditions.
What Are Las Vegas Rules?
Las Vegas rules refer to games that were typically played in Downtown Las Vegas where double down was allowed on any initial two cards, dealer hits soft-17, resplits, and insurance allowed. Las Vegas rules also state that the re-splitting of the aces and the double after splitting was not allowed.