Gamble USA strives to improve your online gambling experience. We aim to help you play safely, make informed decisions when gambling, and increase your betting knowledge through our guides.
We adhere to strict editorial integrity; our content may contain links to products from our licensed & legal US partners.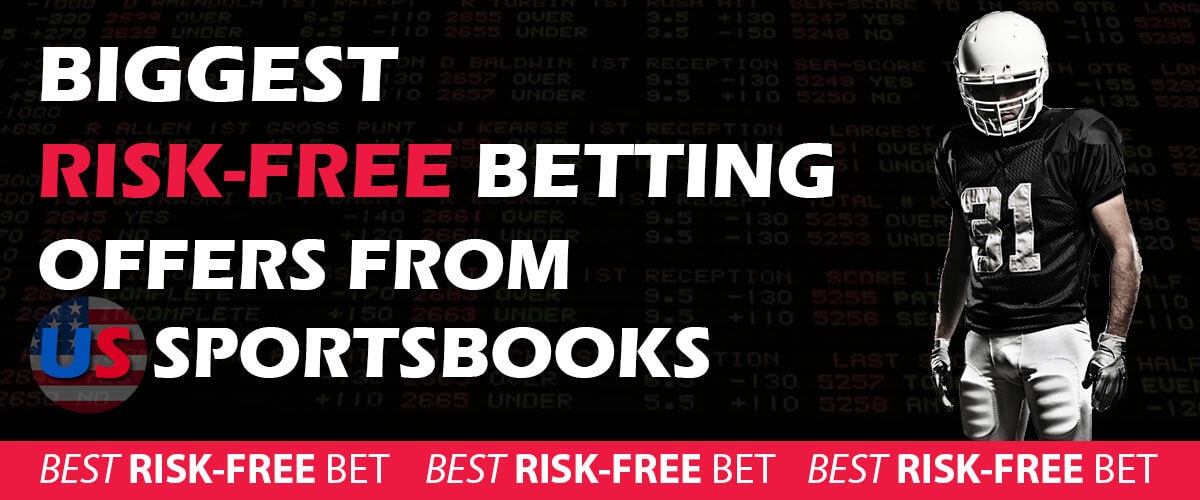 Risk-Free bet promos are one of the best ways to kick off your sports betting experience with an operator. With online sports betting growing quickly across the US, online sportsbooks need to be creative to attract new customers to beat off the competition.
One of the ways they are doing this is by providing risk-free bet offers. For example, you may notice a 'FanDuel money back guarantee' or FanDuel bonus cash' offer when searching for the best offers. Everyone signs up to online sportsbook sites with the intention to make money betting online, and the idea of free money betting is appealing.
A risk-free bet appears in many different formats, and although they are good for what we want to achieve, online risk-free bets offered by legal sportsbooks are not entirely risk-free. You will likely notice the generic term 'risk-free' attached to many offers, but some are better than others. This is typically determined by how a losing wager will be refunded. Additionally, you may also see a risk-free bet called presented as something else, such as a 'completely free bet' 'free bet when you join.
Best Rated Risk-Free Bet Offers
Lots of sportsbooks now offer some form of a risk-free bet when new customers join. The best offers come from the following US sportsbooks:
Top 8 Risk Free Bet Offers in the US
There are also new online sportsbooks, such as the Hard Rock Sportsbook offering generous bonus bet options. With huge new markets like New York opening up, a New York sportsbook must provide perks that go above different types of sports bets for bettors. Most betting sites offer specials on events such as the NHL playoffs, college football, or the NBA finals. However, customers will be drawn to the sites that welcome you with a $1000 risk-free bet offer and lots of bonus money.
This page explains how risk-free bets can differ, what risk-free betting offers, which are the best, and how to find the most suitable ones for you.
What Are Risk-Free Bets & How Do They Work?
Most online sportsbooks offer risk-free bets as a signup sportsbook bonus. Risk-Free bets fall under the traditional free bet offer, but not all offers are the same. For example, if you register for an account on Barstool Sports with your Barstool Sportsbook promo code, your free bet will instantly be added to your account. They are the most prominent welcome bonus offer in the US, above deposit match or standard first deposit bonus offers. Essentially, they are the first bonus offers given to new customers. If you place a bet and you win, no more needs to be done, and you can collect your winnings. However, if you bet and lose, the sportsbook will refund you in the form of site credit, a "free bet," or "bonus cash," which can be used for other bets on the sportsbook. The monetary amount of the free bets you get will be the same as the amount of your first bet on the sportsbook.
Risk-free bets are offered in different amounts, typically ranging from $100 rising to as much as $1,000 with BetMGM Sportsbook or $2,000 on PointsBet in select states. Offers come in all shapes and sizes and can vary throughout the year. You will typically find operators offer larger bets, such as $500 risk-free offer during big events like the Super Bowl.
Let's look at an example. Say you find a sportsbook that offers a $1,000 risk-free first bet to new customers. So you hit the register button, make your first deposit, and know you can wager on whatever you want, safe in the knowledge any amount up to $1,000 will be credited back to you in site credit if you lose. So in terms of things to do if you lose a bet, with online bookmakers' free bets, the answer is to try again!
Let's say you like the look of the Seahawks -6.5 points at home at -110. So you decide to bet $500. The Seahawks win by a score of 27-10. This means you have just won $454.50, which will appear in your account in addition to your original $500 wager, for a total of $954.50.
However, if the game is closer and the Seahawks win by three with a last-second field goal, then you lose your $500. The risk-free element kicks in with the form of site credit that functions the same as cash but must be wagered 1x through in order to convert the credit to cash.
Risk-free betting offers differ from a no-deposit free bet. With a no-deposit offer, you don't need to bet a dime of your own cash to get the offer. Additionally, there is no need to make a qualifying bet with a risk-free wager. You can use it straight away on the NBA playoffs, Super Bowl, or any other major event you wish.
Do I Get Original Stake Back On A Free Bet?
Ultimately this depends on which sports betting site you are playing on and how they refund the bets. When you wager on a platform that refunds in site credit, such as FanDuel and BetRivers Sportsbook, you will get site credit. Site credit performs the same as cash, so you can bet on whatever you like, and you will win the stake in addition to the profit. This is in contrast to free bets that only pay a profit.
However, there are some sportsbooks that will refund your bet in fully withdrawable cash. These are the only sites that provide a purely risk-free bet. For example, if you use the Betway risk free bet offer, you can get your money back, but only in free bet funds.
As we mentioned at the start of the article, a risk-free bet is not necessarily risk-free. A sportsbook could happily declare 'free bets for all,' but that would be simplistic without looking at the finer detail. For example, if you lose the first cash bet and lose the second "bonus" bet, your entire stake will be lost. Therefore, some sportsbooks will give you site credit in place of a free bet if you lose. These are better for the player, as this means you can bet small or big as you favor the site credit on a number of bets instead of having to place a second wager equivalent to the first.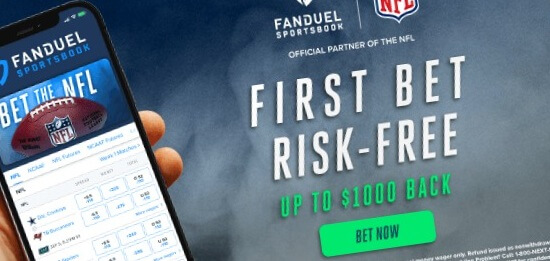 Another perk is that winning bets with site credit pay both the stake and the profit. Consequently, you can make a profit instead of just simply trying to recoup your money with a single free bet.
In the grand scheme of things, it is a decent offer. You get one chance to win and one chance to at least get your money back if the bet loses. However, they don't stand up too well against match bonuses, where sportsbooks will match your deposit in bonus cash. For example, a site may match your first deposit up to a maximum amount. It is real money, but you must bet through it before you can withdraw—this a completely 'risk-free' offer.
Risk-Free Bet Strategy
Anyone can claim and use a free bet. But it's what you do with the bets that really counts. With that in mind, we have put together this Risk-Free Bet strategy for you to follow. Bookmark the page so you can come back and claim more of the offers.
As with anything, the best way to 'beat the odds is to do some research and find a truly risk-free offer by looking at competing sportsbooks. The ideal scenario is that you find an arbitrage situation where you can bet on both sides of a wager. This guarantees you will 'beat the bookie.' These are challenging to find, but you may discover another sportsbook offering an 'odds boost' on a game that you can benefit from if you look hard enough.
For example, let's say you signup for a BetMGM account, and you want to place your first bet. At the same time, you are also scouring the market for other sportsbooks for 'booster bets,' and you find a website that is 'boosting' the 49ers to Moneyline spread game against the Cardinals. Instead of being the -200 Moneyline favorites, which the 49ers are at most sportsbooks, the boost means it is changing the price of the 49ers to win at +150. On BetMGM, the Cardinals are also +150 to win. So in this instance, you bet $500 on the Cardinals at +150, followed by betting $500 on the 49ers at the boosted +150 odds. That is a purely risk-free proposition.

If the Cardinals win, you have just collected $250 because the +150 bet ensured you turned a nice $750 profit at this sportsbook. So although you lost the $500 at the other sportsbook, you still won in the grand scheme of things. That is what made this risk-free; ultimately, you couldn't lose.
One of the problems with this example is that you will have to put the time into looking at several other sportsbooks for deals. Additionally, often these boosts come with lower limits, so it is possible you may not be able to get all of your bet down. Always remember that you are on the lookout for genuinely risk-free options. If you want to guarantee yourself a profit and get a free bet in the process, arbitrage is the best option.
You may be a more adventurous player and enjoy embracing the risk by going mad on your first bet. For example, you could place a large parlay with the $500 and hope to kick-start your bankroll, knowing that if you lose, there is still a chance of getting back the $500 with the second, more mundane wager.
Alternatively, you can be more conservative and play it safe by finding the shortest odds possible for your free bet and take it to the bank. For example, at WynnBET, qualifying wagers for their welcome bonus can't be more generous than -250. Consequently, the first bet cannot be -300 or -400.
This means the safest bet would be to look for a -250 favorite and use your free bet on that. At FanDuel Sportsbook, the maximum is $1,000, so if you win a $1,000 bet at -250, you'll profit $400. This translates to $1,400 withdrawable real money, not bad for a free bet offer! On the other hand, if you lose, you will get 1,000 in site credit that you must wager in order to withdraw any cash.
How to use Risk-Free Bets
Bettors are always looking for quick ways to ensure a profit boost. Whether you have a BetMGM bonus code or are using the DraftKings betting app, you will want to know how to use your bonuses. The first thing to note is that a risk-free bet could be offered as part of a new customer offer. If this is the case, once your registration has been confirmed at the sportsbook, you will have the option to claim your risk-free bet. Once you claim it, it will remain in your account until you choose to use it on a wager.
It is important to note that there will be terms attached to betting apps with free money offers. For example, there may be minimum odds applicable for any bet you use this bonus on. As long as you are fully aware of all of the conditions, using a risk-free bet is simply a case of clicking 'use your risk-free bet' before submitting the wager.
Risk-Free Bet Example
When looking at risk free bets or any other betting bonuses it is best to use an example of how they work in practice so you will feel comfortable the next time you use one betting on your favorite sport. Let's say you have just created an account on Betway and you decide to deposit $250. You decide to wager on a team at -7 with odds of -110. If the bet wins, your account will be credited with $477.25 which is made up of the original stake and then  $227.25 in winnings.
If the bet loses, you will have nothing in your account with a a $250 free bet to use. The free bet can't be converted into real money. As we have mentioned, a risk free wager is an excellent way to get started as it reduces the pressure of placing that initial bet. If you win, fantastic, your bankroll will be boosted and it will give you the confidence to continue wagering. If you lose, no sweat. You get a second chance. When you are dealing with your own money, it is always nice to have some form of bet insurance. Risk free bets work with that insurance aspect in mind, giving you a second go on your initial wager.
Risk-Free Bet Requirements & Terms & Conditions
Online sportsbooks will have various T&Cs and wagering requirements for their risk-free bet offers. This means it is vital that you carefully read all of the fine print before you lay down any money and start betting. Additionally, free bets and bonus site credits come with expiration dates, so you lose them if you don't use them.
Most examples of terms and conditions include only being able to place a single wager, no parlays, etc. Some sportsbooks may also require a bonus code in order to use your free sports bet. Always check before playing.
FAQ's
What Is A Free Bet?
Sportsbooks offer free bets to attract new customers and keep current ones engaged. They work on both desktop and mobile apps, as opposed to in retail sportsbooks. A risk free bet bonus is an excellent option as you can bet without the worry of losing your own money.
Is there a difference between a free bet and a risk-free bet?
A free bet is exactly that; you get free money, say $10, to place a bet. A risk-free bet means a sportsbook will match your bet and if your bet loses, give you the money back in cash or as a bet credit.