Gamble USA strives to improve your online gambling experience. We aim to help you play safely, make informed decisions when gambling, and increase your betting knowledge through our guides.
We adhere to strict editorial integrity; our content may contain links to products from our licensed & legal US partners.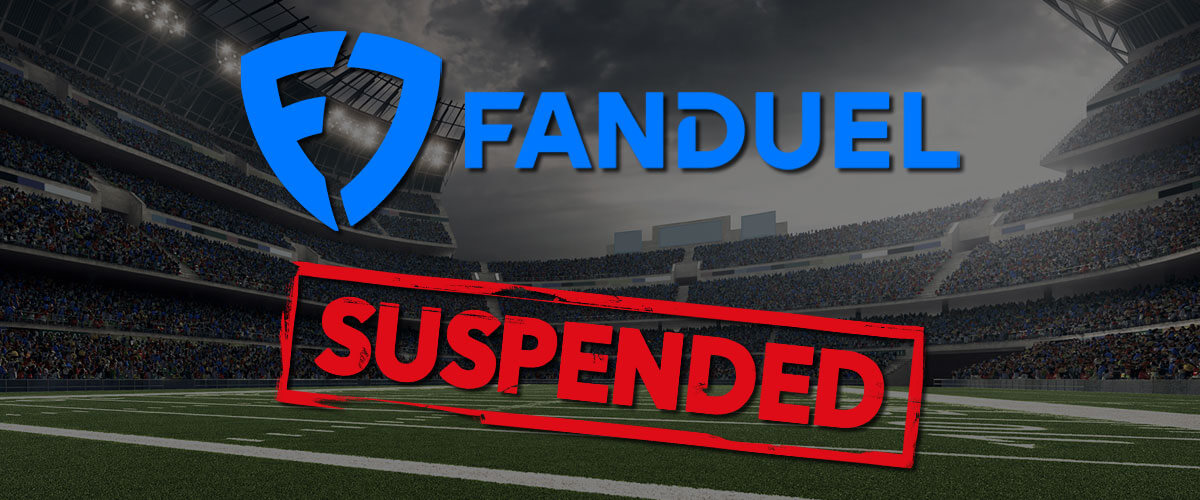 FanDuel is one of the biggest names in DFS and sports betting and has amassed millions of customers from all over the US. If your betting account or DFS account has been suspended by the operator, what can you do to restore it?
FanDuel is one of the biggest brands in sports gambling, initially enjoying success with its Daily Fantasy Sports (DFS) contests and then extending from fantasy sports to a fully-fledged sportsbook offering odds and markets on college football and more. However, bettors may encounter some irritations along the way, such as their account suddenly going down before can place that parlay bet or wager on Thursday night football.
If you have been locked out of your FanDuel account, had it closed down, or suspended, there are steps you can take to restore your account. However, a suspended account doesn't mean the end of the road for your online betting. Fortunately, there are lots of other legal US sportsbook apps available, including BetMGM, Caesars Sportsbook, DraftKings, and WynnBET, to name but a few, if you can no longer use FanDuel.
Whether you are using FanDuel in New York, New Jersey, West Virginia, or Tennessee, the process of getting your account back up if it goes down is the same. It is equally frustrating, you may be eager to bet on the Super Bowl or the Los Angeles Rams V Arizona Cardinals in an NFL game. Whatever sport you are betting on and in whatever location, account suspension can be a real downer!
If you are looking to place a wager and find that you can't sign in to your account, can be a real pain, especially if the big game is about to kick off. So what can you do so you can get that bet down? Let's take a look.
Up To $1,000 Deposit Bonus
21+. T&C Apply
21+. T&C Apply
The best sportsbook
Amazing odds & offers
Awesome betting app
Why is my FanDuel account suspended?
If you are trying to access your FanDuel sportsbook account and getting a Your account has been suspended message, this only means one thing. Whatever you have done has got your account locked. This may have happened by accident, it may be as a result of you breaking the terms and rules of the DFS and sportsbook operator. Let's run down some reasons why your account may be suspended and what you can do to recover your account.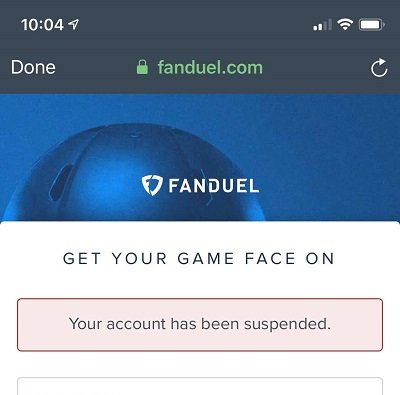 Using Multiple accounts
This may have been done by accident, or you may have made a few accounts on purpose. The operator only allows players to have one account, and opening more than one is a surefire way to get them suspended. If this happens, your money can be locked in the account, and you may not be able to get it back.
Creating a duplicate account and then using the duplicate accounts is a violation of FanDuel's Terms that you agree to when signing up. You are only allowed 1 account per player. If multiple people from your household have signed and you share an IP, then this may potentially flag your account as a duplicate when it's actually not.
Inconsistent activity
If you are seeing the email and message saying your FanDuel account is suspended for inconsistent activity, you will no douth have questions. What does this even mean? FanDuel uses systems that check all player's accounts to make sure everything is above board. If the system thinks that there is some odd behavior on your account, it will raise a flag on the system. This could be anything from winning big (did you lose a lot in the past), betting more than you would, logging in under different IP addresses, or betting on markets and teams you wouldn't normally bet on.
If you see this message, FanDuel will be investigating your account and will let you know the outcome. You can contact customer support and ask for an update, but it's not normally a favorable one. We have heard of this many times, and the only thing player can do, is move to another operator app, like the BetMGM sports app or Caesars Sportsbook app.
Promo Code: GAMBLEUSA
Up To $1,000 In Bonus Bets
21+. T&C Apply
21+. T&C Apply
Promo Code: GAMBLEUSA
Super fast payouts
Live streaming
Promo Code: GAMBLEUSA
Up To $1,000 In Bonus Bets
21+. T&C Apply
21+. T&C Apply
Signing up using the wrong details
When you join a legal sportsbook, it's vital you fill in the details correctly. Falsifying your details to open an account is a serious breach of the rules, and if you can't validate your account, it will be suspended. When signing up to an operator, you need to add in your name, address, D.O.B, email, mobile number, and the last 4 digits of your SSN. If you get these wrong and FanDuel can't confirm your details, you may need to send in documentation to prove your details are right.
If your account has been locked, don't panic. There is an easy solution which we get to below.
Using a VPN
Online sports betting and online casino gaming are not legal across the whole of the US. Operators are only allowed to accept bets in a state where they hold a license. If you are trying to play from another state and trick the operator into thinking you are in a licensed state, you will be caught, and your account will be banned. Your IP can also be banned, and you can also lose any funds you may have deposited and/or won. Using a VPN at an online casino or sportsbook is a misdemeanor, and you should only gamble in a legal state.
To legally use the FanDuel online sportsbook, you must be located in one of the below FanDuel available states:
Arizona
Colorado
Connecticut
Iowa
Illinois
Indiana
Kansas
Louisiana
Maryland
Michigan
New Jersey
New York
Ohio
Pennsylvania
Tennessee
Virginia
West Virginia
Wyoming
As mentioned above, there is little point in trying to trick the operator in thinking you are not located in any of the above states. You will be blocked instantly.
Have you closed your DFS account?
FanDuel may have both a DFS platform and a sports betting app and site, but ultimately, if you have an account with FanDuel, it will be linked between the two platforms. If you have closed your DFS account, you can't bet on the sportsbook, and vice versa.

Have you self-excluded?
Gambling, be it online, at a casino, or in a retail sportsbook, should only ever be done for fun. If you have a gambling problem, you may have added yourself to an exclusion list which will mean sportsbook stops you from wagering online or on a sportsbook app. Have you listed on the self-exclusion list from a gaming authority like the DGE or PGCB? If you have self-excluded, then there is no way to wager online.
If you haven't opted to self-exclude, it may be that your details have somehow ended up on the exclusion list, in which case it can be removed by contacting the licensing body of the state.
Breach of Terms & Conditions
Any program or event you sign up to these days will ask you to agree to the terms and conditions before you begin and FanDuel is no different. Top lawyers write these terms and conditions that the average bettor will not understand, so most people will just automatically click 'agree' to confirm their account.
Consequently, you could miss lots of literal terms and conditions in those streams of text as you have just trusted everything will be fine. Any breach of these terms will result in your account being suspended. If you are worried about this possibility, we suggest reading the terms and conditions more intently than most people do.
Suspicious log-in attempts
Your FanDuel playing account may be locked due to no fault of your own. If your account has been hacked or your details compromised, an operator can close your account if they feel there has been suspicious activity on there. Maybe someone has your password and is trying to hack your account.
How to restore a locked or suspended FanDuel account
If you have found yourself in the unfortunate position where your account has been suspended with FanDuel, restoring it can be quite an easy task. All you need to do is to send an email to customer support at support@fanduel.com and explain that your account is locked. Support will usually get back to you within 48 hours and explain what has happened and why your account is suspended.
If there is a valid reason as to why your account is locked, you can ask for it to be reinstated. If your account has been closed indefinitely, then your only option is to look at one of the FanDuel alternative sportsbooks. We have listed some great alternatives for you below too.
It may be also a simple case of you resetting your password on the site at sportsbook.fanduel.com. If you have entered the wrong password too many times, your account can also be locked this way.

Can I make a new FanDuel account?
If you can't get access to your account to place that prop bet on Patrick Mahomes or play casino games, you may think having a multiple account system is the way forward. However, this will not work as FanDuel does not allow multiple accounts. There is no way to trick the system by doing this, and any attempts will be stopped by the operator immediately. There is nothing to be gained if you want to create multiple accounts or intend to have a second account.
However, one option open to any bettor is to join other legal sports betting sites. Why not join DraftKings, BetMGM or Caesars? Each of these sportsbooks are some of the most prominent in the United States and offer options such as nice bonuses, live betting and a wide range of bet types and markets. If you sign up today you can claim your welcome bonus and get back into betting.
Up To $1,000 Deposit Bonus
21+. T&C Apply
21+. T&C Apply
The best sportsbook
Amazing odds & offers
Awesome betting app
Using an alternative
If your account has been closed for using multiple accounts or another reason that means you can no longer bet with FanDuel; fear not, there are lots of other operators whom you can place a bet with. All the operators listed below are licensed in the US, and you can normally open an account in less than 5 minutes.
Each of the above sites offers plenty of real money wagers, and all are excellent NFL betting apps. For example, if you are a Buffalo Bills fan, you could wager on Josh Allen to win the 2023 MVP even at the start of the season. There are also numerous bet types for NFL bettors so you can add excitement to the Monday Night Football game.
Additionally, signing up takes minutes and is as easy as creating a FanDuel sportsbook account. You just need to enter some personal information for security reasons and once everything has been verified you can start betting and claim your opening deposit bonus.
FanDuel Suspended Account FAQs
How long does a FanDuel suspension last?
There is no exact timeframe for how long your account will be suspended. It could be re-opened within 24 hours, or it could be suspended indefinitely. Until you speak to support, there is no exact timeframe.

If you see the FanDuel sportsbook account suspended message, contact customer service.
Can I close down my FanDuel account?
Can I transfer funds from a DFS account?
You sure can; there is an option in the account to move funds between platforms. FanDuel is a fully integrated online sportsbook.
Can you make multiple FanDuel accounts?
If you receive a FanDuel suspended account message, you may think having a backup account is the way to go. However, this violates FanDuel's terms and conditions, so you should not create another account.

The operator would see this as an illegal gambling activity, which could harm your chances of wagering on the platform.
Why are all bets locked on FanDuel?
When playing DFS or looking to place a regular sports bet, you may notice that all of your wagers are locked and you can't do anything. This could be due to a late lineup change due to injury or something unforeseen has occurred late. It also could also be the odds changing and the platform needs a slight reboot for a few minutes.

Additionally, there may just be a temporary glitch in the system. If this happens, try logging out and then back in or close the app if playing on a mobile device.