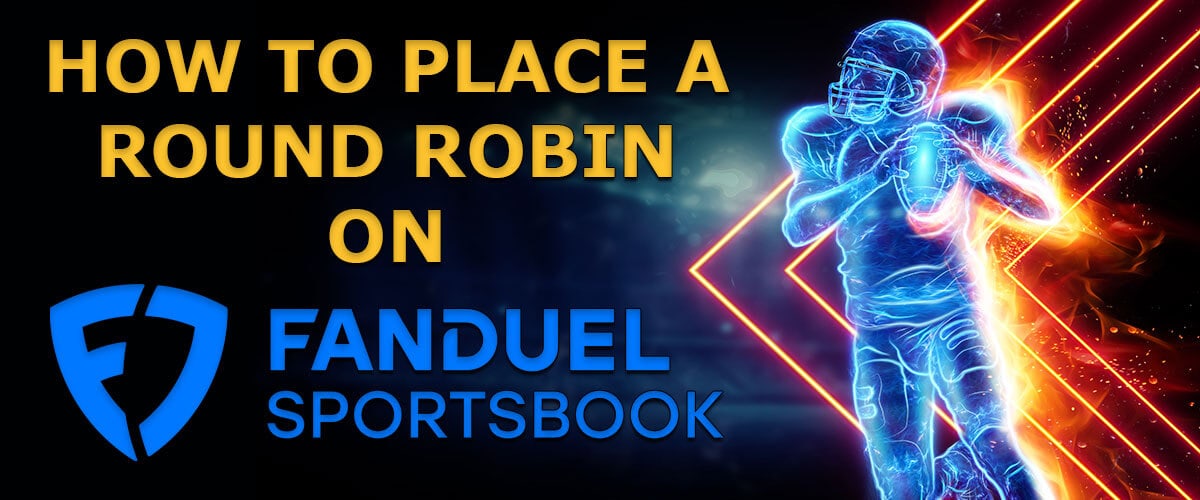 Online sports betting is becoming increasingly popular around the country as dozens of online sportsbooks have opened their virtual doors in over 20 states since federal legalization in 2018. With the popularity being so huge, online sportsbooks have to offer as many bet types as possible to keep up with customer demand, including round robins.
Round robin betting is one of the best ways to hedge your parlays that are three legs or more as they break them down into smaller parlay combinations for combined winnings more than straight bets but less than parlays. If you're interested in round robin betting, the FanDuel Sportsbook has one of the best and easiest-to-use user interfaces that's perfect for new users and experts alike.
This round robin betting guide will teach you the steps to placing a round robin bet on the FanDuel Sportsbook app, how they work, tips to use for them, and how payouts work.
Bet $5, Get $150 In Bonus Bets
21+. T&C Apply
21+. T&C Apply
Convenient banking
Massive choice of sports
Step 1: Find more than two events to bet on
To start a round robin bet, you will need to find at least three teams or athletes to bet on FanDuel by going to the betting markets of your choice and browsing the available bets. You can do this by clicking the "all sports" tab at the bottom of the screen or by browsing the available leagues and sports at the top of the home page.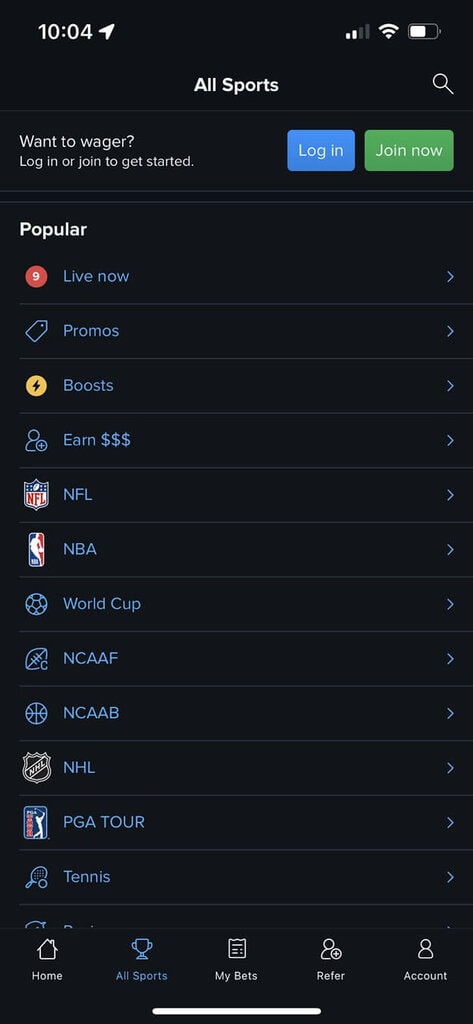 Step 2: Select the matches and check the odds
From the league's page, find the events you'd like to bet on and select multiple bets (point spreads, totals, prop bets, or to win outright) to add them to your bet slip. From your bet slip, read the odds on the right side of the screen and be sure you're happy with them; if you're not, remove them and find a different wager.
Step 3: Place the Round Robin Bet
From your bet slip, click the round robin button at the bottom of the screen, then choose the round robin options, meaning the types of parlay combinations you'd like to place. Round robin options will be labeled as "By 2's…", "By 3's…", "By 4's…", etc., which represents how big the FanDuel parlay combinations will be (i.e., 2-leg, 3-leg, 4-leg, etc.).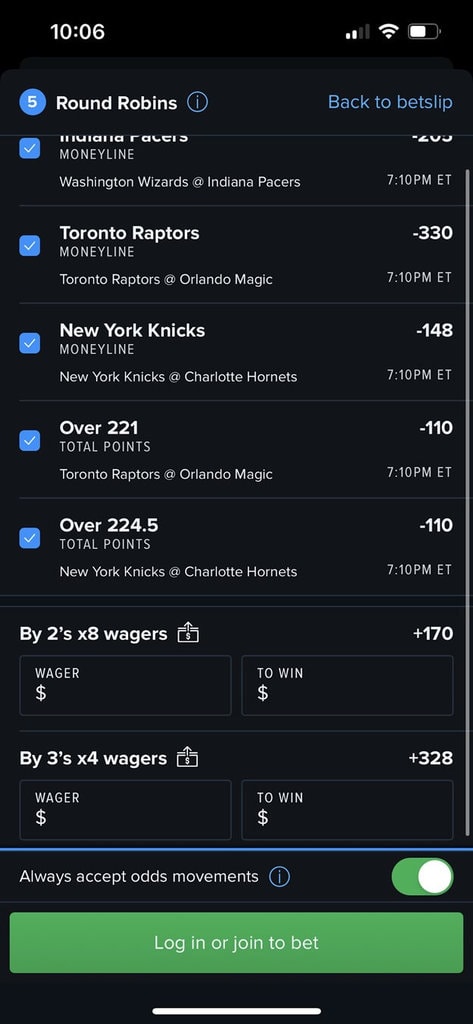 How Does a Round Robin Bet Work
If you need clarification about what a round robin bet is, let me explain it through an example below.
Let's say I've selected three moneyline bets from the morning slate of the NFL this Sunday, and I don't want to put them into one large parlay. Instead, I can bet on them using the round robin feature, which allows me to break down the three bets into three separate two-team parlays.
If my bets are the following:
Minnesota Vikings ML +116
Las Vegas Raiders ML -260
Baltimore Ravens ML +124
Then my parlay combinations in my round robin bet would be:
Minnesota Vikings ML & Las Vegas Raiders ML +199
Minnesota Vikings ML & Baltimore Ravens ML +383
Las Vegas Raiders ML & Baltimore Ravens ML +210
The more bets in my bet slip also allows me to make larger round robins with larger parlays instead of simply two-leggers. For example, if I had five teams in my bet slip, I could make a round robin bet with 10 two-leg parlays, 10 three-leg parlays, or five four-leg parlays.
The number of legs available in a round robin parlay combination ranges from two to nine legs, with a maximum of 25 bets available to be added. Remember, you're putting money on each individual bet, so if you make 25 bets by 2's, you will be putting money on 276 different wagers in total.
If you still need clarification, look at the visualization below, which illustrates the possibilities of parlay combinations for five teams.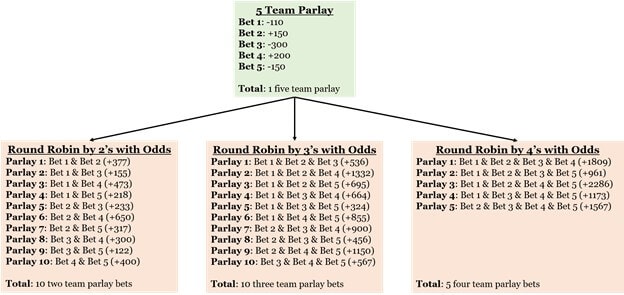 Tips for Round Robin Betting on FanDuel
Round robin betting is a somewhat complicated form of sports betting, and while it's a good way to hedge your big parlays, it doesn't mean you will always win. When you first start using the round robin feature on the FanDuel app, start small and get your bearings by checking out all that the feature has to offer, working your way up through the different sizes of parlay combinations.
Something I enjoy doing when creating round robin bets is choosing several different wagers that will win to fill my bet slip with way more than my intended bets, then whittle the choices down to my top three or four bets. For example, I picked every game from the morning slate of NFL football for the example above and whittled it down to my top three bets. Doing so allows me to see all my potential bets and choose the ones I'm most sure of.
Another tip I've learned over the years is to use alternate spreads to your advantage to increase your likelihood of winning, which works in all types of betting but is especially effective for a round robin bet. It is an effective way to make money on FanDuel because it gives the bettor more padding on each selection while only slightly diminishing their odds.
Round Robin Betting Payouts on FanDuel
Bet $5, Get $150 In Bonus Bets
21+. T&C Apply
21+. T&C Apply
Convenient banking
Massive choice of sports
Round robins payouts are based on the number of bets won throughout the different betting combinations. It's possible to win less than your initial stake or more than your initial stake based on the number of legs that win, while it's also possible to win nothing (although, let's hope not).
Take our NFL example above; if I was to put $10 down on each combination of the round robin and the Minnesota Vikings and the Baltimore Ravens win outright while the Las Vegas Raiders lose (which they always do), then the payout would be $48.30. This means the user has won $18.30 more than their initial risk; however, if all teams win, the total payout would be $109.20, or $79.20 more than the initial risk.
However, if the Raiders had won and the Ravens had lost, the total payout would have only been $29.90, 10 cents less than your initial risk on all parlay combinations. These types of payouts are exactly why bettors use round robins to hedge their bets because they assist users in limiting their losses but also pay out more than straight bets.
FAQ's
Does FanDuel have Round Robin bets?
Yes! FanDuel offers a comprehensive and easy-to-use round robin tool available in the bet slip.
How do you place a Round Robin on FanDuel?
All you need to do is select three wagers or more, go to the bet slip, and look at the bottom of the screen, underneath the parlay option and the teasers tab, to find the round robin tab. From here, you can choose the number of parlay combinations you'd like (such as two-leg or three parlays) and place your wager.
What does 3's x4 wager mean on FanDuel?
It means you're making a round robin bet in parlays of three teams with only four total bets available, meaning you only have four bets selected. This format explains how many legs will be in each parlay combination of the round robin bet and how many total wagers will be placed. For example, if you see "by 2's x6 wagers", there will be six separate two-team parlays!
Can I use a free bet on a Round Robin bet on FanDuel?
No! Round robins are multiple parlay bets pooled together for a larger potential payout than straight bets, so free bets on FanDuel cannot be used because they can only be placed on individual bets, similar to most betting sites!