Gamble USA strives to improve your online gambling experience. We aim to help you play safely, make informed decisions when gambling, and increase your betting knowledge through our guides.
We adhere to strict editorial integrity; our content may contain links to products from our licensed & legal US partners.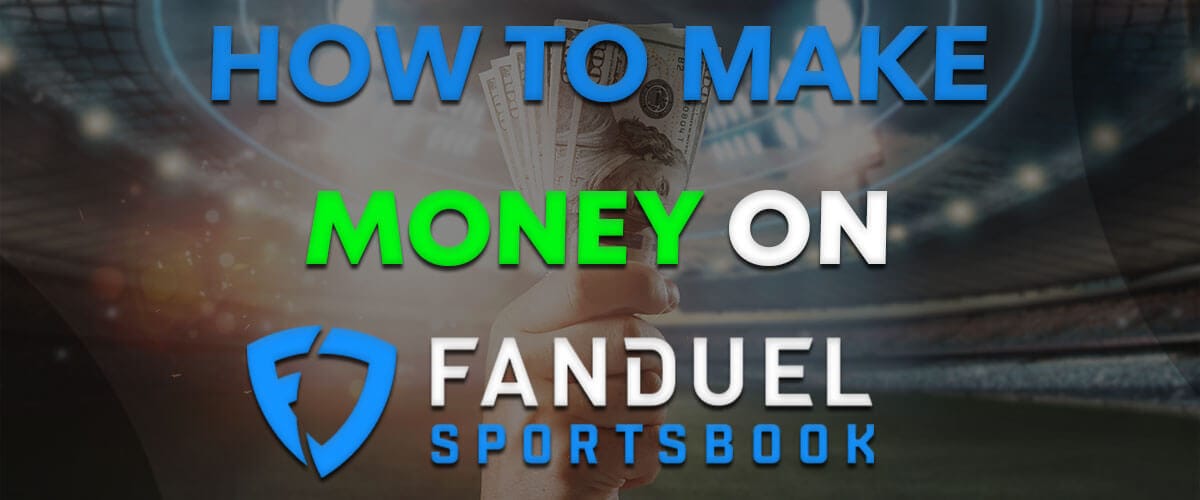 Founded in 2009, FanDuel is among the most popular daily fantasy sports and betting platforms in the USA, with over 12 million registered users across the country. What started as a prediction site project by five friends and fantasy sports enthusiasts more than a decade ago has now transformed into one of the leading online gambling platforms in many US states where gambling has been legalized, including New Jersey and Pennsylvania – two of the biggest iGaming markets today.
Amid the widening legalization of sports betting across numerous US states, FanDuel merged with the Irish gambling holding company Flutter Entertainment (the parent company of famous worldwide sports betting brands Paddy Power and Betfair) to form the FanDuel Group. FanDuel is now one of the biggest names in sports gambling, providing a range of excellent wagering options to bettors all over the country.
This guide will focus on making money on the FanDuel sportsbook. We'll provide information on how to make money on FanDuel through sports betting or daily fantasy sports and how you can earn a profit at FanDuel sportsbook.
No Sweat First Bet Up To $1,000
21+. T&C Apply
21+. T&C Apply
Convenient banking
Massive choice of sports
How Does FanDuel Sportsbook Work?
FanDuel, alongside their main competitor DraftKings, brought DFS to the US forefront through lucrative marketing campaigns. Still, it wasn't until 2018 that FanDuel opened its first sportsbook at the Meadowlands Racetrack in New Jersey, followed by its second sportsbook at Valley Forge Casino Resort in Pennsylvania. With this, the FanDuel group gained the rights to launch their online sportsbooks in New Jersey and Pennsylvania, and is currently one of the best sportsbooks in the United States.
When it comes to the betting options, FanDuel offers a wide variety of betting types that you can utilize to make money. From the classic money lines, point spread, and totals bets to more exciting betting options such as prop bets, same-game parlays, odds boosts, futures, and live betting.
Some of the most exciting betting types available at FanDuel are same-game parlays and SGP+. While parlay bets allow users to combine different betting lines on a single betting slip, with single game parlay, you can combine two or more selections from one game.
Moreover, SGP+ allows you to add more selections from other games to your betting slip, and there's a Live SGP/SGP+ feature for all NFL games. So, if you think that the Rams will win against the Eagles, you can bet on them to win by more than 5 points, the total to go over, and Matthew Stafford to pass over 300 yards – all in one betting slip. If all of your bets are successful, you'll win much more money than if you placed each bet separately. However, your bet loses if you miss one leg.
FanDuel also offers live betting, or in-game betting, which allows you to place bets after the game has started. Additionally, it implements a handy 'Always accept odds movement' feature on the bet slip and allows users to submit bets without confirming changes to odds – which lets you place bets more quickly. To make it even better, FanDuel allows you to live stream sports events through the FanDuel+ app, and you can place real-time bets while watching the game before the game time has finished.
Reading the Odds
Before you start betting for real money at FanDuel, learning how to read the odds is crucial.
The odds indicate how much you can win per $100 wager. Remember that FanDuel displays the odds in the American odds format, which means that the odds will have a – (minus) and + (plus) sign next to the odds, indicating the potential payout with a wager of $100.
The odds also indicate the favorite and the underdog in a matchup. For example, if the Warriors are playing against the Celtics, and the odds for the Warriors are -150, while the odds for the Celtics are +250, it means that if you wager $150 and you bet on the Warriors, the potential profit is $100 – plus the original stake. If you bet on the Celtics, the potential payout is $250 – with a profit of $150.
Once you have a basic understanding of how the odds work, you can then create your own strategy on FanDuel, choosing where the best value is to suit your needs. This brings us on to some recommendations of how to use that knowledge to make some decent cash while betting.
Betting Tips to Make Money on FanDuel
There are a couple of different ways you can make money from playing on the FanDuel sportsbook. The platform offers sports wagering, horse racing markets and also daily fantasy sports leagues. With that in mind, we thought it would be wise to go through some tips to maximize your betting opportunities. In time, you can develop your own strategy to ensure you are giving yourself the best chance to make some long term profits.
We have some tips that will help you win on FanDuel below. Use these useful tidbits of information and you won't go far wrong.
Before you do anything, it is important to research the sporting event you are betting on and the FanDuel app itself. There are aspects of every game that you could wager on, from first scorer, red cards, first touchdown, yards thrown etc. It is crucial that you have an understanding of all of these components whether you are participating in sports betting or the fantasy leagues. We also strongly recommend getting to know how the app works and all of the promotions and bonuses available. Typically,

FanDuel offers promotions

to coincide with big events such as the NFL playoffs. Consequently, if you are an NFL fan and feel you have a good knowledge of the game, use the promos to your advantage. This way, you can make some nice profits from minimal stakes.
Read up on all the player stats You need to work out who is playing consistently well and who is just having the odd break out game by chance or fluke rather than ability. Check which players are always scoring touchdowns, goals or points, and which players have one big match every 6 or 7 games they play. When you are choosing players to fill your roster in fantasy, this will be very useful.
Start off small. Although when you first sign up it is tempting to back all your favorite teams and enter every competition you can, you could get overwhelmed. Sports betting is naturally a high risk high reward activity, so easing yourself in is the best way. Managing risk is one of the biggest factors to having any success betting on FanDuel.
The key theme running throughout these tips is research. There are some people who will bet on gut feeling and instincts, but if you are willing to take the time to conduct some research beforehand, you give yourself more chance of being successful.
States You Can Make Money on FanDuel
FanDuel has expanded its sportsbook offering through 18+ US states where online sports betting has been legalized, and people over the legal age that are currently located in one of these states can sign up, deposit money, claim their risk-free bet bonus & Fanduel Odds Boost promotion, and legally place real money sports bets in these states: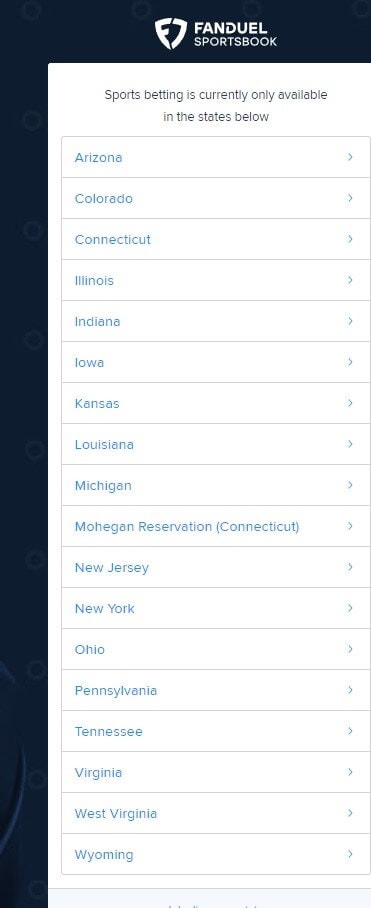 Keep in mind that you don't have to be a resident to be able to register at FanDuel – as long as you're currently located within the borders of a state where the sportsbook is available. Even if you're passing by through a state, you can open a FanDuel account and place a bet on the FanDuel app. If your bet wins, you'll be able to request a withdrawal even if you're not currently located in a FanDuel legal state.
However, you should take into consideration that different states have different policies and legislations regarding online sports betting, so some of the features might only be available in some states where FanDuel is legal.
Steps to Start Making Money at FanDuel Sportsbook
No Sweat First Bet Up To $1,000
21+. T&C Apply
21+. T&C Apply
Convenient banking
Massive choice of sports
To start betting for real money at FanDuel sportsbooks, you first need to register.
Step 1: Register a New Account
Compared to other brands, the registration process at FanDuel is much simpler, and it shouldn't take you more than a few minutes. Moreover, you can register either through the desktop website or through one of the available FanDuel apps for iOS and Android.
The apps are available in the App Store and Google Play Store only in states where FanDuel sportsbooks are available. The process of registering with FanDuel goes as follows:
Open the FanDuel sportsbook, and click on the Join Now button in the top right corner of the screen.
From the list of available states, select the state in that you're currently located at.
Provide your email address, create a password, username, and enter the FanDuel promo code or referral code if a registered user has referred to you and click Next.
In the next step, you'll have to provide basic information such as name, address, date of birth, phone number, and the last 4 digits of your Social Security Number.
After you complete this step, you should receive an email with a confirmation link. Click on the link, and you can now log in to FanDuel sportsbook.
To verify your account, you'll have to send the operator a government-issued document such as an ID, passport, or driver's license. Although you're not required to verify your account to make bets, you must complete the verification process to request a withdrawal and get paid.
Step 2: Make Your First Deposit
Before you start betting with real money at FanDuel, you first need to make a qualifying deposit. The sportsbook accepts various convenient payment methods, including the most popular credit/debit cards such as MasterCard, Visa, and American Express. If you prefer an e-wallet, you can deposit using PayPal – and the money will be instantly transferred from your PayPal account to your FanDuel betting account. You can also use a bank transfer to make a deposit, but keep in mind that this procedure might take up to two business days.
Being available in multiple states, FanDuel has many retail locations too, and you can also deposit in person. The minimum amount you can deposit is $10. Here is the complete list of FanDuel deposit options.
Step 3: Claim and Use Your FanDuel Bonus Smartly
Although you're not required to, you can use a promo code or a referral code upon registration to claim a starting bonus at FanDuel. Nevertheless, even if you don't have a code, you're still eligible for the No Sweat Risk-Free welcome bonus available for all new users who sign up with the platform through this page for the first time and make a qualifying deposit.
Namely, the FanDuel sportsbook offers a $1,000 No Sweat Risk-Free bet for all new customers. To claim the bonus, you should make your first wager. If your bet settles as a loss, you'll receive as much as you wagered back in your account as free bets site credit.
The awarded free bets can be used in multiple lump sums, which means that even if you receive $1,000 in free bets, you can use them as credits to wager on different bet slips. Claiming the welcome bonus is one of the best ways to make money at FanDuel sportsbook because you get two chances for your first bet to win.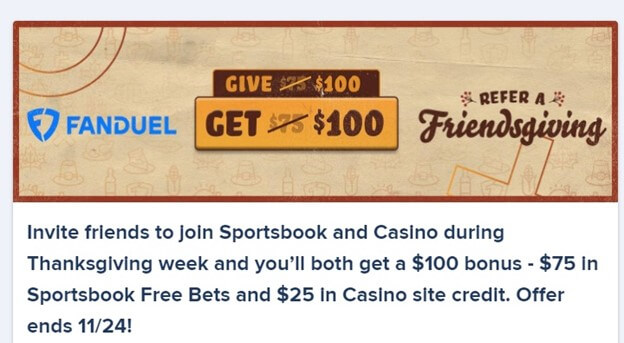 Besides the welcome bonus, FanDuel sportsbook offers many other promotions, such as the FanDuel Refer-a-friend bonus of up to $75 and exclusive promo offers for other big events. If you are a result player at the book, you may also be invited to join the VIP program from FanDuel.
Step 4: Select a Sport
FanDuel is on top of the game when it comes to the variety of sports its users can bet on. From the most popular US sports and leagues, such as the NFL, MLB, and NBA, to international tournaments and competitions, such as the World Cup tournament, the UEFA Champions League, and the EuroLeague. These are all the best sports that you can bet on at FanDuel sportsbook at the moment:
Aussie Rules
Cycling
Darts
Handball
Lacrosse
Rugby League
Rugby Union

Keep in mind that even though FanDuel offers odds for all of these sports every week, the betting market availability largely depends on the sports events. Moreover, some derby matches and head-to-heads include more betting options, such as specific prop bets. For example, if the Yankees are playing against the Guardians, you can bet that the Yankees will win the spread (called run line bet), and Judge will score a home run hit.
Step 5: Placing Your FanDuel Bet
Placing a bet on the FanDuel Sportsbook is an effortless procedure. After you've completed the registration process, logged into your account, read the prior written authority terms and conditions, and claimed your bonus, you're set to place your first bet.
To do so, you should first find a game or event you want to bet on and choose the betting market. The next step is to add the sporting event to your betting slip. You'll now have the option to place a wager on a single, create a FanDuel parlay bet (which means adding more events to the betting slip), or round robin.
In the next step, you should enter the amount to wager, and the potential payout will be displayed before you confirm your wager. For example, if you choose to bet $100 on the Oilers to win against the Capitals, and the moneyline odds for the Oilers are +150, your potential payout will be $250. Combine that with another sporting event in a parlay bet, and you'll get much better odds and a higher potential payout. However, if one of the bets on the parlay loses, the entire parlay loses.
In the case of FanDuel round robins, a series of concurrent parlays can be combined on the same betting slip, thus breaking them down into smaller parlays. With round-robin bets, one or more bets on the parlay can lose and still be profitable. However, this comes at the expense of the highest possible payout, as it will be lower than if it was a parlay bet.
Best Bets to Make at FanDuel Sportsbook
Let's take a look at the best bets you can make on FanDuel to gain some nice returns.
Moneyline Bets
This is the most straightforward type of sports bet and is ideal for anybody new to betting. Placing a moneyline bet on FanDuel is a perfect way to get you started on the FanDuel app as you are just wagering on a team to win a contest. The most important aspect to understand with the moneyline is the plus/minus signs, which show how much cash you can win with the underdog by placing a $100 wager and much you need to bet on the favorite to win $100.
Parlays
Parlays are very difficult to win, but they are also exciting and can give you massive returns from minimal stakes. A FanDuel parlay bet combines different bet types such as moneyline, point spread and props into one large wager. The more selections you make in a parlay, the harder it is to win. The catch is that every leg or selection in your parlay must hit for you to win. They are high risk, high reward but an excellent way to make some big money.
Totals
Totals are also known as over/under bets on FanDuel. Whereas parlays can be considered high risk, totals are a lower risk way of making some money, although the returns are not as high. They are a fun bet type as you back either for or against points, and you are not worrying about which team wins or how close the game becomes. Most people tend to bet on the over as we want to see a lot of points and action. However, what we want to see and what actually occurs and two different things. Sportsbooks will take into account the teams playing and if they are both struggling the odds on over/under will reflect this.
Futures
This type of sports wager is explained by the name. You are betting on something happening in the future. They are a good option for new bettors as you can look into your crustal ball and make a future prediction in the hope of securing a big payout. For example, you could bet on the LA Lakers to win the Championship before the regular season begins.
Player Props
These are really fun if you are looking for an alternative than just betting on the outcome of a game. This is where research is important like we mentioned above in our betting tips. If you know the form of a player going into a contest, you will be able to find value by predicting who will score the first touchdown in an NFL game or the first goal in a soccer match.
There is a mixture of FanDuel prop bets that are great for new bettors or better for more experienced players. The above give bettors of all different types of ability and experience a great way to make some money, and have fun in the process.
DFS Bets
As we know, FanDuel also offers fantasy sports. There aren't as many types of bets playing DFS, but there are still plenty of chances to make some money.
Some of the most popular contests are Head-to-Head contests, mainly due to their simplicity and user-friendliness. Namely, all you have to do is score more points than your opponent in a 1v1 DFS matchup, and you'll double your entry fee (minus the prize pool rake, which ranges from 6.5% to 10% at FanDuel). So, you'll return almost 1.9 times your investment in a 50-50 contests. This is the lowest risk contest FanDuel, but it also provides the lowest reward.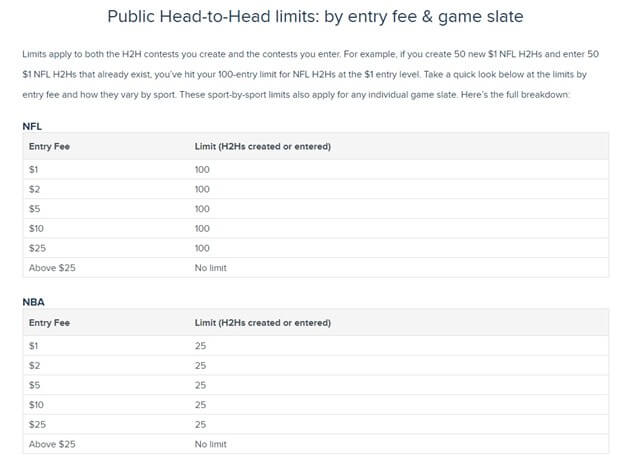 Another way to make money at FanDuel, especially if you're a beginner, is through various beginner contests. While 50/50s and Double-Ups are increasingly popular, the highest profit can be obtained by participating in the FanDuel DFS tournaments. There are daily beginner tournaments that let users play for more money than any other beginner contest, but expectedly, you'll need to finish anywhere in the green zone of the ladder to win. You can learn more about the FanDuel HiLo here too.
Once you participate in 50 contests, you're no longer allowed to enter beginner tournaments, but you can still enter intermediate contests, which are available to any user before they rack up $1,000+ in contest wins on FanDuel.
How to win on FanDuel
One of the best features of FanDuel is the daily fantasy sports competitions and their head-to-games. Sports fans tend to enjoy the battle of one v one matchups against another user. The fact you can usually profit $1.80 on every $1 spent if you win is also an added benefit. There is a tonne of head-to-head options on FanDuel where you can maximize your profits if you come with an edge.
One of the biggest reasons FanDuel head-to-head contests could see your profits surge is you can see a user's win total and their total win record. This means you can choose to go against players that you feel have less experience than you or aren't as skilled as you. Just click on a username to see their win total details. You can also find out more information such as average buy-in amounts and recent player wins.
FanDuel also offers a wide range of 50/50 leagues. Some of these leagues could have only a few players or potentially hundreds. It doesn't matter how many participants there are, the top half of all entrants get paid. If you feel you are always posting average but not top scores on FanDuel, 50/50 leagues are an excellent option good scores will still net you a profit. This is different from a head-to-head contest where better scores are normally required and will likely beat any average or good score.
A new game added to the FanDuel repertoire that relates to 50/50 league contests is the head-to-head matrix. The head-to-head matrix give you the opportunity to go up against 21 users at once in the same way you would if you selected 21 different head-to-head games. You are still battling against 21 separate players individually, and you are able to enter head-to-head matrices at different buy-in levels.
Whether you choose to play in a matrix game, a 50/50 contest or a traditional league, we always recommend following the same strategy: safety is paramount. Of course, the aim is to make some profits, but you don't need to try and get 'wow' numbers, you just need to post a score that beats half of users. That is why you should stick to safe lineup combinations and use players that have a high floor that will always give you steady production. There is no need to get too clever or overthink things.
FanDuel Betting Strategies with Examples
If you want to make the most on sports betting, you should utilize a strategy and make smart bets. One popular betting strategy is head-to-head betting protection. With this system, the bettor can back up one or two outcomes on an outright market. Depending on the skill level of the opponents, the odds will be lower for the favorite and higher for the underdog, but if you've been following the players or team, you should know if there's any chance for a potential upset, and you might profit from it. Moreover, when combining multiple head-to-head matchups in a parlay, some players decide to back up their parlay by placing a bet on the opposite player or team.
For example, if you have a parlay with 5 bets, and the last matchup of your parlay is Djokovic vs Nadal, and you've bet on Nadal to win, you can protect your parlay and guarantee yourself a profit by placing a separate moneyline bet on Djokovic. This way, you will end up in a profit regardless of who wins the matchup – although the profit will be decreased by as much as you decided to wager on the backup bet.
If you have doubts about a particular bet or want to get some inside information about recent injuries or controversies, you can head to Reddit sports betting threads and get the latest information. For example, you might have been intending to bet on France to win the World Cup, but found out that Karim Benzema got injured just a day before the opening match, so the new information might change your mind.
Naturally, if your aim is to win big, parlay betting is the way to go. If we were about to create a parlay that would win big, it would look like this:
Denmark – Tunisia Moneyline Away +500
Argentina – Saudi Arabia Moneyline Away +2100
Morocco – Croatia Moneyline Away +110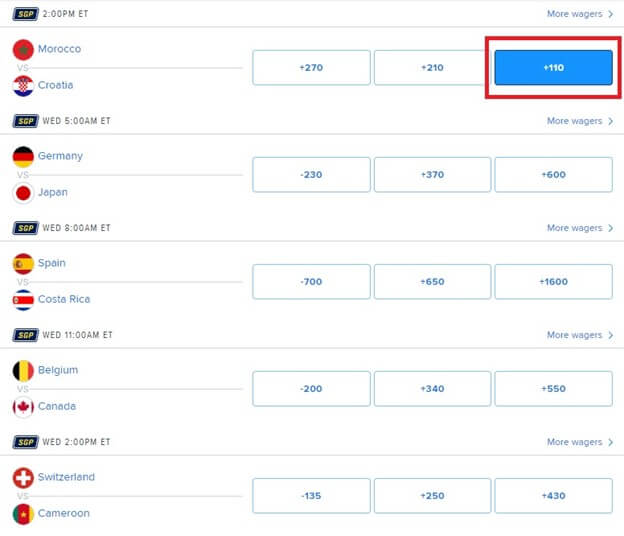 Our 3-leg parlay has odds of +29930, which means that with a wager of just $10, it would pay out a whopping $2,993. Note that in two of the three matchups, the teams we're backing up are the outsider, which is why the odds are much higher. In the case of Morocco vs Croatia, it's an even matchup, which is why the odds are much lower.
How To Withdraw Your Winnings at FanDuel Sportsbook?
So, what happens after you bet strategically on FanDuel win? It's time to cash-out, protecting yourself from wasting away your winnings. That's a strategy all pro sports bettors use to remain profitable for betting in the long run.
FanDuel is very well prepared when it comes to banking options. It's one of the leading sportsbooks when it comes to both depositing and withdrawing money, and besides using your card, you can withdraw your winnings by using some of the e-wallet options, opt for a bank transfer, or withdraw your money in cash at one of the retail stores located across the country. The full list of available FanDuel withdrawal options includes:
Visa

/Mastercard
ACH/Electronic Banking
Pay at Counter
Wire Transfer
Overall, withdrawing your winnings from your FanDuel betting account is an effortless process. The procedure goes as follows.
Log in to your FanDuel betting account.
Open your account profile by clicking on the profile icon at the top right corner if you're on a desktop, or bottom right corner if you're using the

mobile app

.
Click on Withdraw funds.
Choose your preferred payment method from the list of available methods.
Enter the amount you want to withdraw and confirm the transaction.
Keep in mind that withdrawal requests can take up to 48 hours for approval. After your request has been approved, the transaction will be processed instantly, and you should see the money in your account within an hour. If you opt for a check transfer, however, the process might take up to 14 business days.
Make Money on FanDuel FAQs
How do you get your money if you win on FanDuel?
FanDuel supports several payment methods. You can use credit cards, PayPal, Venmo, Trustly, and bank transfers to cash-out any winnings. First, you will be ask to verify your account which should take a few minutes.
How fast does FanDuel payout?
FanDuel processes payouts within 24 hours, and sometimes within minutes. From that point onwards, the money can show up instantly or take up to three days depending on your chosen withdrawal method. Venmo, PayPal, and other eWallets provide the fastest payouts from FanDuel.
What happens if you win $100,000 on FanDuel?
Unlike offshore dodgy sites that place low withdrawal limits to steal players, FanDuel pays out fast indifferently to how big you win. ACH and Wire are the ideal payment methods for large sums, including $100k wins, so you should use those to get your money in a singular or two payouts.
What is the most money won on FanDuel?
The largest win recorded on FanDuel came through this August, after a player placed a $13.5 free parlay bet and landed a $1 million win.
Can I cheat FanDuel?
FanDuel is a secure site licensed and tested in multiple states. They have security systems in place to ensure they cannot be cheated. Although you could hedge your bets for a while, if you bet in suspicious patterns or win consistently big, your FanDuel account could be suspended. Nonetheless, using the strategies outlined here is legal on FanDuel.
Which are the best bets to win on FanDuel?
FanDuel allows players to bet on different events however they like. Your bankroll and expectations can determine the best bets for you on FanDuel. Winning big requires betting parlays or investing a lot on a single moneyline wager. Future bets and same game parlays can be used to combine research with experience and land a big win on FanDuel, with relatively low risk.