If you're new to online sports betting and are still getting the hang of the different sportsbooks and types of bets, then let me introduce you to one of my favorite types of wagers, the prop bet. I love prop betting because of how versatile and fun the wagers can be, and the best sportsbook for them is easily FanDuel.
FanDuel started as a daily fantasy sports platform in 2009 and quickly became one of the top United States sportsbooks after online gambling became legalized in 2018. FanDuel Sportsbook has done so well because its motto is to bring the most bets possible to the players, which means a ton of different prop bets.
This guide will teach you what a prop bet is, how to bet on props through FanDuel, if it has prop builder tools, the different prop bets, and tips and strategies to win more when placing prop bets.
What is a Proposition Bet?
A proposition bet, or prop bet, is broadly described as a wager on whether or not a specific thing will happen throughout an event or season. Prop bets can vary widely by the sport and range from a bet on a specific play to who will win the championship throughout the season.
Prop betting can be on an individual or a team and placed on anything from how many yards Tom Brady will throw for to how long the national anthem will be for the Super Bowl. The wide variety of prop bets allows many sportsbooks to offer hundreds, if not thousands, of bets for each event, depending upon the sport.
I will discuss the individual types of prop betting later in this article. Still, for now, all you need to know is that prop bets can be placed on essentially anything and everything that could happen throughout big games or an entire season.
How to bet on Props on FanDuel Sportsbook
Betting on props is very easy on FanDuel and can be done at any event; however, prop bets generally aren't available until the night before or the day of the event, depending upon the event. For example, most sportsbooks offer bets on the Super Bowl the night after the matchup has been decided; however, regular season NFL prop bets won't be available until the night before or the day of the game.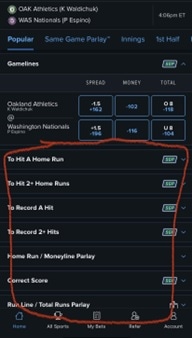 To find prop bets on FanDuel, locate the event you'd like to bet on by selecting the sport and league of your choice, then identifying the game from that page. Once you've located the game, click on it and it will expand the event details and show all available bets for adult users.
Once you've clicked on the event and the betting options are on the screen (as seen below), props will be located in the blue tab menu at the top of the screen, and popular ones will be located underneath the box of standard bets (circled below). If you'd like to parlay prop bets from the same game, click on the Same Game Parlay tab from the list at the top of the screen, and you'll be redirected to a betting screen that will allow for a parlay of both standard and prop bets.
Player Props on FanDuel
Player props on FanDuel are bets on whether or not a specific player will accomplish (or not accomplish) a specific statistical milestone throughout the game. This statistical milestone can be anything from the number of passing yards a quarterback throws to Giannis getting a double-double in a game against the Cavaliers.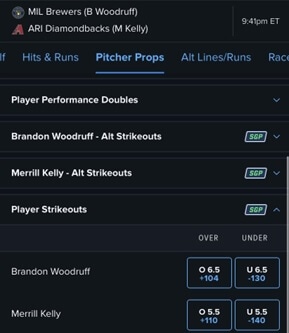 Users place bets on whether or not a statistical milestone will be reached by a player in the form of over-under wagers or yes/no wagers. Passing yardage props in the NFL, points total props in the NBA, and total strikeouts in the MLB are all over-under props that are placed on whether or not the player will get over or under the yardage total provided by the sportsbook.
While the list above is amongst the most popular player props available on FanDuel, the list below is some examples of more available props in different sports:
Tom Brady to throw over 2.5 touchdowns
Aaron Judge to score anytime home run
Tyrese Haliburton to score the first (or last) basket
FanDuel Sportsbook Team Props
Team props on the FanDuel site allow bettors to place props such as total points, first to a particular score, exact winning margin, and many more on a team rather than an individual. Team props allow users to place props on the entire team rather than one player and make different standard wagers (like totals and spreads) with variated totals, spreads, and odds, giving them more freedom.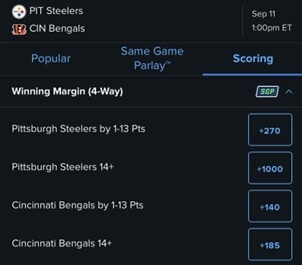 Similar to player prop betting, team props are made on whether or not a statistical milestone will be reached and are placed in the form of over under or yes/no bets. Be sure to visit the website for more types of team props, but below is a list of a few examples:
Cleveland Browns to win by 5-8 points
Chicago White Sox race to 3 runs
Manchester United to score the last goal
Other Prop Betting Options
As I said above, prop betting is such a wide variety of wagers that it'd be impossible for me to explain them all to you here; however, there are a few more types of props available on FanDuel that I'll explain.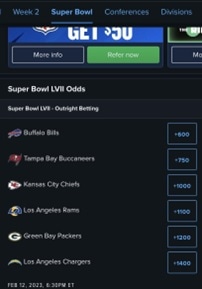 Below on the list is an example of the last three categories of prop betting, futures, flash bets, and special props.
Boston Red Sox to win the World Series (future prop bet)
Pitch 5 to be a strike (flash prop bet)
Heads to be the winner of the coin toss in the Super Bowl (special prop bet)
Futures are precisely what they sound like, a prop bet on the future of a player or team throughout the entire season or awards race. Flash bets are a compartmentalized version of prop betting that can essentially be placed on every play throughout an event if they're offered. Special props won't be available for every game, but significant events like the NBA Finals or Super Bowl will feature these types of props.
Strategies & Tips to Bet on Props on FanDuel
Betting is not an exact science, so you won't always win money on FanDuel Sportsbook; however, there are several different tips and strategies you can implement to skip the growing pains of being a newbie.
Prop Betting Tips
The most important tip I can give you is to do your research and look at the stats before you place a wager, and luckily you can find these stats in the FanDuel app. When looking at the stats, check multiple things other than the averages, meaning be sure you know who they're playing against and what the positional matchups will be.
The list below is everything I look at before making any form of wager:
Review the stats
Review the player matchups and their strengths and weaknesses
Review recent performances
Review past performances against the current opponent
Be sure to be betting on the sports you know because if you don't, you won't be able to make sense of the list above in the context of a sport you may not fully understand.
Prop Betting Strategies
Find the sport and prop bet that works for you best.
Are you someone who loves the NFL but doesn't know much about MLB? Well, don't worry, you don't have to bet on every sport, so find the markets you watch, follow the most, and stick to them to make a better profit.
Similar to the betting market, players can advance their sports betting skills by simply finding the prop bet that works for them the most. The main goal is to be comfortable and fully aware of the risk/likelihood of winning with everything you place a wager on.
I, for one, place a player prop parlay on three anytime touchdown scorers every Sunday for different games because an NFL team generally has a few players who score once a game or close to it. Betting like this allows me to combine some favorites on touchdown scorers like Johnathan Taylor, Derrick Henry, and Jamarr Chase for much higher odds for a higher percentage bet.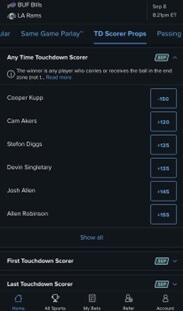 Only bet with what you can afford to lose.
Sports betting should only be used for entertainment purposes, and users should never gamble with money they can't afford to lose because it's gambling, which means nothing is a sure thing. Be careful and be aware of your limits.
If you or anyone you know has a gambling problem and wants to get help, please click the link here for more information or call 1-800-gambler.
FAQs
Is it possible to make a live prop bet on FanDuel?
Yes! Most sportsbooks (including FanDuel) allow users to place live player and team prop bets while also allowing things called flash bets. Flash or micro bets are essentially prop bets on a smaller scale, such as a specific possession in basketball or a specific pitch in baseball.
What's the difference between player props and team prop bets?
The difference is when you place a player prop, you're betting on an individual, while a team prop relies on the entire team. It is possible to win an over for a player point total prop bet while losing an over on a team point total and vice versa.
Can I parlay prop bets on FanDuel?
It depends on the sport and the prop; however, it is possible to parlay specific prop bets, such as NFL player props like anytime touchdown scorer. Similarly, users can place FanDuel parlays on point totals player props for the NBA; however, combining different sports and props often results in your parlay being unavailable.
Does FanDuel have any prop builder tools?
Unfortunately, it does not have a prop builder tool option at the time of writing. On the other hand, FanDuel Sportsbook offers several different props at phenomenal odds. It does offer the same game parlay tool that allows you to pick from all of the different props and standard bets (like spread or moneyline bets) to build a parlay.