Gamble USA strives to improve your online gambling experience. We aim to help you play safely, make informed decisions when gambling, and increase your betting knowledge through our guides.
We adhere to strict editorial integrity; our content may contain links to products from our licensed & legal US partners.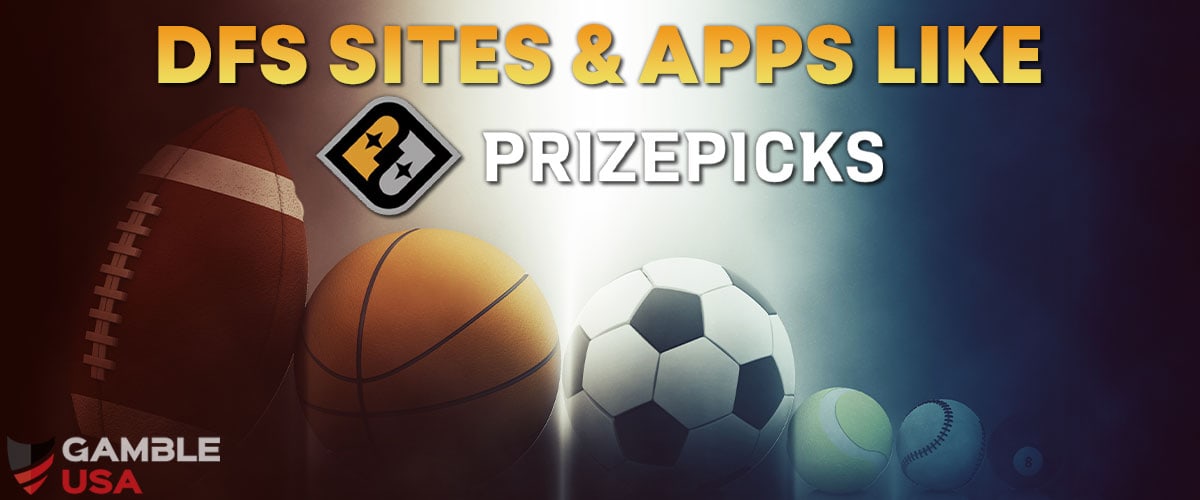 The most similar DFS sites and apps to PrizePicks are Underdog Fantasy, Sleeper, Jock MKT, and OwnersBox. All of these daily fantasy sites offer real money prizes in 30 + US states and have juicy sign-up bonuses.
PrizePicks is a daily fantasy app straight out of Atlanta, which was founded by Adam Wexler in 2018. This app offers legal real money prizes in 30 US states, and you can win up to 25x your stake. How it works is you pick over/under on 2 to 6-player stats from a range of sports, including NFL, NBA, MLB, NHL, PGA, Soccer, MMA, and more! In 2022 PrizePicks was named the fastest-growing sports company in the US, achieving a very impressive 1 million iOS downloads.
If PrizePicks isn't your jam, not operating in your state, or you want to get your hands on additional welcome bonuses, keep reading. We are going to break down the 5 best alternatives to PrizePicks!
Pros & Cons of PrizePicks
Are you thinking of moving your daily fantasy sports action to another DFS site? Consider these pros and cons and make an informed decision!
| ✅Pros | ❌Cons |
| --- | --- |
| 100% up to $100 welcome bonus | PrizePicks limits winning players |
| Real money prizes | Max weekly withdrawal is $1000 |
| 25 + sports (NBA, MLB, NFL, PGA) | Low betting limits |
| Simple to play | Winnings have a 1x wagering requirement |
| Secure payment methods | Only 2 cash out methods (PayPal & e-check) |
| Well-designed app for Android + iOS | |
A big complaint players have is as soon as you start winning, PrizePicks slashes your betting limits. Disgruntled former players said they had their betting limit cut from $500 to $100, and despite repeated requests to increase their limit, they were rejected. A number of these former PrizePicks USERS decided to cash out and start playing at Underdog Fantasy which is much more friendly to sharps.
If you are a high roller, then PrizePicks' max weekly withdrawal of $1000 is going to really grind your gears. It could be months until you pull a decent chunk of change out of the app. Sleeper is far better in this regard, as they have a healthy $5k max weekly withdrawal limit. They also let you withdraw via bank transfer, while PrizePicks only does PayPal and ACH.
Another annoying feature of PrizePicks is all cash you win, and deposits come with a 1x wagering requirement which means you can't immediately cash out. However, this is standard for all daily fantasy apps.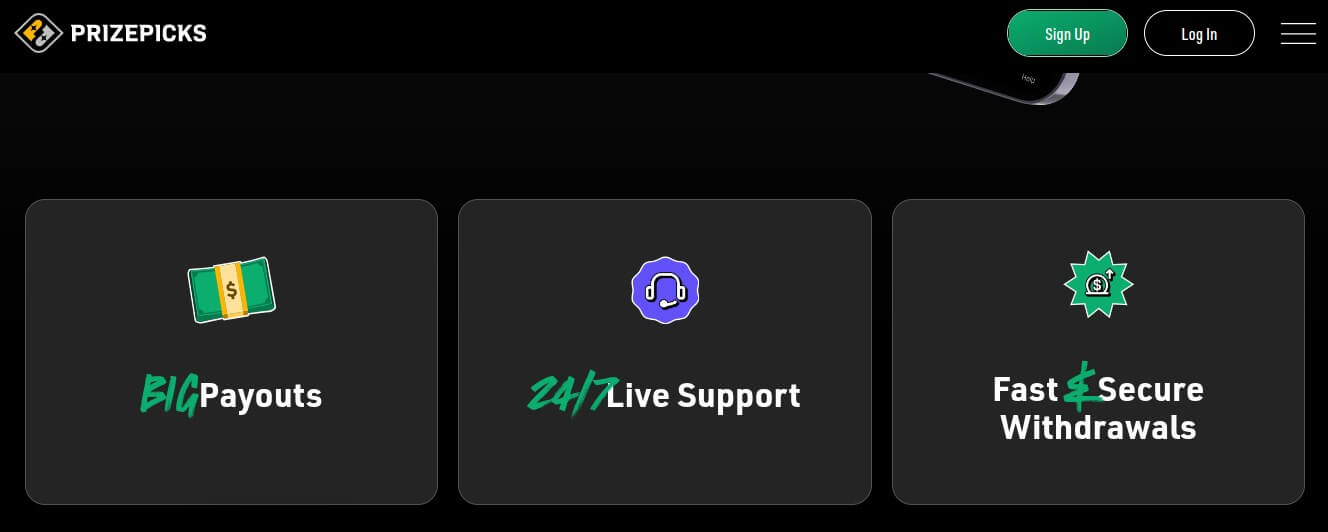 Does PrizePicks Have Any Sister Sites?
PrizePicks does not have any sister sites. The owner, Adam Wexler, is all in on PrizePicks and now has over 50,000 daily users. PrizePicks is ranked the 66th fastest-growing private company in America based on the 2022 Inc. 5000 Fastest-Growing Private Companies in America List.
5 DFS Apps Like PrizePicks
Don't constrain yourself to just PrizePicks! There are tons of fantastic alternatives out there that offer great action on 20 + sports, have awesome welcome bonuses, fast withdrawals, and well-designed platforms that are easy to use. Here are the top daily fantasy sports apps that may even be better than PrizePicks!
📱DFS App
🇺🇸 States
🎁Welcome Bonus
💰Max Win
💳Payment Methods
🏈Sports
🔥Competitions
PrizePicks
AK, AL, AR, CA, CO, DC, FL, GA, IL, IN, KS, KY, MI, MN, NE, NM, NC, ND, OK, OR, RI, SC, SD, TX, UT, VT, VA, WI, WY, AZ, MA
100% deposit match up to $100
25x
Visa, Discover,
Instant Bank Transfer,
PayPal, ACH

25 +
Pick'em Contests
Underdog Fantasy
AL, AK, AZ, AR, CA, CO, FL, GA, IL, IN, KS, KY, ME, MD, MS, MN, MS, NE, NH, NJ, NM, NY, NC, ND, OH, OK, OR, PA, RI, SC, SD, TN, TX, UT, VT, VA, WV, WI, WY
100% deposit match up to $100
20x
PayPal, Visa, Mastercard, American Express, Discover, Bank Transfer
15 +
Daily Drafts, Pick'em Contests. Best Ball
OwnersBox
AL, AK, AR, CA, CO, FL, GA, IL, KS, KY, MD, MA, MN, MO, NE, NH, NJ, NM, NY, NC, ND, OH, OK, OR, PA, RI, SC, SD, TN, TX, UT, WT, VA, WA, WV, WI, WY
100% deposit match up to $500
N/A
Visa, Mastercard, ACH
NFL, NBA, MLB, and NHL
Salary Cap Contests, Weekly Contests
Sleeper
AK, AR, CA, CO, FL, GA, IL, KS, KY, MA, MN, NE, NM, NC, ND, OK, OR, RI, SC, SD, TX, UT, VT, WI, WY
100% deposit match up to $100
100x
Bank Transfer, Visa, Discover
Football, Basketball, League of Legends
Pick'em Contests
ParlayPlay
AL, AR, AK, CO, CA, DC, FL, GA, IL, KY, KS, MN, MA, NE, NM, ND, NC, OK, OR, RI, SD, SC, TX, UT, VT, WY, WI
100% deposit match up to $100 +$5 no deposit bonus
Visa, Mastercard, Discover, ACH
NFL, NBA College Basketball & Football , MLB, NHL, Soccer, UFC
Pick'em Contests
Jock MKT
AL, AZ, CA, CO, CT, DE, FL, GA, IA, ID, IL, IN, KS, KY, LA, MA, MD, ME, MI, MO, MS, MT, NC, ND, NE, NH, NJ, NM, NV, NY, OH, OK, OR, PA, RI, SC, SD, TN, TX, UT, VA, VT, WA, WI, WV, WY
100% deposit match up to $100 + $5 no deposit bonus
15x
Visa, Discover, Bank Transfer
NFL, NBA, NHL, PGA, MLB, NASCAR
Pick'em Contests, Stock Exchange Trading
🥇

1. Underdog Fantasy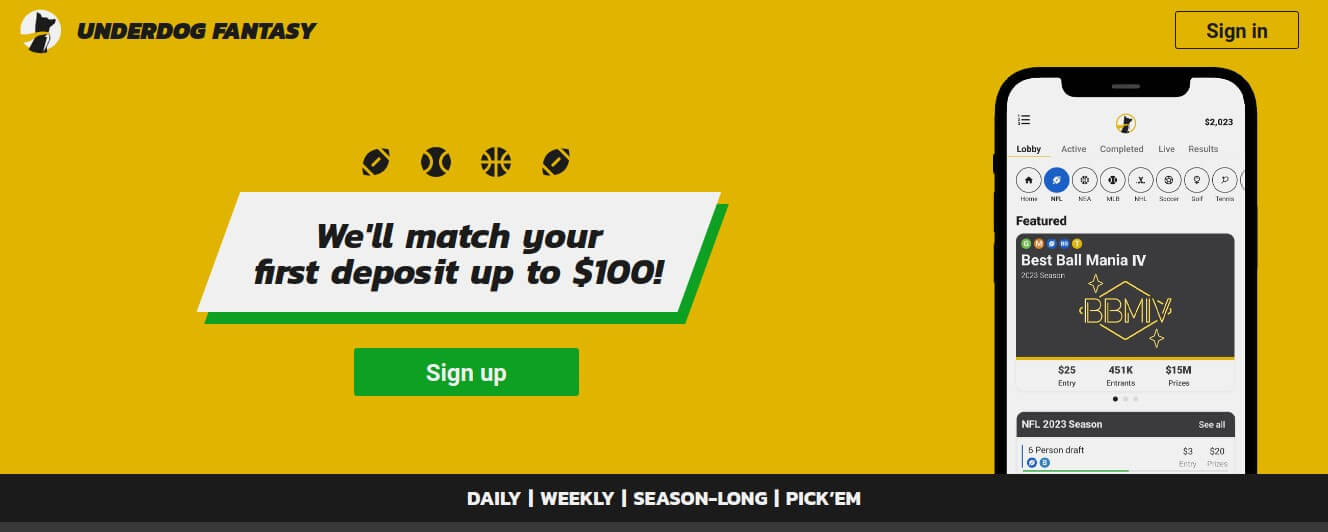 Underdog Fantasy is the most similar DFS app to PrizePicks and even has them beat in some aspects! They offer pick'em DFS contests just PrizePicks where you make over/under predictions on player stats as well as classic daily drafts and even season-long fantasy competitions with 7-figure guaranteed prize pool contests, including a $3 million first-place prize.
Underdog Fantasy is available in 41 US states, while PrizePicks only operates in 31 US states. However, PrizePicks has the edge when it comes to makers with 25 + sports while Underdog Fantasy only offers 15 +. They have all of your classic markets, including NFL, MLB, NBA, NHL, and even esports.
Underdog Fantasy has a max payout of 20x in pick'em daily fantasy contests when you get all 5 of your predictions correct. PrizePicks has a bigger max payout at 25x, but you need to go 6/6. Both daily fantasy apps offer insurance which reduces your payout but allows you to win if 1 or 2 of your picks are wrong.
When it comes to bonuses, Underdog Fantasy and PrizePicks are pretty similar. They both offer regular odds boosts, and neither has a loyalty program. Underdog also has the exact same welcome bonus as PrizePicks, 100% first deposit match up to $100 with a 1x wagering requirement.
🥈

2. OwnersBox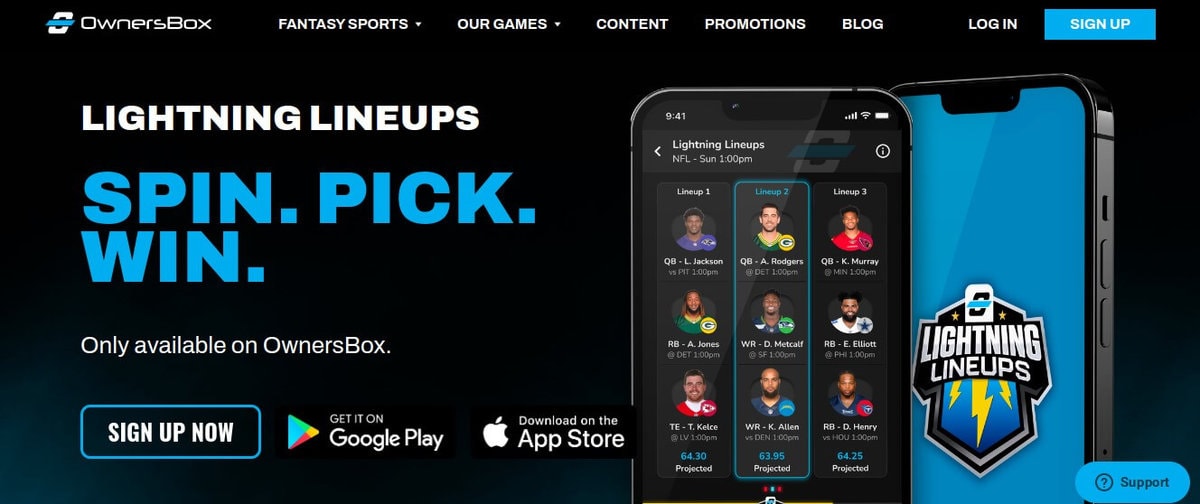 OwnersBox is crushing PrizePicks when it comes to welcome bonuses, they offer a 100% first deposit match up to $500, which is 3x of what PrizePicks has. Unfortunately, the bonus does come with a 5x wagering requirement, while PrizePicks' wagering requirement is just 1x. They also have the edge when it comes to state availability operating in 37 states, while PrizePicks is only in 31 states.
OwnersBox doesn't have pick'em DFS contests or fantasy props; instead, they have Superflex daily fantasy sports contests where you pick a lineup and battle against other players, but you get to add an additional player to your roster. They also have Lightning Lineups, where you spin until you find a lineup you like and then compete against OwnersBox's fantasy team to see who accumulates the most points.
OwnersBox's markets are definitely lacking compared to PrizePicks as they only offer NBA, NHL, NFL, and MLB, while PrizePicks has tennis, MMA, boxing, soccer, and more! But OwnersBox does have season-long daily fantasy sports contests, while PrizePicks only has competitions for single matches.
OwnersBox is one of the few daily fantasy sports apps that has a loyalty program. Every time you play DFS contests, you accumulate OwnersBucks, the in-app currency, which then can be exchanged for cash which gives your winnings a nice little boost. They also have free DFS contests with real money prizes!
🥉

3. Sleeper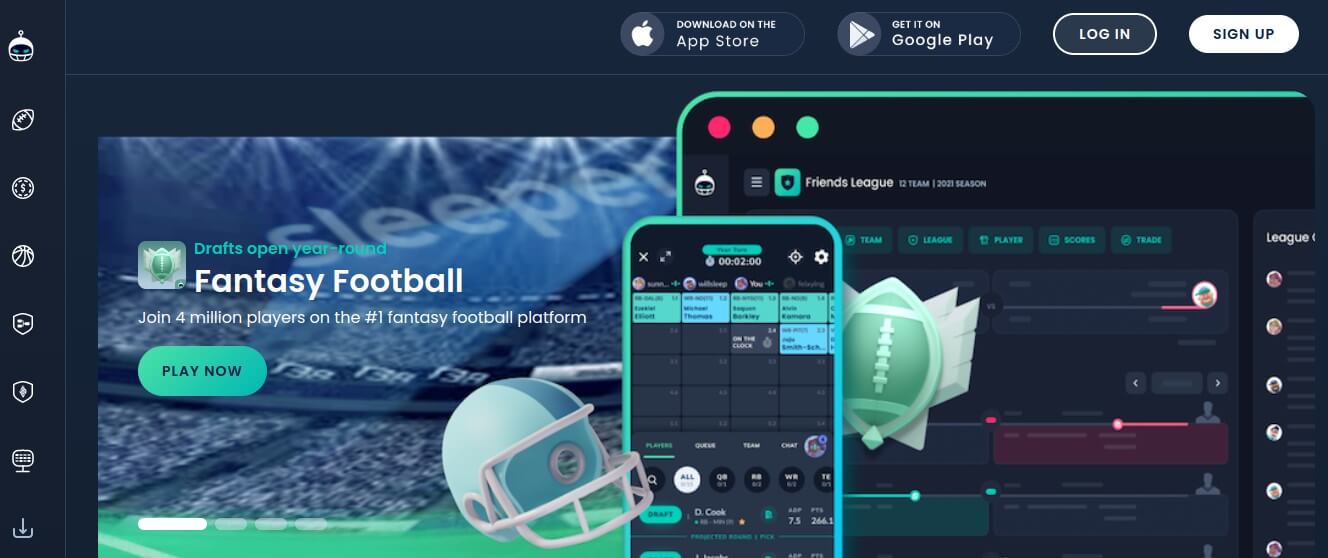 Sleeper has been around since 2014, slightly longer than PrizePicks. They originally focused on traditional season-long fantasy contests but now offer pick'em games just like PrizePicks. Unfortunately, Sleeper's markets are really limited; they only have contests for basketball, League of Legends, and football. If you are an MMA, soccer, or tennis fan, then PrizePicks is a better option.
Sleeper definitely has PrizePicks beat when it comes to max payout. They have the highest of all DFS apps at a whopping 100x which dwarfs PrizePicks' 25x. However, unlike PrizePicks, Sleeper doesn't offer fixed odds for its pick'em DFS contests, instead, payouts shift based on other players' picks. For example, if tons of players are betting on Lebron James to score under 25 points, then the payout will decrease.
Sleeper has a well-designed app that you can download from the App Store and Google Play. It is very simple to navigate and very beginner-friendly, even more so than the PrizePicks app.
Sleeper currently operates in 25 US states which is not as many as PrizePicks, but we are sure they will expand soon. Sleeper has the same welcome bonus as PrizePicks with a 100% first deposit match up to $100. If you are looking for pick'em games with great payout and are only interested in football or basketball, then sign up to Sleeper and play daily fantasy sports.
🎖️

4. ParlayPlay
ParlayPlay is a great beginner-friendly DFS app that offers 2 simple game modes, More/Less, which is exactly like PrizePicks pick'em contests where you get to predict whether a player's stats will be higher or lower than the line, and Hit It. Hit It is a twist on standard pick'em games because instead of predicting higher or lower, you need to guess which range the player's stats will fall into.
ParlayPlay has a solid range of markets, including NFL, NBA, college football & basketball, Major League Baseball, NHL, soccer, and UFC but can't compete with the 25 + sports on offer at PrizePicks. They are available in 27 US states which is a little less coverage than PrizePicks. Another downside is the low wagering limit of just $100, while PrizePicks has a $500 max bet.
A cool feature that ParlayPlay has is first and second-half pick'em games which you can also find at PrizePicks. They also have a decent number of free rolls DFS contests where you win real cash without risking your own money.
The max payout at ParlayPlay is 10x when you go for 4/4, while PrizePicks has a 25x payout for a 6/6 game. You can also purchase insurance, but if you go ¾ with insurance, your payout is only 1.25x.
Overall ParlayPlay is like a smaller, less advanced version of PrizePicks, but it is still worth signing up and claiming their $5 no deposit bonus, and their 100% first deposit match up to $100 welcome bonus which comes with a generous 1x wagering requirement.
🏅

5. Jock MKT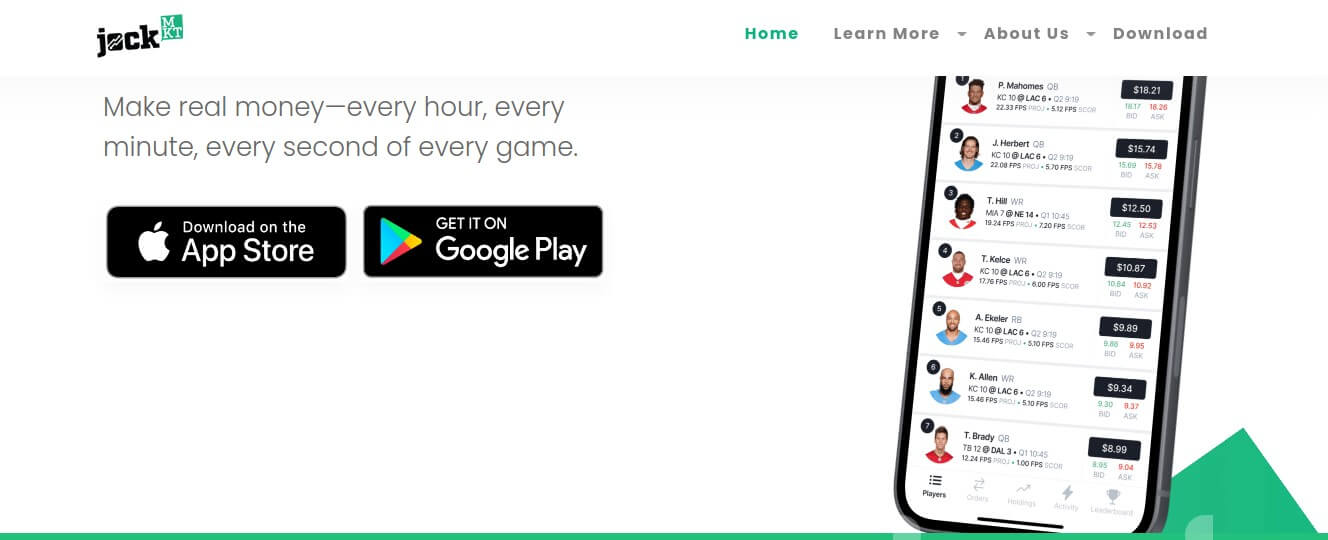 Jock MKT is a unique daily fantasy sports app that is only available on mobile and operates in 46 US states. They have a trading platform where you can invest in players, similar to the stock market, they also have season-long drafts and classic pick'em games where you predict over/under on player stats, just like at PrizePicks.
Jock MKT offers slightly better payouts than PrizePicks. For example, 3/3 pick payouts out 6x on Jock MKT while only 5x at PrizePicks. However, the max payout at Jock MKT is just 15x for a 5/5 pick, while at PrizePicks, a 6/6 pick will net you 25x. Jock MKT also offers insurance for its pick'em games like PrizePicks, which reduces your payout, for example, if you get 3/3 but have insurance, your payout shrinks to 2.25x, which is the same payout as you get on PrizePicks.
PrizePicks has a far greater selection of sports. Jock MKT only has pick'em contests for NFL, NBA, NHL, PGA, MLB, and NASCAR but that should be enough choice to find some great spots. Jock MKT has a 100% first deposit match bonus up to $100, but it comes with a 5x wagering requirement, while PrizePicks only has a 1x wagering requirement for the exact same bonus.
Why Do You Need PrizePicks Alternatives?
While PrizePicks has a solid number of major sports and different player stats, their markets are far from exhaustive. If you want action on some new markets and sports, then we recommend signing up to other daily fantasy sports apps. You never know you may have a gift for over/unders on table tennis games or another niche sport that PrizePicks doesn't cover!
Have you been winning a little too much lately at PrizePicks? You better have a backup in place because it won't be long until your account gets flagged and you get limited. This will cause your winnings to instantly nosedive. That is why it is always smart to have a backup DFS site account ready and waiting!
Unfortunately, you can only claim PrizePicks' 100% deposit match up to $100 welcome bonus once. Luckily, there is a solution, just sign up to daily fantasy fun sports sites like PrizePicks and claim their welcome bonuses. A number of PrizePicks alternatives have very similar welcome bonuses. For example, you can get a 100% deposit match up to $100 at Underdog Fantasy and Sleeper, and OwnersBox goes one better with a 100% welcome bonus up to $500!


How We Selected These PrizePicks Alternatives
Before we recommend a PrizePicks alternative, we thoroughly test the app and pay special attention to these factors:
State availability – It doesn't matter if XYZ is the greatest DFS app on the planet if it only operates in Alaska, it is useless for 99% + of Americans. Mobile fantasy apps that offer cash prizes in 25 + US get big thumbs up from us.
Sports and game types – We examine all available competitions and study exactly what sports are on offer. Daily fantasy sports apps tend to specialize in certain types of competitions, for example, PrizePicks offers strictly over/under markets. We look for fantasy apps that offer the same or more DFS competitions compared to PrizePicks.
Bonuses – All of the PrizePicks alternatives we have selected have welcome bonuses just as good if not better than PrizePicks. For example, OwnersBox has a 100% welcome offer up to $500. We also look for daily fantasy sports apps with low wagering requirements, as PrizePicks only has a 1x wagering requirement.
Payment methods – We always study the available deposit and withdrawal payment methods a daily fantasy sports site has. Unfortunately, most DFS sites are pretty limited when it comes to payment methods. We also look at processing speed and if there are any fees involved.
User experience – We study the overall usability of the DFS app, we look at theme, speed, navigation, and features. The best DFS apps are fast, easy to use, and offer fun extra features like live stats and free-to-play games.
Commission and fees – Daily fantasy sports sites charge a commission for every game you play. You should always play DFS on the platforms that take the smallest cut, as these fees can really eat into your prize money, especially if you are a frequent player.
FAQ's
Is there another app like PrizePicks?
There are now lots of DFS apps like PrizePicks - the best alternatives are Sleeper, Underdog Fantasy, Jock MKT, OwnersBox, ThriveFantasy, VividPicks, and ParlayPlay.
Is Sleeper like PrizePicks?
Sleeper is like PrizePicks as they have pick games where you select over/under on player stats, and your prizes are determined by the number of pick entries you include in your slip. However, Sleeper does not have fixed odds. The odds change based on betting action.
Is PrizePicks app legit?
The PrizePicks app is not only legit, but they are considered one of the best daily fantasy sports apps out there. PrizePicks even won the 2021 Best Fantasy Sports Operator award. They have a 4.8 rating on the App Store based on over 150,000 reviews.
Do sites like PrizePicks pay real money?
PrizePicks does pay real money. They are a legit DFS app, which, in 2021, paid out over $100 million. However, the max you can win from a single entry fee is 25x, and you can wager up to $500.
Is the Underdog App Similar to PrizePicks?
The Underdog app is similar to PrizePicks as it offers pick'em single-game contests for tons of sports, including NBA, MLB, NHL, and NFL. They also have a 100% first deposit bonus up to $100 with a 1x wagering requirement, just like PrizePicks. However, their max payout is lower than PrizePicks (25x vs. 20x), and they have fewer sports on offer (25 + vs. 15 +).
What is the best daily fantasy site like PrizePicks?
The best daily fantasy site like PrizePicks is Underdog Fantasy. They also have a 100% first deposit match up to $100 with a tiny 1x wagering requirement.
Where is PrizePicks not allowed?
Daily fantasy sports betting is not allowed in Arizona, Delaware, Hawaii, Idaho, Indiana, Iowa, Louisiana, Maine, M Mississippi, Missouri, Montana, Nevada, New Hampshire, New Jersey, Pennsylvania, Tennessee, and Washington. PrizePicks does not operate in any of those states.