Gamble USA strives to improve your online gambling experience. We aim to help you play safely, make informed decisions when gambling, and increase your betting knowledge through our guides.
We adhere to strict editorial integrity; our content may contain links to products from our licensed & legal US partners.
This article on How to Bet on College Football is a follow-up to my recently published article on College Football Betting Apps. Now that online sports betting is legal in many states, if you would like to win money betting on college football games, access to trusted NCAA football betting apps that offer competitive odds across robust betting markets is a must. But understanding basic football betting terminology and the different kinds of bets you can make is equally important.
If you are new to online sports betting, trying to make sense of the tremendous volume of information on this subject might seem like an overwhelming task, but we have you covered. We will also include some helpful tips specifically for NCAAF betting.
Keep in mind that what you need to know to achieve successful long-term outcomes when you bet on college football is in some ways similar to and in some ways different from what is most important in other sports. Through this guide, you can learn the basics of how to wager on this thrilling action-packed sport for fun and profit.
10 x $100 Second Chance Bets
21+. T&C Apply
21+. T&C Apply
Awesome live betting
Multiple bet types
Huge range of sports & markets
10 x $100 Second Chance Bets
21+. T&C Apply
21+. T&C Apply
Bets you Can Place on College Football
College football offers a seemingly endless array of betting options. Your choices include straight bets, totals, parlays, props, and more. You can even place bets on games that are already in progress. College football props are especially popular, but sometimes difficult to place. due to state regulations. But just because a particular type of bet is offered doesn't mean you have to make it.
The simplest and most obvious way to bet on college football games is to pick the team you think will win outright. However, another very popular way to bet on football is to pick the point spread winner. The advantage of the latter is that if there is a big discrepancy in talent between the two teams, you don't have to lay prohibitive odds on the favorite. Instead, the favored team needs to win the game by a specified margin. Otherwise, the underdog covers the spread.
If this is your first foray into college football wagering, limiting yourself initially to these two very basic types of wagers makes a lot of sense. In other words, don't try to bite off more than you can chew. Once you feel comfortable placing simple bets and you're able to achieve some success with them, you will be better equipped, if you so desire, to branch out into more specialized wagering.
We will now describe eight of the most common bet types made in college football. All of the best sportsbook apps where you can bet on college football legally in the US offer these betting options.
NCAAF Spread Bets

One characteristic that college football, the NFL, and college and pro basketball all have in common is that the most popular type of wagering is not a moneyline bet on which team will win outright (see below) but a spread bet. The spread, also referred to as the point spread or line, represents the oddsmaker's assessment not only of which team is more likely to win but by how many points.
During the course of the long regular college football season, many of the games being played are complete mismatches. On paper, one team is so superior to the other, that picking the outright winner is a cinch. But the problem is that if a moneyline on the game is even offered, the odds on the favorite are so prohibitive that few people want to risk it. Conversely, while the odds on the underdog might look very appealing, the chances of an upset of that magnitude occurring are so remote, any bet for it to win outright would be an almost certain loser.
The spread is the great equalizer, however. In order to win a bet on the favorite, the team not only has to win the game but by more than the number of points indicated. If you bet on the underdog, the team doesn't necessarily have to win the game outright for you to cash your ticket, as long as it doesn't lose by more than the spread. If the final score lands exactly on the number (i.e., the spread is 3 and the final score is 24-21), a bet on either side is a "push" and you get your money back.
How Spread Bets Work
You can instantly see which team, if either, is playing at home and which is the favorite and which is the underdog in any matchup. The home team is always listed below the road team, and the favorite always has a – sign before the number of points, while the underdog has a + sign before the number of points. Usually (but not always), the cost of the bet for either is -110. This means that for every $100 you hope to win, you must bet $110.
Depending on the action so far as well as late-breaking news (such as a key player being out of the lineup), point spreads can change. They might also vary slightly between one sportsbook and another.
Three NCAAF Spread Bets Examples
Here are a few actual examples from games that took place during week 1 of the last college football season that will give you a clearer idea of how spread bets work.
Michigan State vs. Western Michigan
SPREAD
Western Michigan   +21 ½
-110
Michigan State        -21 ½
-110
This game opened at -19 ½ and closed at -21 ½. Michigan State, last year's Peach Bowl winner, was facing a much lesser interstate rival with a rookie quarterback, and the prohibitive moneyline of -2500 and hefty spread of three touchdowns reflected that. However, the heavily favored Spartans had a harder time than expected. Their 35-13 win covered the spread by a mere half-point.
SPREAD
Rice                         + 32 ½
-110
USC                        -32 ½
-110
Sometimes the disparity in talent is so great that it seems that the line can't be set high enough for the favorite not to cover. Bettors who felt that way about the game between USC were happy but not surprised when the mighty Trojans trounced the hapless Owls by a score of 66-14.
Ohio State vs. Notre Dame
SPREAD
Notre Dame            +16 1/2
-110
Ohio State              -16 ½
-110
But hold onto your hat. The favorite doesn't always cover the spread. This key matchup pitted the No. 2 ranked Ohio State Buckeyes against the No. 5 ranked Notre Dame Fighting Irish. As expected, Ohio State won the game outright. But with a final score of 21-10, the margin of victory was not enough to beat the point spread.
Note: For all of these games, for simplicity, we show the cost of the bets for both the favorite and the underdog as -110. In practice, however, depending on both the sportsbook and the timing of the bet, the actual cost varied.
NCAAF Moneylines

Another way to bet on college football is with the moneyline. As with spread lines, unless the line is pick 'em, the moneyline is always expressed as either a favorite or an underdog. The number for the favorite always has a – sign and translates into the amount of money your bet would cost you for every $100 you hope to win. The number for the underdog always has a + sign and represents the amount of money you would win for every $100 you bet.
How Moneylines on College Football Work
If you bet on the favorite, you have a better chance of winning than if you bet on the underdog. However, you have to be willing to risk the possibility of losing more money if you are wrong than you stand to win if you are correct. If you bet on the underdog, because the probability of winning is lower, the sportsbook offers longer odds, and the payout, if you were to win, would be more than the cost of your bet.
In the last college football game between Florida and Utah, the closing spread lines and moneylines at kickoff time were as follows:
SPREAD      MONEYLINE
Utah   -2 ½              -139
Florida +2 ½            +114
The Florida Gators won the game outright by a score of 29-26, so they not only covered the point spread as an underdog; they were also a winner against the moneyline.
Moneyline Bets vs. Spread Bets: Which bet is better?
The advantage to betting moneyline bets is that you don't have to worry about the margin of victory. Even if the team you pick only wins by one point, it is still a winning bet.The disadvantage of moneyline bets is that winning a lot of money with them is difficult. The greater the likelihood that one team will beat the other, the shorter the odds, and the problem is compounded because no game is a lock. Even an occasional loss when you back a heavy favorite can be detrimental to your bankroll.
First Quarter & First Half Lines NCAAF Betting
In addition to betting on the outcome of an entire game, in college football, you can wager specifically on certain segments of the game. All of the major sportsbooks post moneyline and spread lines for each quarter and each half of many games. Before the game starts, bettors who want additional action on the first quarter and first half might see a betting line they like.
Usually, however, the lines for the first quarter and first half are, just as you would expect, about one-fourth and one-half, respectively of the full game lines. Later during the course of the game, bettors who desire can check the betting lines for the second, third, and fourth quarters and the second half. These lines will be based in part on the flow of the game and the nature of the scoring so far, so don't expect to find the same value that you get before the game starts.
College Football Halftime Lines
Half-time lines apply specifically to the second half of a game. Sportsbooks don't post them until the time clock for the first half reaches zero. At that point, there is a brief break in the action until the start of the second half, which is the short window of time you have to place any half-time bets. Even within this very brief betting period, the lines may fluctuate, however, since half-time action tends to be fast and furious.
Half-time lines sometimes provide a good opportunity to make extra money and even catch an occasional middle (win a bet on both sides by acting expeditiously on advantageous line movement). Or, if it looks like your earlier bet is a probable loser, you might be able to keep your loss to a minimum by betting the opposite way at halftime.
NCAAF Total Bets (Over/Under)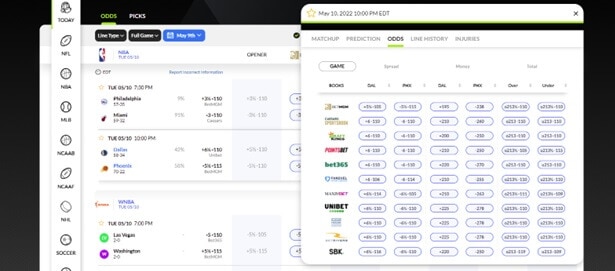 Rather than betting on which team you think will either win a game outright or cover the spread, you can bet on how many total points you think will be scored. More specifically, your task is to decide whether the actual number will be more points (over) or fewer points (under) than the total posted by the sportsbook.
The best college football betting apps offer totals on virtually every NCAA football game for both the two teams combined and each team separately (team totals). You can also make the same types of bets not only for the entire game but for each quarter and half of the game.
How Totals Bets Work
In order to win your bet, you do not need to be able to predict the exact score of the game. You simply need to be correct about whether the total points scored are over or under a certain number. Furthermore, unless you are betting a team total or a player total, your only concern is the total combined points scored. Which team wins and the number of points each team or any given player on a team scores is immaterial. If the over/under line for both teams combined is 47, whether the final score is 24-21, 35-10, or 45-0 has no bearing on the outcome of your wager. In all three instances, if you bet the under, you win, and if you bet the over, you lose.
Total bets, like spread bets, are usually (but not always) priced at -110. However, a lot more line movement tends to occur with totals. Therefore, you stand the best chance of winning if you have several places to play so you can shop around for the best lines and also if you can place your bets early instead of waiting until game time.
College Football Parlays & Teasers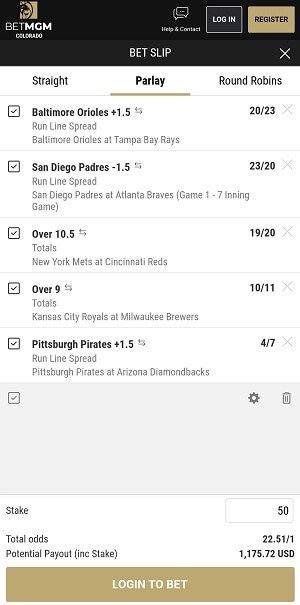 One important way in which betting on college football is different from making NFL bets is that the number of college games you can choose to bet on each weekend is so much greater. Keeping the total number of bets to a reasonable amount is a must for preserving your bankroll throughout the long regular season and college bowl game season. This can be a challenge for sports bettors who like a lot of action, but it is precisely why they are drawn in by parlays and teasers.
NCAAF Parlays
Parlays are two or more outcomes that are combined together into a single bet. Besides being a fun way to bet on college football, pooling multiple bets into a parlay is a relatively inexpensive way to try to win more money than by making separate bets for the same amount. The parlay components can include spreads, moneylines, or totals, or any combination thereof. You can also create single game parlays (SGPs) such as pairing a spread bet with a total or you can custom-design more complex parlays including multiple bet types and multiple games. For example, you could have combined the following three bets on NCAA football teams playing on into a parlay:
A moneyline bet on Indiana vs. Illinois (which closed at pick'em)
A spread bet on Notre Dame at +11 vs. Ohio State
A total bet on the game between Ohio State and Notre Dame to go under 59 1/2
The parlay would have been a winner because all three legs hit, but that doesn't happen anywhere nearly as often as those who make these bets hope.The more legs you include in a parlay, the greater the potential payout, but also the greater the likelihood that one or more components will miss. If you make seven bets, risking an equal amount on each, you only need to win four of them to show a profit. But if you combine them in a parlay, you need to win all seven. All you need is one piece of the parlay to be wrong, and the whole parlay goes down. That's why most sportsbooks are happy to accommodate customers who want to bet elaborate multiple-team parlays.
NCAA Football Teasers
Teasers are a different way many sportsbooks let you combine different college football bets. Instead of winning more money if you are correct than if you make each bet separately, you win less, but there is also less risk because you get the opportunity to bet into a more favorable line.
The most common teasers either use two teams where the betting line for each team or total is adjusted in your favor by 6 points or three teams where each betting line is adjusted in your favor by 10 points. As with a parlay, every component of the teaser must win to cash your bet.
Futures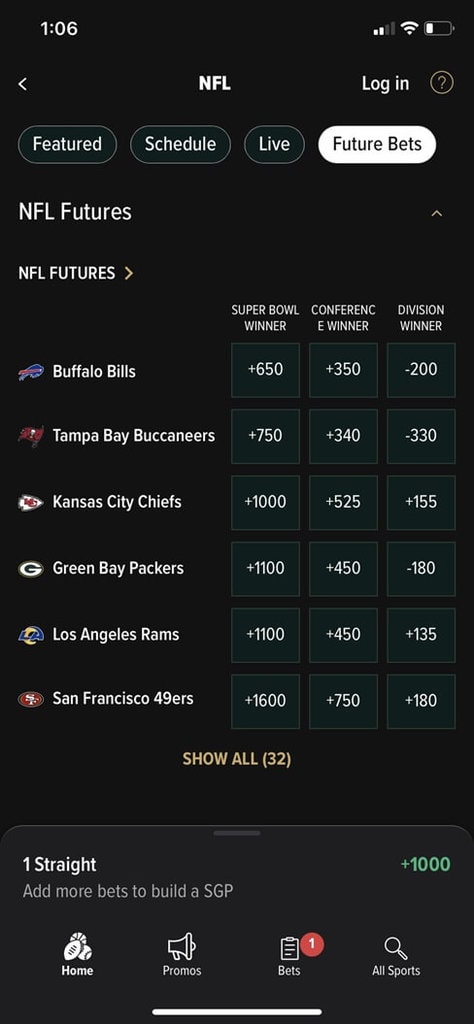 Futures are wagers that you can make well in advance of when the event is scheduled to take place. For example, even before the start of the college football season, you can place a bet on which team you think will win the national championship and which player you think will be the Heisman Trophy winner.
You can also make futures bets on whether the total number of games a given team will win over the course of the season will be over or under a certain number.
In addition, any futures bet that you can make as an individual bet can be included in a parlay.
Futures bets are offered at different odds than you will see posted later. Those that turn out to be on the money can be very lucrative because the bettor is generally getting much better odds than by waiting until after the season is already underway.
The disadvantage associated with futures bets is that you have little to go on besides what the team did the previous year. You don't have the benefit of important new information such as coaching and other staff and lineup changes and injuries, which can have an important bearing on the outcome of your bet.
College Football Live Betting
Live betting (also called in-play betting) is the opposite of futures betting. Instead of placing a wager on an outcome that might not be decided until months later, you are betting on an event that has already started. Of course, you won't be offered the same betting odds that were available previously. With every play, the live odds can change based on what has happened in the game so far.
Nevertheless, live betting is very popular. Besides keeping you actively involved in the outcome throughout the entire game, a live betting strategy offers several big advantages. First, if you want to bet on a game that has already started, no problem. You can still have all of the betting action you want. Second, and more importantly, once the game is underway and you become privy to more information about the performance of the two teams, you have a much better basis for making wagers with a very high probability of winning. You may decide that your earlier bet probably won't win and your best option is to bet the opposite way. Or you may decide to press your bet or try to win additional money by making a different type of bet. You have many options. However, acting quickly is a must because live odds for a college football game can change in a heartbeat.
Tips for College Football Betting Online
If you are new to online college football betting, the tremendous number of games and the many different ways you can bet them can be overwhelming initially. The following tips and strategies will help you start the long college football season on the right foot.
● Use trusted legal betting sites and take advantage of the best welcome bonuses.
Now that sports betting is finally legal in many states, finding a reputable place to play should not be a problem. However, betting lines and offers vary, so we recommend signing up with more than one site. See our recommended list of the best online sportsbooks for betting on college football.
In addition, one of the keys to winning at sports betting is to grab every edge you can get. That includes taking advantage of some fantastic welcome offers that the best online sportsbooks are offering new customers.
Many online sportsbooks offer first-time depositors what is called a "risk-free bet." If your first bet up to a specified amount loses, the sportsbook will reimburse you in full in the form of a site credit to make another bet. Then if that bet wins, you are paid the winnings but not the cost of the bet. Unfortunately, if you win your first bet, you forfeit the offer.
These kinds of offers benefit the sportsbook far more than the player. A better introductory offer is a free bet. For example, Borgata Sportsbook (available in New Jersey and Pennsylvania only) is currently offering the following:
Bet $10 (with minimum odds of -200) on any sport and, win or lose, receive two $50 free bets.
Bet365 (available in New Jersey only) has an even better offer.

Bet $1 on any sport and receive

, win or lose, $200 in free bets.
Free bets, like risk-free bets, only pay out the winnings, not the cost of the bet, but the difference is that the offer is not contingent on losing the qualifying bet.
● Determine which teams are fast starters and which are slow starters.
Some coaches have a history of getting their team off to a fast start, while others need more time to get their team to gel. Also, teams with new coaches are risky early bets as favorites. It takes time for the new coach and the unfamiliar group of players to adapt. For example, in the nationally televised game between LSU and Florida State, LSU was installed as a 4-point favorite, but the team made multiple mistakes under its new coach and lost to both the moneyline and point spread.
● Don't rely too heavily on angles and trends that have not stood the test of time.
College football is filled with angles and trends on the different teams, some of which might be useful to incorporate into your handicapping. Your best bets are angles that have extensive long-term data to back them up and have some rational basis to explain them.
● Keep up-to-date about important injuries and the likely effect on the team's performance.
Injuries are an inevitable part of college football. If any key players such as starting quarterbacks, running backs, or wide receivers are affected, the line will be adjusted accordingly. Before betting on any game, check the updated injury information for both teams and try to ascertain whether or not the team is deep enough at any key affected positions to compensate for the unavailability of an important player.
● Revenge is a powerful motivator in college football.
Pay attention to long-standing fierce college football rivalries (i.e., the Alabama Crimson Tide vs. last year's national championship winner, the Georgia Bulldogs, Notre Dame vs. USC, Oklahoma vs. Texas, and Army vs. Navy). Circle the dates when a particular team may be looking for revenge against a hated rival that embarrassed it last year. But beware of betting on that team the week before the revenge game (when it might be looking ahead) or the week after (when a letdown is likely).
Legal Sportsbook Where You Can Bet on College Football
There are many legal sportsbooks in the US where you can bet on college football. While not every sportsbook is available in every state where sports betting is legal, the best sportsbooks are available in multiple states. We particularly recommend the following for NCAAF betting:
States Where College Football Betting is Legal
The May 14, 2018 repeal of PASPA gave each individual state the option to legalize sports betting in their state along with the power to decide what types of bets would be permitted. Many but not all of the states where sports betting is now legal have implemented certain restrictions with regard to betting on college games. As of today, the option to bet sports legally is available in all of the following states. Any restrictions regarding online betting and/or college football betting are noted.
Arkansas

Arizona

: No prop bets on college teams

Colorado

: No prop bets on college teams
Connecticut: No bets on Connecticut college teams except in intercollegiate tournaments

Delaware

: In-person betting only

Illinois

: No bets on Illinois college teams

Iowa

: No college player props

Maryland

: In-person betting only

Mississippi

: In-person betting only
Montana: In-person betting only; $1,000 max
Nevada
New Hampshire: No prop bets on New Hampshire college teams

New Jersey

: No bets on New Jersey college teams or college games being played in New Jersey
New Mexico: In-person betting at tribal casinos only

New York

: No bets on New York college teams
North Carolina: In-person betting only
North Dakota: In-person betting at tribal casinos only
Oregon: No betting whatsoever on college sports
Rhode Island: No bets on Rhode Island college teams or college games being played in Rhode Island
South Dakota: in-person betting only restricted to Deadwood

Tennessee

: No retail sports betting; no live bets on college games and no college player props

Virginia

: No bets on Virginia college teams; no live bets on college teams and no college player props
Washington: In-person betting at tribal casinos only
Washington, D.C.: No bets on college games being played in the district
Wisconsin: In-person betting at tribal casinos only
College Football Betting vs NFL
The main difference between the two sports is the number of teams. There are only 32 teams in the NFL, so the maximum number of games being played on any given day is 16. However, there are 130 college football teams, so on a given Saturday during the regular season, you might find more than 60 games with betting lines.
Another difference between the NFL and college football is much greater talent discrepancy among college teams. You rarely see teams favored by more than three touchdowns in the NFL, but in college football it is common. In their last game, USC, a 32 ½ point favorite, clobbered Rice 66-14. The same day, the #1-ranked Crimson Tide, a whopping 42 ½ point favorite, trounced the Utah State Aggies by a score of 55-0! For the specifics on how to bet on the next Super Bowl, check our dedicated guide linked above.