Michigan Sports Betting Could Be Legal By Super Bowl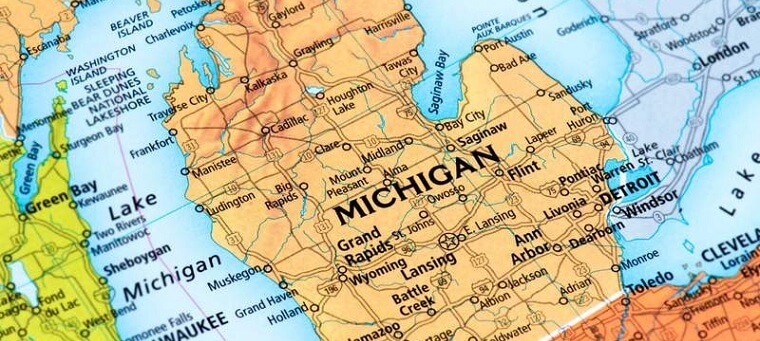 Thirteen states have legalized and regulated sports betting and Michigan is in the mix to join them – and in time for Super Bowl LIV if a certain lawmaker has his way.
State Rep. Brandt Iden is the driving force behind efforts to legalize sports betting in the Wolverine State, having ushered through a bill in late 2018 that would have paved the way for regulators to issue sports betting licenses to the state's 23 tribal and three Detroit casinos.
Even though the bill had widespread support in the Legislature, it was vetoed by out-going Governor Rick Snyder, who opposed gambling, citing fears the state lottery would lose out on vital revenue that is channeled to state schools.
"I am surprised and disappointed. With this many stakeholders on board, it took us two years to get to this point, and it's the first time in any state history that we had all the parties that were supportive of the bill (on the same page)," Iden said in December.
Sports betting gets first hearing of 2019
Iden is clearly hoping for a different outcome with a new governor, Dem. Gretchen Whitmer, in office as he was up before the House Regulatory Reform Committee this week for the first hearing on sports betting this year, with a revised sports betting bill.
Keen to illustrate his desire to see sports betting legalized, he shared details of his weekend with the Committee, telling them about his 45-minute drive from his home to the new FanDuel Sportsbook at the Blue Chip Casino & Spa, Michigan City, Indiana.
Painting a picture of Michigan license plates dotting the car park and a sportsbook jammed with fans, he also recalled his bets on the Michigan-Army college football game and on the Arizona Cardinals to cover the spread against the Detroit Lions.
"I bet on the Cardinals, the spread was 2 and a half points, I'm always betting against the Lions," he said, as he reached into his jacket pocket for his betting slip. "They're always going to blow it…it was fun. I present (my betting slip) as Exhibit A to the committee."
What's in the latest bill?
What is the eighth draft of the MI sports betting bill, would legalize both retail and state-wide mobile sports betting.
The highlights include:
Establish a Division of Sports Betting and a state Sports Betting Fund.
Permit sports betting including on professional and collegiate teams including: single-game bets, teaser bets, parlays, over-under, moneyline, pools, exchange betting, in-game betting, in-play bets, proposition bets and straight bets.
Impose a fee of $200,000 for an initial license (renewable for $100,000 annually); $50,000 annually for suppliers.
Tax sports betting revenue at a rate of 8%.
Sports betting tax rate the major issue
Whilst Iden has the full backing of the industry and a favorable House, the proposed 8% tax rate falls way short of the 15% asked for by the Governor, which according to Iden is an "astronomic rate."
The Governor also wants considerably more – $1 million as opposed to the proposed $200,000 – in licensing fees from each of three commercial casinos and the largest tribal casinos.
One Committee member said this week that Iden needed to get "a little more creative" with the tax rate of 8%.
However, Iden has stated that the MI sports betting rate and fees need to stay low for the industry to be competitive.
"There just isn't a tremendous amount of revenue in sports betting," he said. "It's important that we keep that low and the administration needs to understand that, for it to be successful, it has got to be low."
But he implied this week that there might be room to move up a little to appease the Governor, saying:
"There is an opportunity to move this upwards, probably slightly, but I give my word I won't advance these (bills) until I can find some resolution."
Eight on the low side
The proposed 8% is certainly very friendly to operators, who consider 10% to be a workable rate, and is below that of neighboring Indiana (9.5%).
Tax rates in states that have legalized sports betting so far range from 6.75% in Nevada to 51% in Rhode Island, while neighboring Illinois will have a tax rate of 30% when sports betting takes effect next year.
Should Michigan stick at 8%, it would generate between $8.7 million to $11.2 million in tax revenues. That's based on a state sports betting market, both in casinos and online, estimated at up to $225 million.
Lawmaker's Super Bowl goal
"My goal is to have this up and running by the Super Bowl. Casinos are moving forward because they know it's going to come to fruition at some point," he said. "If we don't do this, we will continue to lose consumers to other states, just like you lost me to Indiana last weekend."
Relevant news