Gamble USA strives to improve your online gambling experience. We aim to help you play safely, make informed decisions when gambling, and increase your betting knowledge through our guides.
We adhere to strict editorial integrity; our content may contain links to products from our licensed & legal US partners.
Online casinos continue to enjoy success throughout the United States, not least in the state of Pennsylvania.
PA online casinos offer bettors in the Keystone State numerous online casino games such as online slots, blackjack, roulette, and video poker. In addition to those games, one of the classic table games to also make the transition to online casino sites is online Craps.
Players can now play Craps online in PA and enjoy one of the oldest and most popular casino table games globally from the comfort of home. Online Craps is a game that has always been synonymous with the glitz and glamour of the Vegas strip, and it also attracts large crowds at land-based casinos as they gather around the Craps table. With the introduction of online iGaming, Craps is more accessible than ever, and people can play online craps for real money in Pennsylvania.
Online Craps Sites in Pennsylvania
$50 Casino Credits + $2,000 Bonus
Excellent mobile app
User-friendly design & games
Craps first appeared in Pennsylvania at Physical casinos over ten years ago. Bettors can find real money craps in Pennsylvania at all 12 live casinos in the state. Additionally, you can now also play online Craps for real money in PA. Regulated online casinos launched in PA on 12 July 2019, and since this date, players have been able to play Craps games for free or progress to playing for real money. The only online Craps games available in PA currently are at DraftKings Casino; however, online casinos are constantly launching new games, so this could change soon. Keep checking back on this page for updates if you are looking for a PA online casino with Craps.
Craps has long been considered a complicated game and, as such, was only targeted at experienced players. However, that thought process has changed, and more players are enjoying the fun and thrill of online craps directly from their mobile devices.
This article covers the basics of online Craps in PA, such as the best bonuses and promotions, the pros of playing Craps online, how to play, and more.

Is Craps Legal in Pennsylvania?
Craps is regulated in the same way as other card-based games, and roulette, as a casino table game. These games were legalized in 2010 as an addition to the 2004 act that regulated the casinos.  You must be 21 years or older to play Craps legally.
If you prefer playing online, you can do that now too. Bill H 271 was designed to legalize and regulate online casinos in 2017. Pennsylvania did not launch online casinos until 2019, and you can enjoy playing online Craps at the DraftKings Casino. Players can be secure knowing they can deposit in world-renowned casinos, and their information and money are protected.
Best Online Craps App
DraftKings Casino was the first (and, at the minute, the only) online casino to offer online Craps in Pennsylvania when they launched the game in June 21. Although the brand may be more well-known for sports betting, DraftKings has an excellent online casino and has offered online Craps since June 2021. Other operators are launching new games weekly, so the likes of FanDuel Casino and BetMGM casino will also likely provide online Craps soon.
$50 Casino Credits + $2,000 Bonus
Excellent mobile app
User-friendly design & games
New players can take advantage of the generous welcome bonus DraftKings has available. Sign up today and get a $50 free play  100% deposit match up to $2,000.
How to Play Craps
For those who are new to the Craps game, we thought it was worthwhile providing a breakdown of how the game works. Craps games come in two phases, the first being the "come out round" and the second is the "point round."
The game gets underway with the Come Out roll thrown by the 'shooter,' who is the first player in the round. Because you will be playing at an online casino, all you need to do is click the 'roll' button to get it started. Once the dice have been rolled, there are three possible outcomes:
Craps: Snake Eyes! You have ended up rolling a 2 or a 12, which means you have lost; however, you still have the chance to roll again.
Natural: You have rolled a 7 or 11, and you are a winner and get to roll again.
Point: You have rolled a 4, 5, 6, 8, 9, or 10 and get to roll again, but you must hit the same number as the first roll to win. Unfortunately, if you roll a 7, you lose the round.
In a Craps game, most people choose to place pass-line bets. This means everyone at the table wins (or loses) together.
A player that wagers on the "don't pass" will be playing opposite to most others. This is referred to in the casino industry as  the "dark side." Depending on who you are playing with, you won't make a good impression on others if you go down this route. However, you might be more inclined to do this playing online as you are playing against the computer and can choose whichever side you want.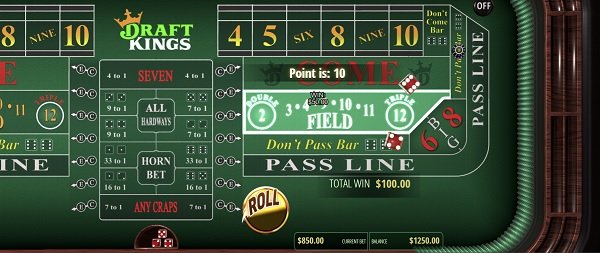 Types of Craps Bets & Odds
Basic Craps rules and will inform players of the format and phases of the game. However, if you dig a little deeper, you will discover there are multiple different bets available. Some are part of these phases, while others are side bets that can be placed at any part of the game.
The best odds for players can be found during the "come out phase."
Pass line bets: 1.41%
Don't pass bets: 1.36%
In the point phase, the odds are exactly even money. In a nutshell, you are betting that another number will be thrown before the 7, which will end the game with all wagers losing. Although the mathematical odds of any number versus 7 are not 1-to-1, the odds that pay when those numbers are hit result in this:
4 & 10: 2-to-1
5 & 9: 3-to-2
6 & 8: 6-to-5
For those players who are looking to make some serious money, they must balance that potential big-win with a more significant house edge. Two win a  "Hard ways" bet you must roll the same number on each dice to win. For example, a 'hard 8' requires a pair of 8s.
The odds are important if you are wondering how do Craps payouts work. To calculate the online Craps payout, players must use the payout odds, not the true odds, with their bet. When you look at a Craps table, the payout odds for landing a 4 are 9:5. Consequently, for every $5 wager you win, the dealer (computer software online) will pay you $9.
It remains the case that a pass line bet remains the most prominent in Craps, but players may try their hand at a more adventurous wager when playing online.
Best Craps Bonuses & Promotions
Craps has always been considered as a classic casino game, and it has grown to become a popular option for players at online casinos. This has resulted in online casino sites developing games, bonuses, and promotions to appeal to the big influx of online casino players. For players looking for a fantastic online craps experience, craps casino bonuses are an amazing benefit to players looking to improve their gameplay.
Claiming online Craps bonuses means players can enjoy a higher bankroll when playing craps online. This dramatically improves their chances of leaving the virtual Craps tables with some big wins. All casino bonuses are designed to increase your bankroll and, thus, your chances of winning. Additionally, they can also improve your gameplay, meaning you play for a longer stretch than you would if you were playing with your initial bankroll. These bonuses are ideal for anybody new to Craps and also experienced players. They are also great for those just looking for fun and rewards.
That being said, finding craps bonuses is more challenging than finding bonuses for online slots. It is worth shopping around to find an online casino that provides a wide selection of Craps bonuses. Most casino rewards are targeted at online slot players, but most casinos do not allow table games like craps to contribute to playthrough requirements, or they are much higher.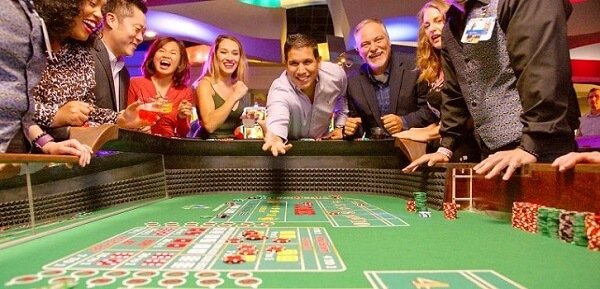 Benefits of Playing Craps Online
Craps can seem like an intimidating game for anyone who has never played before. That is why playing online is the perfect solution for players looking to experience the game without physically sitting at a table. Some people may argue one of the significant perks of playing Craps is the shared camaraderie with other players and the atmosphere; there is a level of convenience playing by yourself.
We have listed below some other advantages to playing craps online instead of at a physical casino:
Convenience
If you have decided to play online, it means you can access our favorite games 24/7 without having to wait. If you are a little bored, you can visit your favorite online casino and start playing whatever game you want. The top online casinos also have mobile apps that allow players to play on the move.
Cost
One of the most significant advantages of playing craps online is that it's far cheaper than playing at land-based casinos. First, there is no need to pay for travel, accommodation, and tips, all required at land-based casinos. Additionally, you can test the waters for free without having to bet any real money. Online Craps also has lower betting limits, making it a far more affordable gaming experience.
Playing Craps Online is Straightforward
Although the widely held view is that playing Craps is complicated, playing online allows the players to grasp the concept and understand the rules in their own time. Additionally, some online casinos offer free demo versions of the game, so you don't need to risk any real money. Sites also have a section providing hints and tips on how to play, which you would not find at a brick-and-mortar casino.
FAQs
Can you play craps online for real money?
Yes, although there aren't many online PA casinos offering Craps (Only DraftKings), players can sign up and play for real money.
Will any other PA online casinos offer craps?
Given how popular the game has become, we would expect to see several other operators to add craps to their games roster soon.