Gamble USA strives to improve your online gambling experience. We aim to help you play safely, make informed decisions when gambling, and increase your betting knowledge through our guides.
We adhere to strict editorial integrity; our content may contain links to products from our licensed & legal US partners.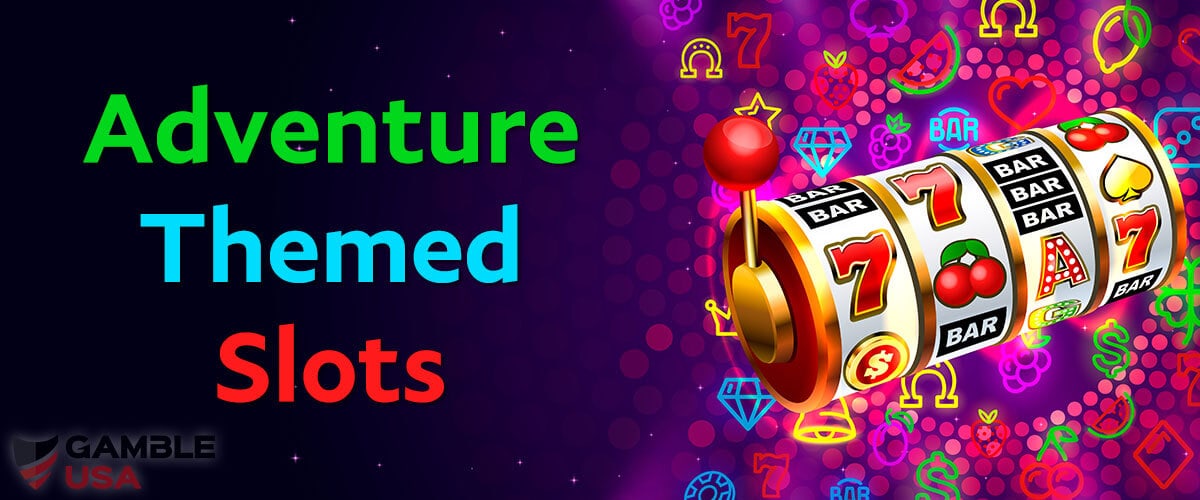 US citizens who love slot machines are spoiled for choice when it comes to themes. There are literally hundreds of different genres and subgenres to explore, but one of the most popular genres of all time is adventure slots.
Some of the most iconic slots like Gonzo's Quest and Book of Dead fit in this category and the action, characters, and epic stories told seem to draw people back time and time again.
If you want to explore far-off lands, find mystical treasures, or battle evil forces, we bring to you the best adventure-themed slot games and where you can play them below!
10 Best Adventure Slots at USA Online Casinos
It can be difficult to know which titles are the best so I have done the hard work for you! Below, I have chosen ten of my favorite adventure-themed online slots that you can play today!
🥇Gonzo's Quest – NetEnt
🥈Rich Wilde and the Book of Dead – Play N' Go
🥉Aldo's Journey – Yggdrasil
🎖️John Hunter and the Aztec Treasure – Pragmatic Play
🏅Jungle Jim and the Lost Sphinx Stone – Microgaming
Hidden Valley – Quickspin
Ark of Mystery – Quickspin
Book of Ra – Novomatic
Treasures of Troy – IGT
Temple Quest – Big Time Gaming
Gonzo's Quest – NetEnt
Software Developer: NetEnt
RTP: 96.00%
Paylines: 20
Variance: Medium
Free Spins Feature: Yes
My top pick is Gonzo's Quest and this is seen as THE adventure slot. It's one of the most popular video slots of all time and is incredibly fun to play. You must help the intrepid conquistador Gonzo as he searches for a lost jungle treasure.
The setting and theme are superb and as you play you can hear the noises of the jungle including chirping birds. The reels are surrounded by ancient ruins and palm leaves, and an animated Gonzo stands by on the left-hand side to watch your spins.
In terms of basic features, this game has 20 paylines, a respectable RTP of 96.00%, and is considered medium variance. As a result, you can expect the occasional big payout. You can change both the bet level and coin value to get the wagering amount you want, with the max level being 5 and the max coin value 2 which results in a 2500 coin wager.
The different symbols look fantastic and have various sculptured faces on them and this is complemented by the cool reel animations. I love the cascading reel feature of this game – when you get winning combinations, the winning symbols disappear and new ones fall into place to potentially give more wins!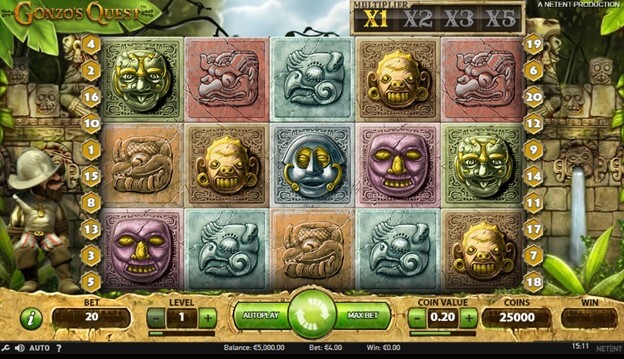 Rich Wilde and the Book of Dead – Play N' Go
Software Developer: Play N' Go
RTP: 96.21%
Paylines: 10
Variance: High
Free Spins Feature: Yes
My next favorite adventure slot takes us to Egypt and this is a recurring theme for adventure slots. I am of course talking about the famous Rich Wilde and the Book of Dead. This is the original slot machine that spawned the other Rich Wilde games and is considered one of the best adventure-themed games available.
Play N' Go has developed a classic here and this slot machine centers on our intrepid hero – Rich Widle who is essentially Indiana Jones complete with his rugged good looks and adventurous attire. Wilde is trying to find the fabled book of dead from Ancient Egypt and is searching through tombs to unlock its secrets.
The game looks fantastic and has somber Egyptian music playing in the background. You can see glimpses of the tombs and temples he is exploring and the different symbols have a cool Ancient Egypt style including gods like Horus. Rich Wilde and the Book of Dead is one of the best Ancient Egypt-themed slots in my opinion.
It has an above-average RTP of 96.21%, 10 paylines, and is highly volatile. This means that although you may not win frequently when you do you have a higher chance of hitting big slot machine payouts. Special features include a scatter symbol that unlocks 10 free spins. There are also expanding symbols that are randomly chosen to increase your chances of winning from a single spin.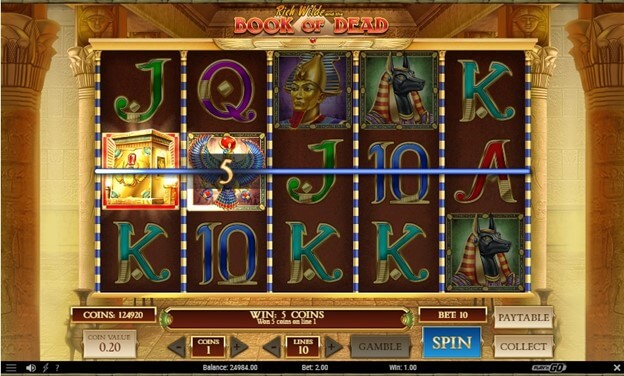 Aldo's Journey – Yggdrasil
Software Developer: Yggdrasil
RTP: 96.50%
Paylines: 65
Variance: Medium
Free Spins Feature: Yes
Yggdrasil is another popular software developer and the best online casinos in the US feature a small collection of their games. One of their best Adventure slots is Aldo's Journey. This is a fun and light-hearted slot with colorful graphics. I like how the background is animated and various things in the town move which adds an extra layer of immersion for this slot machine.
Aldo is the main character and he is embarking on an epic journey out of his town. On the way, he will collect gems and other treasures and these are represented on the slot game reels. It has a great RTP of 96.50%, 65 paylines, and medium volatility.
The game symbols are set on a non-standard 5×5 reel layout which contributes to more ways to win. You can enjoy a great selection of bonus features too which makes the gameplay that much more fun.
Firstly, Aldo himself is a wild symbol and can jump around the reels and land in different spots. Secondly, if you get three or more scatter symbols you trigger the bonus feature. The feature depends on the country the scatters land in and gives you different bonuses like multipliers and sticky wilds.
John Hunter and the Aztec Treasure – Pragmatic Play
Software Developer: Pragmatic Play
RTP: 96.50%
Paylines: 7776
Variance: High
Free Spins Feature: Yes
After the success of the Rich Wilde series, many software developers sought to emulate the Play N' Go slot. One of the best alternatives is from Pragmatic Play in their epic adventure slot John Hunter and the Aztec Treasure. John appears in several adventure-themed games and is another cool character that strangely resembles Indiana Jones.
In this adventure, Hunter is traveling through the jungle trying to discover ancient Aztec gold. Along the way he comes face to face with different perils including snakes and a panther – these represent some of the fun jungle-themed symbols in the game.
If you want to play adventure-themed online slots that payout big, this is a good option. It has a high variance and a decent RTP of 96.50%. Combine this with a whopping 7776 paylines and you have a remedy for success. As you play, some of the symbols are staggered across multiple reels and there are expanding wilds too.
If you get three or more bonus symbols, you earn free spins. The number of spins depends on how many bonus symbols you get and ranges from 5 to 25. I also like that during the bonus rounds, you can actually trigger more free spins and continue to rack up huge wins.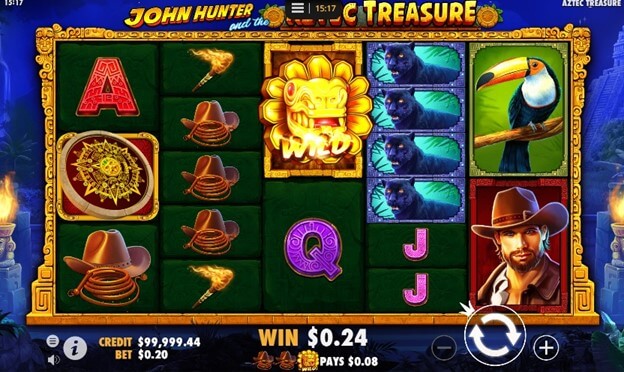 Jungle Jim and the Lost Sphinx Stone – Microgaming
Software Developer: Microgaming & Stormcraft Studios
RTP: 96.30%
Paylines: 50
Variance: High
Free Spins Feature: Yes
Microgaming has its own adventure-themed slots too and one of its most entertaining characters is Jungle Jim. He stars in Jungle Jim and the Lost Sphinx Stone which takes you on a rollercoaster ride through Egypt to find epic treasures from ancient times.
This adventure slot has a great RTP of 96.30% and you have plenty of opportunities to win with the 50 paylines. I also like the highly volatile gameplay which means you have a better chance of landing big payouts. The max bet is $20 which is pretty good and you can get a sweet top win of 6000 for your trouble.
The graphics of this title are superior to many older Microgaming video slots and the reels are set in a huge stone temple decorated with hieroglyphics. You can see an animated Jungle Jim in the right-hand corner cheering you on as you enjoy playing and spinning the reels.
The game initially has a 5×4 reel layout however as you play, an extra row can be unlocked after you complete three consecutive spins. This bumps up the number of ways to win and also introduces a range of multipliers. If you fail to get a win three spins in a row, a special respin feature triggers too! You can find this game under DGC licensed slots when playing from the US.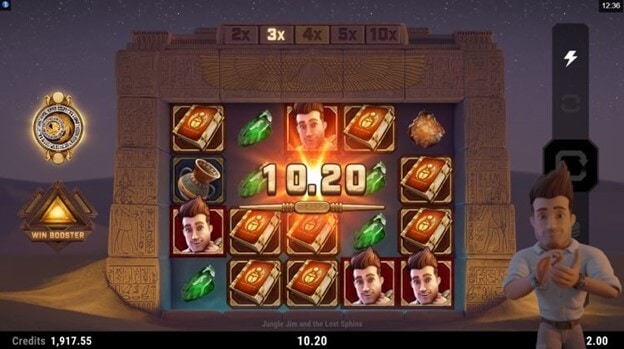 Hidden Valley – Quickspin
Software Developer: Quickspin
RTP: 96.47%
Paylines: 40
Variance: Low
Free Spins Feature: Yes
Hidden Valley is one of the best-looking adventure slots available and Quickspin have really done a great job with the graphics of this game. The background shows an epic snowy mountain landscape and the reels are framed with gold. All the main characters and symbols look fresh and vibrant and it just plays like a high-quality game.
I really like the wild multiplier selection feature of this game. On the right-hand side, you can select different preset bet values – each of which has a corresponding range of multipliers. Whichever one you select also determines how many wilds can appear and the multipliers they have.
This adventure-themed slot also has a unique free spin mechanism. If you get three bonus symbols you trigger the free spin bonus wheel. This spins and will determine how many free spins you get, and which of the main characters turn into wild symbols for the bonus games.
The sound quality is also fantastic and a dramatic adventure tune plays complete with drums. It really adds to the immersion of this Quickspin title. In terms of basic gameplay, it has an above-average RTP of 96.47%, and 40 paylines, and is a low-variance game. As a result, you can expect to win small amounts frequently.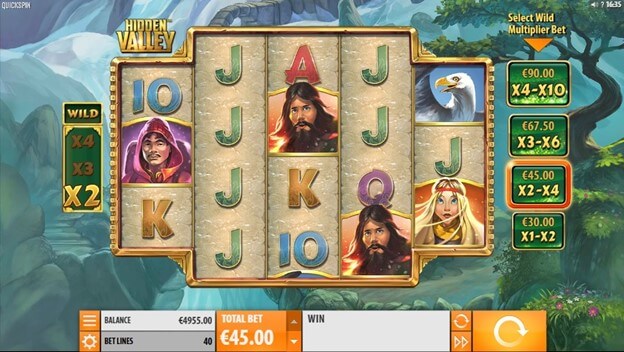 Ark of Mystery – Quickspin
Software Developer: Quickspin
RTP: 96.53%
Paylines: 20
Variance: High
Free Spins Feature: Yes
Quickspin really knows how to capture the essence of excitement in their adventure slots and another superb title is Ark of Mystery. This title takes us on a fantastic journey with our female Indiana Jones to uncover the secrets of the Ark of Mystery (basically the Ark of the Covenant from the bible!).
This slot is incredibly entertaining and looks superb too. The background shows the fiery depths of an ancient temple and the sinister music really adds to the gaming experience. I like the simple game controls too although Quickspin controls never really match the theme of the slot.
This slot has a cool respin feature to increase your chances of winning. You can get Ark wild symbols on reels 2, 3, and 4 and if these are part of the winning combo, the respin is triggered. Furthermore, during the respin, any wild symbols are locked in place!
On reel five, there is also the multiplier boost symbol. If you land this then the bet multiplier is increased incrementally as you play by 1x each spin. This title has a respectable RTP of 96.53%, 20 paylines, and is considered highly volatile. As a result, you should hit some bigger payouts.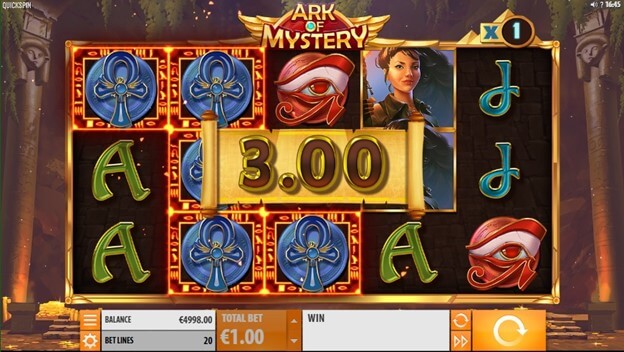 Book of Ra – Novomatic
Software Developer: Novomatic
RTP: 96.00%
Paylines: 10
Variance: High
Free Spins Feature: Yes
Novomatic has also had a try at creating its own adventure slots and one of its most recognizable titles is the Book of Ra. This is another Egyptian adventure slot and has an Indiana Jones-type character who is searching for the fabled book of the gods. This classic slot has a retro feel and is an amazing title if you love slots that try to recreate the style of old fruit machines.
The graphics do look a little dated but I love how the reels are encased in an actual slot machine and the controls are like real buttons. The different symbols also tie in with the theme and include treasures from Ancient Egypt and the Indiana Jones character.
In terms of gameplay, this game has a decent RTP of 96.00% and 10 paylines which makes it simple to grasp. Also, with high variance, you shouldn't expect to win consistently, but you have a much higher chance of getting jackpots.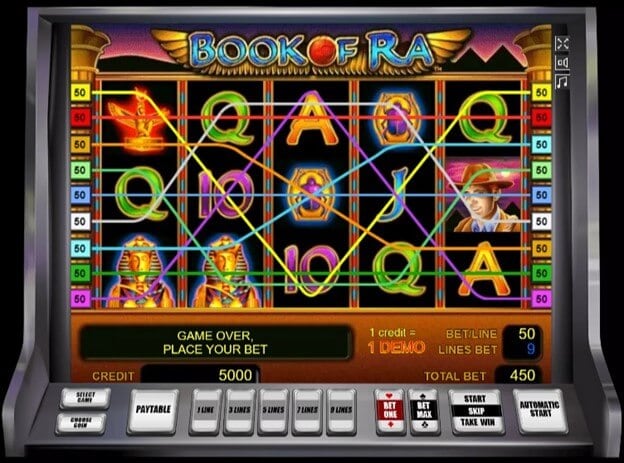 Treasures of Troy – IGT
Software Developer: IGT
RTP: 95.03%
Paylines: 1024
Variance: Medium
Free Spins Feature: Yes
Let's move things into a different era of adventure and move to the ancient world of Troy. This is famous for the epic adventures and battles between the Trojans and Greeks and is filled with epic mythology too. Who can forget the immense talent and skill of Achilles or the famed beauty of Helen of Troy?
Treasures of Troy is a classic from IGT and although the graphics look a little dated, this adventure slot is still fun to play and has much to offer. It has an OK RTP of 95.03% and is considered to be a medium volatility game. This means it is relatively balanced and you have the potential to hit some bigger payouts.
The symbols feature figures and items from the ancient battles of Troy including warrior helmets, weapons, and treasures. This game also has some great chances to win cash prizes and features the special Multiway Extra feature that IGT put in many of its early slots.
Special symbols include wild symbols, scatters, and the chance to win free spins. The free slot games are triggered by the bonus symbol and if you get 4 you unlock a superb 20 bonus games!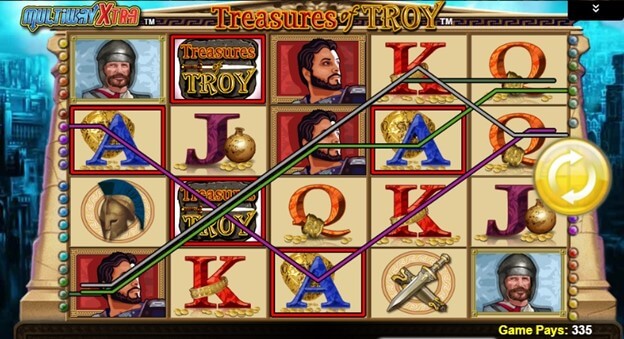 Temple Quest – Big Time Gaming
Software Developer: Big Time Gaming
RTP: 96.17%
Paylines: 40
Variance: Medium
Free Spins Feature: Yes
Temple Quest has a similar style and theme to Gonzo's Quest and is based on an Aztec jungle adventure. The theme is amazing and this slot machine really brings to life the overgrown nature of the jungle and ancient Aztec temples. On each side of the reels, you can see huge stone pillars with carved Aztec faces. These are covered with vines and greenery.
As you play, there is also a plethora of jungle sounds and bongo drums to add to the immersion. To make sure you have plenty of ways to win, this game from Big Time Gaming has an RTP of 96.17%, 40 paylines, and a standard 5×4 reel layout.
I love the mega symbol feature of this game which is a special symbol that covers a 3×3 area of the reels. This triggers randomly when you get the mystery symbol and can lead to some brilliant winning combinations.
There are also free spin bonus rounds which are triggered by the mega free spins symbol. You can win up to 9 free spins, and during these, the 2nd, 3rd, and 4th reels are populated by the mega symbols which greatly increases your chances of winning.
What Makes Adventure Slots so Popular?
Don't we all long to go on an adventure, explore somewhere new, and embark on a quest to find riches and fame? Ok, so maybe that's just me! But this is the premise of many adventure games and why they are so popular.
They offer a form of escapism and allow us to imagine grand scenes and epic quests. Many of these slots also pay homage to TV shows and films like The Goonies, The Mummy, and Indiana Jones which we loved watching when we were kids.
In short, adventure slot machines are fun, and exciting, and give us a burst of the unknown that simply isn't present in our everyday life.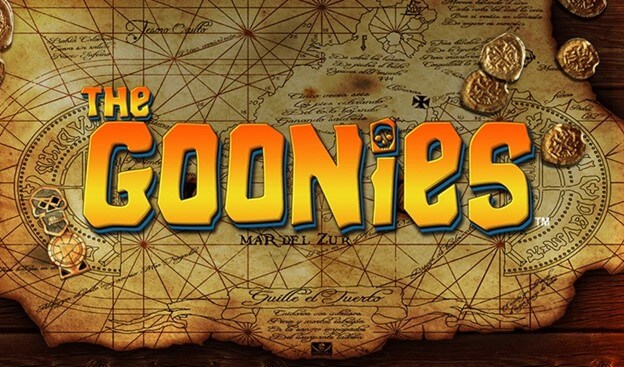 Adventure Slot Features
Although there are different software developers who create these titles and each of which has its own style, adventure-themed slots typically have some common features. These include:
Moving soundtracks
Detailed stories and gameplay
Fun bonus rounds and features
Unique characters
Sequels based on the same protagonists
Firstly, you can usually guarantee that the game will have an epic soundtrack. The music is usually stirring, dramatic, or somber to fit the type of adventure you are embarking on. Some games like Temple Quest use simple and realistic jungle sound effects instead to create an atmosphere.
Secondly, these slots usually have a brilliant storyline featuring a main character starting some death-defying quest. The stories are what make these games so immersive and they are often as compelling as the gameplay. These titles have given rise to famous characters like Gonzo, Rich Wilde, and John Hunter, for example.
The bonus rounds and gameplay features typically match the epicness of the stories too. Many of these games have unique features that make them stand out from traditional slots. For example, some have treasure maps to unlock or locations to explore while others make use of different wild symbols and bonus rounds.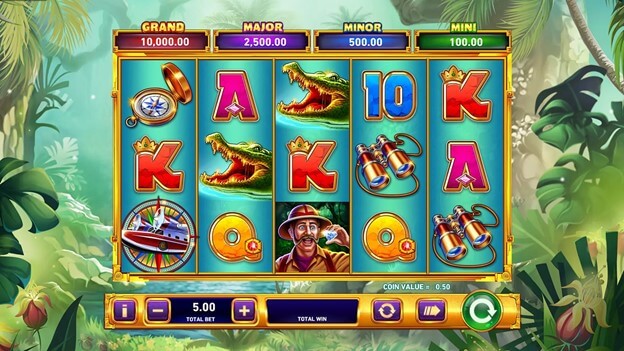 Other Top Adventure-Themed Slot Games to Play Online
While the above adventure-themed slots are my favorite choices, there are many more great options to play at US online casinos. Some other notable games that could be worth your time include:
Avalon II by Microgaming
Tarzan by Microgaming
Adventure Trail by Playtech
Wild Gambler 2 Arctic Adventure by Playtech
Moby Dick by Play N' Go
The Wild Chase by Quickspin
Mighty Arthur by Quickspin
Ticket to the Stars by Quickspin
The Final Countdown by Big Time Gaming
Temple of Fortune by Big Time Gaming
Avalon II, for example, takes you into the epic adventures of King Arthur and the Knights of the Round Table, while Moby Dick brings the adventures of Captain Ahab to life.
The Goonies is now considered a cult classic kids' adventure film and the official slot is heaps of fun to play.
We can't forget about Adventure Trail by Playtech either with its fantastic graphics and special features.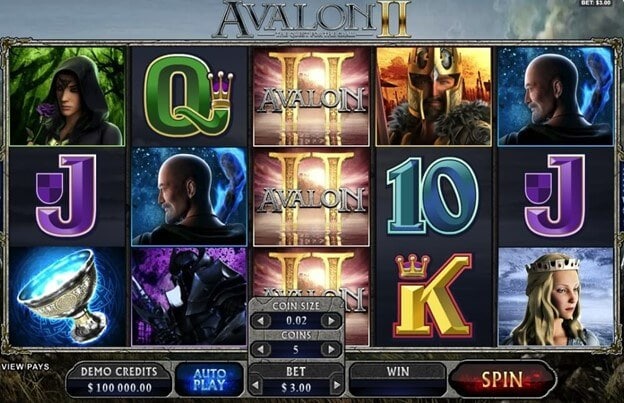 Play Free Adventure Slots at Real Money US Casinos
I have tried to give you a fantastic range of titles to try out that cover the different sub-genres within adventure slots. The great thing about these titles is that you can usually play adventure online slots for real money or for free.
Most of these slots have demo versions available so you can try them out and see which ones you prefer before spending your cash! Once you have created an account at one of the online casinos listed below, you can find these epic adventure slots and start playing!
Don't forget that these casinos have some amazing welcome bonuses for new customers. These promotions give you things like a matched deposit bonus and even potentially no deposit free spins on slot machines.
Take a Walk on the Wild Side and Try These Adventure Slots Today
As you can see there are some fantastic adventure slots available for US gamblers, and I think they represent some of the most fun and exciting titles available in the video slot genre.
These games are typically bursting with character, color, and intrigue and can give hours of playability.
So what are you waiting for? Why not register at one of our recommended online casinos and embark on your own adventure today?