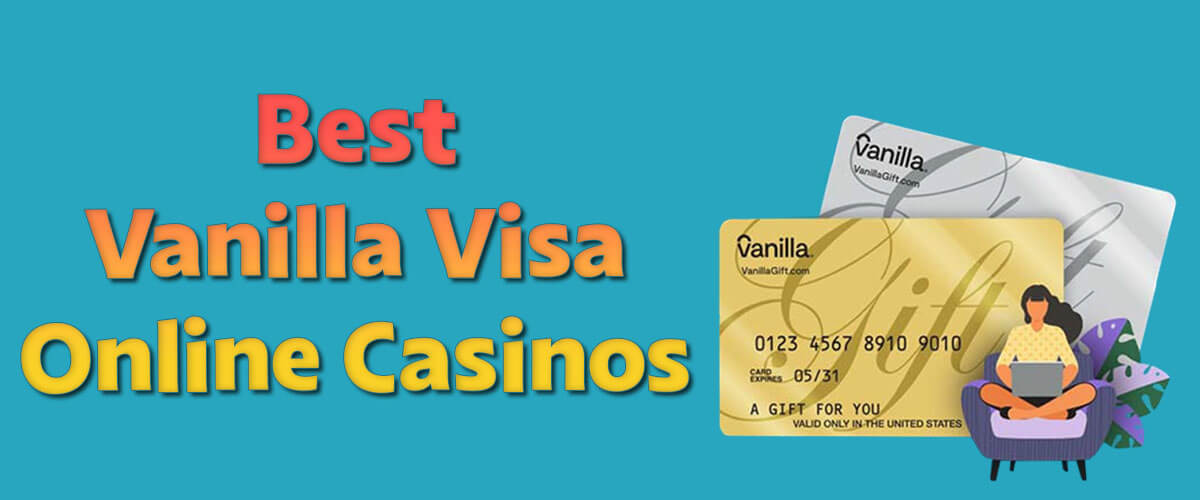 Now that online gambling has become so popular in the United States, many online gamblers have been looking for new and convenient payment options that provide increased security and are accepted by the top online casinos. If you're one of those people, let me introduce you to the Vanilla Visa Gift Card.
The Vanilla Visa gift card is a prepaid casino card that gives users extra security, helps prevent overspending, and can be used to fund your online gambling account without using your banking details. Unfortunately, not all online casinos accept Visa gift cards as a payment method, although more are starting every year because of the increasing popularity of the payment method.
This guide will teach you which online casinos accept Vanilla prepaid cards, what they are, how they work (including their benefits and drawbacks), how to buy them, and other alternative banking methods.
Online Casinos That Accept Vanilla Visa Gift Cards
Top 5 Vanilla Visa Casinos
Below you will find a summary of our currently most recommended and fully licensed casinos in the US; not only do these casino offers a superb welcome bonus offer for new players, but they have a great selection of games, superb customer support, and a wealth of exciting promotions for existing players. Customer support and withdrawal speed are also superb across the board.
Make these 5 casinos your first choice to play at if you are considering Vanilla Visa cards or any other type of prepaid cards, such as Play+, as your primary deposit method.
As I mentioned above, not all online casinos accept Visa gift cards as a deposit method, especially larger ones like DraftKings Casino and FanDuel Casino. These large casinos and sportsbooks don't allow this as a payment method because they want you to sign-up for their prepaid cards. Examples include:
Still, players looking for a great online casino will have to signup for any of the above. These are licensed sites and widely accessible from most states. If they do not accept Vanilla visa cards at this particular moment, they will in the near future. In the US, the most popular Vanilla gift cards generally come in the form of Visa, but there are also several Mastercard options; the same functionality is also available in the casino's own branded Play+ cards, with reloadable options available also.
You should, at all costs, avoid offshore online casinos that take Vanilla gift cards since they will most likely refuse to pay you any winnings. If you are looking to play online games in a state that doesn't have real money online casino games, then check out these new sweeps cash casinos that provide a great real money option.
What is the Vanilla Visa Gift Card?
The Vanilla Visa card is a prepaid gift card that can be bought in retail stores or Visa gift card online retailers and used for an online casino deposit. These cards work like any other prepaid cards and do not require you to have a bank account to purchase. This is beneficial because you can't be tracked, and your personal information (like your social security number) can't be stolen if the card were compromised.
Another important advantage prepaid cards and gift cards like the Vanilla Visa have over traditional payment methods is that they allow you to circumvent any potential transaction issues that can arise with the latter. For example, some banks and financial institutions may hinder or block gambling-related payments, making it impossible to deposit money to your online casino account, or dragging out the whole process considerably. The Vanilla Gift Card, however, helps you deposit instantly and without issue.
The vanilla prepaid gift cards are also incredibly versatile, allowing users to purchase vanilla cards in any increment between $50 and $500. The versatility allows gamblers excellent flexibility to fund their account on gambling sites in any increment they might like or could even use for other online purchases.
Is Vanilla Visa Gambling Possible?
Absolutely! If you've read this far, you're aware of a few different online casino apps that accept prepaid visa cards, but there are many more! All you need to do is log in to the casino and check to see if they accept gift cards by Visa.
If they do, then gambling should be straightforward! All you have to do is create an account with the online casino and make a deposit using the Visa gift card.
How to use the Vanilla Visa Card at Online Casinos?
The section below will cover how to navigate the vast landscape of online casinos accepting Visa gift cards. It will discuss how to sign up for a Vanilla Visa account, fund your Vanilla Visa card, find casinos that accept them, and make a deposit with them.
Signing up for a Vanilla Visa Account
Signing up for a Vanilla Visa account is super easy and only takes a few minutes to complete before you're ready to make your first purchase. First, go to vanillagift.com and select sign-in in the top right-hand corner of the screen.
The next page will ask you to sign in to an existing account, or it will have you create a new account if you don't have one. Since you don't have an account, you'll need to click the create an account button underneath the New Customers banner on the right-hand side of the screen (seen below).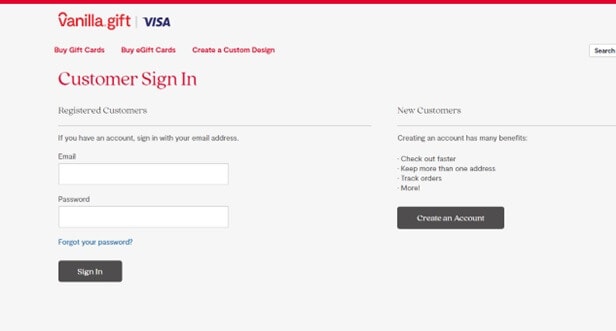 After you click the create an account button, you'll be redirected to a screen to enter some personal information, but not much. You'll only need to provide your full name and email address to create an account; then, you're ready to get gift cards.
Remember, this step is only necessary if you buy Vanilla Visa gift cards online.
Funding your Vanilla Visa Gift Card
Funding your Vanilla gift card is simple and can be done online or in nearby participating stores. Each card purchased has a $3.95 activation fee, and any physical card purchased online will require a shipping charge ranging from $1.95 for standard shipping to $15.95 for rush delivery. This activation fee takes the place of a transaction fee or monthly fee that other prepaid cards may have.
If you buy your Vanilla card from the store in person, it's as simple as buying something from typical grocery stores; that's where they're most frequently located. However, if you choose to buy it online, you'll need to provide your full name, address, phone number, and debit or credit card information.
Below are the retail locations listed on the website where people can purchase them in person.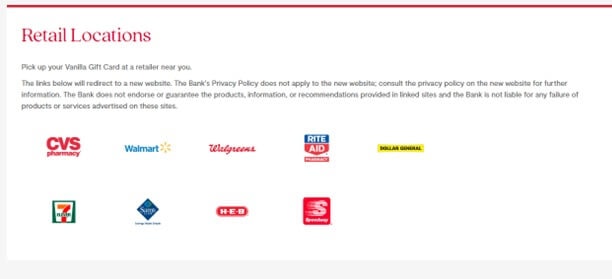 Find a Casino Accepting Vanilla Visa Gift Cards
Finding an online casino with a Vanilla visa gift card online can be difficult because it's not currently a mainstream payment method. All of the casinos mentioned above offer prepaid cards as a deposit method, but if you're looking to use them at another casino, check first before signing up.
Generally, offshore online casinos will accept Visa cards for online gambling, as will online gambling sites like BetMGM Casino and Caesars Casino. Still, these sites don't promote Vanilla cards too much mainly because they want you to sign up for their branded prepaid cards that provide users similar benefits.
Vanilla Visa Gift Card Deposits
When you think of depositing into your casino account by Vanilla Visa gift cards, think of it as if you're doing it with a debit or credit card. All you have to do is make sure you have enough money on your card balance, enter your card information, and you're ready to go. After the transaction is processed, your account balance and online casino account balance will instantly be affected, reflecting your deposit.
The deposit amount will depend on your online casino's minimums and maximums, but the most you'll ever be able to deposit at one time using a visa gift card is $500. If the online casino you're using has a $1 minimum deposit, users using these gift cards can deposit anything between $1 and $500. Fees will depend on the casino site because some sites have deposit fees. However, Visa will not charge you a transaction fee.
Withdrawing from the Casino to your Vanilla Card
Vanilla cards, unfortunately, do not allow users to withdraw cash onto their card balance from their casino account. While some specific cards can be reloaded online on Visa's website, they cannot process money onto the card received from a third party which a withdrawal from an online casino would do. Other methods, such as online banking or credit cards will need to be used. Our BetMGM withdrawal and Caesars withdrawal guide can help get your money back to your banking account safely and quickly.
Fees and Processing Times
There are minimal fees when using a Vanilla Visa gift card because they only charge you a one-time activation fee of $3.95 to use the card. There are no other fees outside of a potential dormancy fee that may be applied. This $1.95 fee may be applied if you haven't used your card in over 90 days.
The Vanilla gift card doesn't have transaction fees, making it a much better payment option than methods such as credit cards which charge you interest over time and have 3%-5% processing fees.
Deposits will always be instant to your online casino's account after the transaction has been processed, but withdrawals will take 3-7 business days to complete based on the payment method. Withdrawal and deposit fees will vary based on the online casino that you're using, but you can find the instant withdrawal casinos here.
Benefits of Using the Vanilla Visa Gift Card for Gambling
There are several benefits to Vanilla Visa gift card online gambling and only a few drawbacks that can easily be maneuvered around. The best thing about them is their security and convenience, but it's not the only thing.
Convenience
As with any prepaid card used at online casinos, the main benefit is definitely convenience. Vanilla Visa Gift Cards can be purchased both at the stores and ordered online. Furthermore, they come in any increment between $50 and $500, providing more payment flexibility than other competitor prepaid cards.
On top of that, as we've mentioned before, using this prepaid card at online casinos that accept them helps you avoid the usual transaction issues that come with using your bank account or debit card, such as slow or blocked payments.
Security
Using the Vanilla Visa prepaid card also brings heightened security to any players using them. This is because Visa gift card transactions do not require you to provide any further personal or financial information – you just type in the information from the prepaid gift card. This means that in a situation where your casino account, or the whole casino itself, is compromised, your financial information will not be in danger.
No Transaction Fees
The Visa gift card also comes with zero transaction fees, yet another reason to use the Vanilla Visa over a debit card or e-wallet service. While there are activation and dormancy fees, they're still pretty small compared to all the transaction fees you would accrue by using the usual banking methods for online casino deposits.
Drawbacks of Using the Vanilla Visa Gift Card at an Online Casino
While the drawbacks of using this prepaid card are few, they still are worth mentioning.
Limited Availability
While the list of gambling sites that accept Visa gift cards is constantly expanding, you are still bound to encounter plenty of them that don't. One of the main reasons for that is that many online casinos will work to promote their own branded gift cards and hence not accept payments from the Visa Vanilla prepaid card. As such, the overall availability of this payment method may remain somewhat limited.
No Withdrawals
The Vanilla Visa Gift Card is great for depositing money into your casino account. However, the Vanilla prepaid card does not allow you to withdraw winnings to it, meaning you'll have to use some of the other methods to pull money from the casino site.
Check out the list of pros and cons below for a closer look.
| Pros | Cons |
| --- | --- |
| ✅Provides extra security to your bank account and other personal information | ❌Cannot use to make a withdrawal |
| ✅Super convenient | ❌Cannot deposit more than $500 at a time |
| ✅Helps prevent overspending | |
Alternative Banking Methods
Online casinos that accept Visa gift cards also accept several other different payment methods for deposits and withdrawals, making this process a breeze. Each payment method on each site will have different minimums and maximums for withdrawals and deposits, but the processing times for deposits will always be instant.
Deposit methods
Credit or debit card
Other prepaid cards
Online bank transfers
E-wallets (Skrill or PayPal)
Cryptocurrency (through crypto wallets like the Cash App gambling service)
Withdrawal methods
Online Wire Transfers
Cryptocurrency (through crypto wallets)
Cashiers check
For Vanilla Visa alternative options supporting deposits and withdrawals, you should check our pages on PayPal online casinos, Apple Pay casinos, Trustly Casinos, and VIP preferred casinos.
Start Gambling with a Vanilla Visa Gift Card Today!
I highly recommend that every online gambler should consider playing with Vanilla Visa gift cards for convenience and the fact it helps limit spending on gambling sites, but mainly because of the security it provides. Not all online gambling sites have the best cybersecurity systems to protect your data (all of the ones on the list above do), but Vanilla Visa gift cards can help keep that information safe and secure.
The only major drawback is that you can't withdraw cash using prepaid gift cards, but there are so many different payout methods that it shouldn't be a problem. Users can either get a wire transfer withdrawal or use one of the alternative banking options highlighted to receive their withdrawal.
All in all, the ends justify the means, and I give these gift cards a big recommendation.
FAQ's
Where can I buy Vanilla Visa Gift Cards?
Vanilla Visa gift cards can be bought in several grocery stores, gas stations, and pharmacies around the country, making it incredibly convenient. Walmart, CVS Pharmacy, Speedway, Walgreens, Rite Aid Pharmacy, Dollar General, 7-Eleven, and Sam's Club are just some of the many retailers!
How can I order a Vanilla Visa Gift Card Online?
Ordering a Vanilla visa gift card online is easy and only takes a few minutes. Go to www.vanillagift.com, create an account, then place an order for a physical or e-gift card online with visa credit cards or debit cards. American Express and Discover cards are accepted as well.
Does a Vanilla visa gift card have an expiration date?
Yes! Each visa gift card will have an expiry date marked on the front of the card, next to the card number (as seen below).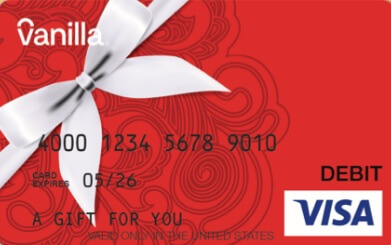 How do I activate my Vanilla visa gift card?
You'll need to call and activate your card upon delivery if you purchase a physical card online. However, if you purchase in-store, your card will be activated after processing the transaction at the cash register.
Can I withdraw cash from my Vanilla visa gift card?
Unfortunately, no. If you're looking to withdraw winnings from online casinos that accept visa gift cards, you'll need to use a different payment method, like PayPal or Skrill.