Gamble USA strives to improve your online gambling experience. We aim to help you play safely, make informed decisions when gambling, and increase your betting knowledge through our guides.
We adhere to strict editorial integrity; our content may contain links to products from our licensed & legal US partners.
Whether virtual or in person, the roulette game has been one of the most beloved casino games ever created. The roulette table is always bustling with activity thanks to its simple rules, fantastic odds, and fast rounds. Yet, as more players move to online casino games, the question of fairness lives on in everyone's mind.
Is online casino roulette rigged? What about traditional roulette games? Are they prone to rigging and shady dealers? Are some versions of roulette more likely to be rigged than others? Are all roulette tables rigged? These are all legitimate questions that this article will answer.
Major casino licensors like the New Jersey Division of Gaming Enforcement and the Michigan Gaming Control Board only sponsor safe and fair casinos. Yet that doesn't mean every casino holds itself to the same standard of game fairness, and this is especially the case for ones that are not licensed by a legitimate US iGaming body. Nor is every online casino site immune to hackers and rigged games.
Read on as we explore the safety of online and land-based casino roulette games and where to play online roulette safely and securely.
Maybe, Are Roulette Casinos Rigged?
Every casino game, live or online, can be rigged. Yet the chances of running into a rigged casino game, let alone an online roulette game, are slim. Crooked casinos must bypass complicated RNGs and casino software to pull off the heist. They also must distract eagle-eyed players from catching on.
Roulette is different from the standard slot and card games. It relies on luck far more than any other gambling title. The multi-betting options and low house edge ensure almost every player has a good chance to win. Though roulette has a house edge, where odds favor the casino instead of the player, actual rigging is extremely rare and hard to spot.
Still, there are instances where dealers fix the roulette wheel for specific outcomes. Most notably, inside land-based casinos.
The most common form of rigging for physical roulette tables is ball tripping. In ball tripping, the dealer dislodges the ball from the track and controls its final resting place with magnets. Another method uses mechanical rigging and a trip pin to control the roulette spin. Both methods need complex planning and skill to pull off, but safeguards exist to lessen the chances of a rigged real roulette wheel. This type of rigging cannot be done in online video roulette.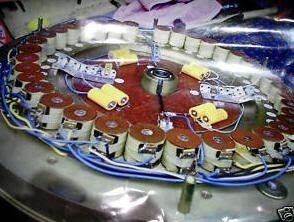 Trustworthy casinos negate ball tripping by a glass sheet or security shield around the wheels to stop the ball from dislodging. Trip pin rigging is prone to jamming and more noticeable to players. Yet, both these methods are extremely rare and monitored by in-person legal casinos.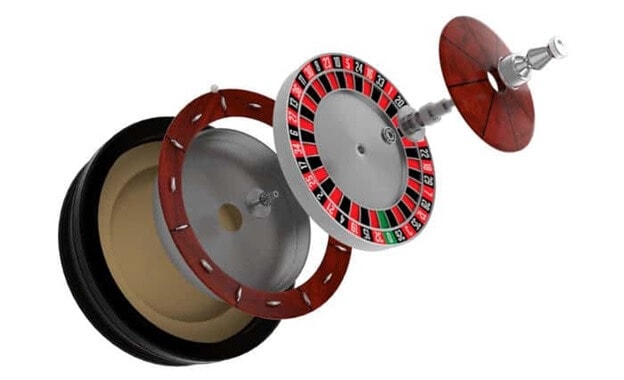 Some may suggest that online gambling games are easier to cheat than ones at land-based casinos. Yet, roulette software is tough to hack due to random number generators. The ball's fall is entirely computer-generated in live dealer and online roulette games. Licensed casinos verify these odds through independent auditors. For example, roulette on DraftKings Casino is monitored for fairness by each state body responsible for licensing in its legal states. On top of this, the software company behind the video and live dealer roulette games on DraftKings, Evolution Gaming, is subject to checks by eCogra, TST, and all other regulatory bodies for each country it operates in. The same is true for other licensed roulette casinos, which we recommend, like Roulette on FanDuel Casino, Golden Nugget, and BetRivers Casino.
Offshore gambling sites licensed by Curacao are not subject to the same tests, nor are they using top-notch software like from Evolution. Still, some offshore online roulette casinos offer Provably Fair Games (PFGs), where the RNG software tracks every spin. This lets you see the algorithm behind every spin, ensuring them a fair deal every round. Although yet to be legalized in the USA, provably fair roulette games can be equally fair to roulette on licensed casino sites.
Another crucial thing to remember, legitimate online casinos have a lot to lose if someone spots a crooked game. The casino will be fined and lose its license; those who run it may even serve jail time for illegal rigging. Most online casinos won't risk lawsuits for a higher house edge, meaning you're in safe hands when spinning with them. Avoiding an unlicensed online casino remains the surest way for players to avoid a rigged online roulette game.
Play a fair game of roulette in peace inside legal casinos with positive reviews for the best experience. We only recommend such sites on Gamble-USA.
Reasons That Players Think Online Roulette Is Rigged
Online gamblers have a habit of playing the boy who cried wolf on a losing streak. It's easy to blame an online casino or live roulette tables for a significant loss. This is especially the case when a player hits a losing streak.
The American Roulette wheel, under which the Atlantic City Roulette also operates, has the highest house edge out of the roulette variants. Though the house has a built-in mathematical advantage, it's not a fixed game. American-style roulette just has steeper odds. The French or European Roulette wheel is preferable for many online players due to the player edge. Yet, payouts will likely be smaller when odds tip in your favor. The only reason American roulette has a higher house edge is that on the wheel, there are two green numbers, 0 and 00, while the other versions only have one.
It can be hard to watch other online gambling players win while Lady Luck has abandoned you, but that doesn't mean the casino has fixed games. With most virtual casinos showcasing certifications for fair play and online reviews backing them up, claims of rigging are often just cases of bad luck.
Still, if you want to be extra safe, stick to licensed online casinos offering licensed and regulated online roulette games. Otherwise, stick to tables provided by reputable providers like Evolution Gaming. Try your hand at European roulette, and place many small bets across the board to increase the chance of a win. Most online strategy tips recommend group bets, like odd/even or red/black, for a nearly 50% chance of winning. Betting for a 35:1 payout requires significant luck to pull through, and when that's not happening, it doesn't mean the game is rigged against you. Still, the largest wins come with the biggest risks, even on licensed sites. Don't let a few losses deter you. Roulette is a game of chance; if you play smart, it increases your chances of winning. Try taking a small break or moving to a new roulette table to catch Lady Luck's eye.
House edge and betting patterns aside, online roulette rigged reports often come due to the nature of the game. Unlike in physical casinos, video roulette outcomes are generated automatically, not in front of your eyes. This, however, doesn't mean the game is unfair, just different. A random number generator takes the role of the ball, wheel, and spinning force – while maintaining the same winning chances.
Online Roulette Rigged Reddit

Reddit is a social news website famous for its strong opinions and strange stories. Though the chances of running into rigged games are rare, many Reddit users claim they've run into a fixed game when playing online roulette. Here, we discuss some Reddit reports on the question: is online roulette rigged or not?
Remember to take every story with a grain of salt, avoid similar mistakes by sticking to verified and licensed online casinos and avoid rigged online roulette games.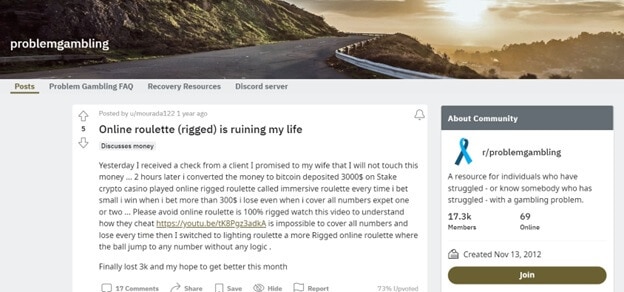 User u/mourada122 recollected the time when they played roulette and lost over $3k on a jumping wheel – and even captured it on video. They link to a video of possible evidence showcasing a roulette game where the ball jumped straight to the black 24 pocket as if by magic. Commenters claim that magnets could have pushed the ball into 24, while others called out mourada for being unlucky.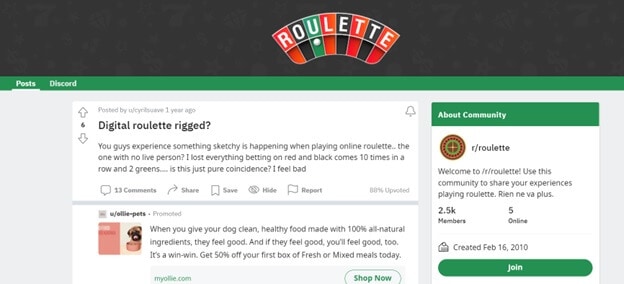 The above roulette thread poses the question upfront by user u/cyrilsuave: is digital roulette rigged? They discuss a possibly sketchy experience, running into a game where red lost to black ten times in a row. If you bet on red enough, it will eventually land in your favor in a legit game or so cyrilsuave claims. Commenters weren't as convinced, sharing their own stories of long losing streaks.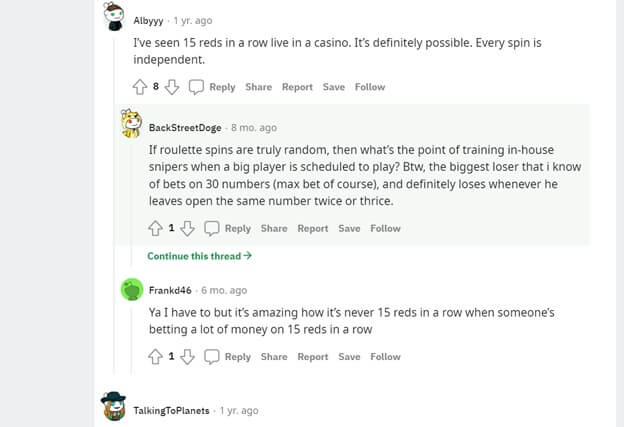 User Albyyy claimed to have seen 15 reds lose in a row during live online roulette games. Though only a tiny percentage of players will experience this kind of losing streak, it's not impossible. While Albyyy suggests that every spin is independent, BlackStreetDoge fires back, questioning the point of training in-house snipers for big games when every spin is random. Frankd46 suggests losing streaks like this only occur when big spenders are betting on red.

The comment section continued to degrade into a fair versus unfair roulette game discourse, with the word 'sore loser' appearing more often than not. Though there was no real conclusion or agreed-upon answer to the OP's question, we enjoyed Kevinw1526's final takeaway.
Reddit users will continue to debate the legitimacy of online and live roulette games like most gamblers. Yet it's important to remember that the chances of an online casino risking its exclusive license for your pocket change are slim. Remember, the loudest voices calling for fraud are often on a bad losing streak.
Online Roulette Safety Features & Controls
All games adhering to industry standards have built-in safety and transparency features. Though roulette software differs from slot machines and virtual table games, you can still find RTP, volatility, and verified tested wheels listed at many popular online casinos.
The RTP of video roulette will vary based on the version, provider, and type of bet placed. French roulette offers the highest RTP at 98.65%, thanks to its special gaming rules. An American roulette slot machine can rest at 94.74%, making it the lowest average payout wheel. In a nutshell, you're more likely to win in French Roulette than in the American version. So if you want to avoid any whispers of having roulette rigged, play on a French Wheel.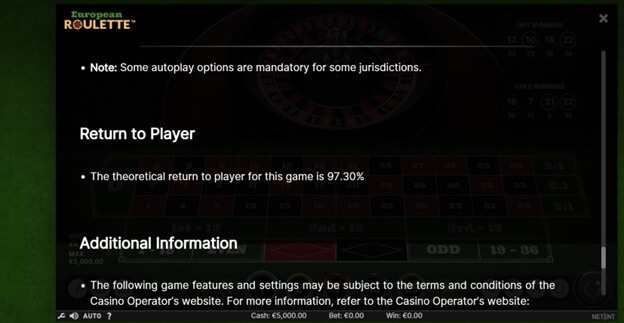 Though RTPs list the averages, provably fair gaming systems, used by sites like Stake.com, go a step further and show the actual math at work behind every spin. The process of tracking the fairness of each spin is complex and requires a bit of math. Once you decode the formula based on the data offered every round, the number you're left with will correspond with the last wheel spin. It's complicated, but the surest way to avoid rigging of any kind when playing online roulette or online casino games. It's virtually impossible to hack these matches. Still, since PFGs aren't yet legal at USA casinos, it is hard to ensure they work as they promise.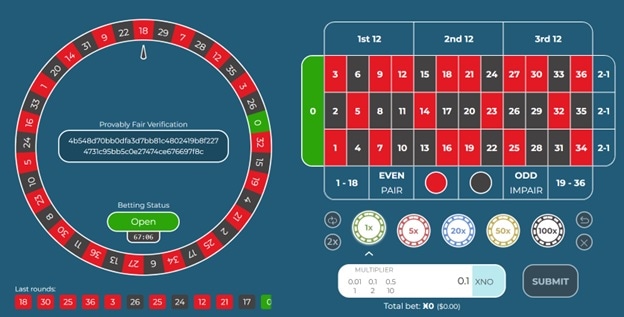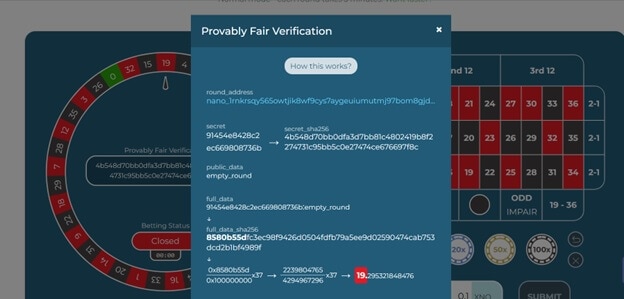 Aside from PFGs, you can also rely on RTP checks and games tested by independent auditors. Groups like eCOGRA and TST are popular online casino testers, ensuring the fairness of casino games through RNG work, regular audits, and tests for tampering or hacking roulette software inside the game. If the licensed casino is verified by one of these testers, you can find their logo near licensing information at the bottom of the casino page.

When independent auditors monitor the roulette games of the software provider powering the licensed online casino you are playing at – a roulette game can't be rigged.
Instances of Rigged Online Roulette
The legality of gambling during the Prohibition era in the US was one of the many issues in the 1920s. Yet, this didn't stop individuals from opening underground casino parlors for fun. One of the most famous incidents of rigged wheels at an underground casino happened inside Al Capone's own casino. It was only during the restoration of this table, nearly a century later, that historians found proof of the rigged wheels. Though it's not an incident of online rigging, Al Capone shows us that fixed games existed long before the wheel ever transitioned online.
2016 saw three casino workers busted for cheating their Iowa casino out of almost $30,000 at electric tables. The team, divided into a dealer, supervisor, and player, would add extra chips to winning numbers and look the other way when cashing chips in. A patron caught them, and each was charged with multiple felonies.
Another instance of online roulette cheating happened in 2004 in London when a trio hacked into the Ritz and siphoned over $1.2 million in winnings with the help of a computer and laser scanner. Yet, due to London's gambling laws at the time, the trio escaped jail time under a technicality, and they even kept their winnings.
Nowadays, you're most likely to find online roulette rigged inside unlicensed offshore online casinos. Steer clear of any site lacking a license or verification to keep your online roulette games free of mischief and tampering. Even worst than cheating, offshore roulette casinos like Bovada can refuse to payout any legit winnings since they aren't regulated by stringent gambling bodies.
Can Live Dealer Roulette Be Rigged?
If it exists, it's riggable. While fixed games are more common for online slot machines than live dealer roulette, they can still occur. Using the same tricks as a shady in-person casino, live online roulette can fix the wheel to their advantage. If the live dealer uses a virtual wheel, rigging can occur through screen adjustments, manual hacking, and tampering with the random number generator. Queries about is Lightning Roulette rigged are also commonplace, just not substantiated.
Yet it's challenging to rig live dealer roulette, especially when big names like Evolution Gaming sponsor the tables. Both the brands and the casino sites pride themselves in playing fair, even if there's a house edge. Getting caught with rigged roulette games can shut down entire casino sites. If the provider supplies rigged games, the fines incurred will be upwards of tens of millions of dollars and completely shut them down. Again, if a legitimate gambling body licenses a casino, the chances of rigged games are extremely slim.
So, while it can occur, the odds of you running into a fixed live dealer roulette game are slim. In fact, you're more likely to swallow a spider in your sleep than run into a rigged online game. So spin confidently at licensed casinos, and know you're in reliable hands when playing with live dealers.
With offshore gambling sites, once again, the story is different. There have been several instances where Fresh Deck Studios, Vivo Gaming, and Visionary Gaming live dealers have been found cheating to favor the casino or their friends. In every case, they ended up in court and were convicted.
Key Takeaways
In case we haven't said it enough, the chances of you running into a rigged live roulette game are low. It's common to lose when gambling, but your losing streak doesn't always equal fixed tables and crooked dealers. Remember that these casinos have everything to lose if caught rigging any online casino game. This significantly decreases the likelihood of you experiencing a rigged game.
Yet if you're still worried after seeing red continue to lose or the ball always just misses your pocket, follow our recommendations for safe casino betting. When betting in person, stick to states in reputable brick-and-mortar casinos that have existed for a while, like BetMGM Casino and Caesars Online Casino. Look for roulette tables with glass shields to prevent ball-tampering, and know when to walk away before the losing streak starts to burn through your wallet.
When you play online roulette, we suggest you stick to highly rated reputable casinos. USA casinos licensed by the iGaming authorities in PA, NJ, MI, WV, or CT are reliable gambling hubs. Check if the casino showcases its auditors like iTechLabs to ensure each game is RNG tested and certified. Finally, check for the licenses and verifications of each roulette software provider you are playing with.
So, is online roulette rigged? Unless you're playing at an unlicensed casino, we can confidently say in-person, live, and online roulette is safe and almost always rig-free.