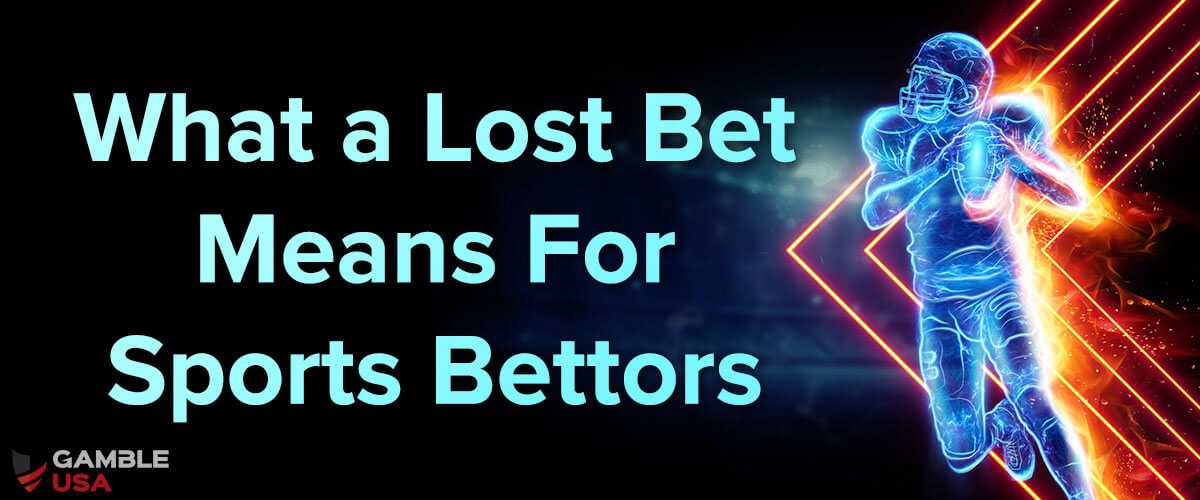 It's been said the house doesn't beat the bettor. It just gives them the opportunity to beat themself.
If sports betting was easy, sportsbooks wouldn't be taking in record amounts year after year. Predicting the outcome of sporting events is never a sure thing and should be approached as such.
Below we cover what a losing bet is, why it happens with certain bet types, and how to encounter fewer lost bets.
Basic Principles of Sports Betting
There are many ways to bet on sports, all with varying degrees of risk to reward. No matter how you decide to play it, bets placed on underdogs or longshots pay out more than wagering on favorites. It also comes with more risk as the probability of a lost bet is higher.
A dollar won might be twice as sweet as a dollar earned, but what about when you lose it to a late-game collapse? Risk tolerance is a muscle that, like any other, needs to be built over time. Always do your research and wager within your limits.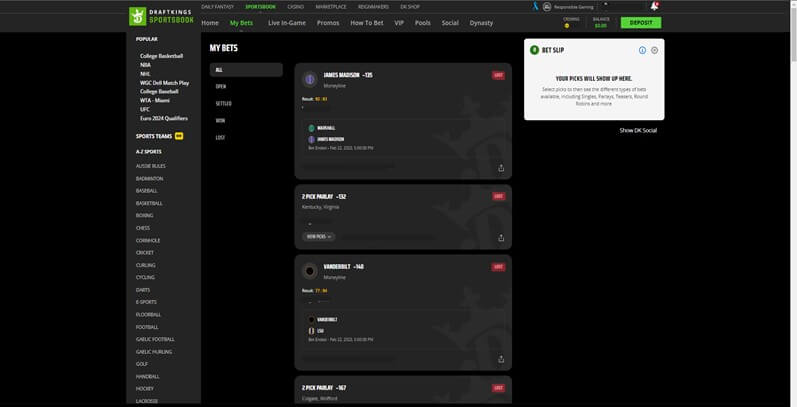 Understanding Risks & Rewards of Sports Betting
Before going into the details of losing bets, you should always know what you are getting yourself into. There is a distinct possibility you could end up losing money, even if you think you are guaranteed a return on this most simple of moneyline bets. Betting odds may be so much in your favor that the thought you might lose money may not even cross your mind. However, although the odds reflect the favorite and underdog, sport is unpredictable by its very nature and to win outright via any wager is difficult. Sports gambling is essentially you predicting the outcome of a game, and then putting money down to back up your prediction.
If your prediction is accurate, the wager is a winner and you will receive a payout. However, if the wager loses you will lose your initial stake and won't receive any funds.
Always remember that sports betting isn't a sure thing. There are risks involved. Even sports bettors with huge amounts of knowledge on the sport they are wagering on and how sportsbooks work can suffer losses. You must approach the whole sports betting process with a level head and understand the risks involved and how best to overcome them.
A Losing Bet in Sports
Whether it's a backdoor cover in the last seconds or a wager that never got off the ground, a losing bet is never a fun feeling, but it's a reality every sports bettor will face. Even professional sports bettors are hoping to hit just above 50 percent of their bets.
NFL moneyline favorites only won two-thirds of the time last season. Even less of the time against the spread. These are typical outcomes for most sports which makes predicting games difficult. Underdogs in the MLB, NHL, and UFC hit slightly more often.
No matter how much time you research beforehand, placing a losing bet is inevitable. Being realistic about expectations will help you minimize losses. Every sports bettor needs to develop and hone their sports betting strategy over time, including bankroll management.
Odds Relation to Losing Bets
The betting favorite is located next to the number with the (-), while the underdog is identified by a (+). The odds posted by sportsbooks represent the payout on a $100 bet and reflect the projected outcome of a particular wager. The higher the odds on the underdog, the more likely the bet will result in a loss. That's why the possible winnings are so inflated.
For example (including the $100 stakes in the payout):
$100 at -150 = $166.67
$100 on +200 = $300
Odds can change after being posted based on the number of bets and the size of wagers coming in and you may see a betting line move. If a number isn't to your liking, you may be able to get a better one during the fluctuation. Live betting is another way to find something more suited for your stakes.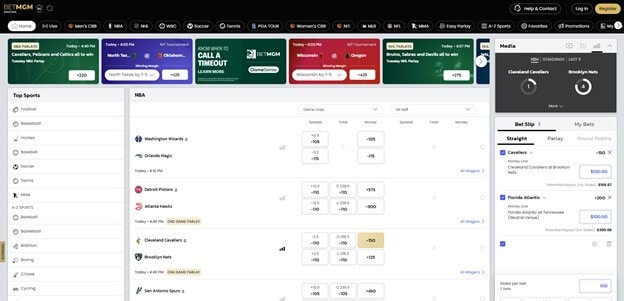 How to Manage Your Spending in Sports Betting
Like any other type of entertainment spending, sports betting is meant to be enjoyed using money you aren't expecting back. Of course, turning a profit is the goal, but starting with money you won't need to chase is step one. Set a budget, including a standard stake size, and stick to it.
Along with aiding in avoiding making any rash decisions while on a skid, having a consistent bet size will help avoid blowing profits by not over-positioning at the end of a hot streak. Another trait of successful bettors is the patience to wait for mispriced lines or value plays. The faster you start listening to that voice in your head trying to talk you out of an iffy bet, the better.
Key factors to keep in mind when it comes to bankroll management:
Setting a budget and deciding on unit size
Being patient and disciplined with your bet frequency
Avoiding emotional or excessive risk-taking by chasing losses
Always Have a Plan for Lost Bet Streaks
If you find yourself not being able to keep track of every lost bet in a day, it might be time to start a journal. Along with noticing patterns and adjusting your strategy accordingly, a bet tracker can also help slow down the frequency of bets placed if opening the floodgates is draining profits. For those finding it difficult to take a break, most online sportsbooks provide account restriction options, including cooldown periods and wager limits.
If you're tailing advice on bets, it might be time to switch it up or shut it down. Reading game previews and cross-referencing sharps is fine, but never bet blindly.
Consider saving a few online sportsbook welcome bonuses for a rainy day. BetMGM and Caesars Sportsbook welcome promos are among the most sizable no-sweat offers new sports bettors will receive. If you insist on getting your losses back with one big bet, at least do it with risk-free bet insurance.
Bet Types & Likelihood to End Up a Loser
Key principles to consider when creating a sports betting plan, include deciding what sports, teams, and players that you know the most about, bookmarking the research tools at your disposal, and figuring out what type of wagers you want to make.
Also, be sure to take advantage of welcome bonuses, daily odds boosts, and existing customer promotions, including free bets, risk-free bets, and parlay bet insurance, to squeeze more out of your favorite online sportsbooks like BetRivers. Professional sports bettors jump at much smaller edges than what most sportsbook bonuses offer.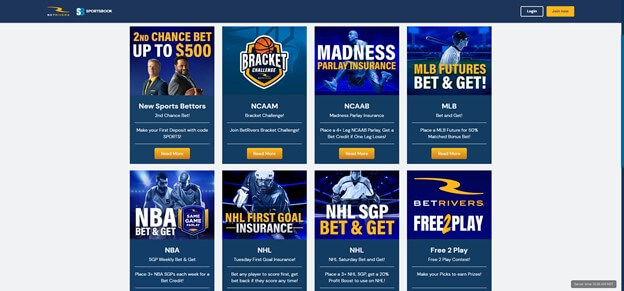 Moneylines
A moneyline bet is a wager on the outright winner of the match. As discussed above, the odds can vary greatly. Sports bettors considering backing a heavy favorite face a different risk. The amount needed to earn a minimal profit may not be worth the risk, no matter how much of a sure thing. Las Vegas keeps the lights on thanks to bettors who have been burned by favorites falling.
Point Spreads
Point spreads are based on whether a team will win or lose by more or less than the projected number generated by bookmakers. The even odds encourage equal betting on both sides. Key numbers differ by sport but are very real in their frequency and shouldn't be ignored. For example, in football betting, the numbers are 3, 4, 6, 7, and ten. Having to surpass a specific number leaves point spread bets susceptible to backdoor covers and bad beats. Bettors can buy a half point or more depending on the online sportsbook.
Parlays
With the payout increasing as you add picks, parlays can be enticing. They can also be a quick way to drain your balance. The more legs you add to your parlay, the more likely it is to be a loser. Round robins are customizable smaller parlays created from a larger list of selections which can curve some of the risk associated with straight parlays.
Teasers
Teasers are parlays where bettors can give up some profit to knock down the point spread by the same number on multiple bets. Teasers should be placed with key numbers in mind. Usually found in the bet slip, some sportsbooks will make you add alternative spreads individually. Doing so does allow for more customization.
Over/Unders
The over/under is a bet type centered around the combined projected score of both teams for the game, half, or quarter. Individual team totals may also be available. The numbers are set similarly to point spreads, with odds being even money. The over/under concept is also how the majority or prop bets are structured. It's stating the obvious, but these bets can be problematic for multiple reasons.
Prop Bets
Prop bets have become rather popular in recent years. The majority of which are over/unders on statistical outcomes of players, a team, or combined. The result is usually not directly tied to the outcome of the contest. The ability to create same game parlays consisting of prop bets is a blessing and curse. The customizable SGP combinations offered by sports betting sites like DraftKings, FanDuel, and PointsBet provide plenty of paths to profit in a hurry, but the urge to add one more selection to every ticket is exactly what they want.
The odds of success fall from 13 percent to six percent once a fourth leg is added to a parlay. Futures bets are season-long props that can be cashed out early for the odds at the time.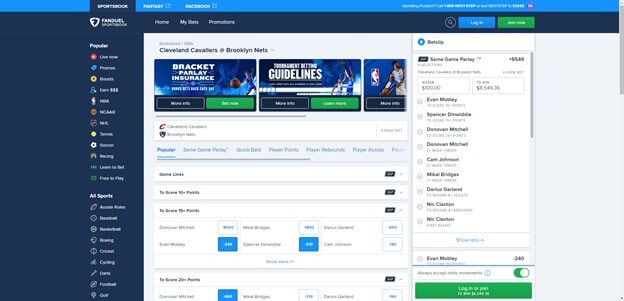 Summary
All bets come with some level of risk. Losses and cold streaks are inevitable. Developing good habits benefits new sports bettors and seasoned gamblers alike. Don't let emotion wade into your wagering.
Placement patience and consistency in unit size will help minimize the damage. Always do your own research and start a journal and learn as much as possible from your mistakes. Use existing customer promos to add value, reduce risk, or earn house money.
FAQ's
What does a lost bet mean in sports betting?
A lost bet in sports betting means the wager placed settled on the opposite side as predicted. The result of a lost bet is more than just a bruised ego. The sportsbook also keeps the money you staked.
Why do I lose a bet?
A losing bet occurs when a wager fails to win outright, cover the number, or complete the task. Odds reflect the projected outcome but favorites fall often. Off nights, injuries, and bad calls happen. Moneyline bets require less to go right than spreads, parlays, or prop bets, but require more money to turn a profit.