DraftKings is one of the most elite online casinos and sportsbooks in the US. Since its launch, DraftKings has continued to push the boundaries of online gambling. One of its latest gaming expansions has been releasing its exclusive game, the DraftKings Rocket game. They announced this latest addition to their DraftKings Casino product suite in September.
Developing DraftKings rocket was done entirely in-house by the internal team members. When asked in a press release about their product, DraftKings vice president Jason March had this to say: "By developing DraftKings Rocket, our team continues to innovate our Casino offerings as we set out to create an all-new, one-of-a-kind iGaming experience for customers."
The DraftKings rocket game is one of over 500 different games and still finds a way to stand out. We found this game to be extremely addictive. It offers an engaging gaming experience alongside an interactive interface to keep you hooked for hours. Pay regard to the fact that this game is only available to play in New Jersey, with Michigan and West Virginia soon to follow, pending regulatory approval.
If you are interested in playing, have read to see how the game works, known and unknown risks, tips on how to counter this, and more. 
How to Play Rocket on DraftKings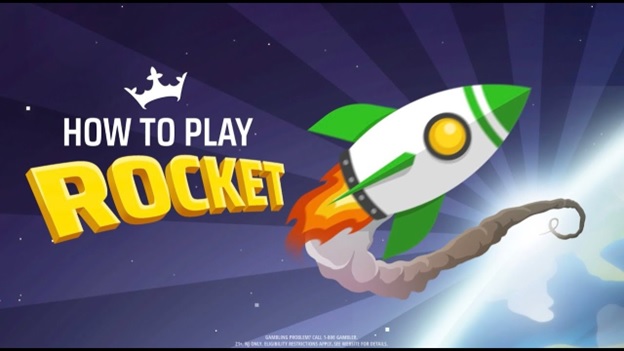 Before jumping into the registration process, let us look at how the Drafting rocket works. The DraftKings rocket features a simple yet addictive gaming experience that works as follows:
The game starts with players placing a bet. After their bet is placed, a virtual rocket begins rising, which sees their bet value increase the higher it gets. The game's objective is to withdraw your money before the rocket reaches its limit and crashes, which can happen at any given time. Bets can even be placed while the rocket counter has reached 0, and its path to the sky is in progress. 
The game is so captivating that players can see their winnings increase as the rocket rises. The only risk this game holds is players' greed itself. Seeing your rocket rack up winnings, it's hard to pull out knowing it has a maximum multiplier of an x1000. It mimics the crypto market in a way that you can make quick cash, but it can all be lost with an instance.
If you wish to give this new and exciting way of gambling a chance, here is how to sign up and deposit:
To sign up for the DraftKings Casino, new customers need to give some personal information. This includes a username, email, password, and some personal details. DraftKings pride themselves on making the registration process a smooth experience. After you fill in all the necessary information, you will need to verify your email, and then the process is done. Just a reminder, customers need to be within the legal states and at least 21 or over to sign up. 
New customers can start making real money deposits when all that is done. DraftKings deposit methods are plentiful, so whatever option you prefer, we are sure there will be one available that suits your needs. By making your first deposit, customers will also be eligible for the welcome bonus (which we will discuss later). Once you have funds in your bankroll, head over to "variety games" on the DraftKings site. Here, you will find the rocket game amongst other games that do not entirely categorize as typical casino table games or slots.
Rocket Gambling Game Rules
Because this is a new game, people wonder whether it falls under regulated gaming rules, and we can confidently say it does. DraftKings Casino is an authorized gaming operator, which means it needs to adhere to strict casino regulations. It is, by law, a safe and secured place to play classic casino games with real money potential payouts. Same holds true for DraftKings Sportsbook, across all states it operates. 
Rocket Payouts
It is straightforward to understand and play the DraftKings rocket game. After the virtual rocket launches, players can either withdraw the rocket manually or set an auto bail limit to withdraw their winnings at a specific wager multiplier.
After DraftKings customers have placed their bet on an auto or manual bailing system, the rocket takes off. As the rocket rises, the prize pool increases. If no cashout multiplier is set, the rocket will keep going until it reaches the maximum x1000 unless you withdraw it manually. This can be dangerous because there is no safety net for you to cash out earlier if your device disconnects.
Minimum bets are $1, and maximum bets sit at $1000.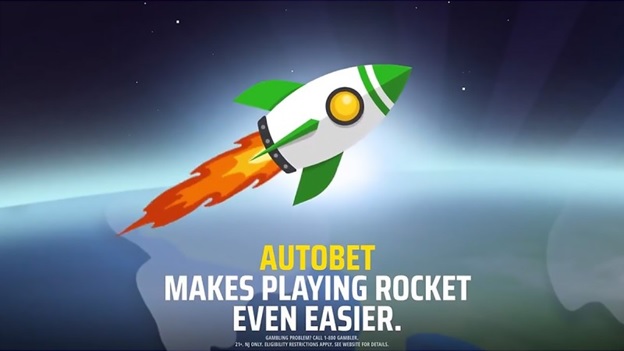 Technical Data
The most important aspect of the game is the wager amounts. Our team is experts in calculating casino game customer returns, and the DraftKings rocket works no different. What we mean by this is that online casino games work by using a random number generator. Although the rocket crashes are entirely random, they do happen sooner if you place a bigger bet.
Why? It is because the bigger your bet, the quicker you make money. So the game counters this by crashing quicker on the big bets. If you bet a $100 that rises to an x2 multiplier, you get a much bigger return on your wager than placing a $1 bet. This means that the higher your wager, the higher the volatility. This means the volatility of the game depends on the way you bet.
As for the return to player percentage, it stays the same. The game has an impressive RTP of 97%, which is much higher than expected. It boasts some of the best returns you will find in the casino, which, together with its exclusive iGaming experience, offers customers superior gaming entertainment with fair odds.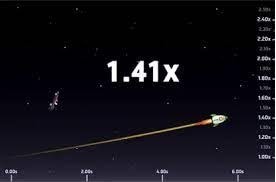 DraftKings Rocket Strategy – How to play and win!
Like we said earlier, even though the game runs off a random number generator, DraftKings control the payout ratio (RTP). This means sticking to smaller bets will see your rocket reaching higher heights. We encourage first-time players to stick to small wagers. Those with a competitive spirit can increase their bets once they get a grip on the game and how it works.
Also, it is essential to know that the game works on probability alone, there is no perfect way to play it, and over the long haul, you will lose, or at least the 3% on the RTP. A customer first approach usually sees players bet differently based on previous results. This does not work. Your future performance is not affected by previous results. Instead, the odds stay the same, and the game stays equally unpredictable.
Lastly, after a close examination from our experts, we concluded that players should start with manual cash outs. When you play new games in a casino, it's important to be fully involved. Leaving the cash out at a predisposed multiplier kills any of the "gut feeling" decisions. Even though it's not guaranteed to work better, playing from your heart is at least a genuine and exciting experience and might even result in an unforgettable win.
If you prefer to gamble on games less revolved around luck, maybe try casino table games like online poker or blackjack. For sports fans, DraftKings offers some powering sports options to bet on. Knowing your sports league players can increase their "luck" at sports betting. 
DraftKings Rocket Bonus for New Players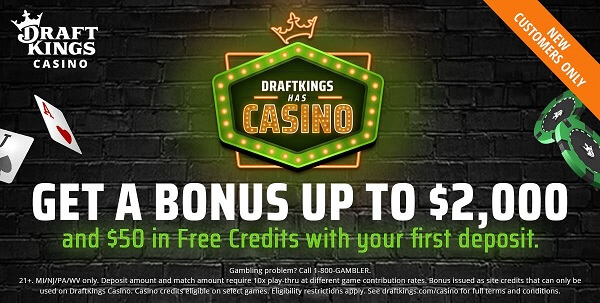 While the DraftKings rocket game does not offer its own exclusive bonus or casino promo code, new customers can use DraftKings Casino mega welcome bonus to give you an edge on the game.
The welcome bonus is only available to new customers after making their first deposit. Currently, DraftKings provides a bulky first deposit matchof up to $2,000 and $50 in free casino credits. All customers have to do is sign up and deposit, without the need for DraftKings Casino promo code. 
If you are an existing DraftKings customer, look for any active in-house promotions. For instance, there is a $100 bonus if you refer a friend to DraftKings. Be alert for any new information regarding these promotions and rewards, as they continuously update them.
What makes Rocket Gambling Game Different
DraftKings collective mission is to provide its customers with the best and most innovative casino games. They are among the pacesetters for new games using groundbreaking technology, and the DraftKings Rocket game is definitely one of them.
What sets this game apart from any other casino game is the fact that it's not a casino game itself. This crypto market-inspired rocket game provides customers a breath of fresh air. Besides being new to how online gambling is played, it also offers peer-to-peer interaction. Players can see other online customers' wagers and where they cash out as rocket flies between random objects floating around. This shared and interactive interface is something you only experience in specific casino games or social casinos.
It resembles a computer game more than your classic casino games. However, it's built on the same fundamentals. Gamblers play the game of probability to guess when the rocket will crash.
With its overall simplicity, customers, new or old, should consider giving it a go.
Gambling Experts Concerns with this New DraftKings Game
Players compete alongside a multiplier that increases as the rocket rises, which at first glance looks easy. Gambling experts have a different view of how players see the game. It does not matter if the game works and plays differently or looks like a video game. The core fundamentals stay the same. It's a game of chance, and it essentially comes down to luck regardless of your strategy. There is no way to predict when the rocket will crash, even if you decide to stick to small bets.
Players see it as gambling in a way where you can take control, rather than leaving the play entirely to chance, like slots. And that is where the concern from experts comes in. It is that "control" that players do not know how to manage. Seeing your money increase rapidly, your heart starts racing, and players always try to hold on till the last minute, which is too late most of the times.
The rocket will explode at a predetermined time, and players usually can't control their excitement until the time runs out. This "control" creates hope amongst gamblers, which is not there. The fact that players have the choice when they want to withdraw makes it even harder for them.
Now I know we said to rather stick to manual cashout when you start. That is because if you put it on auto cash out, the game comes down to probability again, like slots. If you make one hundred $1 bets, you will walk away with $97 because that is how the game is built, and it is the return expected. But if you play the game yourself, you can break these predetermined results. Yes, it is riskier, but if you stay level-headed, you can get some good winning streaks, and the game will ultimately be way more fun. 
Summary
The rocket game is only the beginning of DraftKings new and innovative casino game releases. The gaming company created a unique experience that brings a whole new dynamic to the DraftKings marketplace. With today's gaming technologies, customers can expect more of these casino games in the future, especially now that the rocket game was such a huge success.
The game is exclusive to DraftKings New Jersey, so only those within the state borders will be eligible to play. For customers in neighboring states, they are working on expanding it to new territories.
For now, all you can do is read articles like ours to help you prepare for the day the game becomes available for you.