Funzpoints Casino
Funzpoints Casino app is a sweepstakes casino that offers new customers 250 premium funzpoints just for completing their profile information. This exciting social casino also gives up to a $20 matched deposit bonus for your first deposit in the form of premium funzpoints.
This social casino app is owned and operated by Woopla Inc. and has been open since 2018. They do not operate any other platforms, but they develop their software and produce the games available at Funzpoints casino. Speaking of which – if you love slot games, you will have a blast at this social casino. They have a decent range of titles, including Voyage of the Vikings and Bonbon Bash.
The new sweepstakes app works based on funzpoints – both free and premium. Free coins are earned via a bonus wheel spin every 3 hours. Alternatively, you can purchase premium funzpoints with real money. Both types of coins allow you to win cash prizes too. Free funzpoints allow you to win raffle tickets which give entry to the daily jackpot draw. In contrast, the premium mode allows you to win cash directly through the games. If you don't want to spend money, it is possible to play for free.
In this Funzpoints casino review, we look at the different features of the app, including games, promotions, legitimacy, and how this social casino works.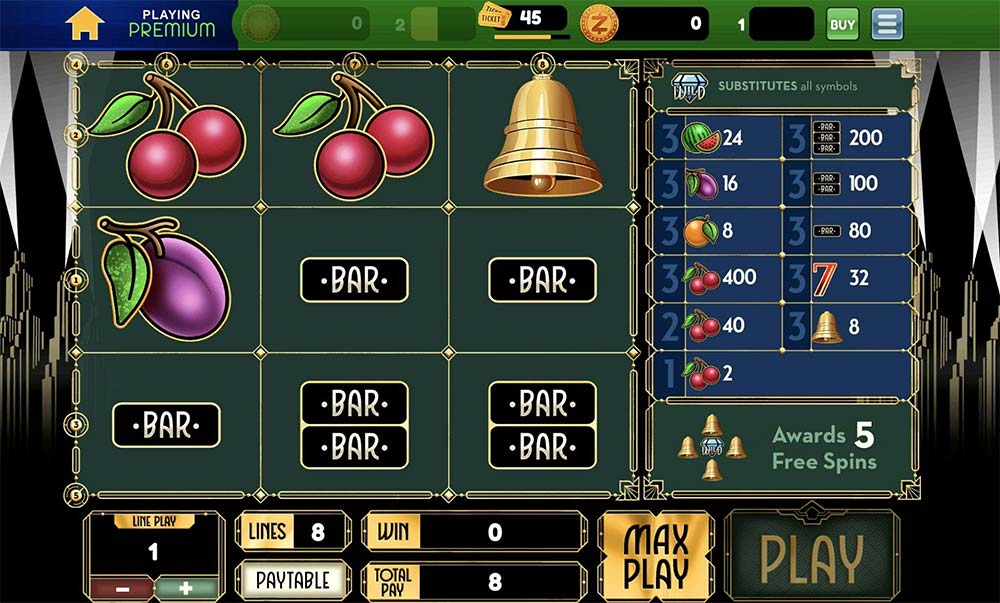 Our Expert Findings on Funzpoints
| Pros | Cons |
| --- | --- |
| ✅User-friendly layout and navigation | ❌Limited game variety compared to other similar US sweepstakes casinos |
| ✅Multiple ways to get funzpoints free money | ❌No published RTP info for the games |
| ✅Various ways to get free premium funzpoints | ❌No filters or search functions for the games |
| ✅Fun slot themes | ❌New games only added semi-frequently |
| ✅Excellent welcome bonus | ❌Some slots are quite basic |
| ✅Fast and responsive customer support | ❌The lobby user interface is too large on desktop |
As you can see, if you choose Funzpoints casino, there are some pros and cons to consider. This casino's simple layout and accessibility make it easy to use, which is a plus for those with limited experience. Furthermore, they are generous with bonus funzpoints, and it does offer a true free play experience. We also like the fun themes of the slot games, and the live chat customer service is fantastic.
On the downside, we would like to see a greater variety of games, including traditional table games. Moreover, there is no published RTP information for the games that we can find, and this is something that should be readily available. Lastly, they don't add new games often, which could be a long-term issue if you get bored of the existing titles.
Players looking for a larger variety of Vegas-style sweepstakes, fish table games, or modern slot machines should check out sites like Pulsz Casino, WOW Vegas Casino, BetRivers.net, and Fortune Coins.
What is Funzpoints Casino?
Funzpoint Casino is a sweepstakes casino. This is an increasingly popular online casino model available for US players. These online casinos have two types of currency – gold coins and sweepstake coins.
The Funzpoints games can be played using free gold coins. Think of the coins as equivalent to USD. However, you earn tickets instead of winning real cash prizes from the games. These tickets can be used to enter raffle draws, where you then have a chance to win real money.
Funzpoints Casino deviates slightly from this standard model, as it has both standard and premium modes. The standard mode is free to play, and you use coins to win tickets. In contrast, the premium mode allows you to play with cash and win real money prizes. It also has benefits like removing adverts and giving you access to various funzpoints games.
How to Play at Funzpoints Casino?
Funzpoints operates in a simple manner, and it is an incredibly easy sweepstakes casino to access. We describe the registration process below for the Funzpoints Casino mobile browser version:
Open the Funzpoints mobile web browser version on your smartphone
Click on the register button
Enter a valid email address, username, and password
Click the link in the verification email sent to the address you entered
Login to your account using the details you added
Once you have created an account and logged in, you are prompted to choose either standard or premium mode.
Standard Mode
The standard mode is essentially the free-play mode. You don't have to spend any money here, but you still have the chance to win real cash prizes via raffle tickets. You can find more info about this mode below:
Currency Used: Free Coins
How to Generate Coins: Spin the prize wheel every 3 hours, or win via all the games
How to Generate Raffle Tickets: Via the prize wheel, and get 1 ticket for every 500 coins won
There is a daily jackpot draw with various cash prizes. Typically, the top prize is a daily jackpot of $1000. There are usually around 100 cash prizes from smaller denominations ranging from $5 to $20.
Premium Mode
The premium mode has no free coins; you play with real money. You essentially buy premium Funzpoints coins that have real money value. You can then use these premium funzpoints to play the entire range of games.
Currency Used: Premium funzpoints
How to Generate Premium funzpoints: Buying them using USD
How to Generate Raffle Tickets: Via playing games
It is important to note that with premium funzpoints, there is no bonus wheel – you simply earn tickets via gameplay or transfer them from the standard mode.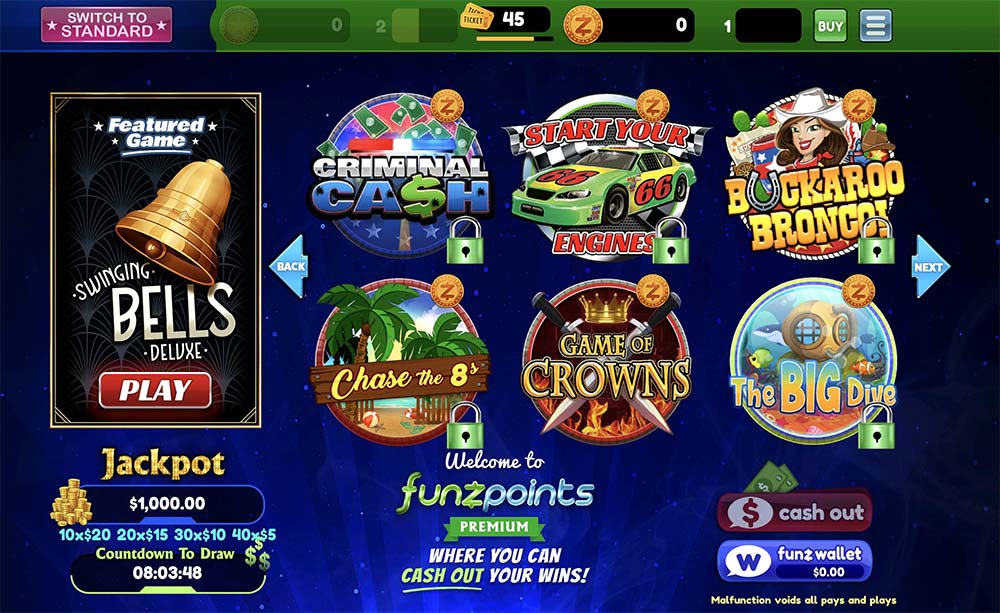 Who Can Play at Funzpoints Casino?
Funzpoints operates as a fully legal sweepstakes casino and is available for anyone to play over the age of 18 (aside from residents of the state of Washington DC). Unlike US online casinos, sweepstakes casinos have excellent accessibility.
In terms of devices, you can play at this sweepstakes casino via the following:
Desktop computer
Mac computer
Laptop
Mobile phone (via a web browser)
Is Funzpoints Casino Legit?
Funzpoints Casino Details
🌐 Website
funzpoints.com
📱 Accessibility
Desktop and Mobile browser
🏢 Operating Company
Woopla Inc.
📜 Software
Woopla Inc.
💲 Purchase and Redemption options
Debit Card, Credit Card, Visa, MasterCard, American Express
Funzpoints Casino is operated by the parent company Woopla Inc. This company and sweepstakes casino has been around since 2018. It is only available for US residents as a sweepstakes casino, and other countries have no social casino aspect.
We have checked various players' reviews on this online platform, which are generally average. The main positives mentioned include the customer support team's fast responses, the platform's simplicity, and the games' fun nature.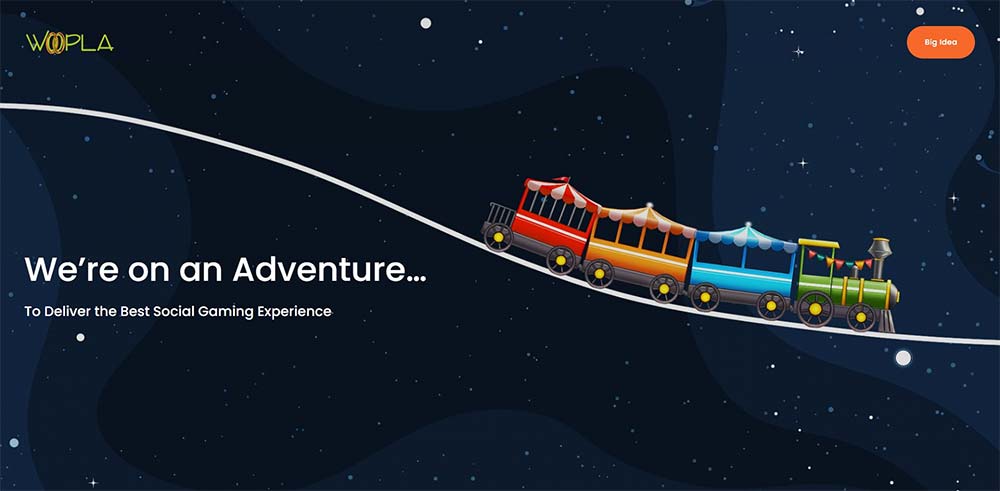 However, some reviews mention that the game choice is smaller compared to other US sweepstakes casinos. This could be due to the fact that they create all of their games in-house. Furthermore, some customers may have reported slow withdrawal processing times.
Funzpoints Welcome Bonus
Funzpoints Bonus Information
Funzpoints Casino Promo Code
❌N/A
No Deposit Bonus
🆓 250 free premium funzpoints and $2.50 site credit
First Purchase Bonus
🎁 $20 in premium funzpoints matched deposit
Availability
📜 New registered customers only

Other Promotions
❌ N/A
No Deposit Bonus
Everyone wants something for free, right? Of course! At Funzpoints casino, you can benefit from a cool no-deposit sweeps coins bonus. All you have to do is complete your profile which includes the following info – display name, first name, last name, street, city, state, zip, and date of birth.
On completion of this, you get the following with no wagering requirements or other terms and conditions:
250 premium funzpoints
$2.50 account credit
Please note that there is no funzpoints bonus code for this – the welcome bonus is automatically applied when you have completed your profile.
First Deposit Bonus
Not only do you get those awesome bonus funzpoints just for typing a few words into your profile, but you can also benefit from a first purchase bonus too. When you make your first purchase of premium funzpoints, you get bonus funzpoints based on how much you spend:
$4.99 – 500 premium funzpoints
$9.99 – 1,000 premium funzpoints
$19.00 or higher – 2,000 premium funzpoints
Again, there are no wagering requirements on these points, and you can use them to play on any of the titles in the Funzpoints casino game library.
Furthermore, you do not need to enter a funzpoints bonus code to claim this purchase bonus – the premium funzpoints will be credited to your account after your first deposit is made.
Funzpoints Casino Free Daily Rewards and Promotions
To make sure you can continue to have fun and enjoy the different games at this sweepstakes casino, there is a myriad of Funzpoints promo codes and bonuses, which are described below. You might also find them as Funzpoints Casino hacks or cheats elsewhere.
Funzpoints Wheel
If you want to play for free, you can earn funzpoints free money by spinning the bonus prize wheel. This is available every three hours, and you get one spin. This prize wheel allows you to earn tickets for the daily jackpot raffle but also to earn site credit in the form of free funzpoints coins.
The prize wheel has a range of different segments, each of which has a set number of daily jackpot raffle tickets and free coins. The top prize is 10,000 free funzpoints and 100 tickets. The wheel is essentially how you keep playing without spending real money in the premium mode.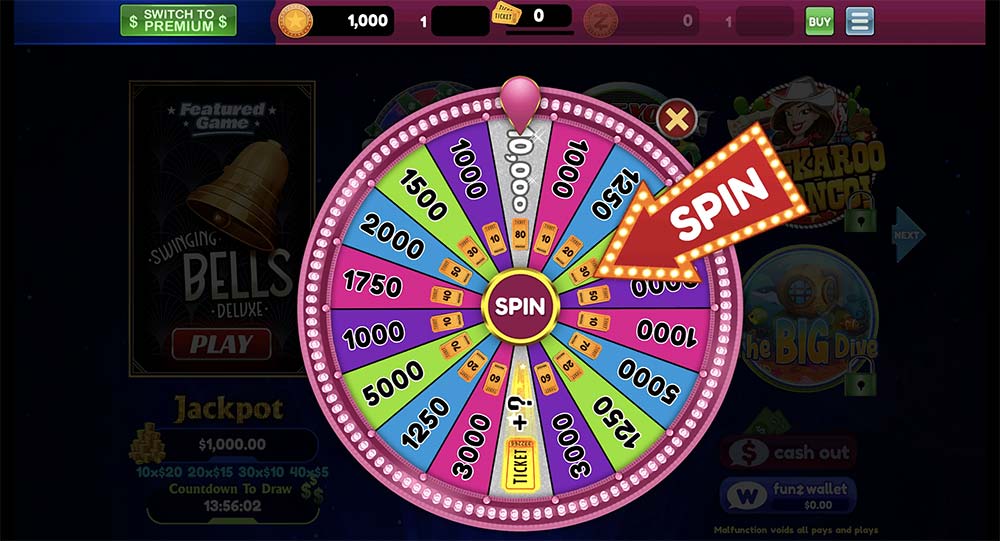 Mail-In Requests
A unique thing that can give you a steady stream of premium funzpoints is to use their mail-in requests. All you have to do is send them a standard envelope with your account details on it, and you will earn 500 premium funzpoints and 1000 standard funzpoints directly to your account.
Funzpoints Facebook Contests
If you follow the Funzpoints Facebook page, you can also enter the various contests and giveaways they host. These are regular and give you a chance to win both standard and premium funzpoints.
Funzpoints Mobile Site Layout & Features
We know that US players want to have fun on the go and don't want to be tethered to a computer for their online gambling! Funzpoints casino understands this and has a mobile-responsive version of their website for smartphones. There is no downloadable app. Instead, you simply access the website via a mobile browser like Google Chrome, Safari, or Opera. If you do want to play via app, then you can check out these sweepstake casinos with an app.
The mobile version has a simple layout that is easy to understand. At the top, you can select between the standard and premium modes by clicking the relevant button. This bar also shows your standard funzpoints coins, your level, your number of raffle tickets, and your number of premium funzpoints. There is also a menu icon where you can find options like profile, turn sound off, how it works, and your funz wallet.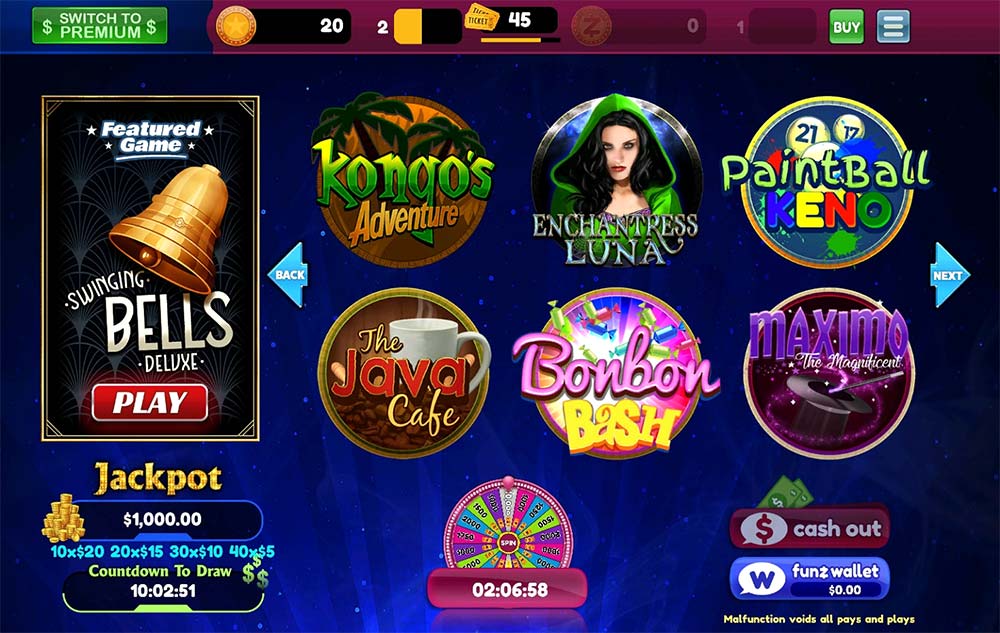 The main part of the screen is taken up with the game library, and you can see large thumbnails of 6 games. This is accompanied by back and next buttons that allow you to scroll through the various games.
At the bottom of the standard funzpoints mode, you can see the daily jackpot prizes and the coin wheel. Alternatively, the premium funzpoints mode still shows the daily jackpot raffle but has a simple welcome message where the spin wheel would be.
It's a simple layout, if a little basic, and you shouldn't have any issue navigating through the game library or managing your account.
Funzpoints Casino Games Lobby
When you set up your account and choose which type of Funzpoints account you want to use, you are presented with a range of games.
The game library is split into standard and premium – the premium Funzpoints games are still shown but have a locked symbol next to them if you are only using the standard mode.
The game choice is relatively limited, and there are only 61 unique titles to choose from. This includes just 15 games in the standard mode. Furthermore, there are only two types of games – video slots and keno games. Compared to other online casinos, this really is a small selection, and there are no table games, live dealer games, or video poker. However, generally, sweepstakes casinos do have a smaller game library.
The navigation of the game library is quite basic too. All you can do is click the back and next buttons to scroll through the available titles. There are no filters and no way to search for your favorite games easily. We like that there is a preview of new games to come so you can see future developments from Funzpoints Casino.
In standard mode, you play games using standard Funzpoints, which are obtained via the wheel spin every 3 hours and by winning. Alternatively, you play money in the premium Funzpoints mode, and USD is accepted.
Funzpoints Slots
The largest selection of casino games at Funzpoints Casino is video slots. There is an OK selection of Funzpoints slots, and they are developed in-house by the company. However, no RTP information readily available could perturb some US players.
Popular Funzpoints slots include:
Kongo's Adventure
Voyage of the Vikings
Enchantress Luna
Maximo the Magnificent
Game of Crowns
Buckaroo Bronco
Bonbon Bash
For example, Kongo's Adventure is a game you can play for free with a fun jungle theme. The different symbols are various animals like elephants, snakes, and toucans. Also, there are wild symbols, and you can win free spins if you get 3 or more Kongo's Adventure bonus symbols.
All of the online slots have fixed paylines, but you can change your line bet to affect the overall bet value. You can find paytable information easily. However, the games do not show their RTP percentage or volatility.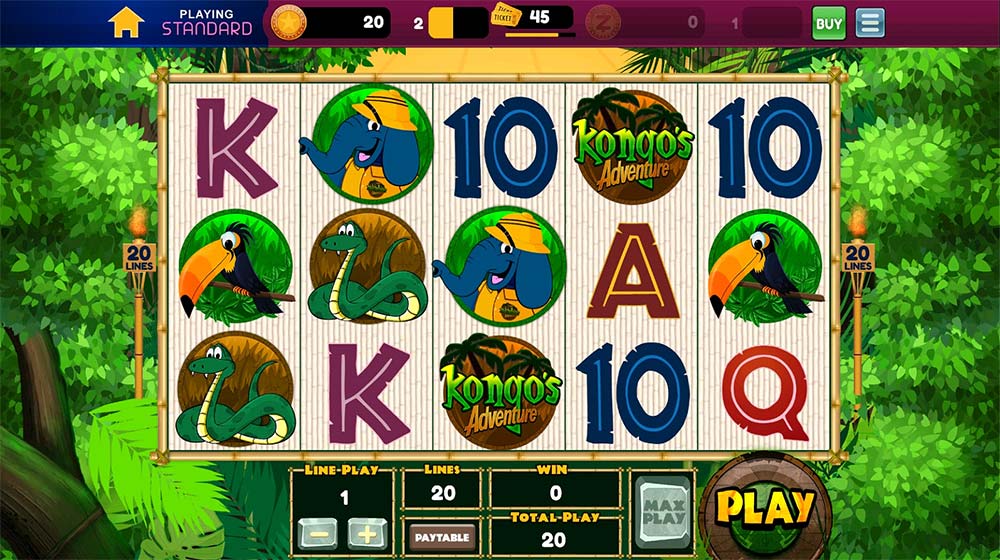 Funzpoints Keno
If you have had your fill of online slots, you can try out the small selection of keno games too. Keno is a fun game similar to bingo in which you select numbers on a board from 1 to 80. If your numbers are drawn, you win free points depending on how many hit. The following are the keno online casino games available on the Funzpoints mobile browser app:
Paintball Keno
Four Seasons Keno
Paintball Keno is a bright and vibrant game that has paintball splatters all over the screen. You choose numbers within four different color blocks and get some epic free points depending on how many of your numbers hit in a certain color.
Are Funzpoints Casino Games Fair?
We understand that US players want a fair deal when playing casino games. You want to know that you have an actual chance of winning, even on free-to-play games!
As far as we can see, no published RTP information is available for the game library at Funzpoints Sweepstakes casino. Furthermore, all the games are developed in-house and not by any reputable, licensed third-party software developers.
These factors obviously have a negative impact on the Funzpoints online casino rating. However, we spent time testing all the games, and they paid out. You can win cash prizes on the premium Funzpoints games, and you can also win jackpot prizes on the free-to-play games.
For example, while playing Enchantress Luna, we managed to get 3 bonus symbols to trigger the bonus round and ended up winning 1200+ standard Funzpoints coins from a 50-coin spin. On the same note, sweeps cash casinos like Funzpoints are not required by licensing or regulatory authorities to publish game data.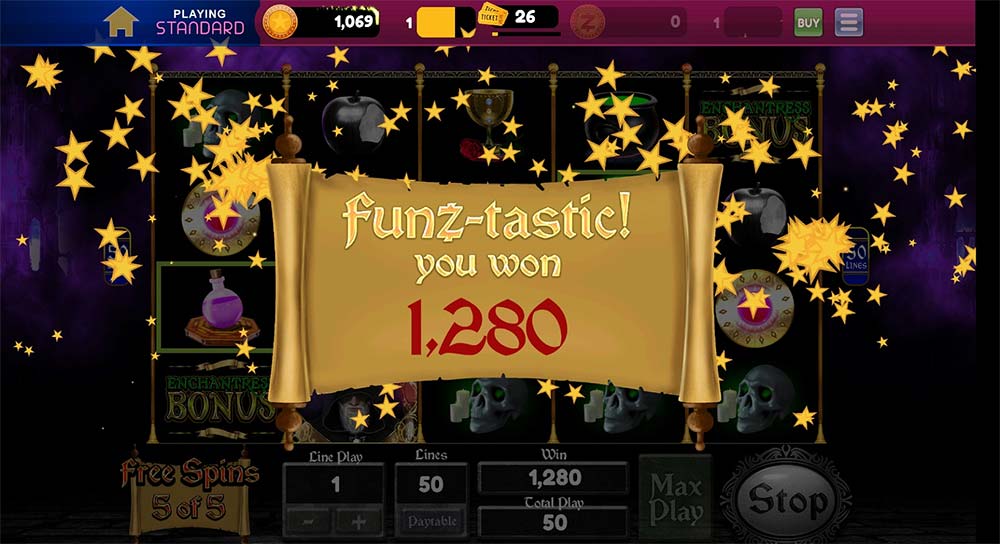 In-App Purchase Methods
It is possible to purchase premium Funzpoints that can result in real money cash prizes. However, this is OPTIONAL. You can also use free funzpoints and not spend a dime. Furthermore, these free funzpoints can result in cash prizes via the daily raffles.
However, if you do want to buy premium funzpoints, you can do so with the following packages (The first number represents free funzpoints, while the second represents premium funzpoints):
$4.99 – 1,000 STD & 500 PRM
$9.99 – 2,000 STD & 1,000 PRM
$19.99 – 4,000 STD & 2,000 PRM
$49.99 – 10,000 STD & 5,000 PRM
$99.99 – 20,000 STD & 10,000 PRM
Please note that you are buying premium funzpoints – not making a cash deposit. It is important to understand this distinction as it can confuse some players.
To purchase premium funzpoints, you can use Visa, MasterCard, American Express, Debit Cards, and other credit cards. The minimum purchase is $4.99, while the maximum is $2,000. Moreover, there is a minimum withdrawal limit of $20.
Redemptions at Funzpoints Casino
Before you purchase funzpoints, spend real money, or make a withdrawal, you must first complete your profile. This is an essential step to verify that you are a real US citizen and can legally play at this sweepstakes casino.
Required profile information includes – display name, first name, last name, street, city, state, zip code, and date of birth. The information given must be identical to a personal ID, such as a driver's license.
If you have successfully used your premium funzpoints and won cash prizes, you can access your funz wallet to make a withdrawal. You can select from pre-set denominations or enter a custom amount.
There is the option to purchase more premium funzpoints with your winnings or withdraw them to a personal bank account. The minimum withdrawal amount is $20, and payments are aimed to be processed within 24 hours.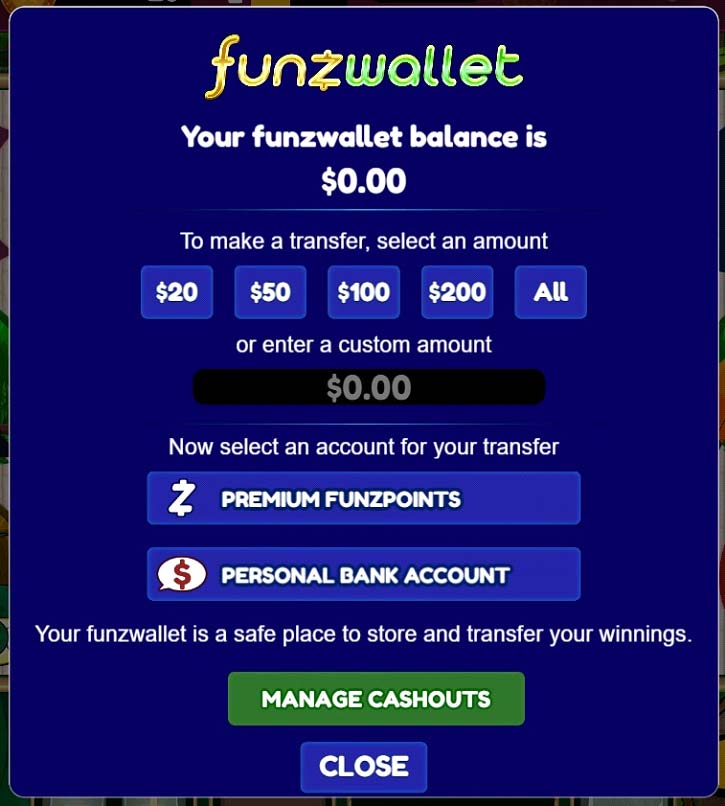 Customer Support & Contacts
We understand that players want the peace of mind that they can contact someone if they have problems using a social or online casino.
Funzpoints casino has two main contact methods – live chat and email support. The live chat is easy to use and has decent response times. You can also save your chat history and upload files if you need screenshot proof of a problem, for example. We would recommend the live chat as opposed to email as this offers much quicker response times.
There is an extensive Funzpoints casino FAQ too that details how to use the platform and explains everything about the concept and how to play games like Kongo's adventure.
If you like to use social media, there is also a Funzpoints Facebook page. This is quite active and has regular posts. Also, the Funzpoints Facebook page posts the daily jackpot draw winners, too, so it could be a good idea to follow them. Currently, they have over 28,000 followers.
Final Verdict on Funzpoints Casino
We hope you have found this Funzpoints casino review useful. We had fun testing this US sweepstakes casino, and it certainly provided a lot of enjoyment. Although the game selection is limited, the available video slots and keno games look fantastic and offer some cool gameplay mechanics too.
We also like that you can get free premium funzpoints in various ways, including a great welcome bonus. However, if you want to play for free, this is completely possible too. You don't have to purchase funzpoints but can instead spin the wheel every three hours to get free coins which allows you to continue playing!
There are a few areas we would like to see improving, though. Firstly, the lack of RTP information needs addressing, and this data should be made readily available. Also, we would like to see a larger game variety, including table games and live dealer games if possible.
Overall, despite these minor flaws, Funzpoints casino offers an enjoyable gaming experience, and most importantly, you can truly play for free. Why not register an account today and give it a try?
FAQ
Can I win real cash prizes for playing at Funzpoints?
Yes! You can win cash prizes in both the standard and premium Funzpoints modes. In the free-play mode, you win raffle tickets by playing games. You then have a chance to win in the daily jackpot draw using your tickets.

Alternatively, the premium mode Funzpoints allows you to play with real money and win cash prizes directly via the games as a result.
Are Funzpoints Casino games rigged?
No. We have tested the games, and it is possible to win cash prizes and coins at this sweepstakes casino.

However, there is no readily available RTP or volatility information for the games, so the long-term play cannot be judged entirely.
What is the current Funzpoint Casino promo code?
The current Funzpoints casino promo code entitles you to 250 Funzpoints and a $2.50 site credit when you enter your profile information.

Furthermore, if you choose the premium funzpoints mode, you can also benefit from up to a $20 matched deposit bonus.
Is Funzpoints casino free play?
Yes! You can create a Funzpoints account and play in the standard mode without spending a dime. You use the wheel spin every 3 hours to claim free Funzpoints coins, with which you can then play casino games.
Where is Funzpoint Casino legal?
Funzpoints sweepstakes are legal to play in all US states except Washington DC. Unlike regular online casinos, sweepstakes casinos have far better availability due to the lack of real-money deposits and gambling legislation.
What casino games can I play at Funzpoints Casino?
Funzpoints online casino has a limited selection of games split between standard and premium. The free-to-play games include 14 video slots and one keno game.

Similarly, the premium games are primarily slots but include one extra keno game. Examples of fun titles include Kongo's adventure and The Java Cafe.
How long do redemptions take at Funzpoints?
Redemptions for your winnings are typically processed within 24 hours.
Can I play Funzpoints games with my phone?
Yes! Although there is no dedicated app, Funzpoints operates a mobile-browser version of their site. This is accessible on iOS and Android smartphones and is legal to play under US sweepstakes laws.
Is Funzpoints Casino safe?
Yes, this casino site is entirely legal in all US states aside from Washington DC as per the US sweepstakes laws.

However, in terms of security, their terms and conditions state that customers are entirely responsible for their data and login information.
Are there better free casino apps than Funzpoints?
If you join Funzpoints casino, you will have a fun experience, and there is the chance to win cash prizes and walk away with real money for free.

However, there are some potentially better alternatives, including Fortune Coins and BetRivers.net

250 Premium Funzpoints
Get Bonus