Gambino Slots
If you are interested in playing free online casino games without spending real money, it is time to try a social casino. Gambino Slots is such a casino and offers a product like few others. While many social casinos like Funzpoints and Fortune Coins offer real cash prizes, Gambino Slots does not. Instead, their success comes from offering a niche slot gaming adventure where players can enjoy authentic online casino slots machines of many different themes, each unlockable as you play through their mission-style game.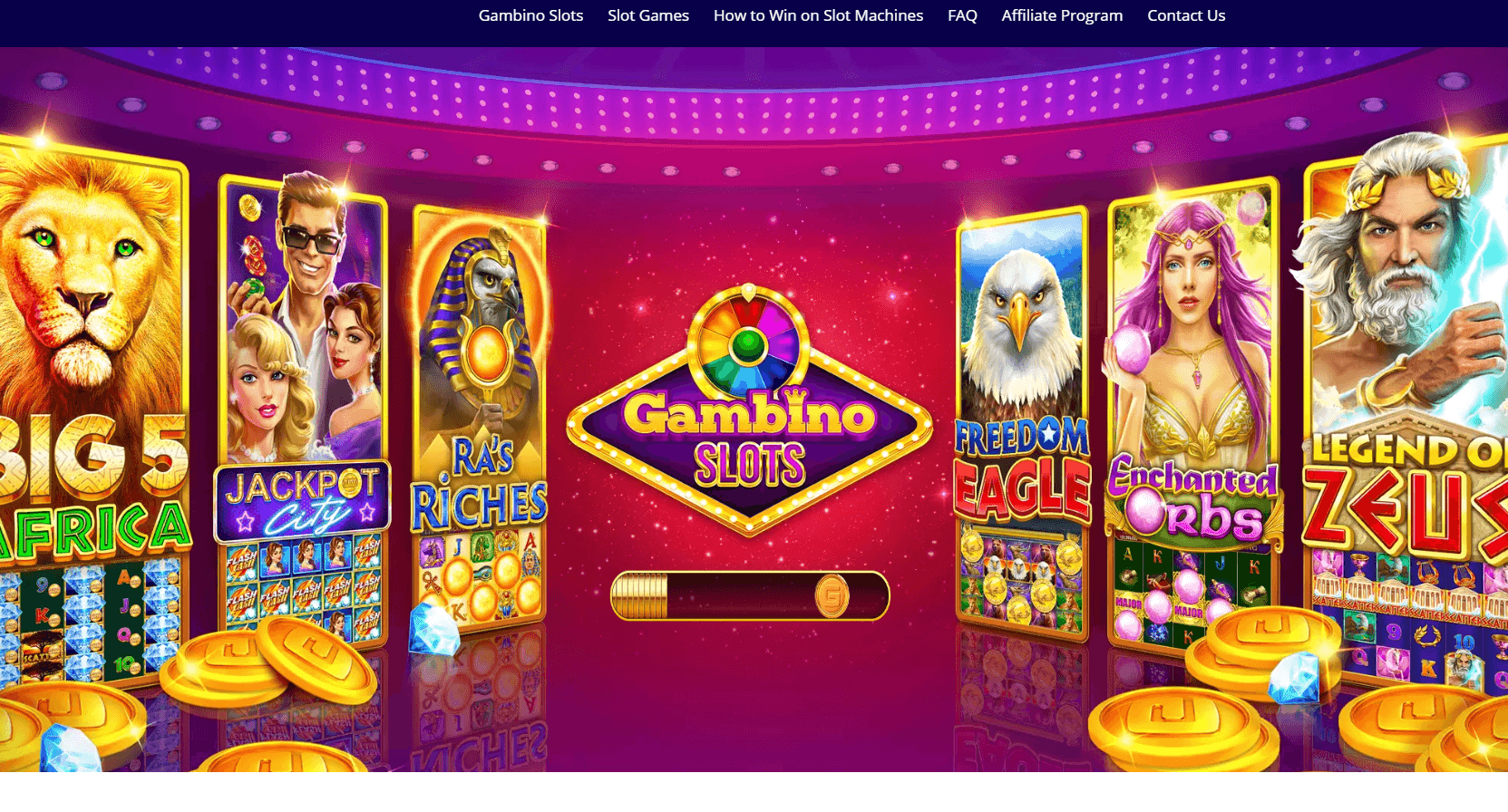 In this review, we will discuss the perks of playing Gambino Slots. They may not offer real money prizes, but their no deposit casino bonus, free daily rewards, free spins, bonus rounds, and solid loyalty program provide players with enough action to keep them on the edge of their seats; the online slots are also of the highest quality in terms of visual and interesting gameplay.
Whether you are here because your state does not allow real money gambling yet, or you want to play casino games purely for fun, we will look at what you can expect when downloading and signing up to Gambino Slots.
Gambino Slots Info
🚀 Launched
2015
🏢 Owned by
Spiral Interactive
🇺🇸 Legal status
All US states
🎁 No Deposit Bonus
100,000 G-Coins plus 200/250 free spins
📱 Availability
Android & iOS apps, online, mobile, Facebook
🔞Legal Age
18
Overview of Gambino Slots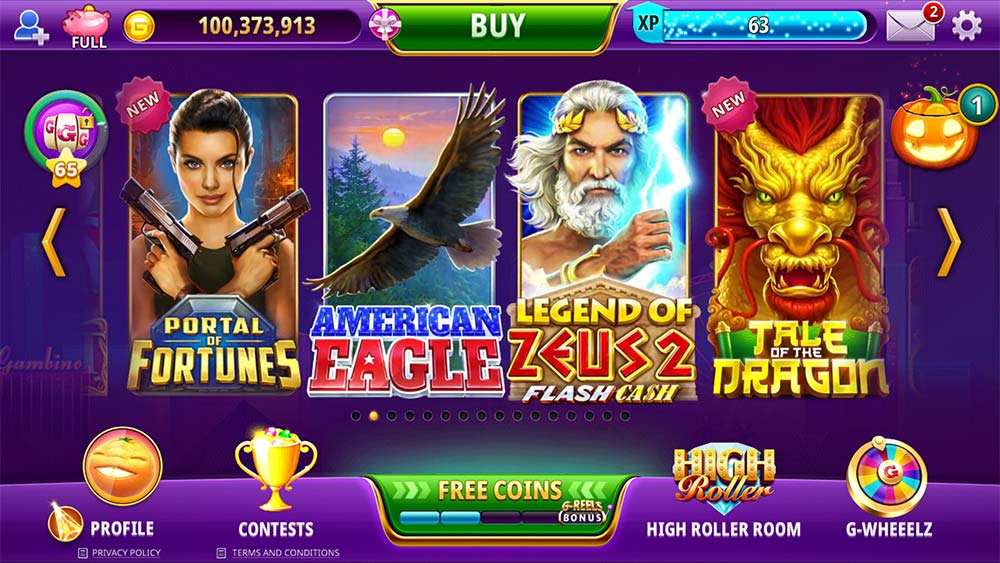 Gambino slots might not offer customers a chance to win real money, but they provide one of the most exciting and interactive social casinos in the U.S. Because they only offer online slot games, it gives them the chance to put all their focus on perfecting their gameplay and overall product. You will find 104+ detailed slot machines, all uniquely powered in-house, unlockable as you advance through the game. Gambino slots are famous for having diverse slot themes, each with its own special winning wild symbols and bonus features. Here you can find animal-themed slots like Big Cats, Straight 777, and some crazy Vegas-inspired slots. Recent releases include Portal of Fortunes and the Asian-themed Tale of the Dragon slot.
This amazing gameplay style and slot gaming diversity are thanks to the progressive Spiral Interactive that were the engineers behind making it. Gambino Slots was one of the first social casinos to hit the market and was released in 2015 and is legal to play in every U.S. state. Currently, there are no Gambino Slots sister casinos, but there are plenty of venues that have a similar – or better – offering.
Rather than playing with real money, Gambino Slots uses virtual coins called G-Coins. Customers use these coins to fuel their slot gambling, and the more you gamble and progress, the more slots you unlock and major social tournaments you may enter. With a generous welcome bonus of 100,000 G-Coins plus 200 free spins, players can start with a few extra pennies in their pockets. On top of that, players will have great opportunities to receive free G-Coins via daily bonuses, free spins, purchase bonuses, prize wheels, bonus rounds, and other exclusive promotions. Here are some excellent ways to fill the pockets when you play at Gambino Slots:
Promo
Offer
🎁 Welcome bonus
100,000 G-Coins plus 200/250 free spins
🌀 Facebook Friend Referral Bonus
100,000 free G-Coins
💰Loyalty Program
Get rewards and benefits by accumulating loyalty points
🤑 Daily Bonus Wheel
Win anything from Content boosters, free G coins, XP Blasts, and free spins
🎲 G-Reels Bonus
Collect G-Reels and redeem for rewards every 3 hours
💵 Purchase Bonuses
300% bonus of frist purchase
600% bonus of second purchase
1000% bonus of third purchase

🐷Piggy Bank
Saves coins as you play, and can be broken open to redeem
TIP
Before heading to the Microsoft store to download the app on a desktop PC, if you pause and move the mouse towards closing the browser tab, you will reveal a special pop-up offer which, instead of the 200 free spins, will instead offer you an increased 250 free spins offer as shown below.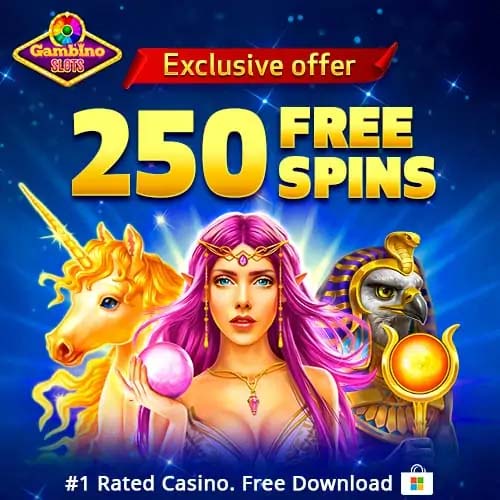 How the Social Casino Operates
Before we get into the nitty and gritty of things, it is crucial to know how a social casino operates and how they differ from real casino games.
Social Casinos work exactly like real money online casinos. The only difference is that you do not play with real money. Instead, customers buy and play with virtual coins. This allows social casinos to fall under their own bracket of online gambling, which is legal in almost the whole of America.
Although you do not play with real money, the social casino still allows customers to deposit money to buy extra virtual coins. Some social casinos offer the chance for players to redeem their virtual coins for real cash prizes, but Gambino Slots focus more on the fun and social aspect of the game and does not offer these prizes. Big hitters like Rush Games and BetRivers.net offer almost all the online casino games plus a sports betting zone but no cash prizes. While other sites like Pulsz and LuckyLand offer fewer games, but allow players to win real money.
Gambino Slots does not offer real cash prizes or a wide variety of games, but their product is solid with very few flaws. They tend to focus more on quality than quantity.
It is available to download across 5 different platforms for your desktop or as a sweeps casino app: App Store, Google Play Store, Microsoft, Amazon, and Facebook.
Gambino Slots Gaming Modes
Loads of social casinos offer a premium or standard gaming option, depending on your spending. Luckily for Gambino Slot players, there is no need to deposit money to access the entire game. However, it might help to buy extra G-Coins if you want to progress quicker. Having more G-Coins allows you to play more to unlock new slot games and gain loyalty points to climb your loyalty program tier, ultimately leading to better rewards and promotions.
At Gambino Slots, there are always opportunities to advance somehow, either save your bonus coins in your piggy bank and earn interest or play more games to gain loyalty points for the VIP club. There are many ways to play the game, with each option giving new and exciting opportunities.
Then there is the game's social aspect, which is a big part of Gambino Slots. Sometimes it feels more like a social platform than a social casino. Facebook gives players the platform to interact and compete against the three million-plus players, creating a competitive atmosphere where you can share your victories and progression in the game. Customers can compete in tournaments against other players or friends and climb the leaderboard ranks as they battle for bragging rights. These competitions offer prizes and rewards for players who end in a high enough rank after. For the underdogs struggling to compete, for every Facebook friend who accepts your invitation to join the game, you will gain 1,000 G-Coins.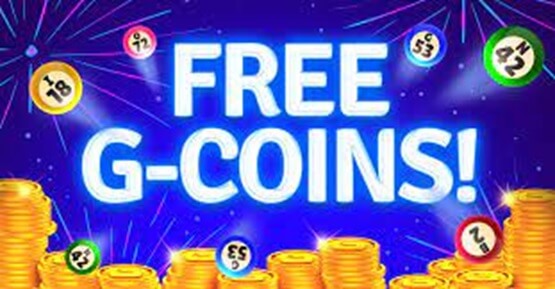 Signing up at Gambino Slots
If you want to create a Gambino Casino account, you need to log in via Facebook or your email address. Signing up with your Facebook account will give you a better social experience. Players can create avatars, compete in more contests, win bigger prizes, and even send friends coins or bonuses.
You can join Gambino Slots via your desktop or mobile app as you will be able to connect your Facebook account in both. The process is very easy and can be done by following these steps:
Go to the Gambino Slots site:

www.gambinoslot.com

At the top of the page, you will find different icons representing the platform you wish to play from (App Store, Google Play, Microsoft, Facebook).
By Clicking on the icons from your desktop, it will automatically redirect you to the Microsoft website to download and play. If it is done from your mobile device, you will be redirected to the App Store or Google Play Store.
If you wish to connect through Facebook, it will take you directly to Facebook, where you will be asked to accept a few terms and conditions, and then you will be ready to play.
Whichever you choose, you will need to link your Gambino Slots Facebook account to register for the whole Gambino Slots experience.
Being connected via your Facebook will allow players to save their progress and get full access to everything Gambino Slots offers.
Gambino Slots App
Gambino slots customers can either play from their desktop or casino app. The game features and looks precisely the same no matter the device. However, playing from the mobile app, players will have better graphics and quicker navigation. On top of that, the mobile apps allow players to log in and play from wherever, whenever. You can also enable your notifications on your phone to get quick information about daily bonuses or promotions.
The app definitely gives a more fluid gaming experience, and it is only there that you can buy G-Coin packages or boosters, as it is not yet available when playing via your desktop. The only downside is that your screen is smaller when playing from the iOS or Android casino app, but fortunately, Gambino Slots' text is big and bold, creating easy reading.
Google Play Store rating: 4.7/5.0
App Store rating: 4.7/5.0
As for Microsoft, Gambino slots is their 5th best-selling game. According to comments and reviews, the apps are perfectly compatible with most mobile device operating systems and perform very well.
Most reviews loved the graphics and varied slot themes available, stating it is one of the best slot gambling social casinos. However, there were some minor issues when playing through Facebook, but Spiral Interactive was very quick to reply to the problems, which were few.
Gambino Slots Promo Code & Bonuses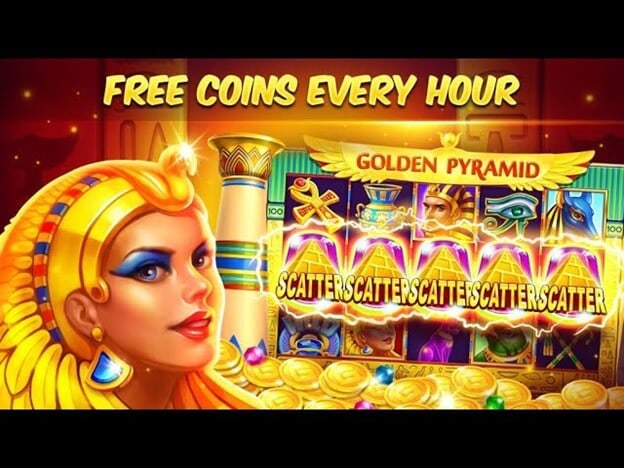 Now we get to the best part. The Gambino Slots bonuses, exclusive promotions, and daily rewards. Like many social casinos, they offer customers many suitable chances to receive extra bonuses and promotional offers to keep players engaged and increase their virtual coins. Here are the promotions and bonuses you will find on Gambino Slots:
Gambino Slots No Deposit Bonus
The biggest Gambino slots bonus will be obtainable after a player registers for the first time. This is known as the free signup bonus, as it does not require you to purchase enhanced G-Coin packages.
Once your registration is completed, players will be awarded 100,000 free G-Coins plus 200 free spins. These 100,000 coins are immediately added to your G-Coin account and can be used to play games. The 200 free spins are available for ten days, after which they will be forfeited.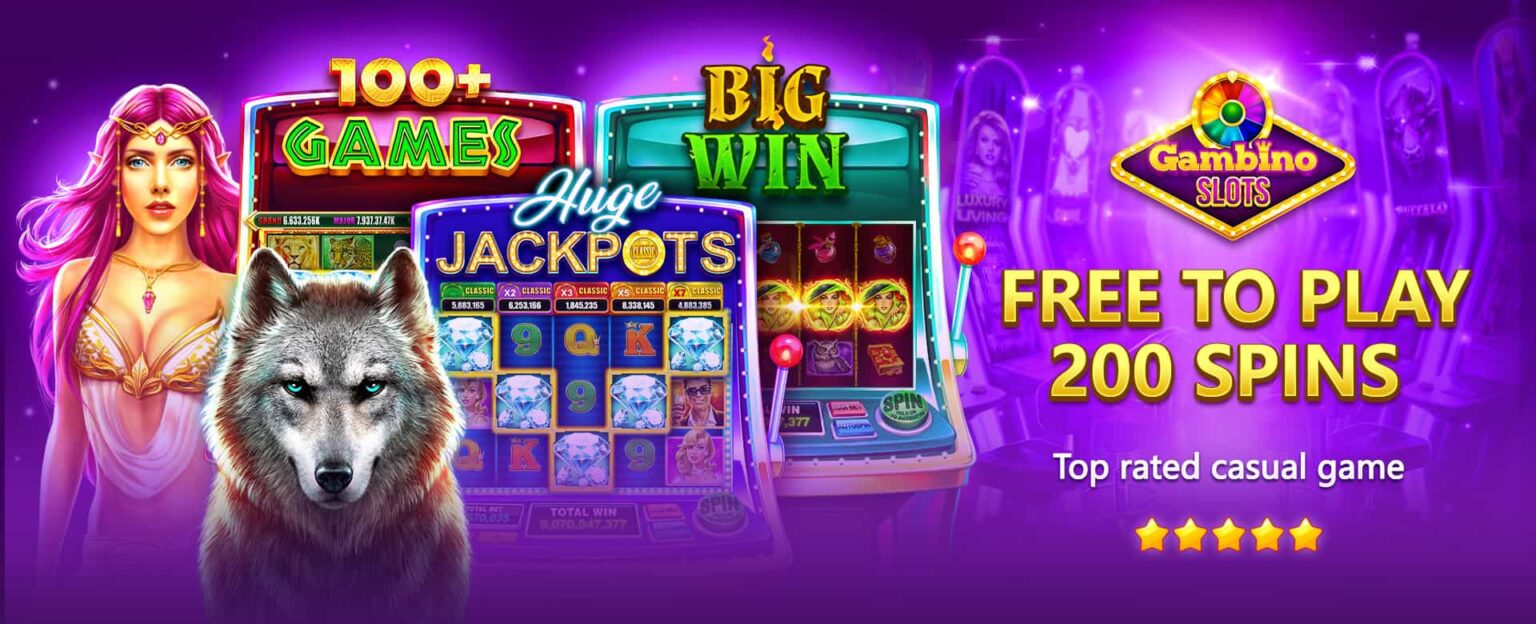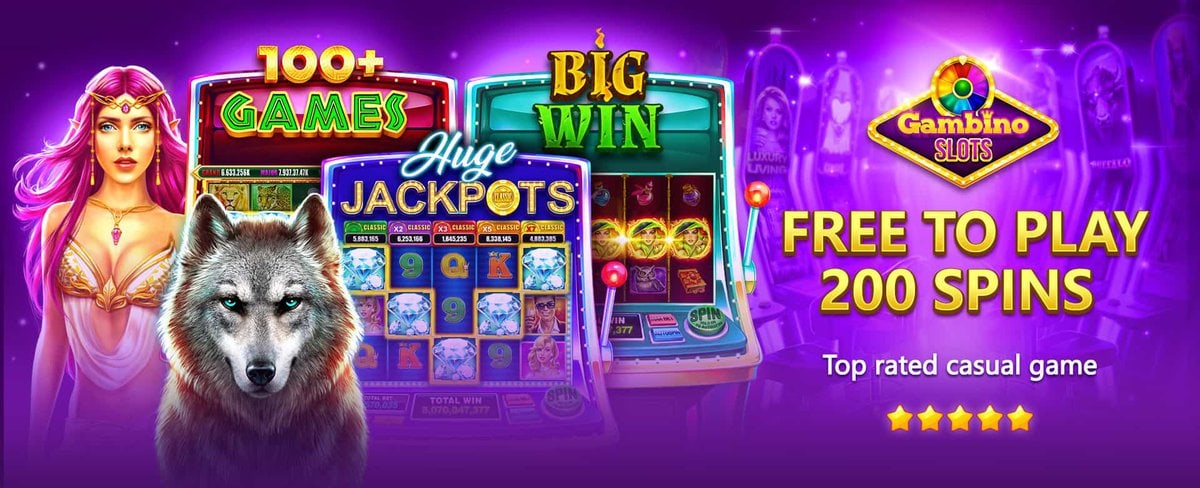 Purchase bonuses
When you decide to make your first deposit, bonuses will be awarded for your first three G-coin purchases.
First Purchase: 300% coin package multiplier
Second Purchase: 600% coin package multiplier
Third Purchase: 1000% coin package multiplier
(A 300% multiplier means that if you buy 1000 G-coins, you will be rewarded an extra 3,000 G-Coins.)
New Player Bonus Information
Another great way to receive some extra G-Coins is through social connections on Facebook. Here you can create your own avatar and invite friends to join the game. For every friend who accepts your invitation, you will receive an extra 1,000 G-Coins.
Promotions & VIP Club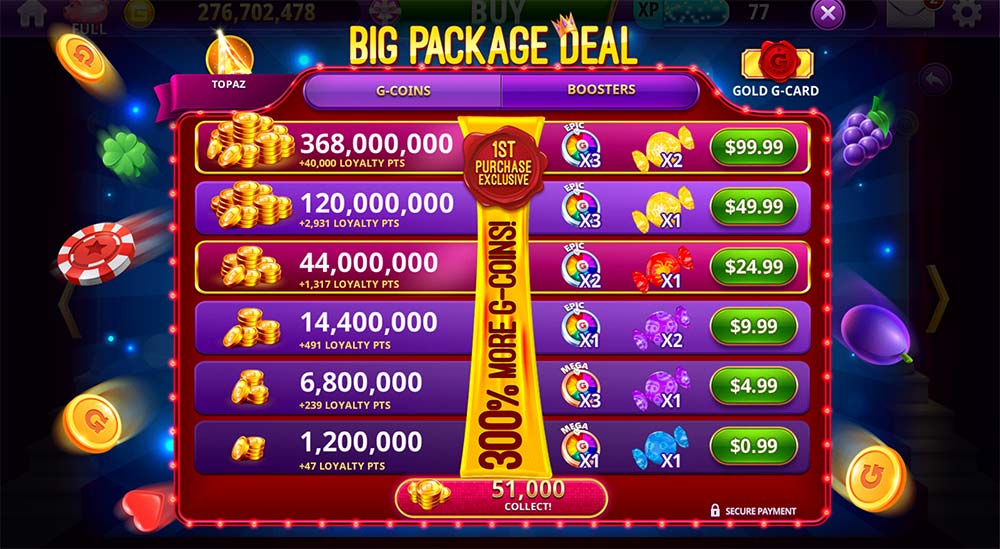 Besides the lavish welcome bonus, there are many other ways to increase your G-Coin funds via reload casino offers.
Daily Bonus G-Wheel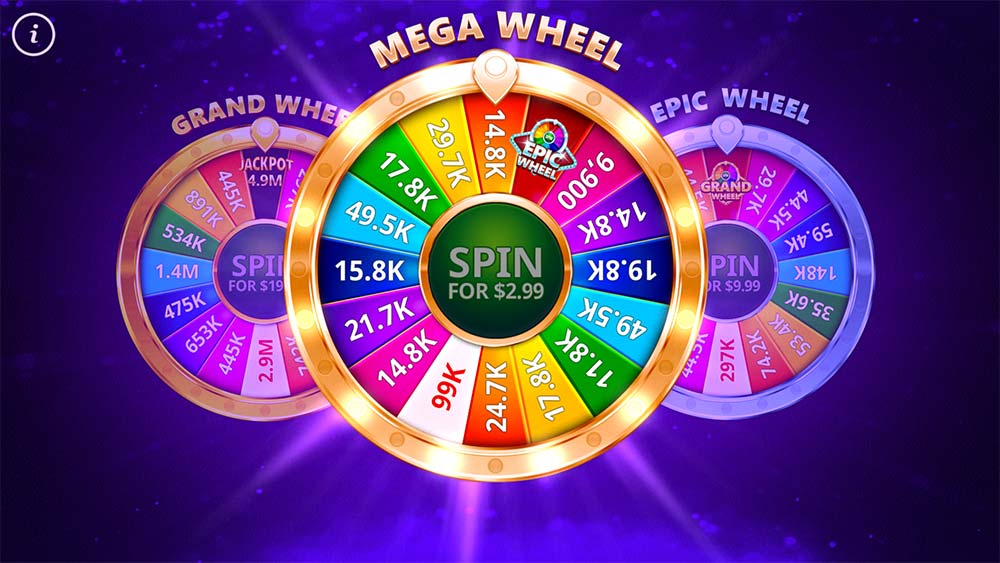 There are three wheels, of which a player gets one free spin a day. Prizes vary between the wheels, and include free G-Coins, contest boosters, XP blasts, or free spins on new slot machines and the Mega bonus wheel (G – Wheeelz) that can result in big wins with even a jackpot up for grabs. The wheel is available to spin every day, so try to sign in to your account daily to maximize your rewards. Random bonus drops also happen while you play, so the more you play, the more you can benefit.
As you can see from the screenshot above, there is also the chance to upgrade from the Mega to Epic and even the Grand prize wheel from a lucky spin, the wheel can be purchased and spun, but just by playing normally you will earn your chance to spin them too!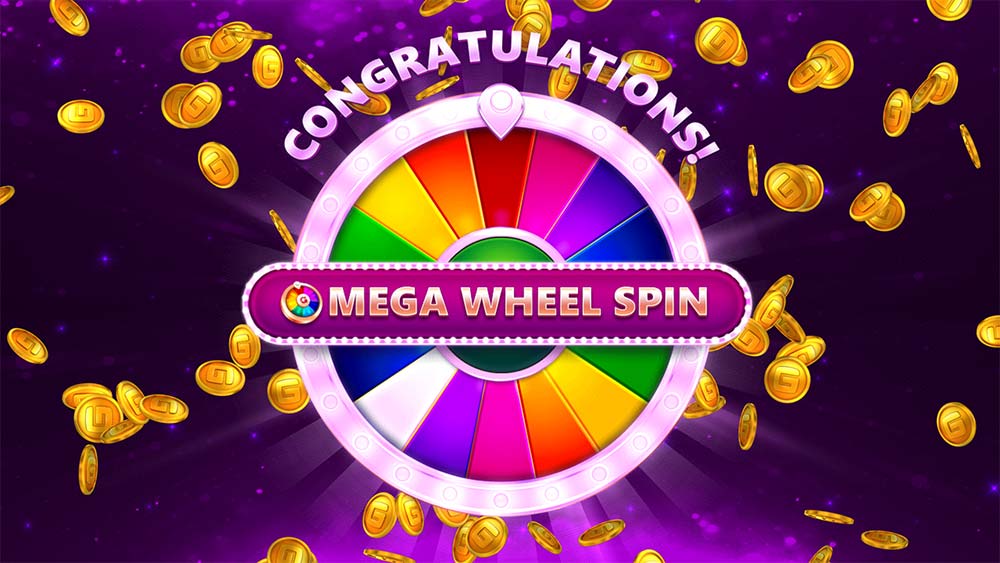 G-Reels Bonus
By collecting these G-reel bonuses, customers can collect extra bonuses every 3 hours as they play. When they collect five, players will be able to spin for the super bonus.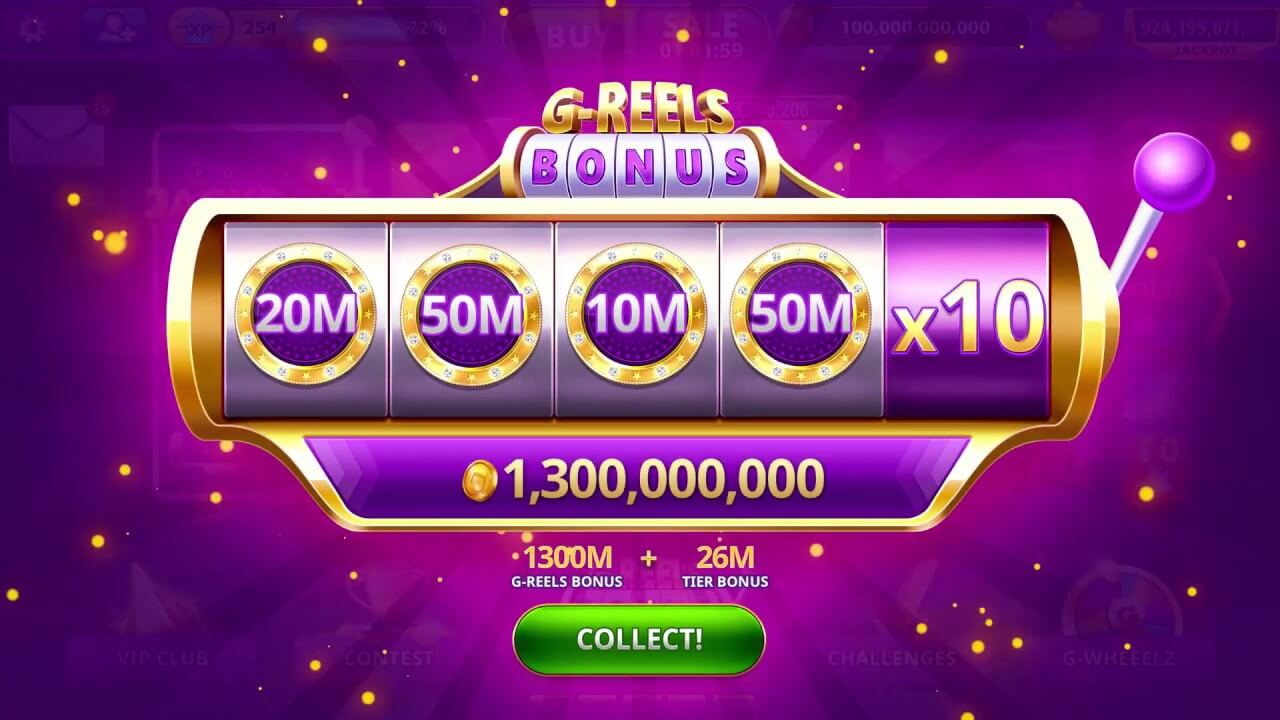 Gambino VIP Club
Players who stick around can benefit from the Gambino VIP club. It works like any other loyalty program. Customers earn loyalty points by playing the casino's games. The more loyalty points you get, the higher your VIP status. There are 9 VIP tiers ranked from lowest to the highest:
Topaz
Sapphire
Emerald
Ruby
Diamond
Trillion Diamond
Royal Diamond
Black Diamond
Gambino Walk of Fame
The higher you rank in these tiers, the better rewards and benefits are awarded. For instance, the higher your VIP status, the better your daily mega wheel prizes are. There are even incentives for logging in and spinning the wheel for a consecutive number of days. This game pays to play, so you will need to play as much as possible if you want to join the high roller casino room.
Gambino Slots Software & Site Layout
In this Gambino slots casino review, our team looks to analyze every aspect of the social casino to bring you in-depth feedback. To start with, we really like the Gambinos Slots' app layout. It has crisp graphics and colorful displays kept at bay with easily readable text, all fitted in an optimized app that runs very smoothly on almost all mobile devices. The app and game keep customers fully engaged and constantly entertained with countless bonus and rewards opportunities. The game has a cartoonish undertone and somewhat reminds us of an old-fashioned computer game.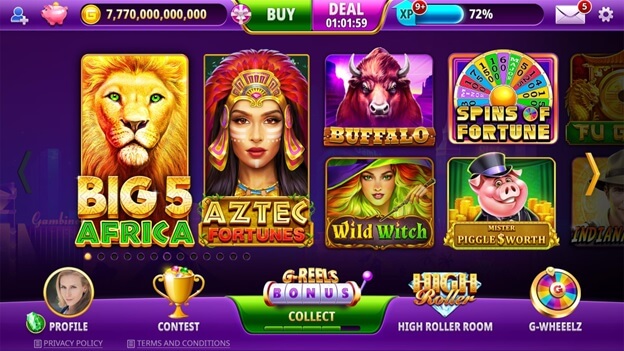 As for the desktop version, we were a bit disappointed with its lack of quality. Its gameplay and structure seem a bit outdated for a social casino with such a great app. Most problems, it seems, come from playing directly through Facebook itself, so if you want to stick to the best way of playing, get the app if you can.
Gambino Slot Machines and Games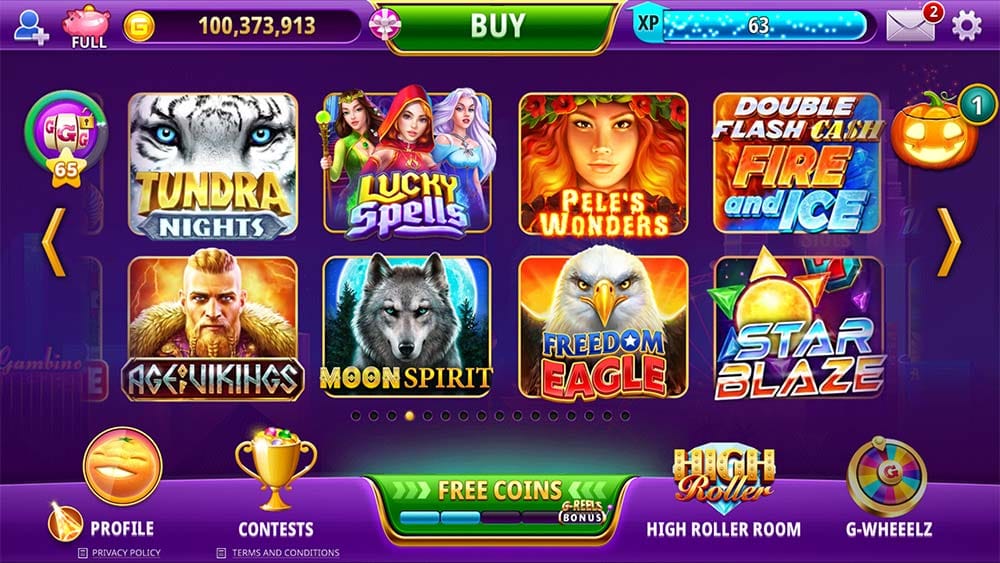 If you want to play slots, you are in the right place. They have over 100 different slot games, each with its own unique theme and title. Their options offer a mixture of unique wilds, multiple pay lines, bonus rounds, and free spins in 3 to even 6 reel slots.
Spiral Interactive produced all the slots in-house, and they did a great job at creating a balanced selection of their own exclusive slot games and real-life replicas like Jurassic Spins. Their slots cover almost every theme imaginable. You can play Big 5 Africa, Ancient Egypt, Pots o' Gold, Pirates, the wild west Buffalo slot machine, and a whole host of progressive jackpot slots like Jackpot City. With many more slot machines to enjoy and new slots being added every three weeks, Gambino Slots continuously work to keep its content fresh and relevant. Here are some of the best slots you should try on Gambino Slots:
Troy
Luxury Living
Fu Gong
Golden Pyramid
License to Pick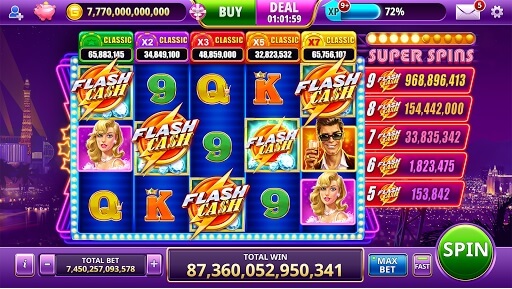 Free Coins Purchases and Redemptions
If you want to advance quicker in the game to get access to better slot games or VIP status, you might consider buying G-Coins. The payment process is very safe as the payments you make are connected to the chosen app store. If you downloaded the app from the Google Play Store, your payment would be connected to that account. The same goes for the App Store, Microsoft, and Amazon. Here are your gambling deposit methods:
Quick note: Payments may take anything between 24-48 hours. If you are experiencing problems with your payment, go to their FAQ section or customer help to get this sorted.
In-app purchases can be anywhere from $0.99 to $349.99: Here are some of the purchases you can make:
| Purchase Cost | G-Coin Package | Bonus awarded |
| --- | --- | --- |
| 💲0.99 | 🪙36,000 | One Mega Wheel Free Spin |
| 💲2.99 | 🪙115,200 | Two Mega Wheel Free Spins |
| 💲4.99 | 🪙204,000 | Three Mega Wheel Free Spins |
| 💲9.99 | 🪙432,000 | One Epic Wheel Free Spin |
| 💲24.99 | 🪙3,200,000 | Two Epic Wheel Free Spin2 |
| 💲49.99 | 🪙6,000,000 | Three Epic Wheel Free Spins |
Can I win Cash Prizes at Gambino Slots?
Unlike social casinos like Chumba Casino or Pulz Casino, Gambino Slots does not offer real cash prizes. If you wish to buy G-Coins on Gambino Slots, there will be no way to get your money back as there are no withdrawal options.
Gambino slots creates a social casino that focuses more on the social aspect. You can create your avatar and connect to your friends on Facebook, get super bonus rewards, and spin slots just for its fun. You can even share coins with friends as you level up!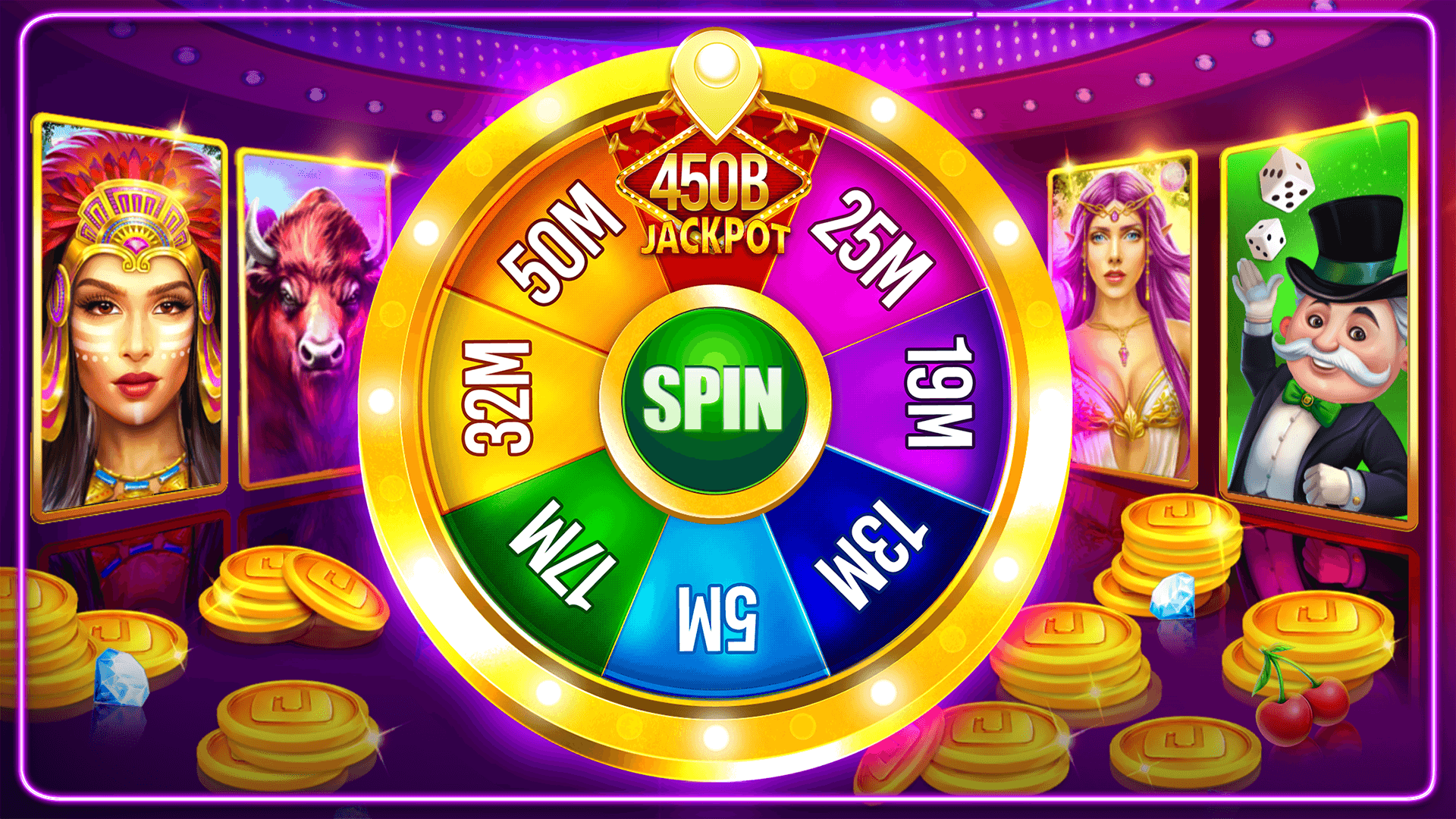 Customer Support
You can imagine that social casinos will focus less on customer service as there is no real money involved. While it is true, Gambino Slots still dedicates much attention to their customer's problems and needs. Their support sections are at the bottom of their homepage, titled "FAQ" and "Contact Us."
If you have any questions, you can quickly go to their FAQ section to find answers. If your question is a bit more specific, or you feel you might have a gambling problem, you can inquire about them via email at: support@gambinoslot.com.
Overall, we found Gambino Slots to have friendly customer service that is quick to respond.
The Bottom Line
Gambino Slots' primary focus is to draw customers' attention by giving them a very social interactive and engaging casino experience, which is what they deliver. You can play Gambino slots of all sorts and share your journey with your Facebook friends as you unlock new slots and exciting gaming features.
And to keep you engaged and to play at the fullest, Gambino Slots provides you with more than enough chances to get extra G-Coins through daily wheel spins, free spins, in-play purchases, their loyalty program, and more.
We found the game to have no dull moments, with opportunities and exciting new games around each corner. If you are looking to play free casino games with nothing to really play for, like cash prizes, you can not go wrong with Gambino Slots.
Gambino Slots FAQs
Is Gambino Slots legal in the USA?
Yes. Social casino is legal throughout the U.S. Sweeps cash casinos are the same, except for Idaho and Washington. They are not the same as real money online casinos, as players gamble with virtual coins rather than actual cash, so different laws apply.
How do you download the Gambino Slots app?
There are a lot of ways customers can download the Gambino slots casino. Whether you have an Android, iOS, or laptop, it is downloadable on a host of sites. These include Google Play Store, App Store, Amazon, Microsoft, and Facebook.
Are Gambino Slots free to play?
Gambino slots offer free slots across the board. Not all of them will be available at once, as it is a mission-style game, so you will need to unlock them as you go. If you want to speed up the process, Gambino slots offer customers the chance to buy G-Coin packages to instantly unlock games and new features.
What's the RTP at Gambino Slots?
Gambino Slots offer a return percentage as high as you expect from social casinos. With over 100 slots to choose from, there are slots with different RTPs all around, along with some serious jackpot slots.
Is Gambino Slots legit?
Yes. Gambino Slots is a social casino owned and operated by the highly respected Spiral Interactive, and they are available to download via safe gaming sites that include Google Play Store, App Store, Amazon, and Microsoft.
Can you win real money on Gambino slots?
Gambino Slots is currently a pure social casino with Gold Coins used as the currency; while there are tournaments, VIP slots, and numerous promotions, there is no ability to win real money.

Gold Goin Packages and XP boost to the gameplay can be purchased for real money.
Where can i get Gambino Slots free coins?
Free coins are plentiful at Gambino Slots; numerous features within the casino help you receive a steady supply of free gold coins with no deposit required.

Leveling up, Spinning a Daily Prize wheel, sharing coins with Facebook friends, competing, and winning tournaments are just a few ways to earn extra and free gold coins.

1000% First Purchase Bonus
Get Bonus