Gamble USA strives to improve your online gambling experience. We aim to help you play safely, make informed decisions when gambling, and increase your betting knowledge through our guides.
We adhere to strict editorial integrity; our content may contain links to products from our licensed & legal US partners.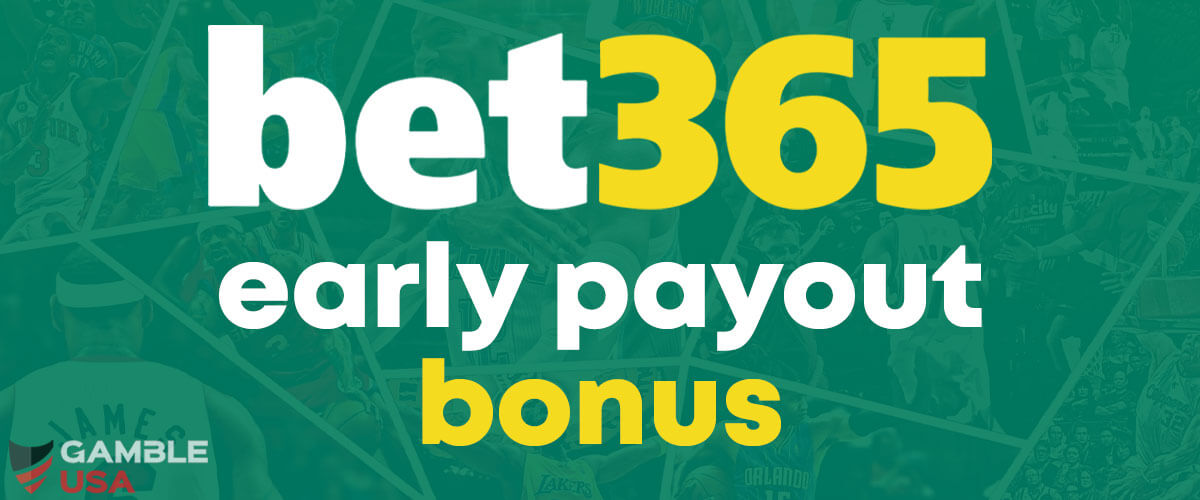 The sports betting industry is an ultra-competitive market. With each new significant sporting event emerging on the sports calendars, every online sportsbook implements various methods to draw more bettors to their websites.
Throughout the past few years, online sportsbooks tried adding more sports and inventive betting markets to their catalogs, implementing unique new features on their mobile apps, and various other components. However, nothing appears to have the incredibly seducing power of the bonuses and promo offers, and bet365 seems to know that very well.
The Early Payout Promo at bet365 is one of the most successful ongoing promos. This promo not only attracts new American bettors to the site but keeps the existing customers happy by allowing them to secure profit when their NFL, NCAAF, MLB, or NHL team is up on the scoreboard.
Bet $1, Get $200 In Bonus Bets
21+. T&C Apply
21+. T&C Apply
Easy and fast banking options
Huge welcome bonus bet
bet365 Early Payout Promo Explained
The bet365 Early Payout Offer is currently available to US bettors for Baseball, NBA, WNBA, and Hockey games, and while there are different requirements for each sport, the fundamentals are the same.
With the early payout offer, bet365 allows their customers to protect themselves from a potential comeback and cash out before the end of the game, regardless of which team gets crowned the winner.
To take advantage of this generous early payout offer, you should place a pre-game bet on a money line market. Then, as long as your team gains the required gain before the time limit, you'll be able to cash out before the final whistle.
Bettors at bet365 can ALSO use the early payout offer for bets on games from applicable competitions on their multiple bets parlays and same-game parlays.
bet365 Bonus
Before we dig deeper into the bet365 Early Payout offer that brought you here in the first place, we should inform you about the bet365 Welcome Bonus. This welcome bonus is one of the most generous welcome offers in the business, so if you haven't joined bet365 already, this might just be the reason you decide to do it.
To reap the fruits of this bonus, sign up at bet365, deposit at least $10, and place a qualifying bet of at least $1 from your deposited funds. Then, bet365 will award you $200 in Bonus Bet credits even if you lose your first bet.
This promo is available only to new customers. So, all new and eligible customers who want to learn if time limits and payment method exclusions apply to this bonus or want to dive deeper into the wagering requirements and qualifying bets should hit our links visit bet365 and get their sports betting party going.

How the Early Payout Promo Works on bet365
As we have previously touched upon, the bet365 early payout promo has different requirements for each one of the applicable competitions. Luckily for bettors interested in taking advantage of this promo, our team of experts tested it and gathered all the necessary information.
NBA
Imagine you placed a bet on the Miami Heat, Jimmy Butler goes on one of his Jordanesque scoring runs, and now the Floridians are 20 points up on the scoreboard. The good news is you can use the NBA early payout promo offer at bet365 and cash out before their opponents wake up and cut the lead in half. Here is how.
Open the official website of bet365 or the bet365 mobile app and navigate to the basketball section, where you can find all the available NBA games. Proceed by placing a pre-game bet on a money line market for whatever game you prefer.
Here comes the fun part. In order to win your straight bets through the NBA early payout promotion, the team you backed to win the match on your pre-match single bet has to be up at least 20 points on the scoreboard at any time during the game. So, if your team gains an advantage of 20 points, you can cash out early and never worry about the final outcome of the NBA game. Pretty cool, right?
If your pre-match bet is part of a Parlay or Same Game Parlay, you still have nothing to worry about. Once the team you backed to win gets a 20-point advantage, your bet will get registered as won, and you can focus on the rest of your bets from your parlay. Or, if you feel confident that your team will win and cover the spread, you can even use the edit bet feature prior to your early payout request and the new wager will be equal to the current Cash Out value.

MLB
Great news for the baseball fans out there, the bet365 early payout promotion works for MLB, Japan NPB, and Korean KBO games too. Here is how it does for the MLB.
Place a pre-match single money line bet on any available MLB game up to December 31st of this year. If the team you backed on your bet leads by five runs at any point during the MLB match, the bet will be settled as a win no matter what the final outcome is.
The same rule applies if your bet was a part of a parlay or even a same-game parlay. Once your team leads by five runs, you can cash out and switch to live-streaming the other games from your parlay.
NCAAB
Although there is a long way until the start of the NCAAB season, there is nothing wrong with getting prepared and learning how the early payout promo works regarding college basketball.
As in any other sport available for this promo, to be eligible for the early payout, you first need to place a pre-game money line bet on any available NCAAB game. If the team you picked to win on your bet gets an 18-point advantage at any given point during the basketball match, bet365 will cash you out.
The promo works identically even if your bet is part of a parlay. Once the team you backed takes advantage of 18 points, your bet will get marked as a win, and you'll be good as gold.
NCAAF
Like college basketball fans, NCAAF fans have the entire summer ahead of them until they can finally enjoy the thrill of college football. And while they can still enjoy various other sports, it won't hurt to be ahead of schedule and learn how this generous promo works when betting on NCAAF games.
The rules are simple. Place a pre-game 2-way or 3-way money line wager on any available NCAAF game, and if your team gets a 17-point lead, you will be eligible for the NCAAF early payout offer. The rules apply the same way for both straight bets and parlays. Once the team you predicted to win gets a 17-point advantage, the bet gets marked as a win, and you can wait on the results of the rest of the legs of your parlay to see if everything is coming up roses for you.
NHL
Hockey fans can take advantage of the generous bet365 early payout promo too, and to do so, first, they need a pre-game money line wager on any available NHL game. If the team you backed on your money line wager gets a 3-goal lead at any time during the hockey match, bet365 will pay you out. It is as simple as that.
Here are some more great news for you. The early payout promo offer also applies for pre-game money liney bets that are part of parlays and same-game parlays. Once your team gets a lead of at least 3 goals, bet365 will mark that particular bet as won, and you can switch your attention to the other bets on your parlay.
It is also worth noting that although the NHL is, by far, the most popular hockey league in the world, this early payout offer is also available for other hockey competitions. The list of qualifying competitions for the early payout offer includes the World Championships, the World Championships Div 1A, and the Olympics.

bet365 Early Payout Promo Rules & Wagering Restrictions
As with every other promo, the bet365 Early Payout offer comes with specific terms and requirements. Expectedly, the offer is only available to registered bet365 users, regardless if they're new or existing customers. The rules, however, vary depending on the sport.
For example, the NBA Early Payout promotion is available for every pre-game single or multiple bets on the money line market for any NBA game. However, bets placed on pre-season and All-Star games don't count for this offer. For any other game, if your team leads by 20 points or more, you can request an early cash-out.
If you've placed an ice-hockey money line bet on any match except for pre-season, exhibition and All-Star games and your team leads by 3 goals or more, you can request an early payout. For NFL matches, your team must lead by 17 points or more to be eligible for an early payout. When it comes to baseball bets, your team must go 5 runs ahead before you can claim an early payout.
Other Promos Currently Running on bet365

Although one of the favorite promos among sports bettors, the early payout offer is just one of the many other promotions available on bet365.
Whether you like to explore bet builder bets on games from the UEFA Europa League or UEFA Europa Conference League, or maybe you want to make the most of the bet365 2 goals ahead early payout offer and focus on finding the best enhanced prices market, the promo section at bet365 has enough to keep you engaged for hours. Let's check out the other available promos for existing customers.
Here are some of the other promotions currently running on bet365.
Bet Boost
70% Multi-Sport Parlay Bonus
WNBA Early Payout Offer
2 Goals Ahead Early Payout Offer
70% Soccer Parlay Bonus
No Score Tie Offer (Soccer)
Each Way First Goalscorers (Soccer)
Full-time Result – Enhanced Odds (Soccer)
Soccer Substitute Guarantee
Extra Time Extra Chance (Rugby)
Tennis Retirement Guarantee
Golf Each Way Extra
And with the amazing bet $1 get $200 in bonus bets welcome offer at bet365 waiting, you shouldn't delay using our links to sign-up today. No need for a promo code, just add $10 in your account.
Bet $1, Get $200 In Bonus Bets
21+. T&C Apply
21+. T&C Apply
Easy and fast banking options
Huge welcome bonus bet