As sports betting continues to grow in the US, you may have come across terms such as trade betting, sports trading, or even, a betting exchange. But what exactly is sports trading and is it available in the US? We look to answer this and more in our guide to sports trading.
Rather than wagering on a straightforward betting market such as the outright winner of an NFL game, sports bet trading is a more sophisticated approach to wagering on outcomes to allow players to sell their positions before the end of sporting events. Think of it as similar to investing in stocks and shares in the same way that participants try to buy low and sell high to try and make a profit. That is why some refer to this form of wagering as stock betting.
Because discussing trading sports bets is such a large and diverse topic, we will cover all of the key elements of sports trading, hopefully giving you more chances of becoming a successful US sports trader. People who achieve success using a sports trading platform tend to win a lot more than they were able to win from traditional sports betting. You will quickly discover that sports trading is a lot different from wagering, and it is a method that relies a lot more on knowledge and skills and less on luck. Sports traders must have an in-depth understanding of sports betting exchange USA and sports trading resources before they begin.
Although there is no dedicated sports trading app currently available in the US, these should arrive soon. We have provided a guide below on what you can expect when using betting exchanges.
If you want to get involved in the sports betting world and can't wait for the arrival of trading apps, you can wager on the below sportsbooks safely and legal in the US:
What is Sports Trading?
Sports trading is also referred to as sports exchange or betting exchange USA and allows you to approach sports betting in the same way you would if you were playing the stock market. The technique has grown in popularity in recent years but can seem a challenging concept to those not familiar with it. When you hear phrases such as stock trading or US betting exchange, you may think it is complicated. The good news is we have a detailed guide on all things sports trading right here at your fingertips; read on for how sports trading works to start making money.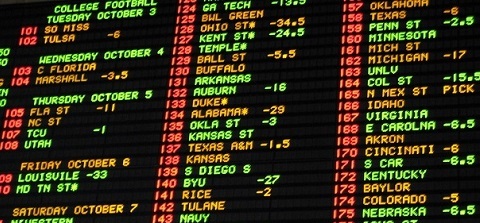 Put simply; sports trading is the practice of placing two bets against each other on the same selection to guarantee yourself a profit. This is why looking at the financial markets, and stock trading is a relevant comparison. When playing the stock market, people buy and sell shares of a company. This is the same as sports trading, except the currency being bought and sold is sporting events.
One of the most significant benefits of stock trading for players is that it doesn't matter who wins or loses. The aim is to law low and back high, which guarantees a profit, no matter the game's final outcome.  If you match your bets and outcomes to go against each other, you can't fail to win. You will always make a profit. However, as with most things, it is not that straightforward, and there is a lot you need to know before you start trading.
Betting Exchange for US Players
Before you get started in the world of sports trading, you will need a betting exchange account. It would also be beneficial if you had some knowledge of the sport you intend to place bets on, whether it be horse racing or football. At the minute, there are no betting exchanges available to US players. But this will all change very soon as some huge names are looking to land on the shores of the US.
When these services become available, you will need a few things to prepare before you get started in the sports market. These include a sports trading software package, a laptop or desktop computer, and most importantly of all, enough spare time.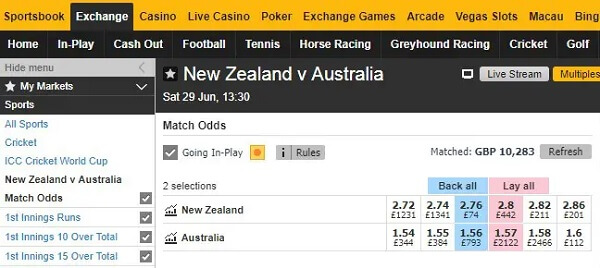 The Creation of the Betting Exchange
Betting exchanges are a vital part of stock trading. The original sports trading betting exchanges were Betfair and Flutter.com. The two companies merged, and Betfair then went on to operate a legal sportsbook and betting exchange in New Jersey. This didn't last long as Betfair actually pulled out of the market in late 2020, much to the disappointment of some customers. It is hoped there will be more betting exchanges launched in the US in the coming months, with names such as Prophet, ZenSports, and Sporttrade looking to break into the market.
Betfair changed the way sports betting worked by offering betting exchanges. Indeed, you may have heard of people trading on Betfair. In Betfair's sports exchanges, you instead are betting in competition against another bettor rather than wagering with a bookmaker.
Additionally, Betfair was also the first operator to allow bettors to place a wager on a team, player, or horse to lose. This saw the creation of the lay bet. Unfortunately for lovers of sports trading, Betfair is no longer an option in the US. For now. We hope the brand comes back or that other operators mentioned above come to the market sooner.
Original betting exchanges worked by two players of different minds playing against each other. For example, if one player was betting 8-1 on a team to win, the opponent needed to make the exchange work was a bettor willing to lay 1-8 on the same team losing.
One of the most appealing aspects of wagering this way is that a betting exchange enables the player to get the wager they want at their own odds. The operator doesn't set the odds or the line; the bettor does.
This type of sports trading has entirely changed the landscape of sports betting. The development of live or in-play wagering directly results from the constant changes and movements that are common with the sports trading environment. As this new way of wagering evolved, bookmakers saw there was an opportunity to still make money once an event was underway, and closing down betting once play began was not in their interests.
The Growth of Sports Trading
The next step in the evolution of betting exchanges has led to the development of sports trading. If a wager on one event could have two competing sides, it seems logical to take it further and enable players to trade back and forth with a series of sports markets in competition with each other.
This type of practice operates similarly to fantasy sports. You will be playing against numerous other players instead of in a one-on-one betting exchange or a wager with a sportsbook.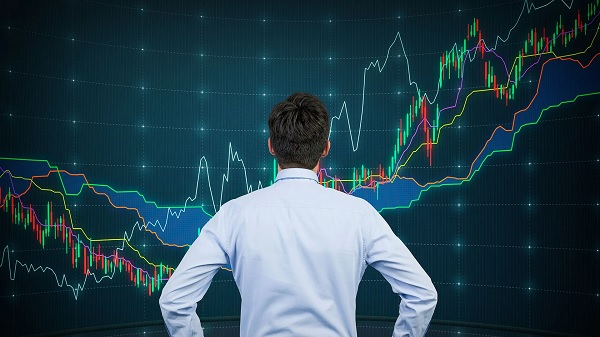 You must be quick to react to events if you want to be a successful sports trader. The skill of being able to predict the next outcome in a game is a crucial component. Always expect the unexpected, such as the football team you are betting on has just lost their quarterback during the game with an injury. If you don't react fast and unload your shares in that team, it could spell bad news.
Getting Started with Sports Trading
When you are just getting started with trading, there are some golden rules to follow which can hugely increase your chances of winning bets while also boosting your skills and confidence in your chosen market.
Many sports trading strategies have emerged, but there is no fixed method to success. However, part of the excitement and adrenaline rush is tweaking and altering your system and techniques until you reach the desired result. The following steps are a helpful way to get started with sports trading.
Choose a sport
There isn't much more to it than the title suggests. However, there is one catch; you must ensure the sport you select is something you have an in-depth knowledge of. Make sure you have a solid grasp of the rules and limitations, as you can turn this to your advantage. Greyhound racing is a good sport to start with for new players as it is easy to get to grips with and make money from.
Delve deeper into your chosen sport
Once you are comfortable with your sport, it's time to delve deeper into the markets open to you. If we take horse racing as an example, you could decide to focus on certain handicaps or racetracks. Again, make sure you completely understand what the sport is about.
Develop a hypothesis
This is a fundamental element of developing a system in the world of sports trading. Essentially, a hypothesis is an idea or theory which will help you to beat the market.
For example, if soccer is your chosen sport, you may notice that markets don't react to the momentum in live matches. Instead, they focus on the goals scored, a significant moment such as a player being sent off, or the time remaining in the match. Chelsea could be playing against Arsenal in this hypothetical game, with odds of 1.33-1.4 draw no bet at the kick-off. After 30 minutes, the score is 0-0, with Chelsea leading on five shots on target, compared to zero from Arsenal, yet still appearing as underdogs.
The hypotheses you create could be that the market doesn't react fast enough to the momentum or pressure that develops in real-time during the matches. You then test this over a longer period of time, and if it is successful, you have your edge.
Confirm or Reject
The final piece of the puzzle in your system is to confirm or reject your hypothesis. This is easily done by examining if the market is reacting in the way you expected. If it isn't, this is the perfect opportunity to alter your hypothesis until you hit the top prize. If it isn't, you have got an excellent sports trading system to rely on and make some serious cash.
Can you make a lot of money sports trading?
There really is no clear cut yes or no answer to this. It is like anything in life really. If you are good at it, then yes you can. But, it really depends on a lot of factors, including
The size of your bankroll
Speed & size advantages
Your knowledge of the sport
Like any form of trading (or gambling) there are risks involved. Its about weighing up those risks and finding a good strategy to get you a good return.