Texas A&M Aggies at Clemson Tigers Betting Preview

One game can change an entire season. In 2018, the Texas A&M Aggies had the Clemson Tigers on the ropes in week two. Clemson started since-transferred quarterback Kelly Bryant in this game and found themselves clinging to a lead with the Aggies driving.
Trevor Lawrence had only had 9 pass attempts, and a loss in this game would surely be a detriment to the Tigers National Championship aspirations.
Clemson pulled off the victory 28-26, and the rest is history.
Fast forward into 2019, and the Aggies will be traveling to South Carolina to take on the defending national champ Tigers.
New Jersey bettors have a whole host of Sports betting apps to choose from for wagering on the Football. Check out the best here
A bolstered Aggies squad
Texas A&M had an easy week one matchup scheduled against Texas State. Quarterback Kellen Mond cruised through with 194 yards passing and three touchdowns. While this matchup was extremely one-sided, the Aggies offense looked sound.
This bodes well when they travel to South Carolina to take on Clemson. Clemson, while still far and above as the top team in the country, lost a lot of its defensive prowess to the NFL. Six defensive linemen were taken in the 2019 NFL draft.
Clemson still carries a strong defense, but without a dominant pass rush, the Aggies will be able to control the line of scrimmage and give their quarterback time to find receivers down the field. In 2018's game, Mond threw for over 400 yards passing and three touchdowns. Expect Mond to come out with the same energy and thrive in the passing game.
Tigers on the road to repeat
It may seem like a knock on the Tigers with all the players they had leave for the NFL, but don't get it twisted. Clemson is by far the preliminary favorite, along with Alabama, to win the National Championship.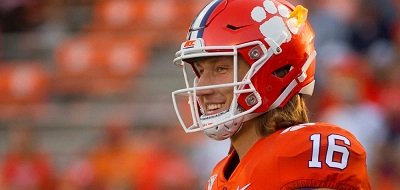 Quarterback Trevor Lawrence would have gone first overall in the NFL draft last year after his title run in 2018. He is poised, calm, cool, and collected. While Lawrence was a little sloppy with turnovers in week one, he still finished the game against Georgia Tech with 168 yards passing with two total touchdowns.
Clemson trounced Georgia Tech 52-14, and while this score comes as no surprise, the Tigers put up 632 yards of total offense. Running back Travis Etienne finished the game with a career-high three touchdowns and 205 yards rushing on 12 carries.
With this many weapons and stars on the offensive side of the ball, Clemson should be firing on all cylinders against the Aggies.
Betting lines and Clemson over A&M
The odds have Clemson favored at -18. The money line is TBA.
Just like 2018, I think this game will be remembered as one of the best of the year. Texas A&M will be hungry after suffering a loss last year, but Clemson will just overwhelm the Aggies and break them down by the end of the game.
The Aggies will be able to put up points and yards, led by quarterback Kellen Mond. Look for a game similar to 2018 where he had over 400 yards of offense.
Clemson is the favorite this season to repeat as national champions for a reason. They have the star quarterback, a dominant running game and a respectable defense. This game will be back and forth with a lot of offense from both sides. Expect a game in the high 30's or 40's in scoring, with Clemson pulling away in the fourth quarter.
With College Football Playoff aspirations written all over this, it will be a great matchup regardless of the outcome. Tune in to ABC on Saturday noon to catch it. Lock in your bets before kickoff at 3:30 pm eastern!
Check back for more Free Football picks and follow us on Twitter @Gamble_usa
Relevant news