Pulsz Bingo Review
Gamble USA strives to improve your online gambling experience. We aim to help you play safely, make informed decisions when gambling, and increase your betting knowledge through our guides.
We adhere to strict editorial integrity; our content may contain links to products from our licensed & legal US partners.

Bingo! There's nothing like daubing the last number and calling it out. However, when it comes to real money online casinos, while users can typically find a wide array of sites offering a mixture of slots and traditional table games, one group of players that are often forgotten is the bingo players. That's why in 2021, Yellow Social Interactive Ltd. launched a site dedicated exclusively to these often-forgotten players with Pulsz Bingo.
If you're familiar with social casinos, you will undoubtedly have heard of the juggernaut Pulsz Casino, launched in 2020, becoming one of the first sweepstakes casinos to offer more traditional casino games like blackjack and roulette. However, in 2021 that same group ventured into bingo.
For lovers of bingo, they've found access to their game frustratingly limited to crowded bingo halls and a few sparse sites offered to only a select few states. But with Pulsz Bingo being a sweepstakes casino, this is no longer the case. Available in 47 states to anyone over the age of 18, now new users who sign up using our link are awarded 🪙5,000 gold coins and 💵 two sweepstakes coins for free. Real cash prizes can be redeemed if you call enough bingos! Make a gold coin purchase, and you can increase this further to 🪙90,000 Gold Coins and 💵9.8 Free Sweepstake Coins.
In this review, we'll look at the number one US site to play bingo, Pulsz Bingo.
Get up to 90,000 Gold Coins + 9.8 SC FREE
Supports real money bingo prizes
Proprietary US-themed bingo rooms
Pulsz Bingo Promo Codes
At Pulsz Bingo Casino, no promo codes are required to claim the welcome offer when you sign up. Instead, users who register using our links will be awarded a Pulsz Bingo no purchase bonus of 5,000 gold coins and two sweepstakes coins upon registration. With each sweepstakes coin equivalent to $1, that's effectively $2 free simply for signing up using our link.
Welcome Bonus Information
Pulsz Bingo Promo Code
📜Bonus Code
N/A - 🆓

Use Link

🎁No-Deposit Bonus
🪙5,000 Gold Coins, 💵 2 Sweepstakes Coins
💰First Time Deposit
💵30 Sweepstakes Coins for $20 OR 💵 15 Sweepstakes Coins for $10
⏱️Availability
Nationwide excl Washington, Nevada, Idaho
But it's not just a no-deposit bonus available at Pulsz Bingo.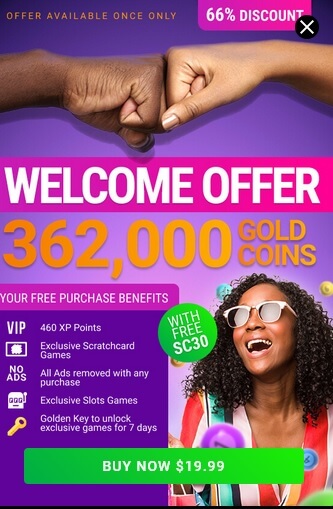 For your first deposit, you'll also be given a 33% discount. The banner on the site lists it as 66%, and while that may be true for the gold coins — for sweepstakes coins, it's only 33%. This offer gives 30 sweepstakes coins for $20 and is triggered by clicking the pink "Get Coins" button at the top of your screen and is interchanged with a similar, though slightly less valuable promotion wherein you'll get 15 sweepstakes coins for $10. Keep in mind you can only pick one of these first-time bonuses.
On top of this, you'll also be awarded various gold coins, VIP points, and a golden key. This Golden key allows access to a few exclusive games and removes any ads for seven days.
Pulsz Bingo Promotions
Though not all the promotions are aimed at new players, returning users can look forward to occasional offers sent directly to their emails. Though the best and most reliable way for users to get access to promotions, including free gold coins and sweepstakes coins, is to follow their social media pages, primarily their Facebook and Instagram accounts.
These promotions usually come in the form of sweepstakes, where a user can enter for free for a chance to win free coins. These aren't always the largest tournaments — sometimes only awarding 10 sweepstakes coins at a time, though they can sometimes be as large as 1,000 sweepstakes coins.
They also run weekly prize pool tournaments. However, these are run differently than many other sites that will track a player's cumulative winnings on a slot machine — instead, Pulsz only records a player's highest single win, with the week's most significant win getting the top prize of 500 sweepstakes coins. Though it's not a winner takes all tournament. And players placing in the top 280 can also expect slightly lower prizes.
Daily they also run daily prize drops. Unlike the weekly tournaments, these are triggered randomly and are valued at 530 sweepstakes coins per day. To win, players need to simply play one of the eligible slots.
Free Bingo Tickets

But Pulsz Bingo still is not done. Because every few minutes, players can go to the Route 66 bingo room to gain 12 free tickets to their bingo game which offers a top prize of 10 free sweepstakes coins along with lots of Gold Coins free tickets too that run very regularly in between. Playing at less busy hours of the day also gives you a much greater chance of claiming the full house win!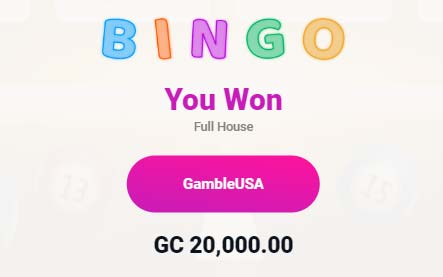 Referral bonuses, daily login sweepstakes coins, and discounts are also available at Pulsz Bingo.
Pulsz Bingo Registration and Login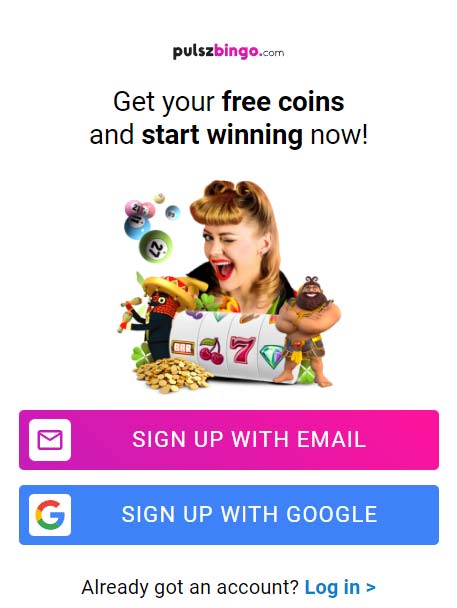 Being a social casino means Pulsz Bingo doesn't have to follow the same rules that other online casinos follow. As such, as long as you are at least 18 years and not residing in either Washington, Nevada, or Idaho — you can play at Pulsz Bingo. To register, follow this guide:
Using our secure links, navigate to Pulsz Bingo.
In the top right corner of the screen, click the pink "Register" button. Then select whether you want to register via Google, Facebook, or Email.
Enter your full name, email, and the desired password, and click the "Join Now" button.
An email with a registration link will then be sent to you. Click it, and you're in.
That's it. Your free coins will be immediately credited to you, and you can either start playing your favorite slot machine or try their bingo games.
This is one of the most straightforward registration processes available and can take less than a minute if you know what you're doing.
Get up to 90,000 Gold Coins + 9.8 SC FREE
Supports real money bingo prizes
Proprietary US-themed bingo rooms
Pulsz Bingo Login
Once your account is created, click on the login button at the top of the page, and you are presented with the options to log in via Facebook, Google, Apple, or Email; simply select the method you registered with in the case of social logins this will be instant, if you opted for email then you must also enter your password.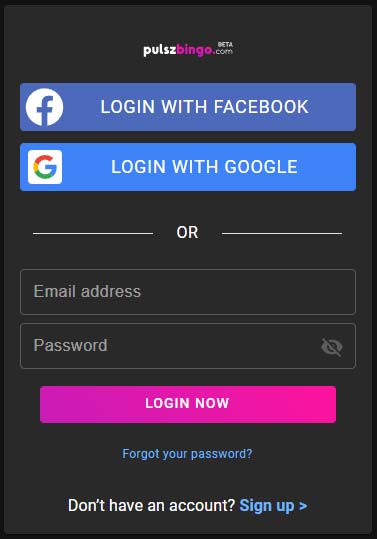 Pulsz Bingo App
While Pulsz Casino does have an app, the Pulsz sister site does not at this time. The same goes for McLuck Social Casino, which is operated by a company similar to Pulsz. Instead, users are encouraged to visit and play via their browser.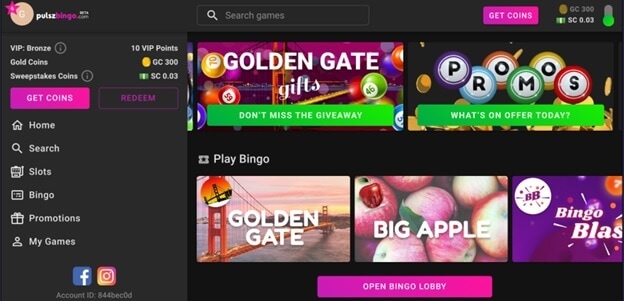 Compatible with iOS devices and Androids, users will find a very similar interface, the only difference being that the screen is slightly more zoomed in. Slots play exactly the same regardless of what device you use. However, bingo suffers slightly. This is because, unlike the desktop app, the player can only play one game at a time on mobile devices, and there is no opportunity to play slots as a minigame.
Overall I would say that the Pulsz Bingo mobile experience is good. Though one point of concern for me is that I did find that the popups came a little more frequently than while using the desktop site.
Pulsz Bingo Software and Lobby
The Pulsz Bingo lobby has one of my favorite lobby designs, with everything displayed front and center. In the center of the screen, you can see all the available bingo games, recommended slots, new slots, and your most recently played slots. On the left side of your screen Is a taskbar that displays not only the game types but also current promotions, FAQs, and the option to switch between day and night modes.
The latter is something I feel a lot of online casinos could do with, as it mutes all the bright whites of the screen and replaces them with a darker tone that's far easier on your eyes.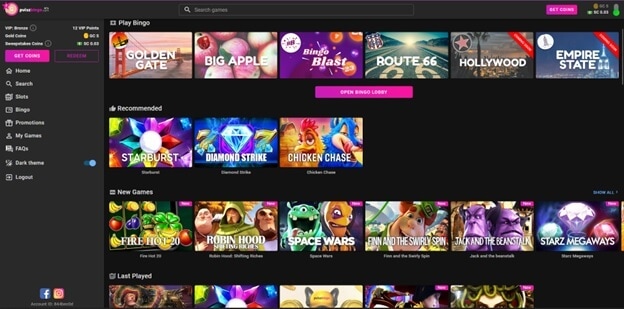 At the top of the screen, as well as on the taskbar, you can find a search bar to search for your favorite games. And this is another thing that I love about Pulsz Bingo, because unlike most other social casinos with in-house designed games that you would've never heard of — Pulsz Bingo offers slots from a variety of the most popular slot machine developers like NetEnt, Relax Gaming, and Pragmatic Play.
Though, of course, what separates Pulsz Bingo from so many other sweepstakes casino sites is its bingo games. In-house developed, these games are the best way to play online bingo in the US for real cash prizes currently.
Pulsz Bingo Rooms and Games

At Pulsz Bingo, there are two main types of games. Slots and bingo. There is a third type available when you have a golden key, and these are scratchers. However, these are relatively low RTP and aren't popular among most users. So instead, this section will focus on the online slots and the bingo.
Pulsz Bingo Games
One of the main draws of Pulsz Bingo is in its name. Bingo. While virtually every online casino will offer slots, bingo is a game that isn't often played online, and when it is, it's usually without the opportunity to win real cash prizes. And while users can play for free using gold coins, they also have the option to play bingo for cash prizes by switching over to sweepstakes coins.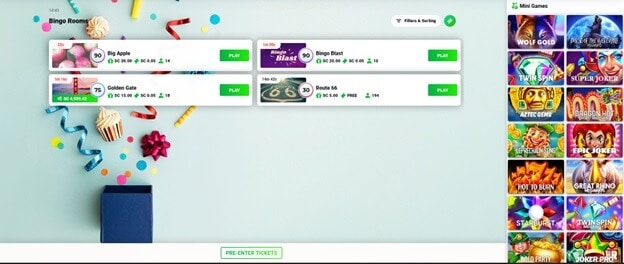 The cost of the games varies by the time of the day, with games played later at night and early in the morning typically costing lower and having a smaller prize pool. However, the free entry bingo has the same prize pool 24/7.
As Pulsz Bingo is still a relatively new sweepstakes site, only four bingo rooms are currently available. However, Hollywood Bingo and Empire State Bingo are right around the corner. While similar, the four they currently offer have some essential differences that we'll go into.
Big Apple Bingo — The Big Apple Bingo is a relatively standard 90-ball bingo wherein the players compete for three different bingos. These are achieved by filling one line, then two lines, and finally, all three lines. While it has no extraordinary features, it is often among the least played, giving the player less competition and more chance to hit their bingo.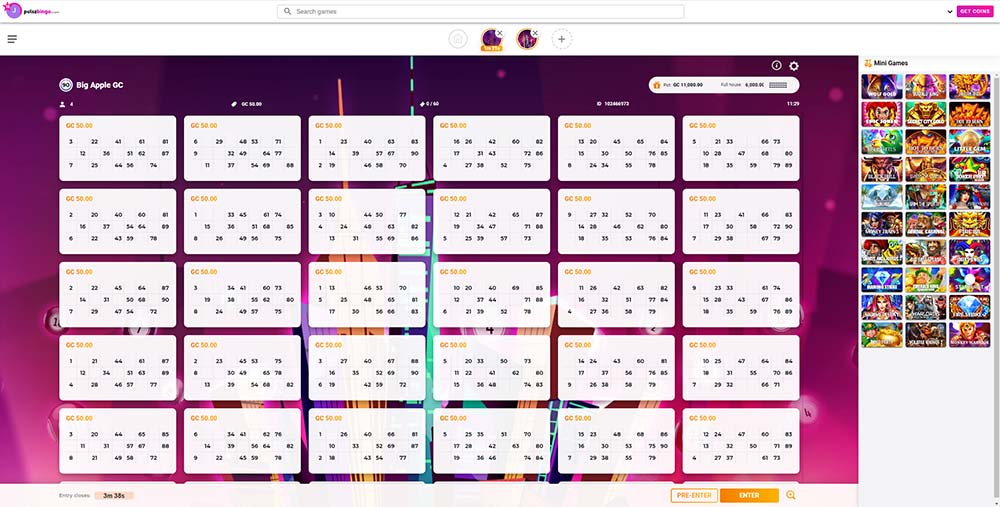 Golden Gate Bingo — Golden Gate Bingo is a progressive jackpot bingo, where on any bingo, players have the chance to take home the grand prize of over 4,000 sweepstakes coins. It's a 75-ball bingo, playing very similar to Big Apple bingo. Besides the jackpot, the only difference is that there are only two "bingos" per game, with the first being announced when the player has filled in a specific pattern, and the second being awarded upon filling the entire card.

Bingo Blast — If you like bingo but find the initial start of the game boring, then Bingo Blast is for you. Bingo Blast starts off each game with two blasts of a total of 18 numbers to quickly eliminate the majority of numbers you need. From there, numbers are called rapidly to finish the game which on average lasts less than 30 seconds.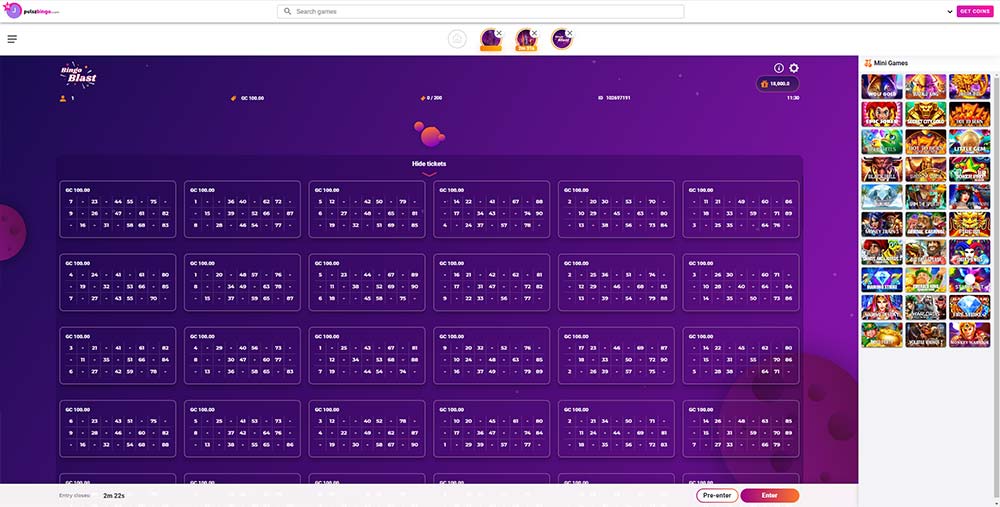 Route 66 Bingo — Route 66 Bingo is a free-to-play bingo that runs 24/7, every 30 minutes. A maximum of 30 can be called, but with so many players playing at once, it's rare you'll even make it to 15. There's only one bingo for Route 66 Bingo when all nine of your numbers have been called. The top prize is 10 sweepstakes coins.

If you're on your PC, you'll also be able to play up to three bingos at once, plus a slot minigame.
Online Slots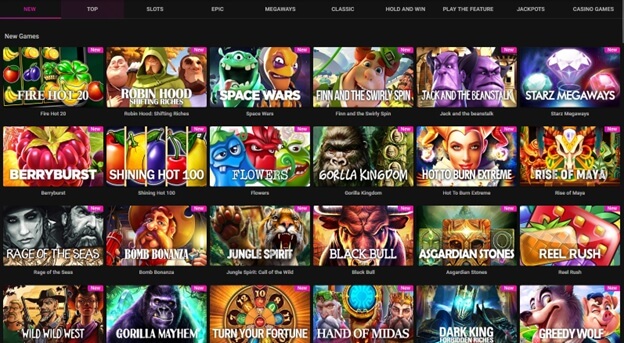 Come for the bingo, and stay for the slots. While the bingo may be the main drawing factor on Pulsz Bingo, the slots are arguably some of the best in all sweepstakes casinos. With over 300 slots and counting, there's something for everyone. But like many other online casinos where you have to investigate each slot to find the feature you like — Pulsz Bingo separates them according to popular categories. If you want the adrenaline rush of buying into the slots bonus rounds immediately, select their "Play the Feature" category. Want to win often? Try "Megaways." Or, if you want to go back in time, select "Classics." If you're unsure, check out the table below highlighting the best slots at Pulsz Casino.
Best Games to Play on Pulsz Bingo
Best RTP Slots
Blood Suckers 2 (96.94%), Dead or Alive (96.82%), Money Train 2 (96.4%)
Best Feature Buy Slots
Buffalo King, Gates of Valhalla, Raging Rhino Megways
Best Megaways Slots
Twin Spin Megaways, Curse of the Werewolf Megaways, Madame Destiny Megaways
Best Classic Slots
Diamond Strike, Fire Hot 20, Shining Hot 100
Most Popular Slots
Sugar Rush, Gold Party, Wolf Gold
And, of course, due to Pulsz Bingo operating under a sweepstakes model, you can try all these games for free by using your gold coins. The main drawback for Pulsz Bingo is that you can't play any of the traditional online casino games like blackjack and roulette. If you're after these sorts of games, we recommend users try the original Pulsz Casino.
Pulsz Bingo Overview
Pulsz Bingo first opened up in September of 2021 with the goal of adding a specific site where fans of Pulsz could play bingo. Both Pulsz and Pulsz Bingo were developed by Yellow Social Interactive Ltd., which itself was founded in 2020. Looking at the company site, there is very little information available about them. While this may be a red flag to some — the truth is that even legitimate companies need to start somewhere, and when determining reliability, it's best to check user reviews.

The Pulsz Bingo Facebook page is pretty new, with just over 3,000 followers — but looking at the more established Pulsz Facebook page, we can see they have over 123,000 followers and that from 764 reviews, they have achieved a 4.2 rating out of five. This is a fair sample size. So even though there is little information on the parent company Yellow Social Interactive Ltd., we can say that they are definitely legit.
Sweepstakes Coins and Gold Coins
If you're unfamiliar with the sweepstakes casino model, then the idea of dual currencies may seem strange. But it's what makes it legal. In the US, online casino laws are stringent.
However, in comparison, sweepstakes laws are pretty lenient. So the trick is that by offering a free way to play on their site (gold coins), they can offer their services without having to follow the rigmarole that traditional online casinos have to abide by. Technically you can't purchase sweepstakes coins and instead must purchase gold coins; however, when you do, you are given the second currency of sweepstakes coins as a "free" bonus. These sweepstakes coins can then be used like traditional funds, and when you have enough, you can redeem them for cash prizes.
This may seem strange. And in truth, it is. While US casino laws are restrictive, they aren't the most ironclad, and as such, loopholes like sweepstakes casinos are technically legal.
However, a mistake that new players often make is viewing the gold coins as useless. They are not. According to sweepstakes laws, all games must be available to be played for free, and with these gold coins, you can do precisely that. What this means is that rather than having to risk real money when learning the intricacies of a new bingo game, users can instead use their gold coins. Then if they don't like the room they are playing in, they can try another and another until they find one they like. Once they do, they can then switch to their untouched sweepstakes coins and play for real money.
Pulsz Bingo Purchases
Purchasing coins at Pulsz Bingo is easy. On the left side of your screen, there is a bright pink button that reads "Get Coins." If you have a first-time purchase bonus, it will pop up when you click it. If not, then you'll need to select one of their default packages. Either way, you'll be taken to the same payment page.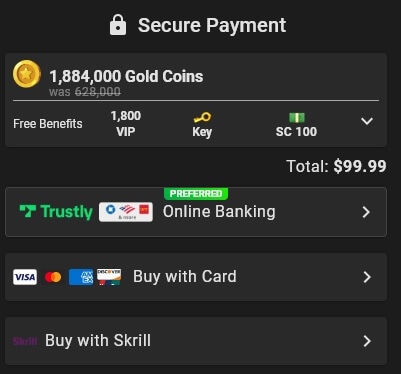 Currently, Pulsz Bingo offers payment through credit or debit cards, online banking, and Skrill. If it's your first purchase, you'll have to enter in some information after clicking your preferred payment method, including your date of birth and address. Though if you've done it before, you'll be taken to the relevant payment portal. From there, you enter in your relevant payment information and follow the prompts. Once you've done that, the funds will usually be credited to your account instantly.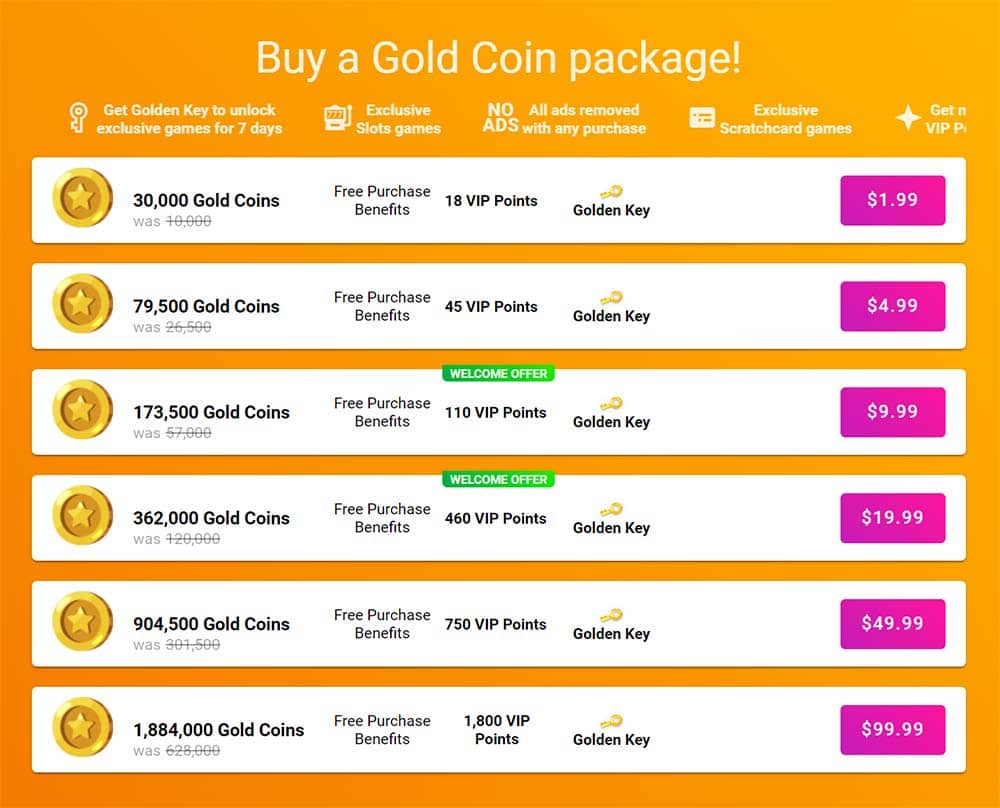 Pulsz Bingo Redemptions
For redemptions, Pulsz Bingo offers the players two choices. The first is for prepaid gift card codes to be sent directly to the player via email and require the player to have at least 25 sweepstakes coins. There are a few gift cards offered. The most popular of which is the prepaid visa gift cards. This is a method I haven't used as they aren't rechargeable, and whenever the balance gets to less than $5, I tend to put it in the back of my mind.
Fortunately, they have a second method of withdrawing cash to either your bank or Skrill account. This requires that the user has at least 100 sweepstakes coins and requires a slightly longer verification process for first-time withdrawals. Though most users think it's worth it.
The withdrawal times for either method take about 3-5 business days.
Support for Pulsz Bingo Players
The customer service for Pulsz Bingo players is good. However, it does lack in certain areas.
To start with the positives, their FAQs section is easy to navigate and is comprehensive, providing answers to seemingly any query you could have. These include general questions as well as guides for how to deposit and withdraw for every individual method on offer. This is a very welcome addition, as many other sweepstakes casinos can be lacking in this department.
However, if the FAQ section does not answer your question, the only real solution for players is to scroll to the bottom of the page and click the "contact us" button.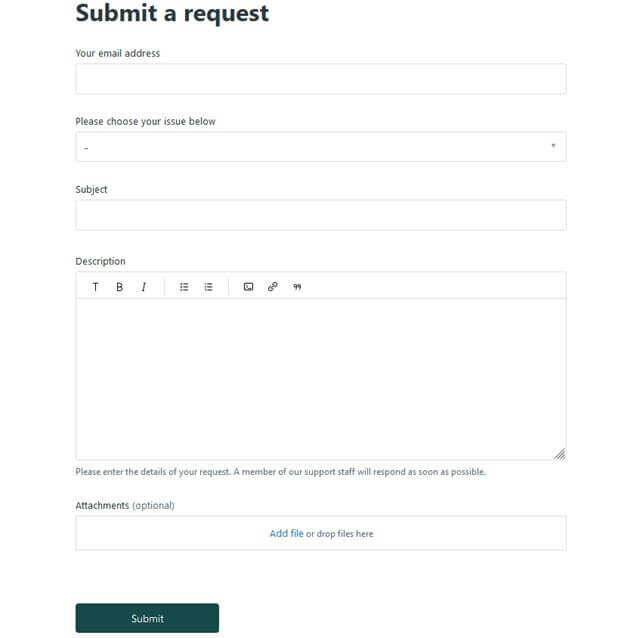 Here the user will be taken to a generic page where they can submit a ticket. I haven't had to use it as all my questions have been answered by their FAQ section; however, users that have needed it report that it can take 48 hours to get a response and sometimes longer.
For more direct contact, users can visit their Facebook page. Although it generally takes about 48 hours as well to get a response to any query, and with the Pulsz Bingo page only having a few thousand followers — other players aren't overly helpful. The final option for US customers is a direct hotline for payment-related concerns at +1 (424) 371-7304.
Overall I would describe the customer support for Pulsz Bingo as average. An excellent FAQ section is beneficial. However, their limited options for talking to a real person leave much to be desired.
Pulsz Bingo App Summary
Yellow Social Interactive Ltd. has hit a home run with Pulsz Bingo. When it comes to playing bingo online for real money, it's unmatched — allowing users from 47 states the opportunity to play. Add to that the excellent variety of slots available, and Pulsz Bingo surges to the top of any list of the best sweepstakes casino sites. Having only been launched a year ago, Pulsz Bingo is still in its infancy. Despite this, the relatively untapped marketplace of online sweepstakes bingo makes it the only destination for lovers of bingo. Sites like Golden Heart Games present a viable sweepstakes bingo alternative if you get bored over at Pulsz Bingo.
There are, of course, some drawbacks. The welcome bonus of two sweepstakes coins doesn't compare with sites like LuckyLand Slots and WOW Vegas, which both offer $10 worth of their real money currency. Though what they lack in welcome bonuses, they more than make up for in their regular promotions. In this area, Pulsz Bingo flying under the radar is actually to the player's benefit as they are more likely to win their regular promotions and tournaments.
Of course, with a small customer base does come some problems. Customer support, while good, is hard to reach. And their social media pages aren't overly active, meaning if the player has an issue they need solved, they are often stuck waiting for a response that can take up to two business days to arrive. A thorough FAQ section partly mitigates this. However, it's still something for Pulsz Bingo to improve on. Despite all this, though, when you look at the success of Pulsz Casino, it's clear where Pulsz Bingo is heading. This should give the players all the security they need that while help may take a little longer to arrive, when it does, it's excellent.
Overall, if you're after the more traditional experience and want to play casino games like blackjack and roulette, I'd probably suggest the original Pulsz Casino. However, if you're one of the thousands who have been looking for a place to play real money bingo online, then you've found it with Pulsz Bingo. Get started today using our exclusive links and try it for free with 5,000 gold coins and 2 sweepstakes coins.
FAQs
Is there a Pulsz Bingo promo code?
No Pulsz Bingo Promo code is currently available; you simply sign up directly to the website to claim the current Pulsz Bingo welcome offer.

The current Pulsz Bingo welcome offer is 2 Sweeps Coins and 5,000 Gold Coins with No Deposit, and a first deposit bonus of 30 Sweepstakes Coins for $20.
Can I play at Pulsz Bingo with a Pulsz Casino account?
While Pulsz Bingo is a sister site to Pulsz Casino, the accounts and logins are completely separate; you are welcome to register and claim bonuses at both sweeps sites!
Where is Pulsz Bingo available in the US?
Pulsz Bingo uses a sweepstake model. Therefore players from all states in the US can register and play except residents of the State of Washington, Nevada, and Idaho.

The minimum age requirement for the Pulsz Bingo site is 18 years old.
What type of games are available at Pulsz Bingo?
Pulsz Bingo has a variety of Bingo games, including 30 Ball, 75 Ball, and 90 ball Bingo variations. More Bingo games will be added in the future as the lobby and range of games expands.

Players at Pulsz Bingo will also find a comprehensive selection of online slots from top game developers; these can be found in the Mini-games section.
Can you play Pulsz bingo on mobile?
Pulsz Bingo can be played on all mobile devices. Currently, no dedicated app is available for Android or Apple devices, but the website runs perfectly on a mobile browser and is fully responsive.

Players on desktop computers, however, do have the option of installing a dedicated desktop app.
Is there a Pulsz bingo app?
There is currently no dedicated mobile app for Pulsz Bingo. Pulsz Bingo does offer a dedicated app for desktop bingo players in the form of a downloadable client app.
Can you win Real Money at Pulsz Bingo?
You can win real money at Pulsz Bingo; the site operates using a sweepstakes model, where you can earn or buy gold coins and sweeps coins; the sweeps coins won playing Bingo or Slots can then be redeemed for real money.

Get up to 90,000 Gold Coins + 9.8 SC FREE
Get Bonus