Gamble USA strives to improve your online gambling experience. We aim to help you play safely, make informed decisions when gambling, and increase your betting knowledge through our guides.
We adhere to strict editorial integrity; our content may contain links to products from our licensed & legal US partners.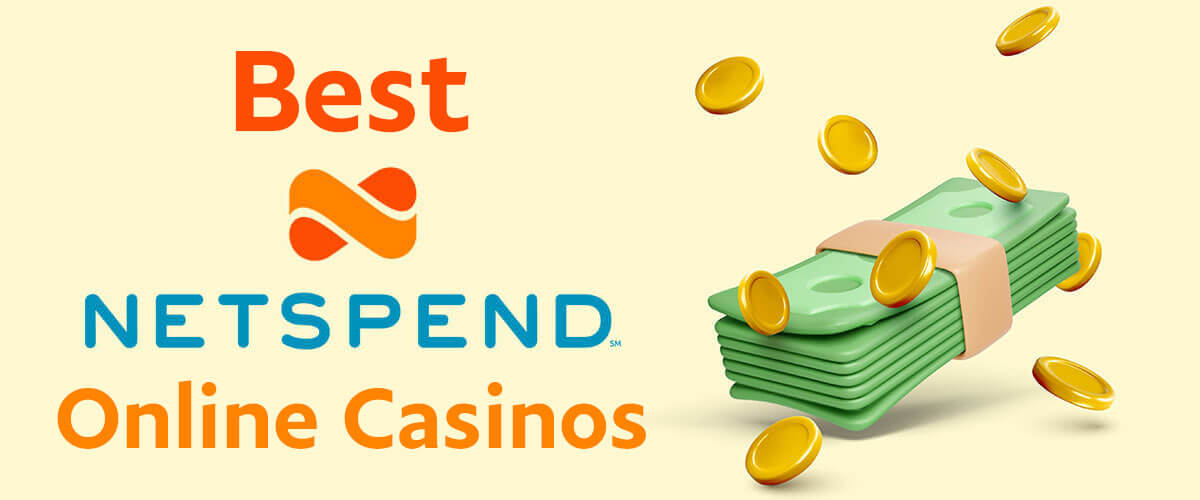 Netspend may not be a huge name in the world of online banking, but it has gained considerable momentum in the world of online casinos over the last few years. There are now many online casinos that accept Netspend, allowing players to make fast and safe deposits and speedy withdrawals.
An issue with most debit cards in the US is the need for a checking account to get one. However, you can opt for the prepaid debit card option if you don't have a checking account.
Netspend is one of the few reloadable prepaid cards in the US that you can use on an online casino, and its service has been around since 1999, making it a trustworthy player in the financial industry. As the list of online gambling payment methods grows, Netspend seems to be an old reliable name that has stood the test of time.
For online casino lovers in the US, there are several online casinos that accept Netspend, and this guide will provide details on the best Netspend casino. You'll also find out how to use a Netspend prepaid card, its benefits, and other reasons why we recommend this card.
Online Casinos Accepting Netspend Payments
Several top online casinos support the Netspend payment method, and this section provides a list of our recommended Netspend casinos, along with the welcome bonus you get when you register.
The casinos on this list are licensed to operate in the US and offer an excellent selection of online casino games.
Editor's Pick
FanDuel is our editor's pick for the top Netspend casino, and there are several reasons for this recommendation. First, the FanDuel casino welcome bonus offers an excellent boost for new players with its free $100 over four weeks. You can use this bonus to try new games before playing with real money.
Next, you have the "Play It Again offer" that grants you a risk-free day up to $1,000. So, FanDuel will fund your account with site credits equal to your net losses over a 24-hour period after your first deposit. Unlike most deposit match bonuses, this offer has a low 1x wagering requirement, so the amount you need to wager before withdrawing bonus winnings is much lower.
Once you become a member, FanDuel offers other exciting promotions like the FanDuel Daily Reward Machine with a chance to payout up to $2,000, and a referral bonus that pays out $100 in bonuses.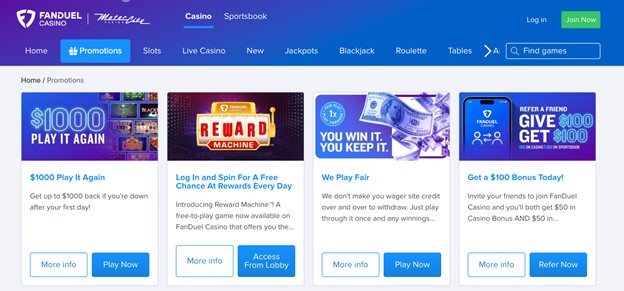 In terms of its services, FanDuel is one of the best in the US, having gained massive popularity for its Daily Fantasy Sport service. It offers a sports betting platform and its casino platform features games from top software developers like NetEnt, Big Time Gaming, Yggdrasil, Microgaming, IGT, and more. This means you can also use FanDuel as a Netspend betting site.
FanDuel has all your favorite games, including slots, roulette, blackjack, table games, and exciting progressive jackpot titles.
As our editor's pick, the FanDuel services are available in five of the six states where online casino gaming is legal in the US. You can register for an account today and start playing from Connecticut, Michigan, New Jersey, Pennsylvania, and West Virginia.
How We Rate Netspend Online Casinos
In creating our list of top Netspend casinos, we assessed various features of top online betting sites in the US. Casinos that pass every area of our assessments make the list. Features we pay attention to include the supported banking methods, game selection, bonuses, and more.
Support for Netspend and Other Payment Options
Our first requirement for any casino to make this list is support for Netspend deposits. Once we ascertain this feature, we assess other payment options available on the gambling site. This is crucial since we want our readers to always have an alternative method if there are issues with Netspend payments at any point in time.
Game Selection
There is no point in registering on an online casino if you cannot play the games you love. Our Netspend casinos give you the option to pick high paying slots, Blackjack, Baccarat, Roulette, or live casino games, depending on what you're in the mood to play. The game variety makes it difficult to get bored playing on these sites.
Customer Support
Top online casinos have a competent customer support team that can help if you have problems reaching the site or completing your payments. When rating our Netspend online casinos, we focus on sites with a knowledgeable and professional support team you can reach via live chat, email, and phone support channels. These sites also feature comprehensive FAQ sections that offer insightful information on various topics.
Mobile Gaming Capabilities
Mobile gaming support is crucial for online casinos today; those on our list all have mobile capabilities. Players who prefer the mobile gaming alternative can access Netspend casino games via a mobile browser or through downloadable mobile casino apps for Android or iOS devices.
Safety
The three main areas we look at when trying to get a clear picture of the safety of a Netspend online casino include random number generators, data encryption, and licenses. Top casino sites use random number generators to assure players of the randomness and fairness of their games.
With the data encryption technology (128-bit or 256-bit) feature, these sites can protect your personal and financial details from unauthorized access. Sites that use SSL certificates (identified by the HTTPS in the address bar) are secure platforms.
Finally, an operating license from a regulatory body shows that the site is legit. Depending on your location in the US, there are specific regulatory agencies like the New Jersey Division of Gaming, Michigan Gaming Control Board, and more.
Welcome Bonuses
Most online casinos today offer several bonuses to players who register and become members. For the casinos on our list, the welcome bonuses they offer are top-notch among those available on other US online casinos. In addition to the welcome bonuses, these casinos provide excellent casino bonus codes for existing players to claim later.
How Does Netspend Work?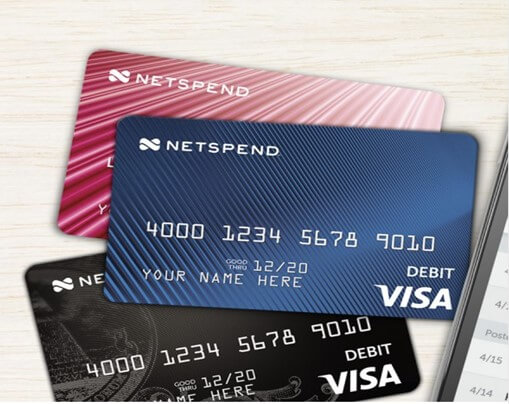 Netspend.com is a payment method that offers payment services to individuals who prefer to avoid credit cards and those unable to get traditional bank accounts for one reason or another. Bertrand and Roy Sosa founded the company in 1999, before it became a part of Total System Services after its acquisition in 2013.
With Total System Services and Global Payments completing a merger deal in 2019, Netspend currently operates as a reporting segment of Global Payments.
The first step to using a Netspend card is to apply for a card from its website or at a recognized vendor. After getting the card, you'll need to activate it. The card you receive can be a Mastercard or Visa card, so it's accepted on many platforms, including online casinos.
Since the Netspend card isn't tied to any account, you need to fund it using one of the available options like direct deposit, reload locations, or transfer from another Netspend account. Once you have funds in the account, you can use the card to transfer money to your online casino account, withdraw cash, pay for items online, and more.
Unique Features of Netspend
Several features of the Netspend card make this casino payment method worthwhile, and a few stand out. Once you choose the Netspend service, here are some features you will identify:
No Interests: Since the Netspend cards are prepaid debit cards, you only have the option to spend your money. As a result, this eliminates the interest that come with outstanding credit card balances.
High-Yield Savings: With Netspend, you can create a savings account with an APY of 5% on your first $1,000 deposit.
No Need for a Checking Account: Unlike traditional bank cards that need to be associated with a checking account, a Netspend card is available to individuals without access to checking accounts.
Payback Rewards: Netspend allows users to enjoy cash back for using its card with certain merchants.
Custom Card: Although this may appeal to only some users, Netspend allows personalized images on your card for a unique appearance.
Use of the Visa Zero Liability Protection or Mastercard Zero Liability Protection and FDIC Insurance.
No minimum balance.
Using Netspend to Gamble Online
Getting a Netspend card for online gambling is an excellent idea for any individual that prefers to make card payments when visiting online casinos. This payment method offers fast and secure transactions, giving you a chance to limit your deposits to funds available in the account.
As Visa or Mastercard-powered prepaid cards, you can use your Netspend card on online casinos that support these operators. A significant benefit of this option is confirmed access to most bonuses available on your favorite Netspend casino.
Since your spending activities through the Netspend card don't appear on your bank account statement, it also helps provide a level of privacy.
How to Deposit at a Netspend Casino
To make your online casino deposits using this option, you need a Netspend card. Take these steps to get your Netspend card ready for online gambling:
Visit the Netspend website and fill out an online order form for the card. It will be shipped to your address once it's ready.
Activate the Netspend card for free, and pick one of two plans; the Pay-As-You-Go or the Monthly plan.
Add funds to your Netspend card using any available option (Direct Deposit, Tax Refunds, Bank Transfers,

PayPal

, Netspend Reload Network Locations, or Transfer from another Netspend card).
Once you have your Netspend card set up, you can now head over to a Netspend online casino and take these steps:
Click on the 'Deposit' option and select the Debit/Credit card option to fund your casino account.
Provide the essential card details as requested (16-digit card number, card expiry date, and CVC code behind the card). The details you must input are similar to what

MasterCard online casinos

and

Vanilla Visa gift card gambling sites

require to transfer money.
Click the button to confirm and complete the transaction.
The deposit should now be available in your casino account, and you can start playing top Netspend casino games.
Remember to make a deposit equal to or higher than the minimum required to claim the Netspend casino welcome bonus, which is usually $10 for most sites.
How to Withdraw from a Netspend Casino
Playing high RTP games with low volatility will improve your chances of winning online casino games. Once you win up to the minimum withdrawal requirement, follow these steps to withdraw the winnings:
Click on the 'Withdraw' button from the casino's cashier section.
Pick the bank transfer option to complete a withdrawal to your Netspend card.
Type the amount you intend to withdraw from the casino.
Provide the necessary details, like your routing number, bank code, and account number. Signing up for Direct Deposit on Netspend is required to get these details.
You can submit the request for processing if all the details are correct.
Your funds will be available in your Netspend account in a few days, so wait for a notification.
In contrast to Paysafecard casinos and Game on Card gaming platforms, Netspend casinos support transactions through this payment gateway. You do need to pass a KYC procedure first and set up a Direct Deposit account on the Netspend platform, but it's good that this is an option. Alternatives for withdrawals at casinos include Skrill, PayPal, and Bank Transfers if your bank supports gambling transactions.
Processing Times and Fees
Since your Netspend card will be a Visa or Mastercard, the processing time for your transactions will match what these operators offer. For deposits, transactions will be instant.
On the other hand, withdrawals to your Netspend account can take 2-5 business days. Remember, Netspend supports "direct deposit" payments, so your withdrawal will be completed via the ACH deposits.
The payment plan you choose matters when it comes to deposit processing fees. If you opt for the monthly plan, you'll pay an upfront fee of $9.95, whereas Pay-As-You-Go customers need to pay $1.95 per transaction.
To minimize your deposit expenses, follow these tips:
Initially, go for the Pay-As-You-Go plan to determine your monthly fees.
If it exceeds $9.95, opt for the monthly plan.
Minimize your monthly fees by having a dedicated online gambling Netspend card.
Create a monthly budget and limit making deposits to once or twice a month.
On most Netspend online casinos, withdrawals are free. However, if you get charged, it will be lower than what you pay with other withdrawal options.
Benefits and Drawbacks of Using Netspend Casinos
Netspend offers several features that make it a top casino payment option. For casino players who want convenience, this service is excellent. Additional benefits you get with a Netspend card include the following:
Safety and Anonymity
One of the main advantages of using Netspend casinos is the safety the payment method offers. With a Netspend card, you don't need to provide your banking details to an online casino when you decide to perform a transaction.
As a result of this feature, your gambling activities don't clog your monthly banking statements. In effect, separating your gambling spending using Netspend offers a form of privacy and also makes it possible to maintain a gambling budget.
Thousands of Reload Location
Netspend provides a Mobile Check Load feature that lets you take photos on your mobile app to load checks into your card account. Also, Netspend has over 130,000 reload locations that you can visit to fund your card.
Flexible Rates
With the option to pick a payment plan, Netspend offers a form of flexibility to its users. Some individuals can spend as low as $1.95 on fees if they limit the number of transactions, reload, inquiries, or withdrawals through the Netspend card.
No Application Fees or Credit Check
Another considerable benefit of Netspend cards is that you don't need to pay an application or activation fee to start. You can request a card for free through the online application process. A credit check or minimum balance is also not necessary to get your Netspend card.
Areas That Netspend Card Falls Short for Gambling
Many of the Netspend card drawbacks have to do with the transaction fees associated with its use. If you're not careful, the fees can quickly become a significant monthly expense.
The first fee you should note is the reload fee. Netspend doesn't offer free cash reloads; you'll have to pay $3.95 (or lower) to reload your card.
For individuals who want to use the card for day-to-day activities, Netspend will charge you $2.95 as an ATM withdrawal fee and another $0.50 as an ATM Balance Inquiry fee. If these fees force you to stop using the card, there is an inactivity fee of $5.95 that becomes a monthly fee after 90 days without a transaction.
In general, Netspend charges you for using, not using, and canceling its services. There is no way to get around these fees, so you must be sure this is the right option before getting a card. If you're currently unable to get a checking account, then Netspend is your best alternative.
Netspend Casino Games
Netspend casinos have a large selection of online casino games to cater to the needs of their customer base. These games include top categories like slots, table games, live casino games, and more.
Many of the games you can find on Netspend casinos are from top developers in the online gambling industry. You can find games from NetEnt, Evolution Gaming, DGC, Big Time Gaming, NextGen Gaming, Play'n GO, Yggdrasil, and more.
The games you'll find on our recommended Netspend casinos may differ, but each platform offers a top-quality selection of games. To learn more about the games available on each site, you can go through our casino reviews or dedicated guides for the best games at each Netspend casino:
Netspend Casino Bonuses
Online casinos have several standard payment options like debit/credit cards and e-wallets that are always eligible for promotional offers. Since Netspend falls into the debit/credit card category, using a Netspend card makes you eligible for various bonus offers on these online gambling sites.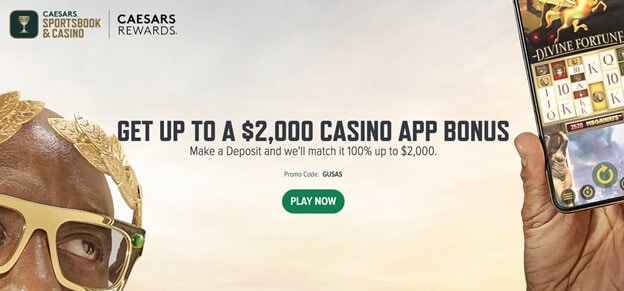 All Netspend casinos want you as a loyal customer, so they offer different bonuses to get you to sign up. Our list consists of four top Netspend casinos, and you need to assess the bonus from each site to determine your preferred option.
The BetMGM casino bonus is a $25 no deposit bonus and a 100% match bonus you get when you use the GAMBLEUSA bonus code. You can also opt for a higher match bonus by registering with DraftKings or Caesars Casino. These sites have a 100% match bonus of up to $2,000.

However, players that prefer cashback bonuses can go for the FanDuel $1,000 risk-free day and $100 free bonus.
Play at Netspend Online Casinos Today!
Online casino gaming continues to attract new players in the US, and finding a safe, fast, and trustworthy payment method is crucial. Netspend offers all these features, and several top online gambling sites support using this prepaid card.
If you're having issues getting a checking account, you can opt for a Netspend card, although you must take steps to minimize the fees you incur while using the card. The card has many benefits, giving you access to bonuses on various Netspend casinos.
If Netspend meets all your requirements in a prepaid card, you should apply for your Netspend card today and start playing at the best US gambling sites.