Gamble USA strives to improve your online gambling experience. We aim to help you play safely, make informed decisions when gambling, and increase your betting knowledge through our guides.
We adhere to strict editorial integrity; our content may contain links to products from our licensed & legal US partners.
Mobile apps have revolutionized the way people bet on sports, and any innovation by one sportsbook could set it apart from the rest of the competition. These apps provide a wide range of sports betting options, mobile-specific betting promotions, ease of betting on the go, and access to convenient payment methods.
All of these factors have made sports betting in Massachusetts easier and more accessible to the public. However, a vital consideration for customers is determining the licensing the sportsbook app provider has obtained.
We will explore the legality of online sports betting in Massachusetts and which licensed services are a league above the rest.
List of all Legal Massachusetts Mobile Sportsbooks
Currently, retail sports betting is available, but the Massachusetts Gaming Commission has stated its intention to follow through with online sports betting options. The commission awarded licenses to the listed operators, but online sports betting is not yet available.
5 Best Massachusetts Betting Apps September 2023
Massachusetts sports betting is a new addition to the growing list of states. The senate made the decision in August 2022, and since then, ten legal online sports betting apps have been awarded a license in the state. At the moment, only retail sports betting is available. The list above receives new additions regularly, but each of them has to be voted in by the Massachusetts Gaming Commission.
Failure to receive the necessary votes will result in the sportsbook obtaining no license. Licensing is the first factor we confirm when evaluating Massachusetts online sports betting apps.
We've decided to get ahead of the game by taking a close look at the sports betting sites that are licensed so far. After going through our review process, we've narrowed down the list to the five best operators coming to the state; let's take a look at each of them.
PointsBet MA Sportsbook App
The sportsbook always stays sharp when compared to the competition. So PointsBet has to be the first mention of our five best MS mobile apps. The app itself is available on the Apple and Google Play stores. You'll also find that most phone and tablet devices are supported, so there shouldn't be any issues with the content scale.
The website's red and black color scheme has been maintained on the app so that you won't have any trouble with the darker background. Besides that, the design is sleek and appealing to the eye. We found it remarkably easy to visit all the sporting markets that PointsBet has available, and placing a wager is just as easy as it would be on their website. Both app versions are well-rated (between 4.7 and 4.8) with thousands of reviews.
Once online betting is available in Massachusetts, we expect the app to maintain its leading design with possible limitations on advertising. It's also likely that a launch promotion similar to the 5 x $50 bet credits PointsBet bonus will be made available. Another noteworthy feature is the exclusive in-app content. You can find in-depth stories for upcoming matches or highlights of key moments in previous matches.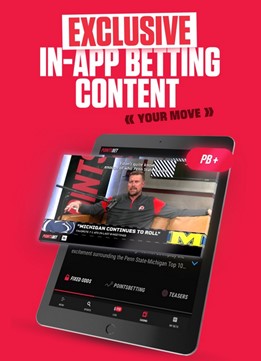 BetMGM MA Sportsbook App
BetMGM will definitely join the competition with the launch of its MS betting app. The online betting service is already available in 21 states, with a massive selection of sporting markets. The app's color scheme maintains the black and gold branding, making it easy for the eye. The mobile app is one of the most popular sportsbook apps on the market in the US and features a modern and intuitive interface.
Much like their website, you'll find all the latest promotions right underneath the header section of the app. Scroll down to see the highlighted sports matches that are coming up or tap on the menu icon in the top left to find all the sections. It's that easy! The layout is carefully designed, with all the information neatly presented on the home screen.
All of the online promotions were available through the app when testing in other states; we expect the same for the Massachusetts sports betting launch, starting with the first bet insured by BetBGM up to $1,000.
Various payment methods are available on the site, but regulations imposed by the MGC may limit these. BetMGM is doing well to keep pace with PointsBet in the US, and we expect a similar service in the Bay State.
Caesars MA Sportsbook App
Another name that most bettors will be familiar with is Caesars. The sportsbook has a global presence and has been a crowd favorite for several years. The app has a modern layout compared to the competition, and you'll be able to slide through all the markets using the icon header. Scroll a bit further down and the format maintains the trend set by the competition. All of the popular matches make the front page under a promotion banner. The Caesars team has simplified the design to improve the app's usability.
While the design is well-optimized, the color scheme is white and gold which may be harsh on the eye during the evening. If this is the case for you, use the dark mode available in the settings.
Caesars covers most payment methods used for sports wagering, but these options may differ with the Massachusetts app version. Massachusetts sports betting law is still in its early phases and there have been talks of regulations that may apply to payment methods.
Besides that, Caesars has been offering bet credits up to $1,250 in the states they support, with 1,000 Reward and Tier credits. This bonus is available in just about every state they're available in, so you will likely be able to claim this with your mobile device in Massachusetts too.
Caesars has also recently partnered with Genius Sports and the NFL to be the first sportsbook app to allow live football streaming of their matches. The 'Watch & Bet' feature should be included in the application when it is made available.
The only negative aspect of the Caesars app is the size. It's over 300 megabytes which may not work for all customers. If you've decided to use the service, you can always use the website from your browser to place your bets.
DraftKings MA Sportsbook App
One of the more recent sports betting sites to receive their license is DraftKings, but their presence in the US is massive. The service is available in over 20 states, and even if you're not among them, you can still take a sneak peek at what they offer. The only geographical restriction will become evident when you try to open your DraftKings account.
While browsing through the mobile betting app, we found that the design was similar to the competition, but there was a stronger focus on live betting. From the home screen, you will be able to see games that are currently underway, and you also have the option of placing a wager as the action unfolds. In addition, the promotions and highlighted betting opportunities slide along the header, and navigating through markets can be done using the side menu.
The app's color scheme is attractive, with the lime figures standing out on the black background. We never encountered any bugs while conducting our DK app review, and a 4.7 rating should offer even more validation if you consider the sportsbook your ideal service provider.
The current DraftKings bonus in other states is a 20% matched deposit bonus up to $1,000. There may be a launch promotion available when it goes live in Massachusetts, but this offer should still be available if it competes with the other MS betting bonuses.
FanDuel MA Sportsbook App
Finally, we have the FanDuel sports betting app. Their service has been in the US for several years, and a key feature is the addition of fantasy betting markets. So if you're a fan of assembling your own dream team, this might be the best option of the coming Massachusetts betting apps. Their standard sporting markets are also extensive, covering 13 sports and just about every league in each.
Downloading the FanDuel MS app was remarkably easy using both an Apple and Android device. Their ratings on each platform compete with the other big names listed here, achieving a 4.8 and 4.7, respectively. Once you can access the Massachusetts sports betting app, we expect their service to mirror what is currently available in other states and this includes big promotions!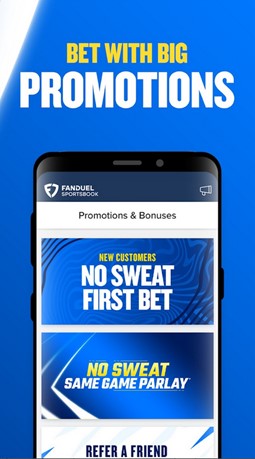 The FanDuel' No Sweat First Bet' will allow new customers to place a wager up to $1,000; if it loses, you should receive the matched amount in bet credits. If not, you should contact customer service to see if there was a term you missed.
The app has taken on a minimalistic approach, with all the markets being available in an icon slider in the header. In addition, you can find available boosts and promotions below before coming down to all the upcoming matches' odds.
Most FanDuel payment options are available with their online service, and this should also be the case with the app.
Aspects we consider when ranking Massachusetts Betting Apps
When choosing one of these legal sports betting apps, there are many aspects to consider. Our team here at Gamble USA has plenty of experience with online sports betting, and we've narrowed down the key characteristics of a quality mobile sportsbook app.
The best Massachusetts sports betting app will have taken these factors into account and ended up with a positive rating. To help you figure out what's most important to your style of play, we'll explain all of the considerations made toward the final score.
Design
Sportsbook apps can provide an outstanding betting experience for users if they are well-designed. Positive app design should focus on creating an engaging and intuitive user experience while maintaining an attractive appearance. You'll be spending a fair amount of time on the mobile app while sports betting and the lack of a dark mode may be tiring on the eyes. We evaluate these factors while considering mobile app design.
Usability
App usability is the measure of how easy and enjoyable it is to use a sports betting app. Therefore, it is crucial to ensure a positive rating from our team. To make an app usable, sportsbooks should focus on creating an intuitive set of processes to navigate to the relevant sections.
The app should also be responsive and bug-free to ensure it runs smoothly. This requires extensive testing by a general group of users to ensure it meets customer needs. App usability is essential, as it will determine how likely users are to return to the app and how friendly the mobile sportsbook is for beginners.
Payment options
Mobile payment options are an essential feature to allow customers to make their bets. These options should provide a secure and convenient way for users to fund their betting accounts. Popular mobile payment options include credit and debit cards, e-wallets, and bank transfers. Information shared with the payment system must be encrypted and secure, as users will be trusting the app with their financial details. All of the best mobile sports betting apps use the latest Transport Layer Security.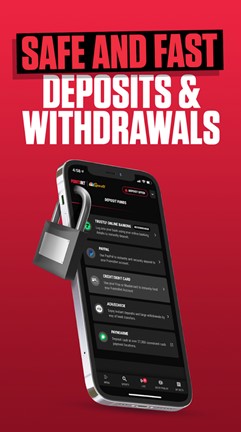 Availability
App availability is an important factor in appealing to as many customers as possible. A successful app should be available on multiple platforms so that users can use it on the device of their choice. Popular platforms such as iOS, Android, and Windows are the goal of all sportsbook app developers.
Additionally, the app should be accessible from different states, with support for multiple languages. This will ensure that users from around America, and not only those based in MS, can access the app and make use of its features. Sportsbook apps are only available in select areas, so if you are traveling, make sure you are in a region supporting online sporting bets.

Live streaming options
Mobile live streaming is a scarce but sought-out feature for sportsbook apps. Live streaming allows users to watch a live feed of a sports match while placing bets on it. This helps to make the betting experience more immersive and exciting. The apps need to have a high level of optimization for mobile devices, with a smooth, uninterrupted streaming experience. The audio and video quality should also be of a high standard, and the app should be able to support multiple streams at once.
Broadcasting rights in the US do limit the number of apps that have live-streaming options, but we are slowly seeing sportsbooks work through the challenges of including the feature.
Promotions
Sportsbook mobile promotions are an important way to attract customers. Mobile promotions reward customers for placing bets and incentivize them to use their mobile devices more. Therefore, promotions should be designed to be attractive and engaging for mobile users. Popular promotions include free bets and bonus funds, cashback offers, risk-free bets, and exclusive discounts and offers. When online betting becomes available in Massachusetts, we expect a wave of launch promotions and mobile offers. Our team has experience with most of these bonus formats and ranks them according to the amounts and requirements to withdraw the rewards.
By keeping these six factors in mind, we closely examine the MA sports betting apps to assign a rating and decide which service comes out on top. We have been evaluating apps currently available in other states to preview what's to come in the Bay State.
Most Popular Massachusetts Betting Markets and Teams
While sports betting has only recently received the green light in the state, we can already see a trend beginning to emerge with retail bets. Massachusetts's most popular online betting markets should follow the example set by the rest of the US and include football, basketball, baseball, ice hockey, college football, tennis, soccer, and MMA. Of course, the major leagues attract most customers throughout the United States, so make sure they're available with your choice of licensed online sportsbooks. Once online sports betting becomes available, we'll have more data to determine the most active betting markets.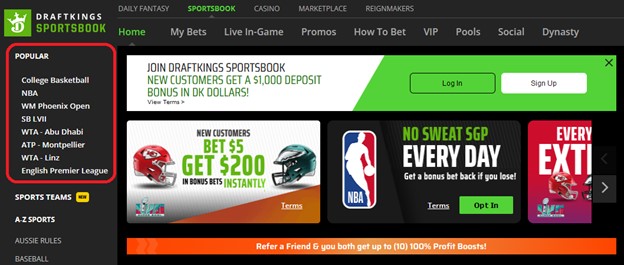 With retail sports betting being available, locals have mostly placed all the bets. As you'd expect, popular teams in Massachusetts include the New England Patriots, Boston Red Sox, Boston Bruins, Boston Celtics, and New England Revolution.
Over time, as online sports bettors become active, including more complex betting markets will become a thing. We've seen betting apps bringing new ways to bet on your favorite MS teams, like same game parlays, early cash out, live bets, flash bets, props, futures, and more. Previously, MS bettors could only wager standard bet types, like moneylines, parlays, over/under, spreads, etc.
Mobile vs. Online Sports Betting in Massachusetts
Both mobile and online sports betting are legal in Massachusetts. The operators of these services are licensed, but the online sports betting scene is likely to be on hold for another couple of months. Once the sportsbooks receive the green light, you will be able to download the apps and visit the websites. While for example a UFC betting app will function very similarly to its desktop variant, there are benefits to using mobile apps, so let's take a look at which method will suit your wagering game the best.
Mobile sports betting apps
The main benefit of mobile sports betting is that you can place a wager from anywhere as long as you have an active internet connection. This convenience appeals to many as you can find critical information about a match you're interested in while not being seated in front of a computer.
Another benefit of using a mobile sports betting app is the possibility of mobile-specific promotions. While not all sportsbooks have them, sometimes you'll find that a bonus is available only to mobile customers. Of course, you can still just download the app and claim the promotion if you prefer using a computer.
Online sportsbooks
The more traditional sports bettors will likely prefer using a computer to place their bets or maybe even a quick visit to a retail outlet. Well, there are benefits to placing your wagers this way. For one, betting on a computer is far safer than on a mobile device. If your phone is stolen with passwords saved, as most of us have, the thief could gain access to your betting account and use the funds. Besides physical theft, you are far more likely to connect to open WiFi networks using your phone. These open networks expose your device information, and hackers could gain access to an account or personal details.
A computer has the added benefit of being in the same place. There is always a chance you could lose a charger or break your screen. In this case, you would not be able to access your account at all. Mobile devices are relatively fragile, and issues arise far more often than with a computer.
With these benefits and drawbacks, we recommend using both devices if you are actively involved in the sports betting industry. A backup is always helpful if one of the methods fails.
Retail sports betting
Your final option for placing a wager in the state would be visiting a retail betting location. As of today, only two of them are available in the state, Encore Boston Harbor and Plainridge Park Casino. This manner of betting is outdated in today's market, but if you're in a rush to place a bet on the upcoming matches, it's your only option until mobile betting apps go live in Massachusetts.
Retail betting does offer security in the sense that no part of the transaction is online. If you are concerned about your online security, you may prefer to take the physical cash to one of the locations mentioned. You might find that these outlets will be pretty busy at the moment, so you will probably want to set some time aside to place your bet.
Massachusetts Mobile Betting Guide
With the decision made to legalize sports betting, mobile options are still not yet available. However, with the eventual launch of online sports betting in Massachusetts, you can follow these steps to open an account.
Choose a sportsbook: Decide which sportsbook has the markets you're interested in and the best service available.
Get the app: Visit the Apple Store, Google Play Store, or the Windows Store to search for the sportsbook app. Download it.
Register: Sign up for an account by providing your personal information and creating a username and password. If you're using the app, look for the highlighted 'Register' button, as shown below.
Fund your account: Fund your account by

depositing money using a payment method

such as a credit card, debit card, e-wallet, or bank transfer.
Place a bet: Once you've funded your account, you'll be able to

start placing bets on sports and events

.
Withdraw funds: If you've

won some money betting on sports

, you can withdraw it to your bank account, e-wallet, or another payment method.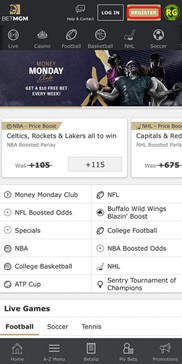 The registration process is usually very similar to the website of online sportsbooks. You can decide which to use when opening your account. To download the app, you must have an app store account registered in a supported area. If there are no results displaying for your sportsbook of choice, you might not be in a supported area.
Another common issue that customers encounter is app storage. These apps can be hundreds of megabytes at times. Your mobile device only has a limited amount; if it is full, you will either have to delete some media or another unused application to make space for it.
Besides these issues, if you have any trouble with depositing or cashing out with your mobile device, we highly recommend getting in touch with customer service. Our top-rated sportsbooks have renowned support teams, and your issue should hopefully have an easy solution.
The one area where MS betting apps make it easier to bet than online is their build-in geolocation software. Your device will instantly signal where you are based and you will not face delays signing-up or placing bets from Massachusetts.
Massachusetts Legal Sports Betting Timeline and Updates
August 2022: The Senate passes the Massachusetts sports betting bill.
Early January 2023: The Massachusetts Gaming Commission awards licenses to four operators in the state. These include BetMGM, Caesars, and WynnBet.
Mid-January 2023: Another six sportsbooks receive their licenses; Bally Bet, Betr, Betway, DraftKings, FanDuel, and PointsBet.
Late January 2023: Retail sports betting becomes available at the Plainridge Park Casino and the Encore Boston Harbor.
Retail betting has been active, and the Massachusetts Gaming Commission has already stated that online sportsbook services will follow soon.
FAQ's
What betting apps work in Massachusetts?
Currently, there are ten licensed sportsbook apps in the Bay State. These are Bally Bet, Barstool, BetMGM, Betr, Betway, Caesars, DraftKings, FanDuel, PointsBet, and WynnBet. Their online services will be going live in the first quarter of 2023.
Are mobile betting apps legal in Massachusetts?
Not yet, sports betting is legal in Massachusetts, but the greenlight has not been given to online sportsbooks to launch. The online services will be made available in the next couple of months.
Can I bet online from Massachusetts?
Not yet; only retail sports betting is available in the state. However, when the online option becomes available, you can either use the website of a licensed sportsbook or the mobile app in the state.
Can I bet with my mobile from Massachusetts?
No, you will soon be able to bet with your mobile from Massachusetts when online services become available. All you will need is an internet connection, an account, and a compatible device.
Which are the best betting apps in Massachusetts?
After our detailed review of the available operators, our team has evaluated PointsBet as the best mobile app coming to Massachusetts. The app should be available in the Bay State soon.
Who regulates Massachusetts sports betting apps?
The Massachusetts Gaming Commission will regulate Massachusetts sports betting apps.
When did Massachusetts betting apps go live?
The Senate passed the sports betting bill in August of 2022, and sports betting apps should be live in the first quarter of 2023.