Gamble USA strives to improve your online gambling experience. We aim to help you play safely, make informed decisions when gambling, and increase your betting knowledge through our guides.
We adhere to strict editorial integrity; our content may contain links to products from our licensed & legal US partners.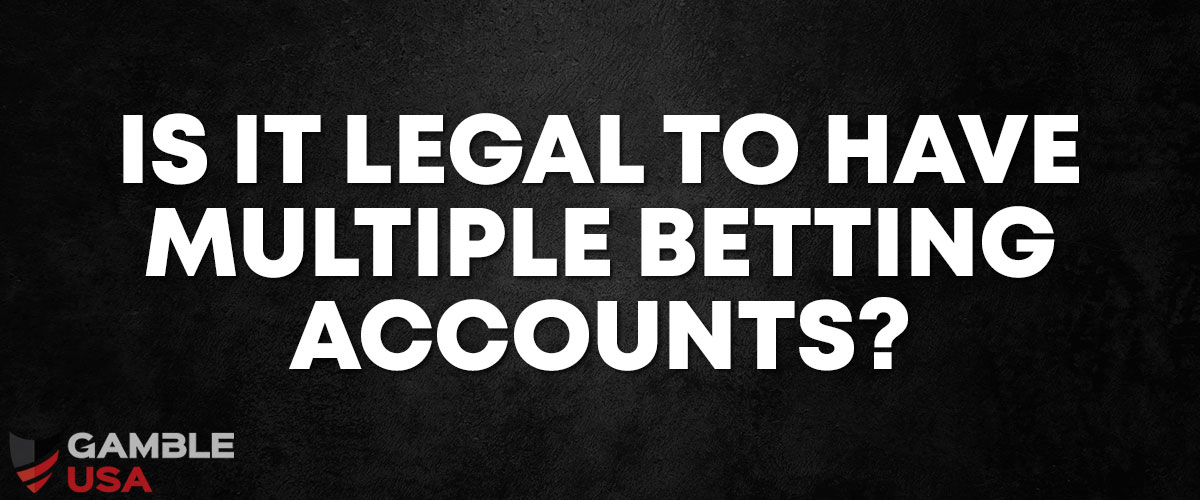 If you love sports as much as we do, you were probably thrilled when the US Supreme Court deemed sports betting to be legal and allowed granted states the individual power to regulate sports betting in each state. There's been a growing number of legal online sportsbooks opening up their doors to US bettors, and with that, there's more choice for keen bettors than ever before.
So, like many other bettors, you've been eagerly anticipating the NBA finals and preparing to place your bet on the Nuggets to win it all and Nikola Jokic to win the finals MVP – only to find out that the odds are better at another sportsbook. You're now left wondering whether it's legal to open a betting account at another sportsbook and get better odds for the same bet.
Well, the short answer is yes, it is legal to have multiple betting accounts with different sportsbooks, but there's more than meets the eye. In this article, we'll discuss the legality of having multiple betting accounts and the possible benefits of doing so.
Why can't I create more than one account with the same sportsbook?
The realm of multiple betting accounts is a highly regulated and restricted topic in the world of online sports betting. Namely, all US sportsbooks impose a limit that allows for only one account per customer. This rule is mainly in place to ensure that you're not abusing the bonuses and offers provided by the sportsbook – which are often tailored for new customers. Moreover, sportsbook operators aim to register all your betting patterns and strategies, for better or for worse. By opening multiple accounts, the sportsbook operator won't be able to monitor your behavior at their site, and if you try to do so, it may result in getting your account banned.
Although it's technically possible to create multiple accounts at the same online sportsbook from the same household, keep in mind that most sportsbooks have an IP tracker, which will track down your IP addresses and you'll need to provide personal information and documents from the account holder. Moreover, some sportsbooks impose a limit of one account per household, and if the operator is suspicious that the same person is using more than one account, they may ban all the accounts. Bookmakers identify multiple accounts by using software and techniques to detect multiple account usage, and the terms and conditions usually indicate that a person using multiple betting accounts will get a permanent ban.
Is it possible to have accounts with multiple sportsbooks?
While having multiple betting accounts with the same sportsbook is illegal, having multiple accounts with multiple sportsbooks is perfectly legal. In fact, many bettors create as many betting accounts as they can. The biggest advantage of this is matched betting, but there are other benefits that come with new accounts as well.
Provided that you only open one account per sportsbook, there's no limitation on the number of sites you can use. Many bettors consider multi-accounting and matched betting as a great way to make some extra bucks while making the same bets, and the most common reason they do this is to compare the odds of different sportsbooks.
For example, one sportsbook may offer better odds for a particular betting market, but another one may offer more competitive odds for another market. So, instead of compromising your potential profit by only betting on one sportsbook, you can open multiple betting accounts and get the best odds all the time. There are many other benefits to betting with multiple accounts, and we'll discuss this in detail below.
Benefits of having multiple betting accounts
Since we determined that having multiple accounts at different betting site operators is legal, you may be wondering what are the benefits of it. Well, the benefits are plentiful, and go way beyond the ability to practice matched betting.
Welcome offers
Almost every sportsbook that operates legally in the US offers some type of a welcome bonus. It's usually in the form of a no-sweat first bet, bonus bets, or other type of promotion that's only available for newcomers. It's generally a one-time deal, and you're only able to get it if you register with the particular betting site for the first time.
Multiple accounts matched betting
Matched betting, or arbitrage betting, is a strategy that involves placing multiple bets across different betting markets for the same sporting event. Bettors usually utilize this strategy when using an incentive provided by the sportsbook – be it in the form of a no-sweat first bet, some type of bonus bet, or an insurance bet. The bettor covers all the possible outcomes of the event, and these multiple bets allow them to win no matter the outcome.
Matched betting is not illegal, but it's against the terms and conditions of most sportsbooks, which is why matched bettors only practice it with multiple betting accounts.
Odds comparison
Not all sportsbooks offer the same betting odds for the same betting markets. While they may have the same betting lines and sports coverage, especially when it comes to popular leagues and competitions, the odds may vary.

For example, the moneyline odds for the Tampa Bay Rays to win against the Baltimore Orioles at DraftKings are set at -190, while the same betting line has odds of -175 at FanDuel. So, by placing the same bet at a different sportsbook, you'll get more money if your team wins. Keep in mind that this is just an example, and the actual odds may vary.
Different betting markets
Although most sportsbooks cover the majority of popular sports and competitions, especially popular leagues such as the NFL, MLB, NBA, NHL, NASCAR, NCAAF, and NCAAB, some sportsbooks offer unique betting lines that you can't find elsewhere. This is why many bettors own accounts at multiple sites.
For example, some operators might offer futures for less popular leagues or creative prop bets, and many bettors open multiple accounts to be able to place bets at different sportsbooks.
The ability to spread your bets
Whether it's a myth or reality, winning too much at the same betting site can get your account banned. Although operators often don't admit this, if you're winning too much at the same sportsbook, you might get your account limited or banned.
This is why many bettors are opening multiple betting accounts across different sportsbooks. By spreading out their bets, they are not at risk of being banned and it allows them to fly under the radar.
Which betting sites should I register with?
The US sports betting market has never been more diverse. Dozens of sportsbooks operate legally in over 20 states, so it's now easier than ever to open multiple accounts at different sites. If you're wondering which betting sites should you register with, we suggest these legal and fully regulated sportsbooks:
DraftKings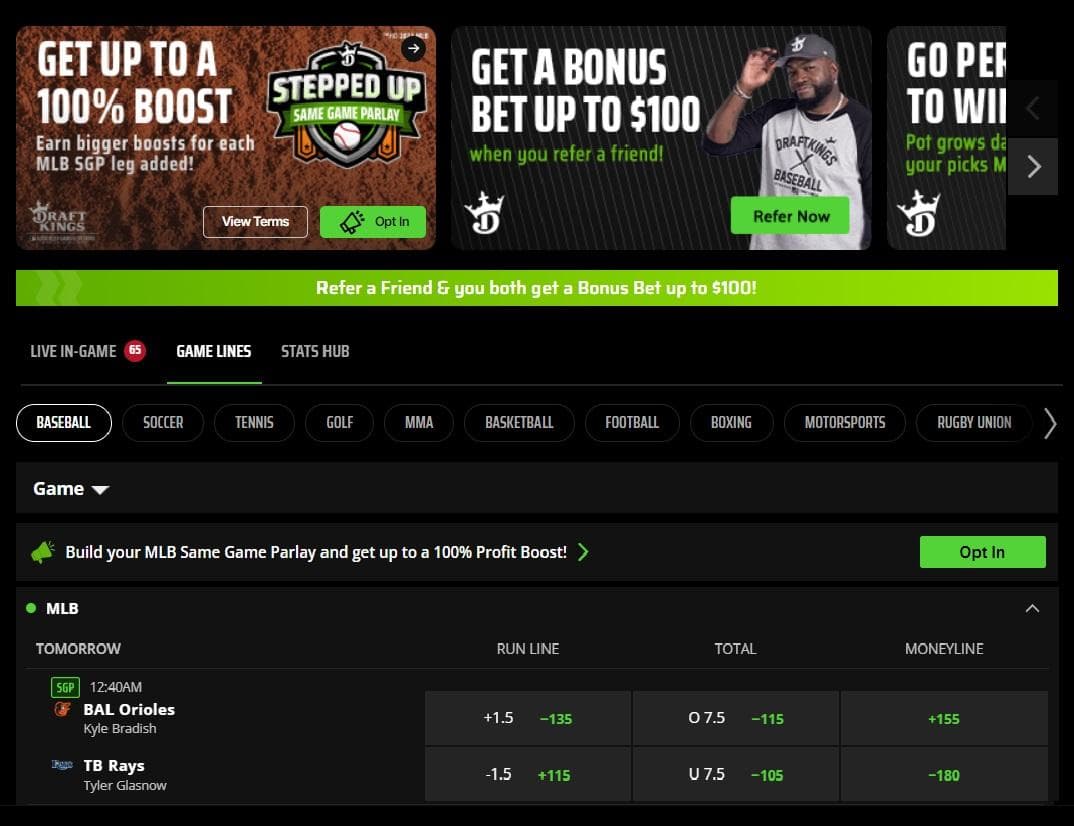 ✅Pros
Available in 21 states
Lowest minimum deposit limits
Excellent sports coverage
❌Cons
No live support is available (although the AI chatbot is available 24/7)
DraftKings is probably the most famous US sportsbook and is widely considered the operator that started the shift toward the legalization of online betting in the US. It offers competitive odds across multiple betting markets and has odds for hundreds of leagues and competitions.
Although the site's terms and conditions don't indicate that only one account per household or the same IP address is allowed, there have been many instances where users have been banned for having more DraftKings accounts from the same family. That's why we suggest using only one DraftKings account per household.
And if you're a new user, you're in for a plethora of promotions, including a 20% deposit match of up to $1,000 for the first deposit you make at the site.
Up To $1,000 Deposit Bonus
21+. T&C Apply
21+. T&C Apply
The best sportsbook
Amazing odds & offers
Awesome betting app
Up To $1,000 Deposit Bonus
21+. T&C Apply
21+. T&C Apply
FanDuel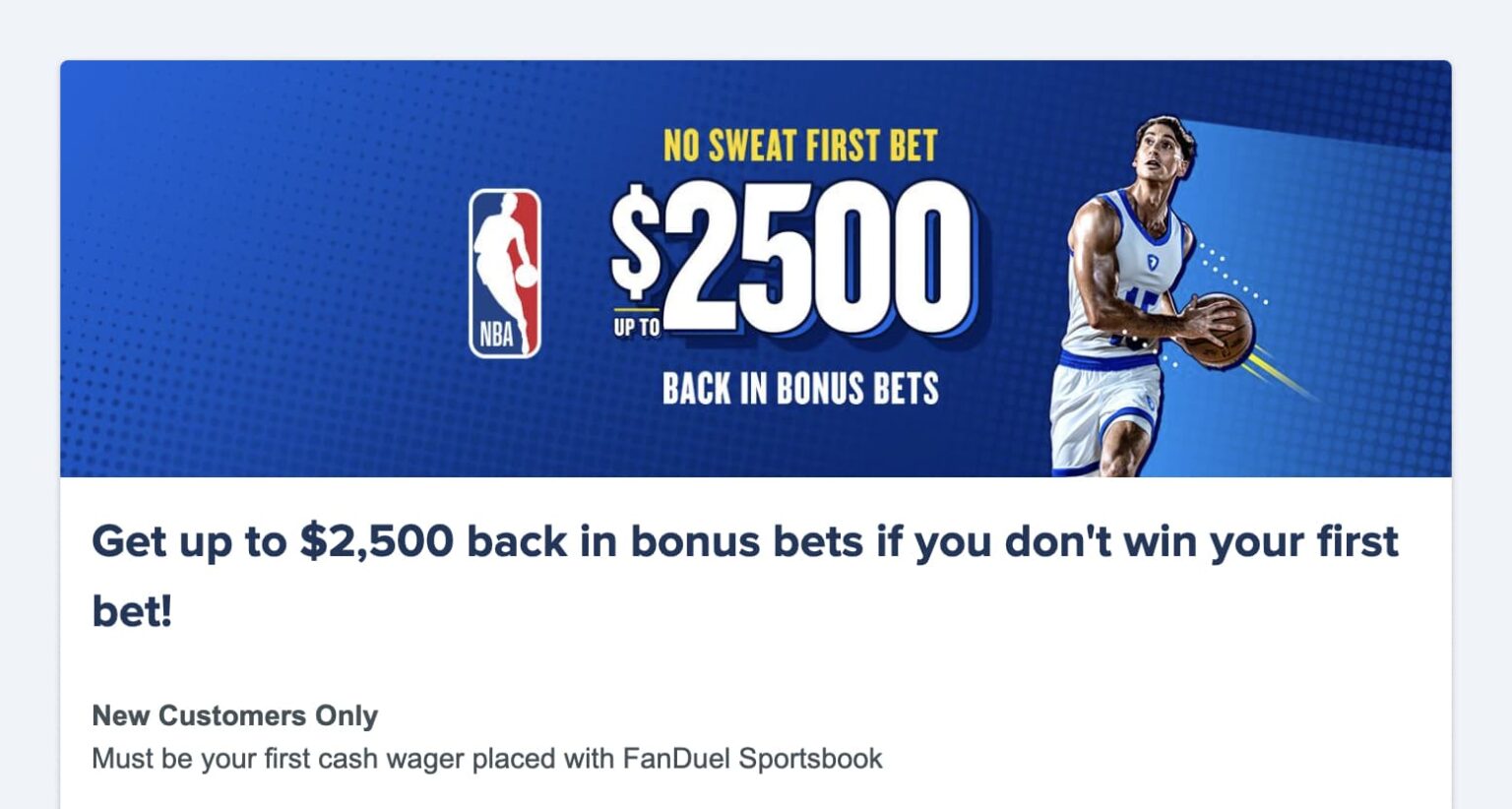 ✅Pros
Numerous promotions and bonuses
Competitive odds
Excellent mobile betting app for iOS and Android
❌Cons
Frequent geolocation issues when using the desktop site
FanDuel stands alongside DraftKings as one of the biggest, most popular, and most widespread online betting options for US bettors. It offers competitive odds across multiple betting markets, and the variety of betting options is seemingly endless.
The promotional page gets updated regularly, and new bettors that register with FanDuel now are in for a No Sweat First Bet of up to $2,500. Besides the welcome bonus, there are many other promos, such as a refer-a-friend bonus, odds boosts, and more.
The terms and conditions regarding multiple account usage are rather strict, and just like DraftKings, having more than one account per IP address may raise a flag and have your FanDuel account suspended.
No Sweat First Bet Up To $1,000
21+. T&C Apply
21+. T&C Apply
Convenient banking
Massive choice of sports
No Sweat First Bet Up To $1,000
21+. T&C Apply
21+. T&C Apply
PointsBet
✅Pros
Unique Build a Bet feature
Tailored bonuses for different sports
The PointsBetting feature provides an exciting betting experience
❌Cons
The PointsBetting feature means that you can lose more money if you're not careful
PointsBet might not be as popular as the other 'big names' on this list, but this sportsbook more than makes up for it with its unique features. It offers odds for a wide variety of betting markets, but what makes it stand out are the promotions and offers.
New account holders are eligible for up to 5 x $50 bonus bets if their first fixed odds cash bet of the day loses. The promotional page includes several generous deals for existing bettors as well, such as the Let it Fly Friday offer or the Tennis bet bonus.
10 x $100 Second Chance Bets
21+. T&C Apply
21+. T&C Apply
Awesome live betting
Multiple bet types
Huge range of sports & markets
10 x $100 Second Chance Bets
21+. T&C Apply
21+. T&C Apply
BetMGM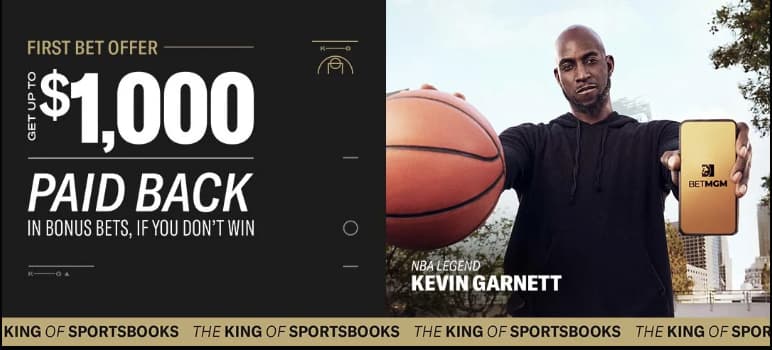 ✅Pros
Excellent variety of betting markets
Competitive odds and regular odds boosts
Unique Edit My Bet feature
❌Cons
Navigating through the site could be easier
BetMGM is one of the most reputable brands in the country when it comes to gambling, and it's now available to sports bettors online in more than 20 states. The list of available markets to bet on is very diverse, and it includes every popular sport and competition in the US.
The welcome deal is what attracts many new bettors to this site, though. By using the promo code GAMBLEUSA, new users can get up to $1,000 in bonus bets. There are several ongoing promotions for existing customers as well, and many of them are taking advantage of the regular odds boosts.
Promo Code: GAMBLEUSA
Up To $1,500 In Bonus Bets
21+. T&C Apply
21+. T&C Apply
Promo Code: GAMBLEUSA
Super fast payouts
Live streaming
Promo Code: GAMBLEUSA
Up To $1,500 In Bonus Bets
21+. T&C Apply
21+. T&C Apply
BetRivers
✅Pros
Lower juice than its competitors
2nd chance bet for new account holders
Numerous daily boost specials
❌Cons
Not as widely available as its competitors
BetRivers is the online sportsbook that was launched as a part of the Rivers Casino group, and it's available in over a dozen states. Although it's not as popular as the big dogs such as DraftKings and FanDuel, it usually offers more competitive odds than its competition and lower juice.
The welcome deal that's available for newly registered bettors only includes a 2nd chance bet of up to $500 if your first bet loses. To claim the offer, you should use the bonus code SPORTS. There are other ongoing promotions as well, and most of them apply to existing users as well.
When it comes to the legality of opening multiple accounts, the same terms and conditions apply as with other sportsbooks, meaning that users are not allowed to open two accounts or more on the same name.
Promo Code: SPORTS
Up To $500 2nd Chance Bet
21+. T&C Apply
21+. T&C Apply
Promo Code: SPORTS
Regular promos & rewards
Generous sign up bonus
Promo Code: SPORTS
Up To $500 2nd Chance Bet
21+. T&C Apply
21+. T&C Apply
How to open account with multiple betting sites
Opening an account with any sports betting site is extremely easy. The process is purposefully made to be as simple as possible, so regardless of which betting site you choose, you'll need to follow these steps:
Open the sportsbook's website or download the mobile app from the iOS App Store or Google Play Store from a location where the sportsbook operates in
Locate the registration button
Enter your email address and provide a password
Provide your full name, DOB, address, and the last 4 digits of your SSN
Complete the verification process by providing a photo of a government-issued document such as an ID or driver's license
The registration process usually takes up to 10 minutes, and you'll have no problem opening an account with multiple sites. Keep in mind, however, that you're not allowed to open more than one account with the same company. Moreover, you'll need to provide your bank account details and fund all of your betting accounts.
Best bets to place with a new sportsbook account
The best bet one can make is an informed bet. Regardless of the sportsbooks you choose, it's most important to do your research and make an informed decision before you place a bet.
Having multiple betting accounts, however, provides you with the opportunity to compare the odds and place your bet where they're the most favorable. Moreover, by registering as a new user at one of the sites we suggested, you'll become eligible for the welcome promotions, which usually include some form of a bonus bet.
So, by making use of the bonus bets, you'll lower the risks involved with sports betting and maximize profits.
Matched Betting with Multiple Sportsbook Accounts
The practice of covering all the possible outcomes of a sporting event is called matched betting. The objective of matched bettors is to cover all the possible outcomes of a sporting event and still come out in profit, which means that they won't lose money. Although the practice is deemed illegal if you're doing it with a single betting account at a sportsbook (and quite impossible), most bettors try it with multiple betting accounts.
Since it's almost impossible for the odds to overlap even with multiple sportsbooks, bettors rely on incentives such as bonus bets for matched betting.
So, to execute it, you need to find a sportsbook that offers bonus bets (they're usually only available to newly registered users), make sure that you meet the criteria for the bonus, and claim it.
Then, you should find the opposite bet on another sportsbook, and place a bet that's opposite of your initial bet.
After the event is finished, you'll either win money from one of the bets or receive a refund from the bonus bet.
Keep in mind that this practice is considered bonus hunting and it falls in a gray area, so if you get caught, you might get your account suspended.
FAQs
How can I set up a second betting account?
Having more than one betting account with the same sportsbook is illegal. However, if you intend to do it, you need to create it under another name - from a family member or a friend. Also, make sure you don't use the same IP address because it might be considered a suspicious activity by the sportsbook.

The best you can do is create a new account with another sportsbook, which is completely legal.

Can I have multiple accounts with the same bookie?
No. All sportsbooks that operate legally in the US only allow for one account per customer.
Can husband and wife have separate sportsbook accounts?
Yes. Two family members can have separate sportsbook accounts, even if they live at the same address. However, the sportsbook operator will see this as a suspicious activity and both accounts will be under the watchful eye of the operator.
Can you make a fake betting account?
No. Creating a fake betting account is considered illegal, and it's a recipe for disaster. Moreover, it's almost impossible to do it, since you'll be asked to provide a government-issued document to confirm your identity, such as a photo of your ID, a passport, or a driver's license.
Is it possible to open a betting account in someone else's name?
Although it's technically possible to open a betting account in someone else's name, this activity is considered illegal; same goes for buying betting accounts. You shouldn't attempt to open a betting account in someone else's name, and even if the other person creates the account and you use their account for betting, it's against the terms and conditions.
Do I need more than one account for match betting?
Yes. Matched betting, or arbitrage betting, involves betting on all the possible outcomes of a sporting event in an attempt to come out in profit. Since this is impossible with one betting account, you'll need more than one account to practice matched betting.