Gamble USA strives to improve your online gambling experience. We aim to help you play safely, make informed decisions when gambling, and increase your betting knowledge through our guides.
We adhere to strict editorial integrity; our content may contain links to products from our licensed & legal US partners.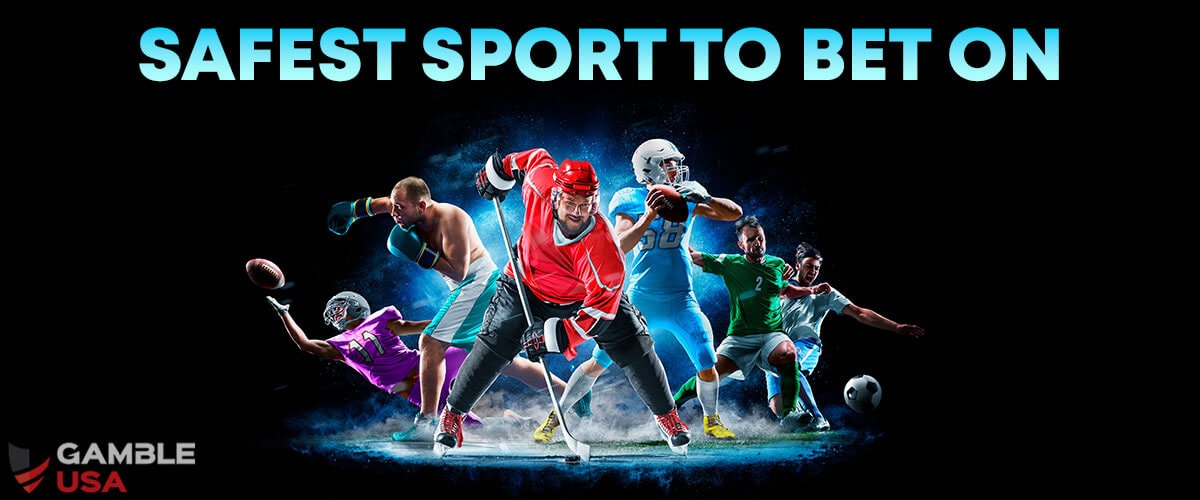 With the abundance of betting markets out there, it might be hard to pinpoint the best sport to bet on. We understand where you're coming from and are here to lend a helping hand in finding the safest sports to bet on.
If you are new to online gambling, you may want to develop a betting strategy to make sure you can give your early bankroll a boost and keep the winnings ticking over. Sticking to a sport you are familiar with would be wise to begin with, but there are countless options available should you wish to broaden your betting horizons.
Let's start off with the safest sports markets and where you can find the top deals in terms of bonuses and promotions. If that sparks your interest, keep up.
7 Safest Sports Markets & Leagues to Bet On
We can make endless lists of the best sports markets to bet on based on numerous criteria. But that would take ages and not really prove fruitful in the end.
What we can do to help out is list the sports that are widely considered to be the best and go through the specifics that make them stand out, all the while listing the sportsbooks that will welcome you with open arms. Let's jump right in.
🏈Football (NFL)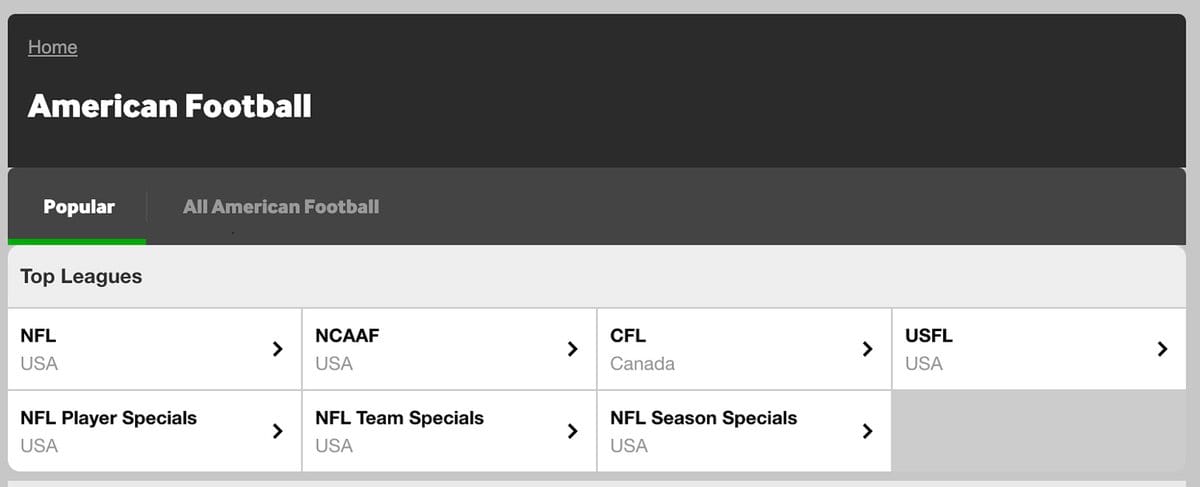 Not only is football the most popular sport in the USA, but it's also one of the most popular sports to bet on. Plus, it can be quite safe if you know which markets to look at and how to create a bet strategically. Although betting on football seems intimidating, it really is not. Especially for a fan. But just understanding the basics of the game will get you far.
The three most common markets are:
When it comes to leagues, the NFL is far ahead of any other when it comes to available markets and promos, but you can also note AFL, NCAA Football, and college football, among others.
Although the market is quite wide, we recommend starting off with a point spread bet as it allows you to level the playing field. What does this mean? It allows you to bet on the margin of victory i.e. to cash your bet, the team you're betting on will have to win by a certain number of runs. Alternatively, the other team can just win or lose by fewer points.
✅Pros
Popular and widespread in the US
Wide betting market with unique bets
Available promos on multiple sportsbooks
❌Cons
Requires extensive research if not familiar
🏀Basketball


Whether you like to shoot some hoops or watch the NBA, it's hard not to be influenced by one of the most popular sports in the world. What we like about betting on basketball is the unpredictability due to the fast gameplay that brings out excitement in everyone, not just basketball fans.
Because of that, basketball leaves plenty of room to bet on different prop bets and live markets. Some of our favorites are:
If you're looking at which leagues to bet on, the NBA is the obvious choice, but it's not everything there is. You can easily transition into European leagues, and go with the Champions League or maybe bet on the USA in the FIBA World Championship. There's always college basketball if you prefer staying close to home.
This offer is a great opportunity, and you'll probably find a lot of top-notch promos at Caesars as the official sponsor of the NBA. Again, we suggest going with points spread, but moneyline bets which allow you to choose the winner are also quite safe.
Live betting is also a good strategy for bettors who thrive on excitement. The betting odds change frequently and quickly for in-game bets, so you have to be quick on your feet. Small odds can easily become big, leading up to equally big wins.
✅Pros
High frequency of events
Great for live bets
Minimum margins
❌Cons
Low odds for foreign leagues
🥊Boxing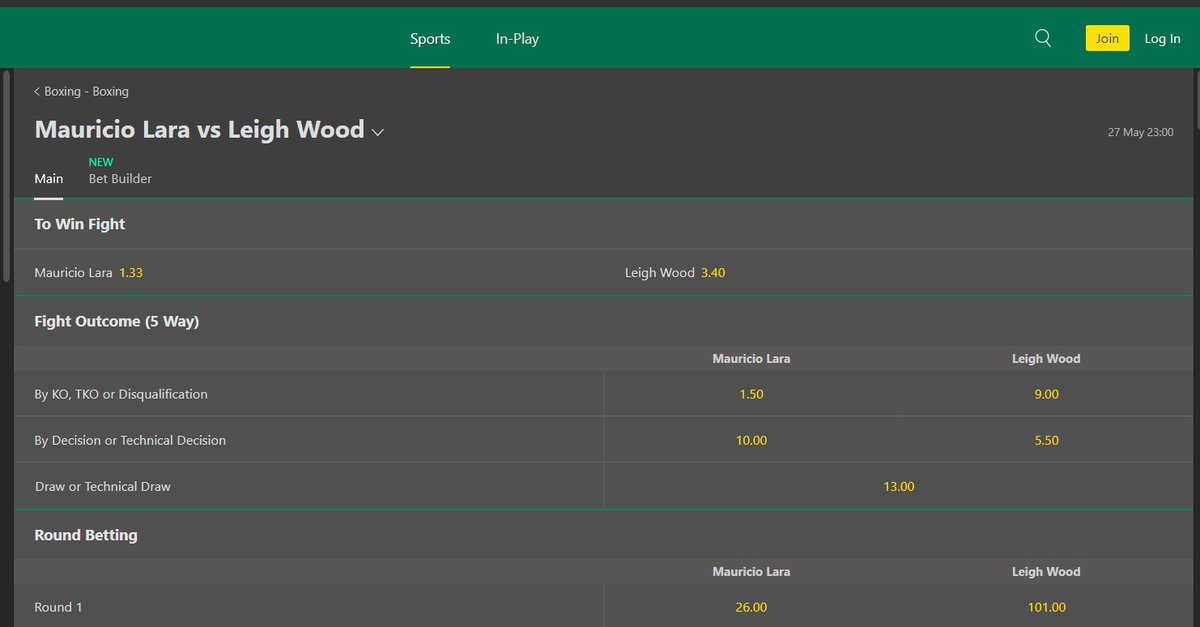 Boxing might not be a year-round event, but there are a couple of matches during the year that take up everyone and anyone's attention. Plus, they're all big buck events. Operators appreciate these kinds of matches, meaning players have a lot of options at their disposal, yet all pretty straightforward.
Since boxing is quite unique among other sports, we have made an equally special selection of top betting bets here:
Props
Propositions
Total rounds – over/under
Parlays
When it comes to boxing events you can bet on, the boxing calendar is quite unpredictable. You won't get an insight into any fights that much upfront. So, keep your eye on the boxers that intrigue you and prepare for their next match.
The dollar might not seem much but it can get you a long way if you're strapped for cash. We suggest looking into some proposition bets as they typically have higher odds and more interesting options. For example, you can bet on whether there will be a knockdown, will the fight go to a decision, or if there'll be a point deduction. All you have to do is find out.
✅Pros
Unique betting markets with higher odds
Great (and unexpected) boxing events
Good bonus options
❌
Cons
Not as common as other sports
🎾Tennis


If you're not a fan of team sports, there's another aside from boxing that will keep you on your toes. Ok, maybe not as violent, but a lot of fury can happen between a player and his racquet. Yet, what sets apart this sport from others is the chance to bet not only on the match, but each set, game, and point.
The following bets are our top picks:
Handicaps
Betting on points
Betting on sets
Live betting
The sports calendar is filled year-round, meaning you can find a tournament to bet on from January to December. Naturally, some are more notable like Wimbledon and US Open, while others like Masters 1000 and ATP Tour 500 can surprise you quite a bit. There are also competitions between countries like the Davis Cup.
With such an offer, we suggest getting straight to the point – pick a match winner and wait it out. However, if you're a bit impatient, we suggest live betting. Wait for that key moment that'll make you bet at least $25.
✅Pros
Tournaments year-round
Many available markets
Live coverage available
❌Cons
Not everyone's cup of tea
⚾Baseball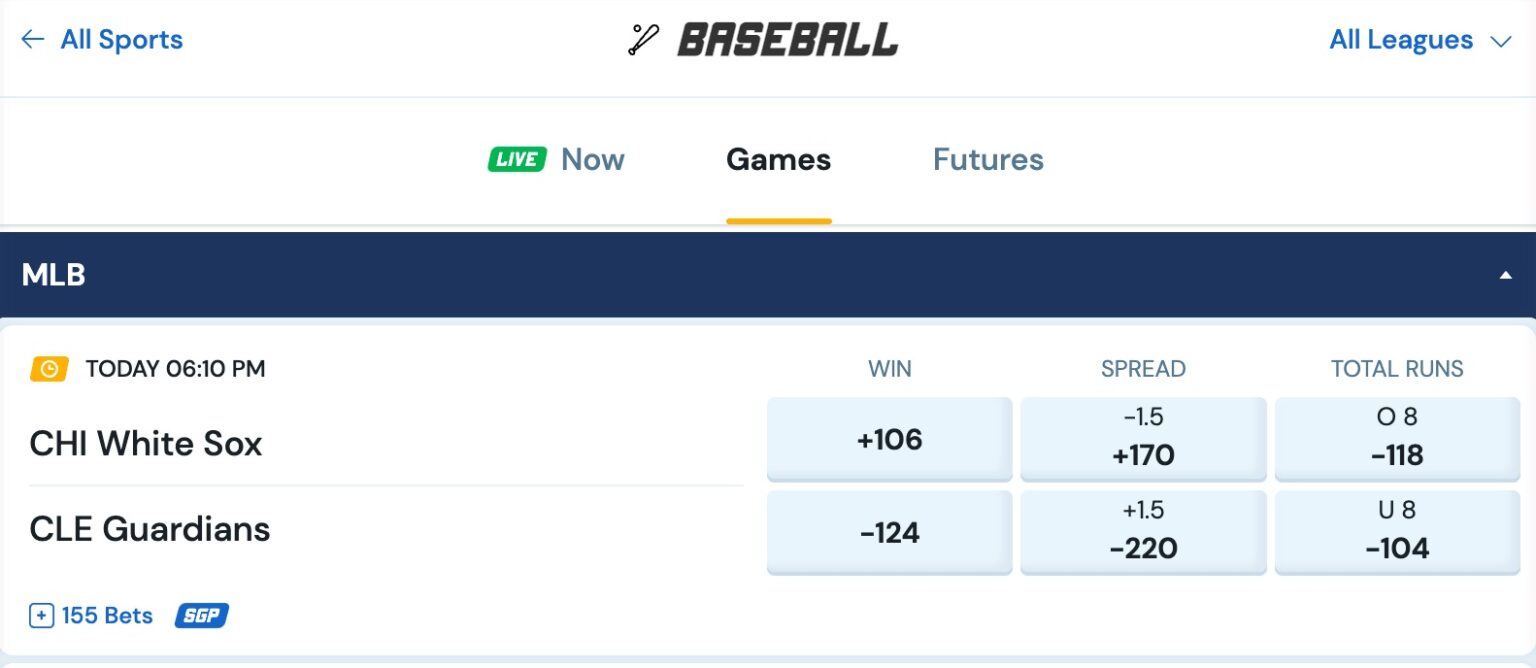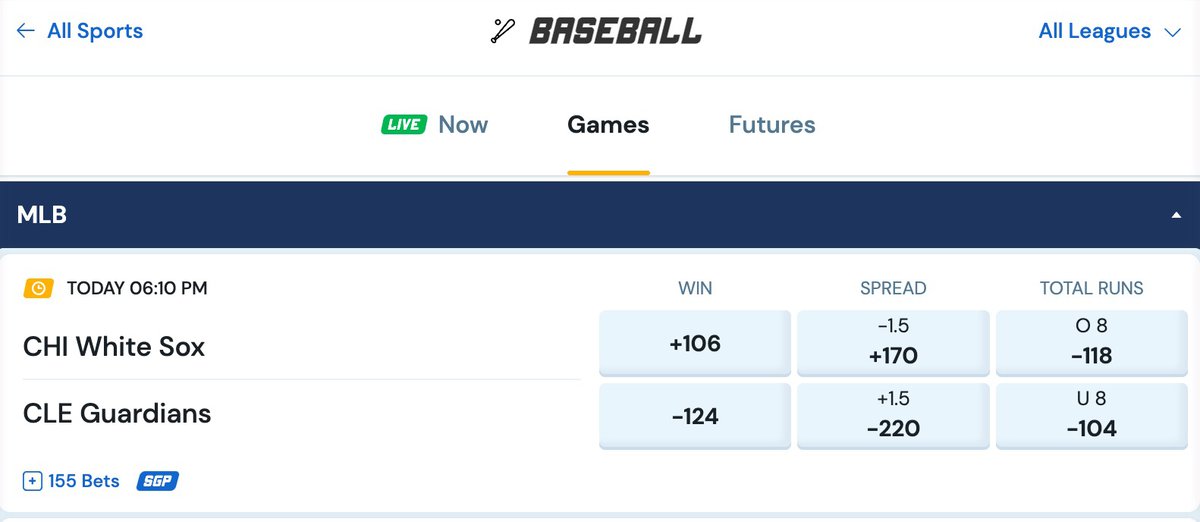 Americans have a taste for baseball, and as one, I completely get that. It might not be popular worldwide, but there's something so American about it. What makes it even more special is the betting process. And that – that might not be for everyone! However, it can prove to be quite profitable, so even if you're not an expert, you can learn a lot about it through statistics.
First, let's introduce you to the top baseball bets of our choice:
Parlays
Run lines
Moneylines
When it comes to leagues, there's the obvious answer – MLB. But then there are the National League, Minor League Baseball, American League, and many more, depending on how deep you want to get.
Note: This is a special MLB offer for NJ players. Make sure you double-check the current offer for your state.
As you can tell, parlays are one of the most popular bet types in baseball, and we couldn't agree more. However, futures are great for patient bettors with a hunch as betting on a league winner is always thrilling. We also suggest moneylines if you trust your hunch on the game winner but can't wait for the long-haul futures bet.
✅Pros
Long seasons
Variety of bets
Unpredictable outcomes for extra excitement
❌Cons
⚽Soccer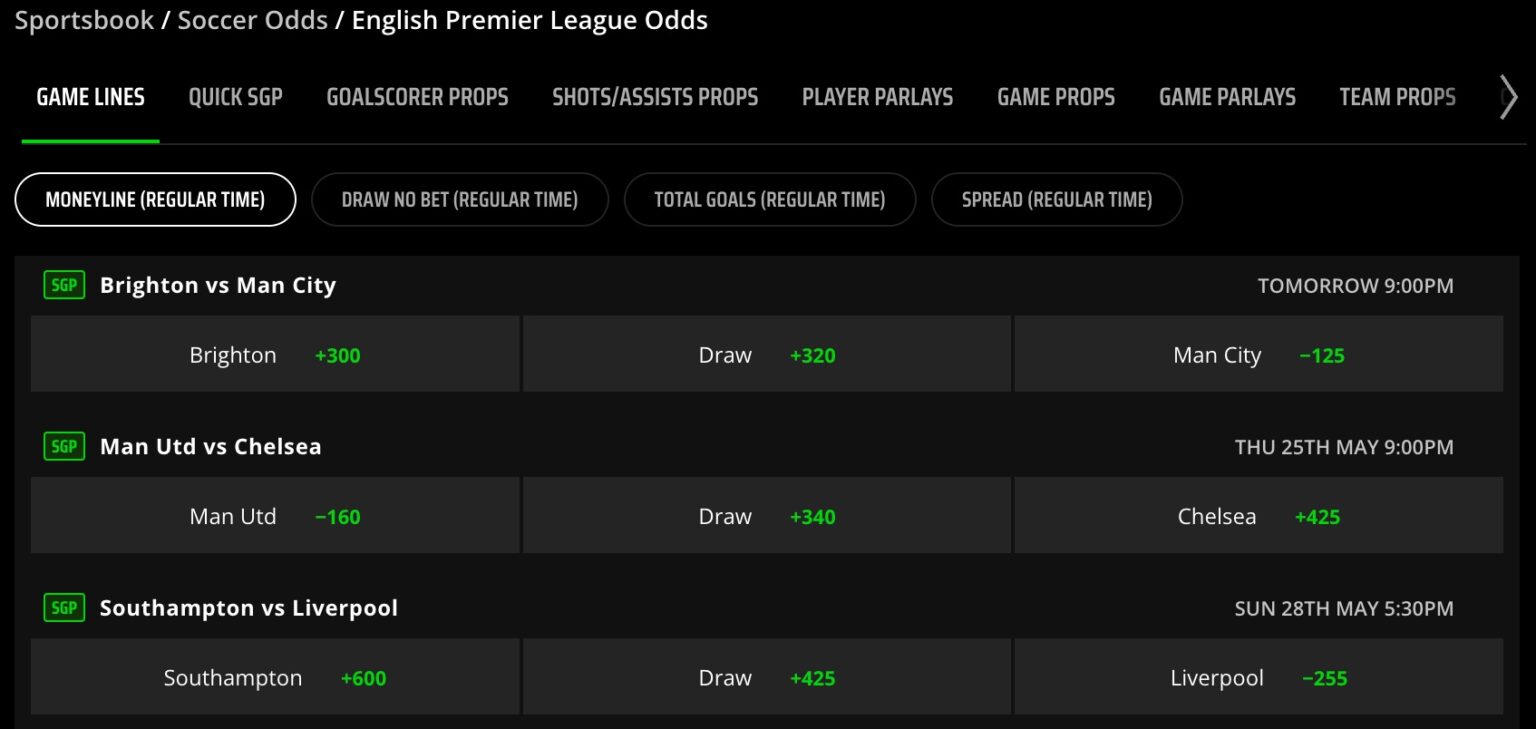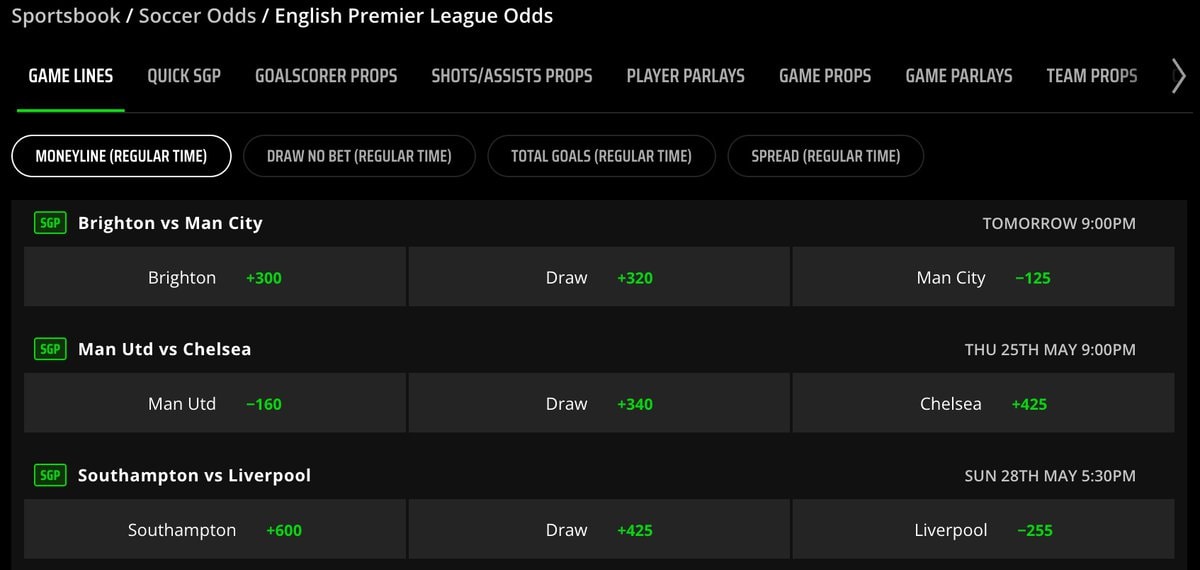 Soccer might not be an "American" sport per say, but this betting market is enviable for sure. As the most popular sport in the world, there's plenty to look forward to as many operators tend to offer great odds due to the competitiveness in the market. On top of that, you can look forward to a wide array of promos and bonuses.
Some of the betting options you have are:
1X2 bets (three-way bet)
Double chance bets
Total bets (over/under)
Exact goals and correct score bets
Half-time/full-time bets
When it comes to where you should direct your bets, there are the obvious answers – the Champions League, Europa League, the Premier League, Bundesliga, La Liga, and more European leagues. If you want to stay close to home, we suggest MLS. There's the World Cup, but it only happens every four years.
As soccer offers plenty of betting options, we suggest starting off with half-time/full-time or 1X2 bets if you're a beginner, and then working your way up to total bets to pick how many goals will be scored during the match.
✅ Pros
Competitive odds
Wide market
Available everywhere
❌ Cons
Maybe not suitable for betting beginners
🏇Horse Racing
To finish off this list, we had to mention one of the oldest sports in terms of betting. Although not everyone's favorite in the world of sports, it has rightfully found its spot on our list. Horse racing allows bettors to enjoy a diverse betting market with the advantage of keeping tabs with live streaming in many online sportsbooks.
What kind of horse racing betting markets are there?
Aside from the famous Kentucky Derby, top races include The Cheltenham Gold Cup, Belmont Stakes, the Champion Hurdle, and Preakness Stakes.
To take advantage of this FanDuel offer, simply choose one horse to win in the Preakness Stakes race. Whether successful or not, you can diversify your betting with the place bet, allowing your horse to finish either first or second.
✅Pros
Unique promotions and bonuses
Live streaming available
Year-round events
❌Cons
What is the safest betting market for you?
Telling you that only one betting market is the safest one is a double-edged sword. However, I can tell you which markets have shown me the best results long-term. Regardless of the sport in question, I can say that betting on the winner of the game is always a safe call + you can always pick the bookie's favorite.
However, the odds for such bets are typically not very high, which might ruin the experience for some bettors who are in it for the big bucks. But, on the other hand, it's unlikely you'll become a millionaire by playing it safe.
Another betting market that has proven to be safe for me is double chance. Note that this is mostly a soccer bet, but applicable for other sports where the match can end in a tie, like handball and rugby.
It definitely carries the lowest risk, even lower than the bet mentioned above. You're basically placing a bet on two of the three possible outcomes of the match – team A, team B wins, or a tie. This way, you have a 66.6% chance of winning, which is a recipe for a safe bet.
Are some sports betting outcomes easier to predict?
I can't really pin-point one sport whose results are easier to predict than others, but there are some factors that go into it all. For example, soccer is easier to predict than American football when it comes to team sports. On the other hand, many experts say that tennis is one of the easiest sports to predict for individual matches.
Naturally, opinions divide on this topic and it's hard to give a precise answer. The best way to make sure you're on the right path is to gather all the necessary info about the teams and/or the players before making any bets. Such a manner of betting doesn't necessarily have to provide perfect results, but it's a great way to start.
Betting on more than one sport?
Specializing in one sport allows you to do research properly and not lose your focus. You shouldn't pick and choose multiple sports to bet on just because you're bored or feeling lucky. Having said that, betting on more than one sport isn't necessarily bad. I'll get more into that.
A good bettor will select games where they can really get an edge, regardless of the sport.  What you should note if you choose to create parlays with multiple sport bets:
Major sports start their seasons at different times of the year, but their matches tend to overlap. For example, the basketball season starts during the ongoing football season, so that's a pairing you might wanna take a look at.
Many US bettors tend to focus only on American football. If that's your main betting market, we suggest mixing it up with baseball. Their seasons overlap perfectly to give you enough time to research everything and find the best odds.
Don't think that some sports require less effort in terms of checking out statistics and doing research – they all require a lot of time spent navigating their history and prognosis, some just take a bit more.
What are the most profitable sports to bet on?
Although there are no guarantees in betting, there are some sports that might prove to be more beneficial than others. Those are:
NBA – As the most popular basketball league in the US, it comes with the most betting markets and best odds. That consequently enhances your chances of winning. Plus, top stars and the best teams bring your potential income up higher.
NFL – As I said, nothing is more American than American football, so expect excellent odds and great consistency of the betting markets.
MLB – Baseball can bring a lot of baseball betting fans high incomes on a yearly level, with MLB leading the way with great odds.
Tennis – Betting on tennis always brings great odds, much better than some other sports. Taking into account that this is also one of the most expensive sports in the world can only be a positive thing for winning bettors.
College football – Although not yet professionals, college football players bring a lot of excitement and passion to the field, making these bets extremely profitable.
Risk-Value: Safety vs. Profit in Sports Betting
Both represent two completely different approaches to betting – it all depends on what you want to achieve.
When you look at safe betting in sports, you're essentially placing bets on outcomes of various events at various sportsbooks to ensure you have a sure outcome. You're choosing to place bets at multiple sportsbooks to take advantage of the differences in odds that these bookmakers have. As the name itself suggests, you're choosing a safe way of betting that carries low risk. However, you also have to be prepared to do a lot of research to get the desired result.
On the other hand, profit or value betting is pretty much the process of identifying bets that you think have a better value than the odds being offered by the bookmaker. That means you believe that the team might have a 70% chance of winning than the 60% offered by the sportsbook. Naturally, that depends on either your ability to make an accurate prognosis based on research or even a hunch.
Ultimately, there's no one answer to this question, it's more up to the individual as both approaches can be extremely profitable.
Making informed and safe bets online
In the end, making informed and safe bets online sums up to doing your research before placing bets. It is crucial to have at least an insight into the sports and teams/players you're betting on in order to have a winning ticket. It would be even better if you do in-depth research and are truly interested in the sport you're betting on. That gives you the upper hand when choosing the markets you want to go with.
Markets come with a variety of factors like the number of games and the sport's complexity. Many sports come with a consistent betting market and more opportunities to make bets. For example, golf and tennis tend to have events all through the year.
On top of that, you'll make safer bets with a bit more ease. Whether safe means choosing safety or profit bets for you when it comes to risk-value.
Whichever way you go, the cherry on top would be to carefully choose the sportsbook you want to go for. We're carefully crafted the list of the top sportsbooks on the market based on your preferred betting sport, so make sure you go through that before making any final decisions. And there are no safer bets than those insured and returned by operators if they are a loser. Use our links and you have a few guaranteed bets in your arsenal!
FAQs
Which sport is easiest to bet on?
Almost an impossible question to answer but probably the easiest sport to be on is soccer. You can also count on tennis if you're not that into team sports.
Which is the safest bet?
The safest bet is probably double chance, but picking a winner is also quite safe.
What are the best sports to bet on?
When looking at the best sports to bet on, most professional sports bettors will spend time looking at the most profitable sport so they can get some nice returns. However, more casual bettors may just want to place a sports bet for fun and get behind their favorite team. Therefore, the answer to this is subjective but we would recommend sticking to sports you are familiar with.


How many sports can I bet on?
Sports gambling online allow you to place wagers on as many sports as you want when you visit the best online sportsbooks. You can place all types of different sports bets, from moneylines to player props and live wagers.