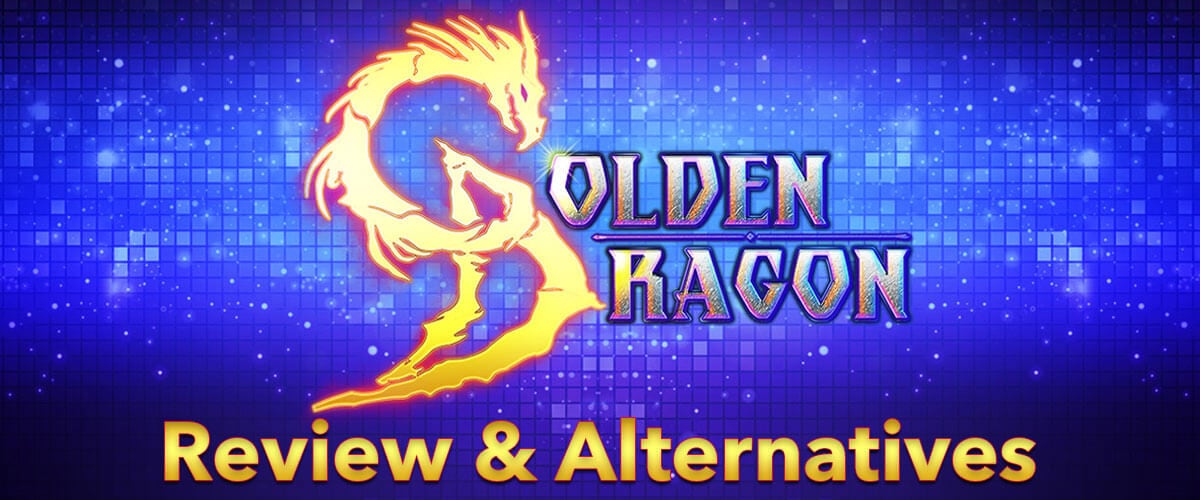 For players outside of New Jersey, Pennsylvania, Michigan, Delaware, Connecticut, and West Virginia, the search for a way to legally play casino games online is a difficult one. Sweepstakes casinos present an interesting solution. But just like traditional online casinos, some are good, and some are bad.
That's why our chief editor has assigned our team the task of going through all of the major sweepstakes casinos one by one so that we can sort out the good from the bad. Today we're looking at Golden Dragon.
If you're in a rush and just want to know if you should use Golden Dragon, the answer is very simple. You shouldn't. As to why — well, the answer to that is a little more complicated.
However, in this review guide, we'll be looking to answer that question as we show you the good and the bad of Golden Dragon, as well as what the best alternative online sweepstakes casinos for fish games are.
Why You Should Use These Alternatives to Golden Dragon Sweepstakes
So what's the problem with Golden Dragon? Well, there are quite a few. To start with, the RTP of the games at Golden Dragon averages out at 70-80%, which is shockingly low when you consider that most slots at online casinos average out to 95-96%. Secondly, the registration process is incredibly convoluted — requiring third-party manual verification of your identity just to create your account.
And these aren't even the worst offenses. Because thanks to their confusing vendor/agent system, it can be difficult to tell which vendors are legit and which are not — thereby making the chance of getting scammed a legitimate possibility. Plus, on top of everything mentioned so far, there's a lack of customer support and general clarity when it comes to any of the features at Golden Dragon or any information regarding parent company Sweepstake Mobi. I could go on.
But to sum up — registering is difficult, scams are plentiful, customer support is non-existent, information is scarce — and once you complete the marathon of actually signing up and funding your account, you'll be greeted by some of the most unprofitable casino games you've ever seen.
Compare this to our recommended alternative casino, and it's night and day. Registration is simple, taking a couple of minutes on average. The casinos are reputable, with many different customer support methods, including lively social media pages. There's no vendor/agent system, so there are no third-party interventions and no scams. The games are great, with much higher RTP. And even better, you can get started for free by signing up via our links to get your exclusive no deposit bonus.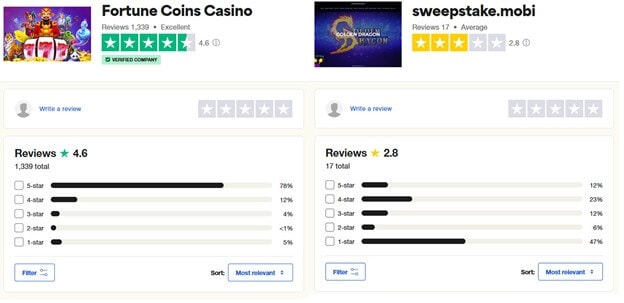 It's not just our opinion either. 4.6/5 from 1,339 reviews vs 2.8/5 from 17 reviews. And the Fortune Coins fish game is equally fun to the Golden Dragon sweepstakes games app.
Golden Dragon Sweepstakes Overview
For a quick summary, the below table will give you the highlights.
🎰Golden Dragon Overview
🎁Welcome Bonus
Unknown — Depends on Vendor
🎲Gaming Library
6 Fish
23 Slots
3 Pick'Em
1 Keno (Not Available Everywhere)
💳Banking Options
Credit/debit cards (via Pet Heroes), Crypto, Apple Pay/Google Pay, Cash App
(All Banking Options Are Subject To Vendor Preference)
⭐Reputation
Very Poor
💯Score
2.5/5
🎰Alternative Casinos
Fortune Coins
WOW Vegas
Stake.us
Golden Dragon Login & Registration
Registration for Golden Dragon is complicated, as while there seems to be multiple ways to set up your account, all of them require a third party to manually confirm your details — and as such, the time frame for registration is excessively long when compared to other sweepstakes casinos. An important point to note is that regardless of which method you use, at some point, you'll be required to send over a scan of your photo ID.

This isn't too peculiar, with all casinos requiring this information at some point. However, given Golden Dragon's poor online reviews as well as the lack of transparency behind their parent company, I made the decision not to go ahead with this step. As such, all further information is second-hand that I've gotten from other users.
Once your information has been verified, Golden Dragon will then either text or email you your mobile ID (essentially a username), and password. To protect your account, the password Golden Dragon will send you is single use. So when you log in for the first time, you'll be met with a prompt to change your password, and once you've done that, you'll be able to access the Golden Dragon game lobby.
Golden Dragon Sweepstakes App
Golden Dragon does not have a mobile sweepstakes casino app. However, the PlayGD Mobi site is compatible on both Android and iOS devices — further, they do provide instructions on how to save the website to your home screen as well as how to bookmark their site.
Regardless of which device you use it from, the site is well-optimized. And for most game types, you won't notice any significant drawbacks compared to playing on your computer.
Unfortunately, the exception to this rule applies to their main attraction, which is their fish games. These games involve precise accuracy, with moving targets moving all over the screen — and as such, when playing them on any device with a small screen, you will notice that they're more difficult to play.
Should You Download It?
Despite how they may word it in their guide, you're not downloading anything. All you're doing is saving a link to their website on your homepage — and while the icon may make it look like an app, it isn't. It's pretty much just a bookmark. And because of this, you don't have to grant them any permissions, thereby making it fairly safe.
So while I wouldn't recommend playing any of the fish games on your mobile, if you do expect that you'll be playing Golden Dragon a lot, you may as well make a homepage icon for them.
Golden Dragon Sweepstakes Casino Games
As of writing Golden Dragon offers 32 games composed into mainly three different categories. Slots, Pick'Em, and Fish. This is unfortunately an area where Golden Dragon falls short — as on top of the small game library, all of their games have horrible RTPs of 70-80%. As such, regardless of what you play — profitability is always going to be low.
Golden Dragon Slot Games
Reviewing the slot games at Golden Dragon is difficult. On one hand, they can be very fun with their cool graphics and unique bonus games like the Wild Buffalo bonus game which allows you to save the most valuable symbols for your last bonus spin.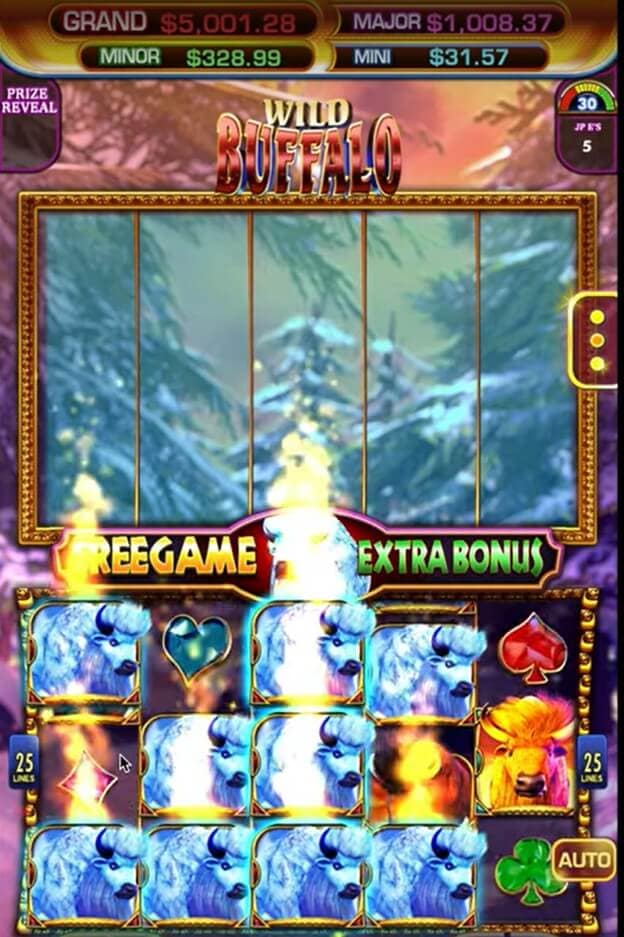 On the other hand, though, they're incredibly unprofitable. While they're all tied to a shared progressive jackpot — if you don't hit that jackpot, you're almost guaranteed to lose money in both the short and long term. Further, while they do have unique mechanics — they seem almost determined not to use some of the most popular mainstream mechanics that other slot machines use. They're no megaways slots, nor are there any slots that use cascade mechanics. So while bonus games can be unique, the base games are boring.
Slot games are where most sweepstakes casinos really shine, but for Golden Dragon, that isn't the case — and while they may have some fun features, it's impossible to ignore the low RTP of all their games.
Golden Dragon Pick'Em Games
Pick'Em traditionally refers to a variant of video poker. However, at Golden Dragon, the term is used to refer to Pick'Em slot machines, which are essentially five-reel, one-row slot machines with certain symbols being attached to instant wins.
There are three of these games in total, and in truth, they're pretty much identical. While the more traditional slot games have positives and negatives to them — the Pick'Em games are pretty much all bad.
They take the high volatility that most slots offer and replace it with a painstakingly boring low volatility system, where once every four spins you'll win x2 your stake. Traditionally when a slot machine is low volatility, it's also high RTP. That isn't really the case here, as while they do offer higher RTP than their other slots, this RTP is still very low at ~80%
Golden Dragon Fish Game
The main selling point of Golden Dragon is their fish games, and rightly so. These games are a lot of fun, and if you enjoyed the arcade as a kid, you'll almost definitely enjoy the multiplayer fish games that Golden Dragon has. It's similar to the Ocean King skill game app, popular in PA skill game vendors.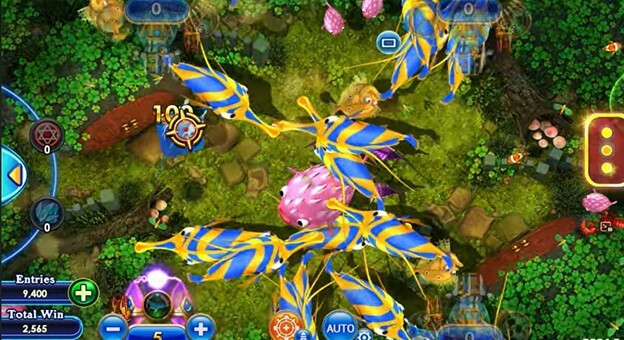 Again they are plagued by Golden Dragon's low RTP, but here it's a little understandable, with most fish games having around 70% RTP — with the only notable exception being Emily's Treasure at Fortune Coins (more about this later). While many aspects of Golden Dragon are subpar, they do a good job when it comes to Fish.
Golden Dragon Sweepstakes Bonus Codes & Promotions
Does Golden Dragon have promotions and bonus codes? Maybe. On their site, they don't advertise any, but Golden Dragon works off of a vendor system which means while some vendors may offer bonuses, others don't.
Going off Facebook you'll find many vendors offering bonuses like $10 referral bonuses, 100% first deposit bonuses, and a couple of 20% reload bonuses. Whether these are legit though is another question. Because when you go through the comments of these posts, you always find people complaining of scams or that bonuses are sticky and not withdrawable.
It's one of the reasons I don't like Golden Dragon. Things aren't clear, and whenever things are offered, you always have to wonder whether or not it's a scam.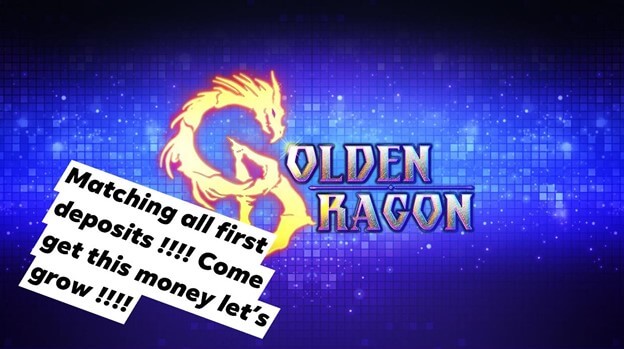 So while there are probably some legit Golden Dragon bonuses to add free credits out there, it'll come down to your vendor and what they're offering. For indication, you can view our reviews of websites and apps associated with Golden Dragon sweepstakes:
Banking & Support
Officially Golden Dragon supports credit/debit cards (via Pet Heroes), crypto, Apple Pay/Google Pay, and Cash App casino payments. Although like the above point, it will depend on the vendor. As I mentioned earlier, I didn't personally sign up with Golden Dragon due to security concerns — but speaking with people who have, Cash App seems to be the preferred method for both depositing and withdrawing.
For support, your best option isn't clear. If you signed up via a reputable vendor, they'll probably be your best option, and you'll want to either text or message them via Facebook. This is another one of the real downsides of Golden Dragon as there isn't too much support, and if your vendor is dodgy, then you'll be on your own.
My advice for banking would be to keep everything small and try to get a feel for whether or not you trust your vendor before making any big deposits.
Pros & Cons of Golden Dragon
In this section, we'll be looking at the good and the bad to give you all the information you need to decide whether or not to play at Golden Dragon Sweepstakes Games App. For ease of reading, you can check out the below table for a summary.
| ✅The Good | ❌The Bad |
| --- | --- |
| Great Fish Games | Lack of Customer Support |
| Good Selection of Banking Options | Horrible RTP for All Games |
| Regularly Hit Progressive Jackpots | Poor Selection of Games |
| | Information is Unclear & Difficult to Find |
| | Weird Vendor System Opens Window for Scams |
| | No Responsible Gambling Policy |
| | Registration Process is Weird & Excessively Long |
| | Lack of Sitewide Bonuses |
Areas That Make Golden Dragon Sweepstakes Casino Stand Out
To begin, we'll look at the good.
Great Fish Games — The

fish games

at Golden Dragon are undoubtedly their main selling point, and to their credit — they're pretty great. With six different games to choose from, they blow their competitors out of the water when it comes to sheer variety, even if the profitability of these games isn't the greatest. There are

fish game tips and tricks

that players commonly use at PlayGD and get around this.
Banking Options — For most sweepstakes casinos,

banking options

are pretty limited. So to see so many unique options for depositing and withdrawing including crypto and Cash App is very welcome. The only downside to this is that not all vendors accept all methods. So while Golden Dragon themselves may have a lot of banking options, you may find that when you try to deposit or withdraw, you have fewer options.
Progressive Jackpots —

Progressive jackpots

are attached to all slots and Pick'Em games. And while the number may not be that high, they tend to get hit regularly.

Where Golden Dragon Sweepstakes Casino Falls Short
While Golden Dragon may have three features that help them stand out, there are many more points of interest when it comes to the negatives.
Lack of Customer Support — Customer support at Golden Dragon is abysmal. There's no FAQ section, nor is there any email or live chat feature. Instead, your best option is to speak with your agent/vendor and hope they can help you with your concerns.
Horrible RTP — One of the main benefits of playing at online casinos rather than traditional brick-and-mortar casinos is that the RTP is usually a lot higher. Where in Las Vegas you'll find that the average RTP is 90% — online casinos tend to sit around 94-96%, with some games even reaching 98%. Golden Dragon on the other hand offers 70-80% RTP. One thing I will give them credit for is that they don't hide this information, and many vendors will list that the theoretical hold of Golden Dragon games is 20-30%. The honesty is nice. But 70-80% RTP is inexcusably bad.
Bad Selection of Games — Outside of Fish games, the gaming library at Golden Dragon is pretty poor. As of writing, there are 23 slots and 3 Pick'Em games — with there being no options for any table games or video poker and only a single

Keno game

allowed for certain regions. Compare this to the

best slots on Pulsz Casino

or

fan-favorite games on Stake.us

for reference.
Lack of Clarity — Trying to find information about Golden Dragon or its parent company Sweepstake Mobi is difficult. The official pages severely lack information, with most of the heavy lifting left to the vendors. This leads to the next point.
Vendor System is Ripe for Scams — With seemingly anyone being able to become a vendor, there's always the question of how can you trust the person that you're dealing with. There's no official verification that a vendor is legit. So even if Golden Dragon doesn't accept them as a vendor, nothing is stopping a scammer from making a Facebook page and saying that they are.
Nearly every vendor has at least a couple of accusations about scamming. Further, with vendors/agents competing against one another for their limited customer base, it's not uncommon to even see the vendors themselves calling one another scammers. The end result is that you can never really trust anyone.
No Responsible Gambling Policy— While it's not the casino's job to babysit you, it is nice to see a casino enact some sort of responsible gambling policy. Whether that's setting deposit limits or offering temporary/permanent exclusion — a casino that is willing to lose money to help people with their addiction is a great sign that the casino is trustworthy.
Weird Registration Process — There are a few different ways to register and play Golden Dragon sweepstakes. None of them are simple though. Regardless of which method you use, you'll need to provide a scan of your photo ID and wait for someone to manually review your application before being sent your username and one-time password. While registering at most sites takes less than five minutes — at Golden Dragon, expect to wait about 24 hours.
Bonuses Unclear — There are no bonuses listed on the Golden Dragon site, and whether or not you can get a bonus will depend on your vendor. Why Golden Dragon chooses to operate this way is unclear. But it's just another example of how something that should be simple is instead made needlessly complicated. As an alternative, you can instead check a variety of

sweepstakes casino no deposit bonuses

here.
As you can see, it's not close. The cons heavily outweigh the pros; even when you look at the pros, they all come with caveats. Fortunately, there are alternatives to Golden Dragon.
Alternatives with Similar Games to Golden Dragon Sweepstakes App
Sweepstakes casinos like Golden Dragon give the industry a bad name. We try to change that by only recommending legit and legal free casino sites. Below, we compare a few great sweepstakes casino apps to the Golden Dragon, essentially offering an alternative based on your needs.
Fortune Coins Casino vs Golden Dragon App
Golden Dragon's claim to fame are its fish games. They're something most casinos don't have. However Fortune Coins isn't like most casinos, and not only do they have a fish game — they have arguably the best with Emily's Treasure. Take everything good about the fish games at Golden Dragon, then add an extra 20% RTP and you've got Emily's Treasure.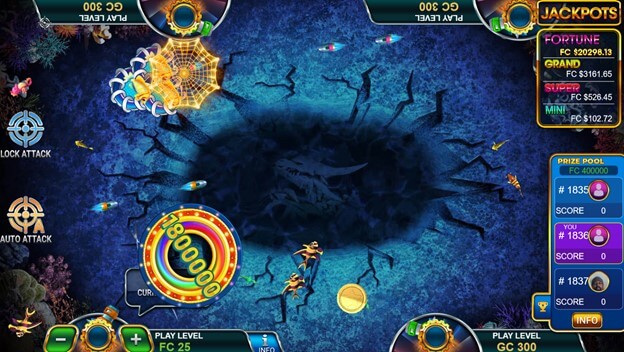 But unlike Golden Dragon, Fortune Coins is not a one-trick pony. Outside of their fish games, they have a library of slots with an average RTP of ~95% — with Pyramids of Giza even reaching 96.9%. And like Golden Dragon, about half of the slots at Fortune Coins are attached to a progressive jackpot that as of writing, sits at over $20,000.
Do they have a welcome bonus? Yes. There are no hurdles that need to be leaped through — just sign up via our links to get 140,000 gold coins and 500 fortune coins for free.
WOW Vegas Games vs Golden Dragon Sweepstakes
With 336 games and counting, WOW Vegas' library trumps Golden Dragon's library by over x10. And these aren't just filler games, because WOW Vegas is one of the few online sweepstakes casinos that stock licensed games from all of the major slot machine developers like Betsoft and Pragmatic Play. This means that if you live outside of the six states (NJ, DE, WV, MI, CT, or PA) that traditionally allow online slots, you now have a way to play all of the biggest slot machines for real money.

Even better though, you can get started for free. Because by signing up via our links, you'll get 5,000 WOW coins and 1 SC on the house.
Stake.us Casino Bonuses vs Golden Dragon Free Money Codes
Despite its relatively new status as a sweepstakes casino, Stake.us is quickly making a name for itself as one of the top US casinos. To start with, they join WOW Vegas as one of only a handful of sweepstakes casinos to offer mainstream games by all of the major slot machine developers. But that's not all, because they're also one of the only sweepstakes casinos to allow live dealer games for real money. So if you want to play blackjack, baccarat, or roulette with a real dealer, now you can.
The reason why I've selected them as one of the best alternatives for Golden Dragon though, is because of their banking options. Finally, there is a trustworthy sweepstakes casino that offers cryptocurrencies for deposits and withdrawals. No need to check if it's alright by a third-party vendor, since it is sealed through partnerships with the UFC, Drake, and other official bodies.
FAQ's
How to Get Golden Dragon Sweepstakes Free Entries?
Like most things regarding Golden Dragon, how you or whether or not you can get free entries is unclear, and you'll need to contact your vendor to see if they offer free entries to play Golden Dragon sweepstakes.
Is There a Phone Number to Contact Golden Dragon Sweepstakes?
No. Neither Golden Dragon nor parent company Sweepstake Mobi has listed their phone number. Instead, you'll need to contact your vendor if you are having trouble.
How Can I Log into Golden Dragon Sweepstakes?
To log in to Golden Dragon, you'll need to enter your mobile ID and password at their homepage. Your initial login details will be sent to you via email or text after they've been manually verified. The first time you log in, you'll need to change your password — from then on though, the process is pretty simple.
Can I Play Golden Dragon Sweepstakes Online?
Yes. While we don't recommend playing at Golden Dragon due to their being better alternatives, if you're able to successfully register and fund your account, you'll be able to play via both your computer and mobile devices.
How Can I Add Money to Golden Dragon Sweepstakes?
Officially you can deposit via credit/debit card, bank transfers, crypto, Apple Pay/Google Pay, and Cash App. But speaking to users of Golden Dragon, Cash App is usually preferred. How exactly you get money into your account is a little more confusing. You'll either need to deposit directly via your vendor, or through your Sweepstakes Mobi wallet starting at $10.
Can I Download Golden Dragon Sweepstakes on My Phone?
No. Golden Dragon does not have an app for either iOS or Android devices. The site however is mobile compatible, and users can access the Golden Dragon website via their mobile browser.