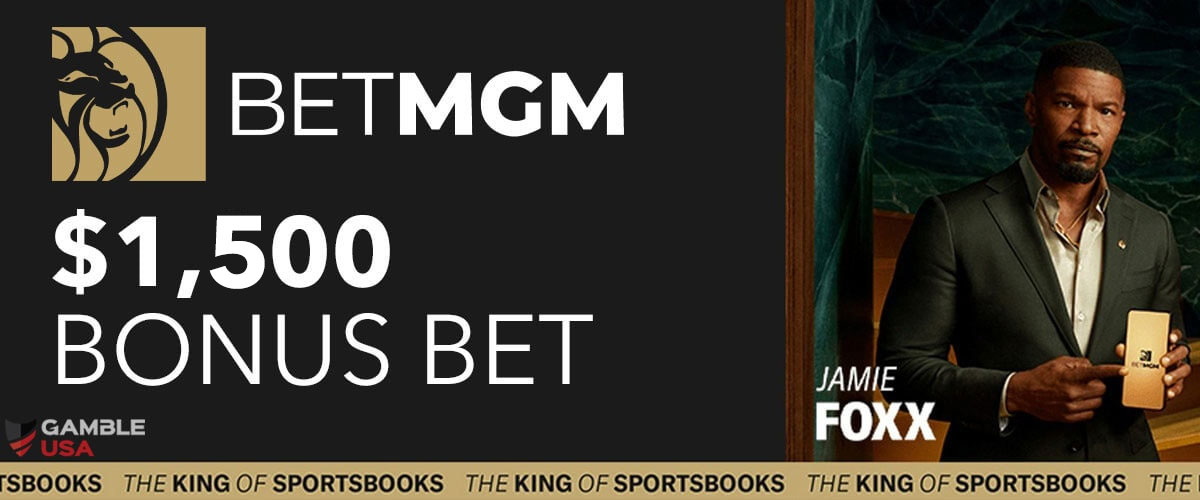 The BetMGM Sportsbook is one of the largest sports betting operators in the United States, owned by a household name in gambling, MGM Entertainment and MGM Resorts International. It became operational in 2020 and grew to one of the best sportsbooks in the country through a huge marketing campaign and a phenomenal betting app.
As one of the major industry titans, BetMGM has expanded to over 17 states around the country and features 17 sports available to wager in-app or on the website. Along with these sports offered, BetMGM features several prominent leagues in each sport and great odds for every bet!
New users of the BetMGM Sportsbook can receive a bonus bet worth up to $1,500 after registering for a new account. To receive this offer, click the link here and use the BetMGM promo code "GAMBLEUSA" during the account registration process.
🏈BetMGM Sportsbook
⭐Key Features
- Matchup Stats
- Live Stats
- Live Streaming
- Parlay Builder Tool
- 17 Different Sports
🇺🇸 States Available

AZ

,

CO

,

IL

,

IN

,

IA

,

KS

,

LA

,

MD

,

MI

,

NJ

, NV,

NY

,

PA

,

OH

,

TN

,

VA

,

WV

and

WY

🎁Bonus Bet Offer
Bonus Bet up to $1,000
📜Free Bet Promo Code
GAMBLEUSA
Steps to Claim the $1,500 Bonus Bet on BetMGM
To receive your $1,500 bonus bet, you will need to not have a previously existing account on the BetMGM Sportsbook and enter the correct promo code during the registration process. As mentioned above, new users will need to begin the BetMGM registration process by clicking the link here and signing up for an account to redeem their bonus code.
Promo Code: GAMBLEUSA
Up To $1,500 In Bonus Bets
21+. T&C Apply
21+. T&C Apply
Promo Code: GAMBLEUSA
Super fast payouts
Live streaming
Promo Code: GAMBLEUSA
Up To $1,500 In Bonus Bets
21+. T&C Apply
21+. T&C Apply
After you've clicked the link, press the "Register" button to begin the sign-up process for a new account. After the registration process has begun, you will be prompted to enter your email address, followed by creating a password that contains a capital letter, a number, and a special character (ex. !@#).
The next step will require the new user to enter their gender and full name, followed by the last four digits of their social security number. After this information, users will be prompted to enter their date of birth, mobile device number, and home address to verify their identity.
After this information is entered, users will be required to accept the BetMGM terms and conditions, followed by our exclusive BetMGM bonus bet promo code, "GAMBLEUSA". Registering for an account (by clicking our registration link) using this BetMGM bonus code allows users the ability to receive a bonus bet worth up to $1,500.
The $1,500 bonus bet counts on the user's first bet after their initial deposit after account registration.
How the BetMGM $1,500 Bonus Bet Works
This promotion includes all users who joined the platform between August 9th, 2021, and December 31st, 2023, providing them bet insurance on their first bet. The first wager counted is directly after the account's initial deposit and expires seven days after the account's creation.
The user will need to make a minimum bet of $10 and a maximum bet of $1,500 to receive the maximum amount from the bonus, which will be released in 20% increments of the total amount (if the bet is over $50) if the initial bet loses. If the bet is under $50, it will be given to the user if the initial bet loses in full, meaning a $30 initial bet will receive a bonus bet worth $30.
Qualifying bets must meet a minimum odds requirement of at least -300 and cannot exceed $1,500. On top of that, this bonus will expire after seven days, cannot be used with any other promotion, and cannot be cashed out. Site credits can only be used on sports betting on the active online sportsbook app or website.
Summary of Bonus Bet Key Terms
Bonus Bet: A bet that provides users with their money back in the form of bonus bet credits if it loses.
Qualifying Bet: A bet that meets all the terms and conditions of the promotional bet required.
Minimum Odds: Minimum odds that a promotion requires to accept bets as part of a tribute for their promotion, primarily -350 or -300.
Bet Credits: Bonus bets provided by online sportsbooks that give users a specific dollar amount of wagers.
BetMGM Bonus Bets No Deposit
Unfortunately, BetMGM does not offer bonus bets for creating an account without making an initial deposit or first bet. Instead, BetMGM offers a bonus bet, which is essentially a bonus bet equivalent to a qualifying wager if it loses, meaning you will need to put up an initial risk to partake.
Promo Code: GAMBLEUSA
Up To $1,500 In Bonus Bets
21+. T&C Apply
21+. T&C Apply
Promo Code: GAMBLEUSA
Super fast payouts
Live streaming
Promo Code: GAMBLEUSA
Up To $1,500 In Bonus Bets
21+. T&C Apply
21+. T&C Apply
Bonus bets for existing users can be earned through accomplishing different tasks, such as placing a specific number of bets on a specific betting market like the NFL. Find these VIP offers by going to your inbox in the website's top right-hand corner. These offers range from bonus bets to bonus bets, to odds boosts, so keep your eyes peeled for the best promotions!
BetMGM Bonus Bets for Existing Players
Existing users of the sports betting app from BetMGM are also provided with several different types of promotions to choose from that can help boost their bankroll and increase their winnings. Some promotions will require users to wager on a specific betting market or types like college sports or prop betting.
While different promotions are being released weekly for existing users, the bonuses currently available on the BetMGM app or website are listed below. To find these BetMGM bonus bet promo codes, go to the promotions page on the BetMGM website or app.
Same-Game Parlay Insurance
Same-game parlay insurance is very similar to bonus bets because users will receive bonus bets if their initial same-game parlay loses, but only if the requirements are met. For example, at the beginning of the NFL season, BetMGM ran a promotion for same-game parlays that allowed the user their money back in the form of bonus bets if two out of three legs in the same-game parlay won.
Currently, BetMGM is running a similar promotion on the World Cup, pictured below.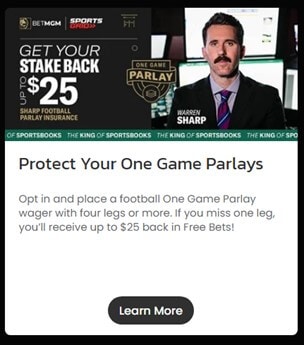 Bonus bets for current customers
As mentioned above, bonus bets are also provided for users through ongoing promotions on a specific betting market or sport. While these bonus bet offers have much less value than the promotion for new users, they can be worth anywhere between $10 and $50.
Currently, users can bet up to $10 on golf through BetMGM and receive a $10 bonus bet token if their initial wager loses (pictured below).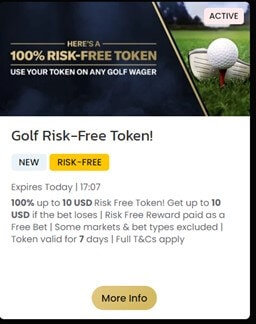 Odds Boosts
Odds boosts are a very popular ongoing promotion on online sportsbooks, and they range from boosted odds on individual bets to odds modifiers that can be used on built parlays. Regular odds boosts can be found on the home page, while odds modifiers can be found in your BetMGM account's inbox.
Referral Bonus Bets
The refer-a-friend bonus allows users to profit from their friends joining the platform by giving both users a $50 sign-up bonus! To receive this bonus, users will need to get their own promotional link and send it to their friends; from this link, the new user will need to create a new account and place a minimum wager of $50.
Once the new user has made a $50 wager, both of you will receive your $50 refer-a-friend bonus bet. To get your own unique promotional link, go to the promotions page and click on the link pictured below. Sound good? You can read more about the BetMGM refer-a-friend offer with our dedicated guide.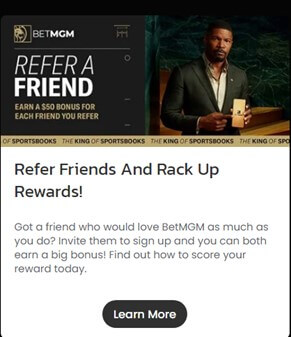 Should You Go For the $1,500 BetMGM Bonus Bet?
The short answer to this question is yes, BetMGM offers a nice welcome bonus that is an industry standard for top-tier betting sites. Most sportsbooks feature a welcome bonus of a bonus bet, and similar to BetMGM, they expire after seven days and are applied to your first bet on the platform.
Other online sportsbooks offering bonus bets as their welcome bonus for new users include PointsBet and FanDuel. PointsBet has the most lucrative bonus bet offer providing new users with two bonus bets worth up to $2,000, double that of BetMGM. FanDuel, on the other hand, features the same welcome bonus as BetMGM with a bonus bet worth up to $1,500.
All sports bettors should take advantage of the BetMGM bonus bet up to $1,500, as well as all other online sports betting welcome bonuses. There's no limit to how many online sports betting platforms bettors can join, so it only makes sense to spread your bankroll around and get the most from the different welcome bonuses.
BetMGM Key Features
🏈BetMGM Key Features
📱Apps

BetMGM Casino App

and

BetMGM Sportsbook App

⚾Betting Markets
17 different sports
🏀Betting Types
- Standard Bets
- Prop Bets
-

Round-Robins


- Teasers
- Same-Game Parlays
💳Banking Methods
-

Credit Cards

and

Debit Cards


- Online Bank Transfer
-

eCheck


-

Play+ Prepaid Card


-

MGM Gift Cards


-

PayPal


-

Skrill


- PayNearMe Locations
- Casino Cage
☎️Customer Support Options
- Live chat
- Email: support.(your state's abbreviation)@betMGM.com
🇺🇸 States Available
AZ, CO, IL, IN, IA, KS, LA, MD, MI, NJ, NV, NY, PA, TN, VA, WV and WY
BetMGM has several different features that boast its strengths, such as its well-performing user interface that provides users with an easy and simplistic way to place wagers and navigate their betting accounts. The home page is very well-organized and allows users to see popular upcoming and live events and current promotions.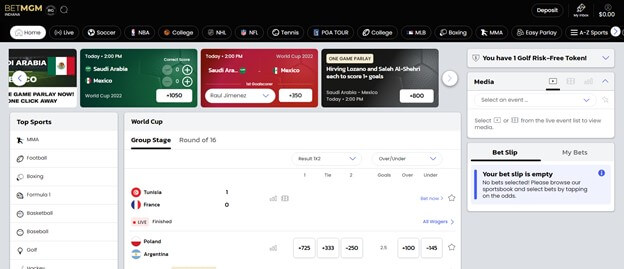 Other great features include live stats that are tracked throughout an event, which can give users better insight into live betting, including key stats from the game, previous matchup history, and the different lineups and formations a team runs throughout an event. Stats aren't the only way users can experience live events; for example, BetMGM features live streaming on several international sporting events like Euroleague basketball.
BetMGM also gives users several different resources to help them create their own wagers, like the easy BetMGM parlay builder tool that shows standard bets from all events for a specific betting market, like the NFL or the NBA. Lastly, BetMGM features one of the best rewards programs in the business that allows users to redeem their rewards for in-person experiences at select MGM Entertainment resort locations. Discover more about BetMGM Rewards here.
Tips and Strategies for BetMGM Bonus Bets
There are several strategies for BetMGM users to employ to win more and lose less by using their initial bonus bet! For example, many people think that using the first bet on a longshot bet to win more money is the way to go; however, this is not the case because the user still needs to receive their risk back from bonus bets.
Instead, users should remember to use their bonus bets on bets they believe to be sure of things because it gives them a better chance at winning. I mean that users shouldn't place large parlays on their initial bets but instead take it safe and place standard wagers like moneyline or spread bets.
A tip to gain better insight into a specific event is to research statistics and matchup data on the teams/athletes involved because it gives the bettor more context. Remember to look at the injury report and recent trends in both teams/athletes to identify any extra areas of strengths or weaknesses.
FAQ's
Does the BetMGM $1,000 bonus bet expire?
Yes, the bonus bet from the BetMGM Sportsbook bonus code expires seven days after the BetMGM account has been created. Be sure to use your welcome bonus on the BetMGM app or website to get the most from the operator!
What is the BetMGM $1,000 bonus bet?
The BetMGM $1,000 bonus bet is a promotion for new customers that gives them their money back in free bets if their first bet up to $1,000 doesn't win. To claim this bonus, new users must sign up for a BetMGM Sportsbook account and use our exclusive promo code during registration.
Do I need a code to get the BetMGM $1,000 bonus bet?
Yes! To receive this promotion, users must click the link here, register for an account, and use the promo code "GAMBLEUSA" at the end of the registration process. Users can access the link through the BetMGM website or in the mobile app from their devices.
Can I win real money with the BetMGM $1,000 bonus bet?
Yes! Users can win real money through the bonus bet promotion by winning their initial bet, which will provide them with both their initial bonus and their winnings. If the first bet loses, the user will be provided with a free bet that, if it wins, will provide the user with the winnings only and will not include the bonus from the free bet credit.