The iPhone is one of the most popular mobile smartphones on the market. It should come as no surprise the sports betting operators have launched dedicated iPhone betting apps for US bettors.
Nearly every sportsbook now has a betting app for the iPhone, but how can you tell which mobile sports betting apps rank and which tank? Well, for a start, you can read our guide to betting on your iPhone. As the competition in the legal US sports betting market intensifies, there is a lot to consider when it comes to choosing the best sports betting apps.
We currently live in an advanced technological world where the majority of sports wagering takes place on a sports betting app. Consequently, most sportsbook operators are designing a sportsbook app first and desktop site second to give bettors a seamless mobile app experience. There are now dedicated NFL betting apps and basketball betting apps so players can focus solely on their preferred sports.
With that said, if you are wondering where you can find the best sports betting Apps on iPhone? Wonder no more. We list the best online sports betting apps for iPhone according to our research. All of the options we list are safe betting apps for the iPhone and are licensed to operate. Oh and completely free to download too.
Best iPhone Betting Apps
Although the best betting apps are available to download on both iPhone and Android devices, we will focus on sports betting apps for iPhone for this article. The iPhone was the first mainstream smartphone available and has a loyal following globally. Although Android has a bigger market share, iPhone owners generally gamble more per head. This has led to numerous US iPhone wagering apps launching as online sports betting grows across the country.
Additionally, it is widely accepted in the industry that sportsbook operators give higher priority to iPhone sports gambling apps over Android when developing a new app as Apple has been more lenient with what they will allow in their app store.
In the early days of mobile betting, sportsbook apps were pretty basic, with a limited number of features. If you wanted to do anything more than place a bet, you needed to return to their main website. The latest raft of mobile betting apps offers live betting, news, betting tips, and live video streaming for horse racing and multiple other sports.
If you are looking for a mobile sports betting app for iPhone, we believe the above are the top 5 options for US bettors. Not all brands are created equal, and there are some significant differences in mobile sportsbook apps in terms of reliability, user experience, features offered, and quality of services.
Most bettors are on the hunt for an app that covers every major game of a sport, but the quality is not always the same. This doesn't mean that some mobile sportsbooks operators have taken their eye off the ball; instead, some apps give a little extra attention to specific sports. If you are interested in one particular game or sporting event, it makes sense to go to the best iPhone online sports betting apps focused on that particular sport.
Each app we have listed above has several perks, such as attractive welcome bonus offers, risk-free bet and free bet incentives. For example, if you deposit a certain amount at some of the legal sportsbook apps, you will receive the exact value of the amount deposited back in the form of free bets.
Fortunately, there is no need for you to spend several hours researching and comparing the options to find a highly rated iPhone app that offers generous odds and a nice deposit bonus. We have vast amounts of experience in reviewing and ranking mobile betting apps to provide a list of the best iPhone sports betting apps. As more states legalize sports wagering apps, our team of reviewers is frequently testing the latest options to find the best betting app for mobile devices. Let's look at all of the key information you need to select the best app for betting on an iPhone, including a breakdown of the 5 of the best betting apps on iPhone.
#1 DraftKings Sportsbook iPhone App
Alongside FanDuel, DraftKings Sportsbook is one of the market-leading providers of daily fantasy sports. The operator offers a plethora of betting options for major domestic and international sports. The DraftKings sportsbook app for iPhone is well optimized and easy to navigate. Powered by Kambi, it is responsive and very fast. If you prefer playing on Android devices, this sportsbook also has an app you can download on the Google Play Store.
Why use DraftKings on your iPhone? DK is one of the biggest and most trusted US iGaming operators. They have a huge following through DFS and carry the same level of service into their iPhone sportsbook app. Great market choice, great lines, and a huge $1,000 new player bonus make this our number one iOS app of choice.
Download link & sign up: sportsbook.draftkings.com
#2 BetMGM Sportsbook App
BetMGM has done an excellent job of its mobile betting platform since partnering with GVC in a joint venture called Roar Digital. The brand offers apps for IOS and android mobile devices. You'll find several different betting types on its iPhone betting app, including points spread, money-line bets, prop bets, futures, parlay bets and live betting. Additionally, numerous prop bets are available, keeping it competitive with every other top mobile betting app.
Why use BetMGM on your iPhone? Anyone who has set foot in an MGM property knows this company knows gambling. They have one of the easiest and slickest iOS apps available. Fast to use with tons of sports and markets to wager on. It was tough to put them at number 2 given just how good the iPhone online betting app is.
Download link & sign up: betmgm.com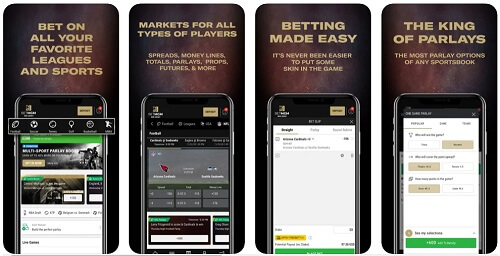 #3 Caesars Sportsbook App
Although well-known worldwide for its gambling activities, Caesars is new to the sports betting scene. However, it doesn't mean their iPhone app isn't up there with the best online betting apps. It covers all of the major domestic and international sports and has a large betting section which is it has an impressive app store rating of 4.6 from 30k+ users. Bettors can wager on hundreds of options via their mobile device when the action has started via several in-play markets.
Why use Caesars on your iPhone? A name you can trust. Caesars calls itself the Emperor of the sports betting world and we tend to agree. The sports betting app is very easy to use and covers a lot of markets not covered by the competition. Also, its live in-play betting is one of the best of any betting app and the rewards and promos with Caesars sportsbook are always very good.
Download link & sign up: caesars.com/sportsbook-and-casino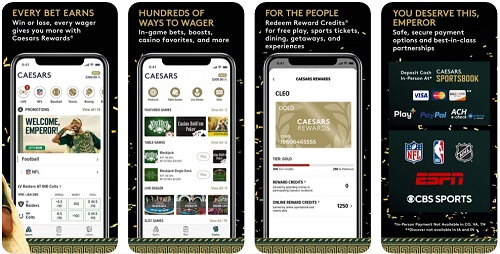 #4 FanDuel Sportsbook App
FanDuel is one of the biggest daily fantasy sports providers in the US, so it knows what to do to cater to players. Bettors can access the full extent of the operator's services through the app. The Fanduel sportsbook app is clean, fast, easily navigable, intuitive, and the pricing and range of betting options are fantastic. Ultimately opinions may differ when using different mobile apps, but we feel FanDuel is one of the best options available. FanDuel Cash Out feature is one of the best cash outs of any US sportsbook. It's so easy to do.
Why use FanDuel on your iPhone? If you have ever played DFS before, there is a good chance it was with FanDuel. They are the biggest DFS provider in the US and now have a sportsbook app to match. The mobile sportsbook app is fast to use and visually looks very good. It's reliable and they offer some of the best odds out of any licensed US sportsbook.
Download link & sign up: fanduel.com/sportsbook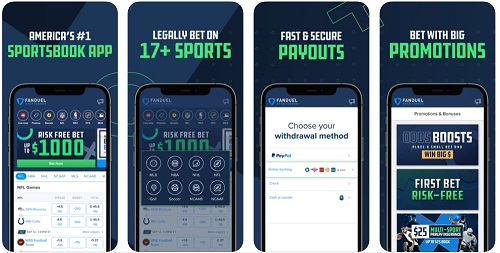 #5 WynnBET iPhone App
Wynn is another powerhouse in the gambling world. Perhaps best known for the casino and sportsbook in Vegas, you can now get the same experience on your iPhone. The WynnBET iPhone app really looks the part with its gold and blue colors. Wynn offers all new customers a $1,000 risk free bet when they join as well as regular promos and weekly offers, which is why many people see it as one of the best sportsbook apps.
Why use WynnBET on your iPhone? If you want a name and book you can trust, you can't go wrong with Wynn. The app has a built-in casino (in NJ & MI) as well as a great sportsbook.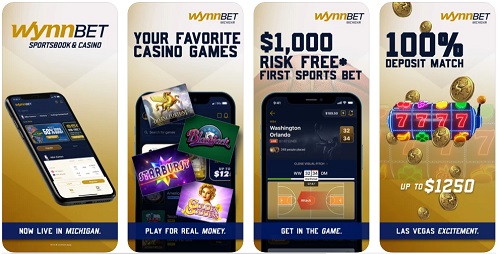 How we choose Best iPhone Betting Apps
At Gamble-USA, we look at various different topics and factors and utilize different strategies to evaluate each iPhone app we recommend. Using these apps first-hand, testing the betting markets, how to place a bet, and navigating around is the most crucial part of this process.
Before we start writing our reviews, we download the app, register a new account, deposit real money, and place different types of bets. Following that, we rank each app according to our experience and where we feel the apps excel or fall short. Ultimately we are looking for iPhone mobile betting apps we would happily recommend to our family and friends. Some of the most vital factors we take into consideration are:
Is it straightforward to deposit and withdraw?
Is the iPhone app safe and legal to operate in the US?
Is there a wide range of betting lines, and are they a reasonable price?
Does the app offer markets on popular sports and events?
Is there a significant live betting section?
Is there a generous sign-up bonus?
Does the app have a customer support option?
As well as closely looking at the above factors, we evaluate each iPhone mobile betting app against each other based on a number of basic industry standards common in the online sports betting world.
Of course, there is no need to download an app to your iOS device if you are a casual bettor that perhaps has a wager once a year on the Super Bowl. All of the operators have a mobile site that you can access on your safari browser. Using an online betting app is a lot faster and more convenient than having to enter an address each time you want to bet but it is entirely up to the player.
Types of bets on iPhone Betting Apps
When participating in legal online sports betting on an iPhone app, you will have access to every type of wager you can think of. All of the standard bet types you are used to seeing in a retail sportsbook are now available at your fingertips. Additionally, you will also discover expanded options for prop bets and more on various sporting events.
The best mobile sports betting iPhone apps know that convenience is essential for players, but the option to bet on whatever you want is also crucial. You can be assured you will not miss out on any betting opportunities by using a mobile app.
The most common types of bets used on iPhone apps include:
Moneyline
Futures
Props
Point Spreads
Over/Unders
Parlays
Live betting on iPhone Apps
Live bettors or in-play betting is now one of the biggest betting markets in the US. Many people feel it is the future of sports wagering. Live betting odds on legal sports betting apps add to the excitement levels by allowing users to respond directly to what is happening in the game in real-time.
The odds will frequently be adjusted as the game progresses, and now props will appear throughout. Common bets such as moneylines spreads and totals will open and close as the action takes place. This gives the betting app time to change the odds or avoid a risky betting line entirely.
iPhone Sports Betting Apps FAQs
Does Apple allow gambling apps in the iTunes app store?
Yes, users can download all of the apps listed on this page directly from the App Store.
Do All online betting sites have dedicated apps?
No, they do not. While some of the best stop sports betting sites offer IOS and Android apps, others especially smaller sportsbooks operators do not.
What Sports can I wager on using online sports betting app?
The best sports betting app will allow you to bet on numerous sports including football, basketball, soccer, MMA, Tennis, etc.
Is it possible to bet on College football using an iPhone football betting app?
Yes, it is. However, betting on college sports may be illegal in some states like New Jersey, especially when the college team is based in New Jersey. Before you start to place bets on any college team, we recommend you check your local laws first to see if it is legal in your state.
Is it safe to bet on iPhone apps?
Yes, it is. However, this is only the case when you bet on legal sportsbook apps like those on our list. If you wager on an unlicensed app, your safety is not certain and you could run into problems down the line.
Do I need plenty of storage space to download iPhone apps?
Not necessarily. This is dependent on the mobile sports betting app you choose to download. While most may require as low as 50MB, others may get up to 250MB or more. Note that the features included in the football betting apps may determine the size. Apps with more features like live streaming, a more attractive interface and markets, may require more space.
Must I use WIFI to access iPhone betting apps?
While WIFI is what many players use to access most sports betting apps, mobile data works really well so long as there is good coverage. But make sure you keep an eye on your data allowance as things like live streaming could consume a lot of data.