SI Sportsbook
Gamble USA strives to improve your online gambling experience. We aim to help you play safely, make informed decisions when gambling, and increase your betting knowledge through our guides.
We adhere to strict editorial integrity; our content may contain links to products from our licensed & legal US partners.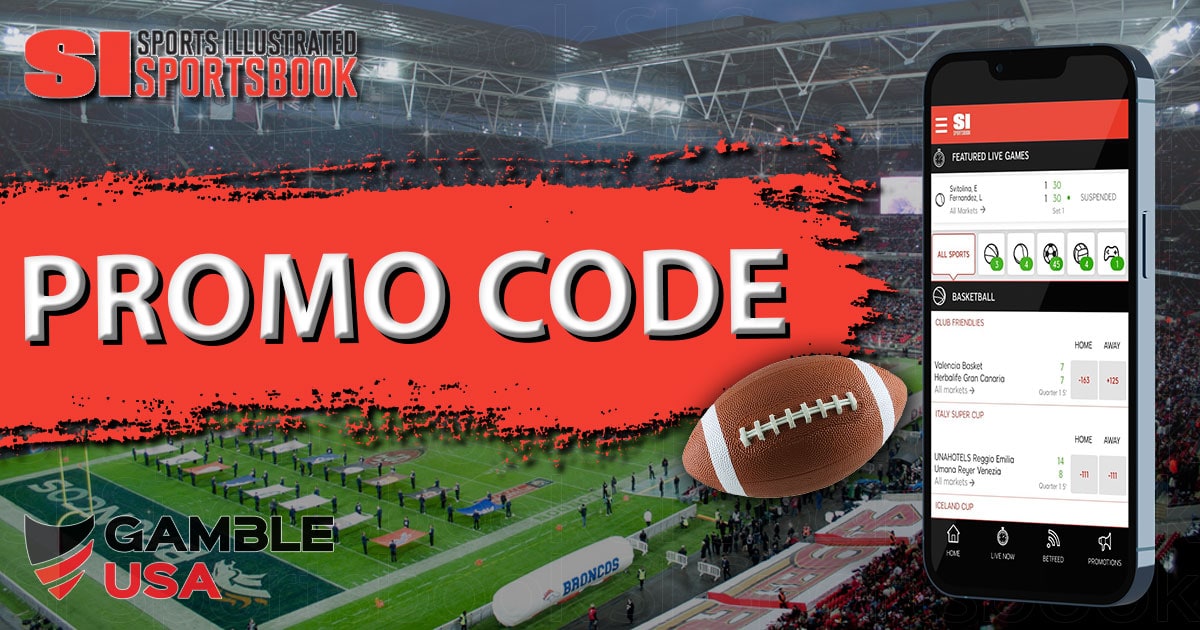 The SI sportsbook app is one of the new platforms with a great foundation right from launch. It is teeming with excellent features and bonuses, with an easy-to-use interface that makes it suitable for new players. You can bet with this app from two states in the US, and we expect some improvements on the app as it expands to other states in the country.
SI Sportsbook App Review
The SI Sportsbook is a betting platform by the Authentic Brands Group, owners of the US sports magazine Sports Illustrated. For many sports fans, Sports Illustrated has been the go-to magazine for information on top sports like Football, Baseball, Soccer, and Basketball – even going as far as covering the career news in the NBA 2K series.
Today, Sports Illustrated has the SI Sportsbook, a sports betting platform that operates in Colorado and Virginia. The launch of this platform is partly due to the partnership with the European betting brand 888 Sports. It is accessible via a desktop site and offers downloadable sports apps for Android, iPhone, and iPad bettors.
SI sportsbook uses analytics and analysis to produce competitive odds for small and big sporting events such as the Super Bowl. Although they are new to the sports wagering world, their live sports offering in addition to Las Vegas style odds will be appealing to any sports fan.
As one of the new kids on the block in online legal sports betting, there is a lot you need to know about the SI sportsbook app. You can find all the information you need to get started through this SI Sportsbook review, including joining the sportsbook, mobile apps and features, welcome sportsbook bonus, banking options, support, and states where you can legally play.
SI Sportsbook App Overview
It's always great to have a familiar name offering a service you need, and this is the case with the SI sportsbook. By remaining an excellent source of sports information since its launch in 1954, many bettors can believe in the Authentic Brands Group to maintain the same stability in running the SI sports betting site.
The online sportsbook operates in Colorado and Virginia, and there are talks of opening operations in other states soon. You don't have to go to a land-based partner to register – you can do everything online. There is no casino option available, so this platform is a sports betting service only. If you prefer casino games, then check out SI Casino and its no deposit bonus.
Joining SI Sportsbook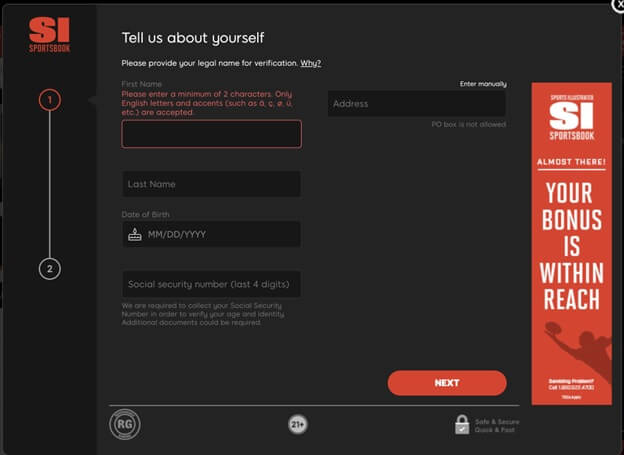 To start betting on SI sportsbook, you must create an account on the platform through its desktop site, mobile site, or mobile apps. Location isn't a restriction when joining SI sportsbook, but you must be in Colorado or Virginia to place bets on the sites.
Start your account registration by visiting www.sisportsbook.com and clicking on the "Join Now" button on the screen. It triggers a pop-up that requires you to pick one of two locations – Virginia or Colorado. You then must provide the following details on the pages that follow:
Name
Last four digits of your social security number (SSN)
Date of birth
Address
Email
Password
Mobile number
Security question and answer
Once you provide the details and click next, you get a summary of your details, and the site will verify your information. If the verification cannot be completed automatically, you must provide your full SSN for manual verification.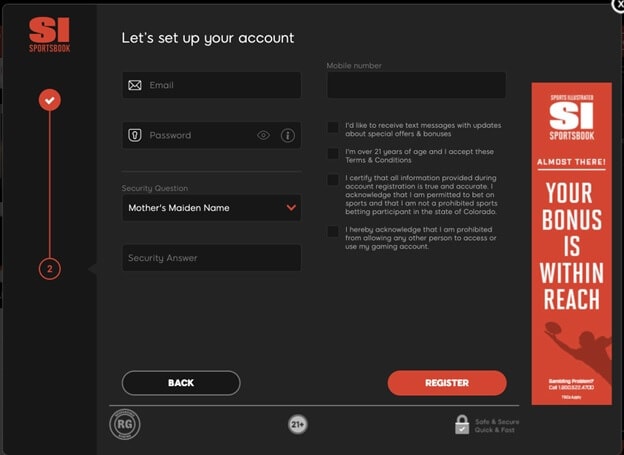 SI Sportsbook Mobile App
Online sports betting apps are the most popular method for US bettors to place a wager so it is important SI has a good mobile site. An Android and iOS sports app is available to bettors who choose to use the SI sportsbook platform. If you don't intend to download the apps or don't have enough space on your device right now, you can still enjoy mobile betting through the SI mobile site.
Downloading the SI Sportsbook Android App
The Android app is available for download on the SI online sports betting website. Visit www.sisportsbook.com, and scroll to the bottom of the page to find the "Get it on Google Play" button which redirects you to the Google Play Store. You should already have an SI sportsbook account, and if you don't, you can hit the "Join Now" button to start your registration process.
Once you download and install the SI Android app, you can log in to your account and start betting on your favorite sport.
Downloading the SI Sportsbook iPhone App
For iPhone users, you can find the "Available on the App Store" button at the bottom of the home screen when you visit https://www.sisportsbook.com/. Clicking on this button redirects you to the download page on the Apple app store, where you can complete the app installation. With the sportsbook account you created, sign in to the app to see the app's welcome offer, features, and betting markets.
To start betting on the app, you need to enable the location services feature on your mobile device. From the "State Selector" menu, you notice SI sportsbook only supports betting from Colorado and Virginia, so you need to be in one of these states to place bets.
Enabling the location feature allows the app to confirm you're in one of these states using the app's geolocation feature. If you decide not to enable this feature, the app won't let you make deposits or place bets.
Remember, if these apps don't appeal to you, you can still visit www.sisportsbook.com via your mobile browser. This gives you access to the mobile-optimized website for a fun betting experience.
You should understand that the mobile betting site doesn't give you some of the app's cool features like the Stay Logged in option. Nonetheless, you have access to several betting markets and sports markets on any platform you choose.
SI Sportsbook Promo Code
SI Sportsbook Promo Codes
📜 Promo Code

GUSA

🎁Welcome bonus
Bet $10 Win $50 Free Bet
🇺🇸 Available states
Colorado (CO), Virginia (WV)
⏱️Last Verified
December 2022
SI Sportsbook Bonus Information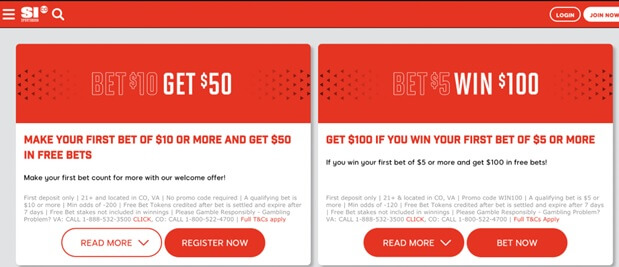 SI sportsbook offers a rich and diverse selection of promotions to new and existing players. One of the online sportsbooks promo is a welcome bonus of $50 in free bets for a $10 first bet. The second welcome bonus has a $5 qualifying bet for a $100 free bet when you use the SI sportsbook bonus code WIN100 on your first deposit.
There are terms and conditions unique to each welcome bonus, but being 21 years or above is typical for all SI Sportsbook bonus offers. It is also worth noting that free bet tokens can be used instead of cash to place a bet, which is common in the online sports betting world.
Other SI sportsbook promotions you can find on the site for existing players include the following:
The Big Fly: This is a bonus offer for baseball bettors. You can earn $10 after your 3rd, 5th, 7th, and 10th baseball bets in a week, summing up to $40 in free bets.
Cashback on Live Bets: There is a 15% cashback on losses you accrue when you place live in-game bets. You can receive up to $50 in cashback if you bet $25 or more on live games.
Perfect 10: This is a free-to-play bonus game that allows you to answer ten questions for a chance to win a part or all of a $10k prize. Getting all ten questions correctly gives you a chance to win the $10k if you're the only winner or get a share if there are multiple winners. You get a $1 free bet for every answer you get if you don't hit the perfect 10.
Three & Win: Bettors who win a parlay bet consisting of three or more legs with a qualifying wager of $25 or more will walk away with a $20 Free bet token.
Postseason Bonuses: These are unique Sports Illustrated bonus offers available during the postseason. You can find offers on the NHL and NBA postseason on the site.
Soccer BetBuilder Offer: Using the BetBuilder tool on SI sportsbook to create a parlay bet will earn you a $5 free bet no deposit on a wager of $25 or more.
There is no SI sportsbook promo code required for any of these offers.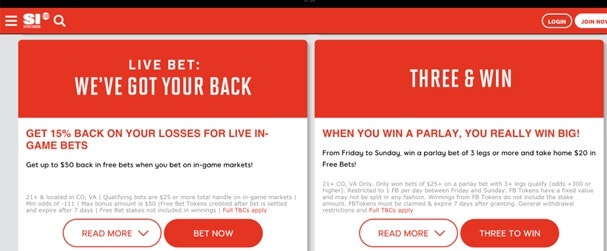 SI Sportsbook Features
Several excellent features make the SI sportsbook a great platform to visit. In this section, we dive into the details of these features so you can get a good understanding of the various things that provide a great SI sportsbook experience.
App Design and Usability
The overall design of the SI sportsbook app is one of the things that stands out to us. The app has a great user interface that offers an excellent user experience with a fluid performance. The mobile apps and desktop website have a similar design, ideal for players who intend to alternate between both channels.
You can find information on ongoing and upcoming matches on the home page with a carousel that showcases the latest bonuses and boosts available from the operator. The app allows you to navigate to other essential areas using a navigation panel with popular sports at the top of the home page, four quick access buttons (Home, Live Now, Betfeed, and Promotions) at the bottom of the mobile app screen, and a side menu bar on the left side of the screen.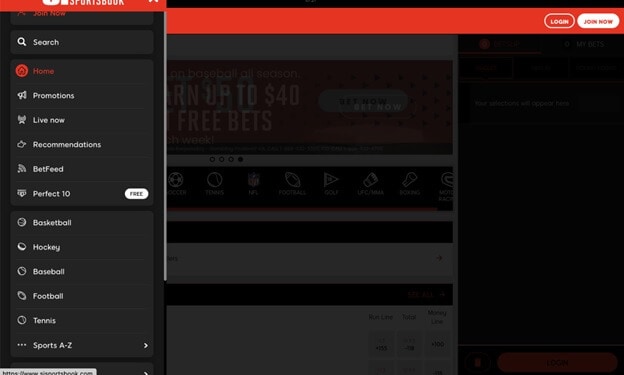 Live In-Play betting and Cash Out
Live betting is a feature on SI sportsbook that lets you bet on ongoing matches. The navigation menu on the SI app homepage has a "Live Now" button that grants quick access to all live games. There is a real-time update of the odds to give you a chance to get in at the right time on live bets.
When using the in-play betting option, you have access to several betting markets such as the prop bets, spreads, Asian handicap, Moneyline, and Total bets. One disappointing design flaw is the lack of stats or play-by-play to give you live updates during the in-play bet.
Despite the lack of a live streaming option on the SI betting platform, you do get a chance to use the cash-out feature. You can take a smaller portion of your potential wins or minimize your loss on a bet through this feature.
Sports Markets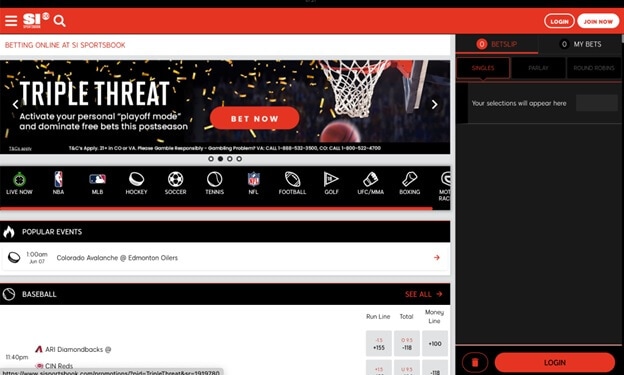 SI sportsbook offers access to major sports betting markets and sports leagues from the NFL and UFC to cricket and darts, including some minor markets that appeal to every sports bettor. You can find a list of these sports markets by clicking on the "Sports A-Z" from the betting menu bar on the desktop site and mobile apps. The markets available include:
Australian Rules
Badminton
Basketball/

NBA

Cricket
Cycling
Darts
GAA Football
GAA Hurling
Handball
Hockey
MMA/

UFC

Motor Racing
Rugby League
Rugby Union
Soccer
Volleyball
Every major betting market you can think of is available at this online sportsbook. If you are interested in a specific sports league such as the NHL or the Premier League, there are a range of SI sportsbook bets waiting for you.
Betting Options
You have no shortage of betting options when wagering via the Sports Illustrated app. The options available include the popular betting options and the unique bets. Here are easy ways to identify the bets you can find on SI sportsbook.
Popular Bets: The popular bets on the SI app are the betting options immediately visible on the home screen. These differ for each sports market, with Football having Spread, Total, and Moneyline betting odds visible, while Hockey has Puck Line, Total, and Money Line bets on display. An "All Markets" button on each event gives you access to additional betting markets.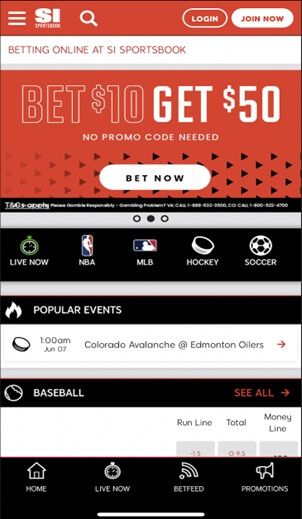 Prop Bets: The proposition bets are abundant on the SI app. You can find these betting markets on sports like Soccer, Basketball, Cricket, and more. You could choose to place a player prop bet on Tom Brady throwing over a certain amount of yards or Stephen Curry scoring a over a certain amount of points.
Live Bets: You can easily find the live betting option on the SI sportsbook. This allows you to place bets on ongoing matches, so you don't have to worry about missing the start of the game.
Additional Bets: There are several other betting options you can find on the Sports Illustrated app. These include the following:
BetFeed
Sports betting has a large community of bettors willing to share their predictions with others. You can find some of these predictions on social sites like Reddit and Twitter. To ease your stress, the SI sportsbook has a BetFeed section where you can find information on the bets placed by other individuals.
On the BetFeed page, you get a chance to customize your view for the best results. You can filter the feed by the bet types and sports that interest you. This is a great way to get insights, compare your predictions, and place the best bets.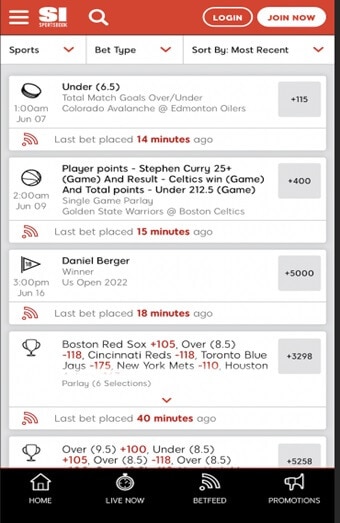 SI Sportsbook Juice/Odds
The odds and vig on the Sports Illustrated app are competitive, but we don't want you to just take our word for it – we'll show you our math. We compared the Moneyline odds from SI, FanDuel, and BetMGM on the Boston Celtics vs. Golden State Warriors NBA match. You can find the details in the table below:
| Platform/Event | Boston Celtics | Golden State Warriors | Total Implied Probability | Juice |
| --- | --- | --- | --- | --- |
| SI Sportsbook | +155 (39.22%) | -188 (65.28%) | 104.5% | 4.5% |
| FanDuel Sportsbook | +150 (40%) | -178 (64.03%) | 104.03% | 4.03% |
| BetMGM sportsbook | +150 (40%) | -185 (64.91%) | 104.91% | 4.91% |
From our calculation, you can see that the juice on the SI sportsbook lies between the juice for the FanDuel sportsbook and BetMGM Sports app. You may sometimes get the best odds on the Sports Illustrated sportsbook compared to other sportsbooks.
SI Sportsboosts
The SI sportsboost is a feature that affects certain events on the SI app. The operator chooses to provide boosted odds on these events, giving you a chance to get improved payouts. Matches with SI sportsboosts adjust the odds to favor you, reducing or eliminating the juice on these events.
What could be improved on the app?
The SI sportsbook app has excellent navigation features that make the menus and various sportsbook sections easy to access. However, we noticed a minor inconvenience: Loading a new page takes a bit of time. The delays can become a significant issue when bettors need to place bets before the start of a match or on a live event quickly.
Speaking of live events, it's disappointing to note that the SI app still has the same problem we face on many other sports betting platforms. There is no live streaming feature to attract bettors to use the live betting option on the app. A simple play-by-play or live stats would also be a huge addition to the SI app at this point.
Support
The backbone of the SI sportsbook is its excellent customer support team. You can connect with this team of professionals via email (support-co@sisportsbook.com), phone (1-833-451-8003), or chat. The chat feature is accessible via the "Help" button in the Cashier section.
Customer service staff are available from 8 am to 11 pm MST, and you can visit the comprehensive FAQ page on the online sportsbook for helpful information outside support hours.
Banking Options
A common assumption in the sports betting industry is that the older platforms have more diverse payment options available to players. However, SI sportsbook has done a great job in debunking this myth. It has many of the best deposits and withdrawals options, and here is a list of all available deposit options:
If you intend to make withdrawals from your account, you have fewer options, such as:
Bank Transfer (ACH)
Visa debit cards
PayPal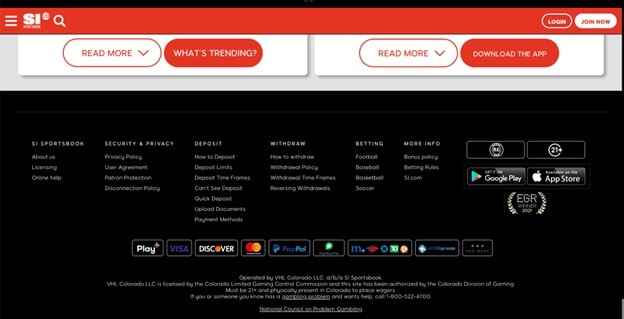 How long does it take for SI Sportsbook to process withdrawals?
One of the most crucial factors to consider when picking a cash out option is the processing time for withdrawals. To give you a chance to pick the best, we bring information on the processing speed of the various SI withdrawal options:
| Withdrawal Options | Sportsbook Processing Time | Time to Receive Funds |
| --- | --- | --- |
| Visa Debit Cards | 1 hour | Three days |
| Bank Transfer (ACH) | 1 hour | Two days |
| PayPal | 1 hour | Three days |
| Play+ | 1 hour | Three days |
SI sportsbook gives you a chance to cancel withdrawals during the online sportsbook processing time, and you get an email notification once your request is processed. The site doesn't charge fees on deposits and withdrawals, so any additional charge will be from the payment service provider.
In which states is SI Sportsbook available in?
The SI sportsbook is currently available in two US states. It first launched in Colorado and has since begun operations in Virginia. The news and discussions regarding the sportsbook expansion indicate that Iowa, New Jersey, and Indiana could be the next states where the platform launches.
SI sportsbook Colorado has the Colorado Grande Casino as its land-based partner to promote its operations and attract more bettors. In contrast, the SI sportsbook Virginia has a partnership with Virtual Entertainment Partners LLC.
Is SI Sportsbook Legal?
SI sportsbook is a legal sportsbook operator in the US, so you can comfortably enjoy betting on the platform without worries. The platform offers mobile betting apps, live betting, and a desktop site in the following states:
SI Sportsbook Colorado: The SI sportsbook has a license from the Colorado Division of Gaming to operate in the Centennial State. Its partnership with Colorado Grande provides an alternative for bettors who want to enjoy a physical betting experience.
SI Sportsbook Virginia: To contribute to the community during its launch in the Old Dominion State, SI sportsbook formed a partnership with Virtual Entertainment Partners LLC. This company is renowned for its 100% ownership by African American females and certification for being a Small, Woman-owned, Minority-owned company. With a license from the Virginia Lottery Board, you're sure of a convenient betting experience if you choose to play in Virginia.
Do you pay taxes on SI Sportsbook winnings?
Yes, you need to pay federal income tax and state tax on winnings from sports betting in the US. The amount you need to pay to the state will usually be lower than what you remit to the federal government. The rates on federal tax start from 10% on winnings up to $9,950 and go up to 37% for winnings over $523,601.
For bettors in Colorado, your state tax is a flat rate of 4.63% on any amount you win. On the other hand, SI Virginia bettors have a more complex tax system, and here is what you should know:
2% tax on earnings of $3,000 or less.
$60 tax on earnings from $3,001 to $5,000 in addition to 3% of winnings above $3,000
5% of winnings more than $5,000 plus $120 if you earn $5,001 to $17,000
75% for winnings over $17,000 plus $720
Our gambling winnings tax calculator can help when researching how much you will need to pay.
Final Words
SI sportsbook is an exciting online sports betting platform from the operators of one of the favorite sports magazines in the country – Sports Illustrated. It has an easy-to-use app with several excellent bonuses for new and veteran bettors. If you live in Colorado or Virginia, this operator is open in your state, and you can check out the app or visit https://www.sisportsbook.com/.
If you are visiting other states where the SI app doesn't work, why not read our Caesars app review or DraftKings sportsbook review? These are two platforms we recommend as alternatives to the Sports Illustrated app.
SI Sportsbook App FAQs
Is there an SI sportsbook mobile app?
Yes, you can download the SI iPhone or SI Android app by visiting https://www.sisportsbook.com/.
What states can I bet on SI sportsbook legally?
You need to be in Colorado or Virginia to bet on the SI sportsbook legally. Also, you need to be 21 years or above to engage in this activity.
Is there an early cash out feature on SI sportsbook?
Yes, you have the option to use an early cash out feature if you feel a bet isn't going your way or need to take early profits on a game.
Does SI sportsbook offer live betting?
Yes, live in-play betting is available on the SI app and website.
What sports can I bet on at SI Sportsbook?
SI Sportsbook features nearly 20 sports, including NBA, NFL, MLB, NHL, tennis, golf, soccer and rugby. It includes inline sports, which is a great plus.
What is the welcome offer at SI Sportsbook?
New SI Sportsbook users in Colorado and Virginia can bet $10 to win $50.

New Player Bet $5 Win $100 Free Bet
Get Bonus
21+. T&C Apply
First deposit only | 21+ & located in CO, MI, VA | Promo code WIN100 | A qualifying bet is $5 or more | Min odds of -120 | Free Bet Tokens credited after bet is settled and expire after 7 days | Free Bet stakes not included in winnings | Please Gamble Responsibly - Gambling Problem? VA: CALL 1-888-532-3500, CO: CALL 1-800-522-4700, MI: CALL 1-800-270-7117 | Full T&C apply