Harrah's sports betting and casino is one of the most popular destinations in PA for gambling fans. 
Sports bettors in Pennsylvania and New Jersey have numerous options when it comes to sports wagering. In Pennsylvania, Just to the south of the Delaware River, not far from Philadelphia, players can discover live sports betting action at the Harrah's sportsbook in Chester, PA.
The Harrahs sportsbook is part of the casino and provides customers with a range of sports betting options. It's very aptly called "The Book". The company is expanding from online casinos to join the sports betting world.
The betting sportsbook at Harrah's Philadelphia allows players in Delaware County to bet on games without having to drive to other sportsbooks further North. This is beneficial as on Sundays in particular, setting off before the gameday crowds gather is a big plus.
Harrah's Sportsbook PA The Book opened in January 2019 and attracts around $3 million in betting handle. It has standard hours of operation, opening at 11 a.m. on weekdays and 10 a.m. on the weekends and closing at midnight through the week. However, if you want to get involved in some sports betting Harrah's action on football weekends, you need to get there early.
The downside. They don't have an online sportsbook, so if you want to wager online or mobile in PA, you will need to do so on one of the several PA sports betting apps that are available.

Harrahs AC Sports Betting
There is also a Harrah's sportsbook in Atlantic City. New Jersey has become a prime location for gambling, with numerous casinos and sportsbooks available. The sports betting Harrah's Atlantic City book has recently had an upgrade, with new TV screens and amenities installed. Players can access Harrah's online casino, but not online sports betting.
Harrah's Online Sports Betting
Online sports gambling has surged in recent years across the US, and there are numerous PA online sportsbooks available for Pennsylvania residents to place a sports bet. Harrah's is yet to launch its own branded online sports betting platform in the Keystone State, but you can use the Caesars Sportsbook. The Caesars online sportsbook is operated by Caesars Entertainment, which also runs retail and online sportsbook platforms in New York, Iowa, Mississippi, Las Vegas, New Jersey, Indiana, and Pennsylvania.
The online sportsbook is part of the Harrahs online casino app, and players can link their Caesars Rewards when playing on the online sportsbook. When players sign up for the Harrah online casino, they can play some table games, build up some reward credits, visit the sportsbook, and bet on their favorite sports. Although it is not a standalone Caesars sportsbook app, you can still earn tier credits and total rewards from the Caesars rewards program.
Mobile betting has also grown massively across the United States, as players can gamble on the go. There are several PA sportsbook apps available, such as DraftKings Sportsbook, Unibet Sportsbook, and FanDuel.
It is not certain when Harrah's will launch their own branded online sportsbook, for now, they will just continue to operate under the Caesars Casino brand.
Sports Available at Harrah's The Book
All of the major US sports are available to bet on at Harrah's sportsbook, including:
Baseball
Basketball
Combat sports (Boxing and MMA)
Football
Golf
Hockey
Motorsports
Tennis
Horse Racing
This list could grow as Harrahs sports betting expands. The above includes college football. There are more options when you play online, as you can place in-game wagers. This means you can bet during games, with the odds continuously changing to reflect what is happening in real-time. Sports fans love in-play betting as it adds another element of excitement to the online wagering experience.
How to Bet at Harrah's Sportsbook
Betting at the Harrah s sportsbook is straightforward, with bettors paying with cash at the window. You need to pick the game, what type of bet you want to place, and the amount. The book has prices and odds on digital boards, which are clearly visible. The paper lines can sometimes be a little out of date; however, the sheets have the bet numbers on them, which is handy when you go to the window.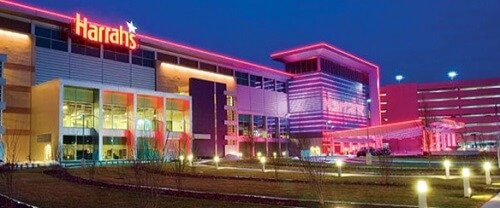 Overall, visiting the Harrah s sportsbook is a pleasant experience, similar to ones you would have at a retail book in Atlantic City. All of the betting options are clearly signposted, and there are options to watch the action as well.
Types of Bets
It is no surprise to discover that the Harrah's Book offers similar betting options to most other retail locations. Players have the choice to place single bets, teasers, and parlays. You can place bets on significant events like the World Series or the NBA playoffs. Additionally, there are numerous futures options for a wide range of sports. For example, players can bet on the Super Bowl winner before the regular season even begins. Bear in mind that not all bets are available for all sports, and there are no kiosks open on the floor.
If you wish to bet online through the Harrahs casino sports betting platform, there is a wide range of different types of bets available, such as point spreads, live betting, and moneyline wagers. Moreover, players can use any points gained through the Caesars Casino rewards program when wagering on sports.
Caesars Entertainment Opens More Books
Caesars Entertainment has expanded its sports betting retail locations. The company has a book at Bally's Wild Wild West on the Atlantic City Boardwalk. This will provide competition for rival brands such as William Hill, who have books at Tropicana and Ocean Casino, and DraftKings at Resorts.
Pennsylvania has targeted physical sportsbooks at locations such as Harrah's in efforts to boost the horse racing industry. Even though online sports wagering has launched to great fanfare, traditional casino locations are vital in building customer loyalty and keeping them engaged. Many customers enjoy playing on the casino floor and the interactivity that brings. The Harrah's Philadelphia sportsbook is also branded as Caesars at the casino and racetrack.
There is also a Caesars Sportsbook inside Harrah's New Orleans where you could use your Caesars reward points to claim some exclusive prizes. Caesars has a big presence, with the company the major sponsors of the home of the New Orleans Saints, the Caesars Superdome.
FAQs
Does Harrahs have an online sportsbook?
Harrah's doesn't have its own standalone online or mobile sportsbook, yet. The current set up is that it is incorporated into the Caesars Casino online & mobile PA platform. On the Caesars sports site in NJ, players can place wagers on all the significant sports leagues, with several betting options available.
Where is Harrah's sportsbook?
Harrahs has retail sportsbooks located in Las Vegas, Pennsylvania, and New Jersey. Bettors can visit the property in each location to bet on their favorite sports.
When will Harrahs AC have sports betting?
William Hill has opened a sportsbook at the Harrah property in Atlantic City. There is a comprehensive list of sports wagering options available, including futures, parlays, point spreads, and totals. While visiting the resort, you could also check out the casino floor and play some classic casino games.
Does Harrahs casino in Iowa have sports betting?
The Harrah's property in Iowa is a new William Hill location. Additionally, there are now mobile sports betting options open to bettors through the William Hill sportsbook app. Players who visit Harrah's in Iowa can sign up for the app and bet from anywhere in Iowa.