PointsBet is one of the fastest-growing legal US online sportsbooks you may not have heard much about.
Available in ten states, PointsBet sportsbook is partnered with NBC Sports, has Allen Iverson and Drew Brees as a pitchman, and deals with multiple professional sports teams.
The online sportsbook features 18 sports betting markets, including all the major professional sports leagues (MLB, NBA, NFL, NHL, and UFC) and the occasional entertainment/novelty bet.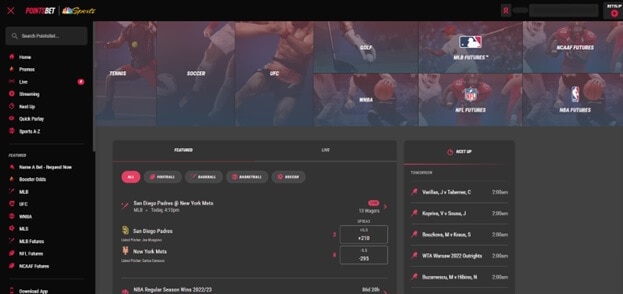 Along with a sleek design and complete list of online sports betting features, PointsBet sportsbook offers competitive odds, daily profit boost tokens, and a generous welcome bonus worth up to $2,000 in risk-free bets.
For residents, 21 years of age in Colorado, Illinois, Indiana, Iowa, Michigan, New Jersey, New York, Pennsylvania, Virginia, and West Virginia, placing your first wager with PointsBet is just a few clicks away.
Below we'll walk you through the registration process step-by-step and explain what makes PointsBet sportsbook a contender in the sports betting industry.
10 x $100 Second Chance Bets
21+. T&C Apply
21+. T&C Apply
Awesome live betting
Multiple bet types
Huge range of sports & markets
Know Your Customer Checklist
Full name
Date of birth
Address
Phone number
Email address
Last four digits of your SSN
Promo code
Steps to Sign Up at PointsBet
Getting signed up with PointsBet sportsbook is a straightforward process that takes just a few minutes to complete. Users must meet all age and location requirements.
Prospective bettors can visit the online sportsbook at nj.pointsbet.com or download the PointsBet mobile app for Android and iOS devices by visiting their respective app stores. The online sports betting app has a rating of 4.6/5 stars or better for both versions.
PointsBet Sportsbook App Download – Apple Store
PointsBet Sportsbook App Download – Google Play
How to Get Started:
To get started, follow the PointsBet sportsbook app installation instructions or pull up the PointsBet sportsbook website. PointsBet uses encrypted technology to protect private information during the registration process.
Step 1: Select Sign Up
For both the browser and on mobile, new bettors can either select sign-up using the red button in the type right corner or by clicking through the welcome bonus.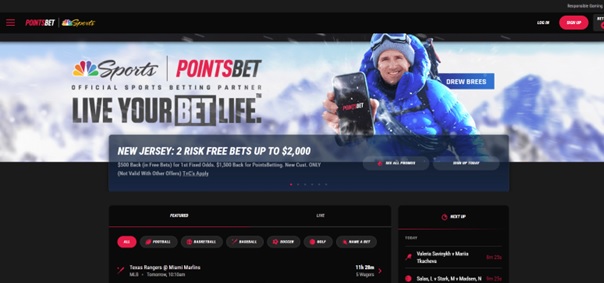 Step 2: Create an Account
Along with selecting the state you live in from the drop-down menu and entering PointsBet promo code GUSA, this is where you'll enter your personal information, including your name, date of birth, address, phone number, email, and last four of your social security number. Confirm the welcome bonus is being shown with a green check mark to ensure you get two risk-free bets worth up to $2,000.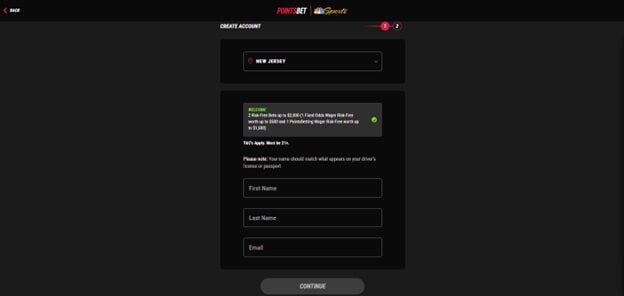 Step 3: Verify Your Information
To make sure you are who you say you are, PointsBet needs to verify the information you've entered. All info should match what appears on your driver's license or passport.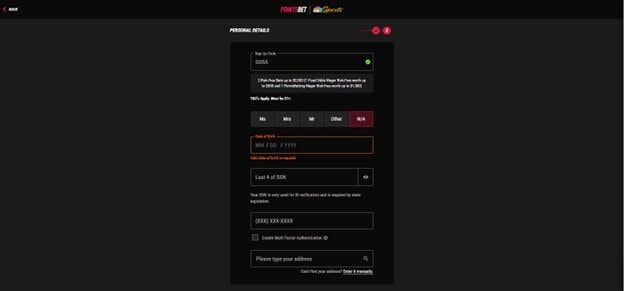 Step 4: Make your First Deposit
PointsBet sportsbook has multiple banking methods for fast and reliable transfers, including instant transfer options like online bank transfers, debit cards, PointsBet Mastercard, and PayPal. Checks and PayNearMe are also available. Make sure the PointsBet promo code GUSA is showing at the bottom of the Welcome to PointsBet box, and enter it again on the next screen below the deposit section to be safe.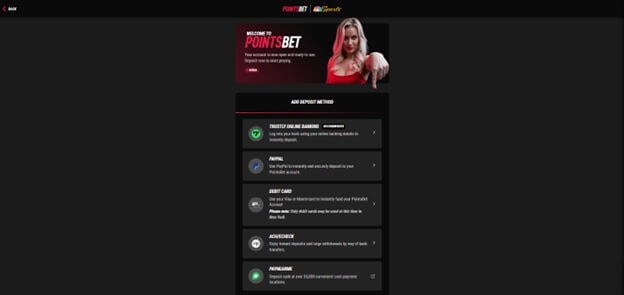 Step 5: Place Your First Bet
If an event is popular, happening soon, or currently underway, you'll find a shortcut on the homepage. For all other sports betting options, bettors need to click the three red lines in the top left corner and scroll down to the sports listing. Mobile bettors can choose the Sports tab on the bottom of the screen.
For bets beyond the basics, bettors must select the wagers link in the top right corner of the bet box. After choosing a line, the bet slip will appear to the right. If bets can be combined, the parlay box will pop up above any individual picks. Enter the amount you wish to wager and click the big red button at the bottom of the bet slip to place.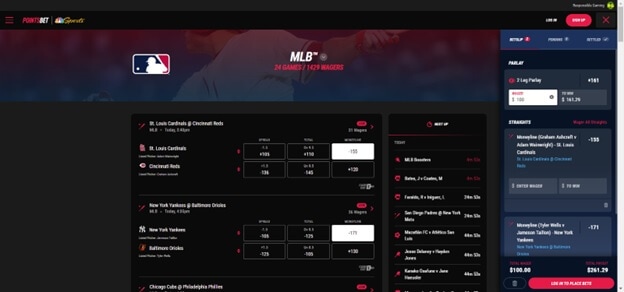 Why Am I Being Asked to Verify My Identity?
State laws require all online sportsbooks to verify the identity of their customers and are subject to fines if not. This step is done by a third party to help curb identity theft, money laundering, or other questionable activity.
Any time large sums of money change hands, the government will want to know about it. Gambling tax reporting is also a must for both online sportsbooks and bettors. It's required by law that sportsbooks take out taxes on profits over $600. Bettors must report all other winnings themselves at the end of the year.
Banking Methods
The PointsBet sportsbook instant deposit methods include bank transfers, credit/debit cards, PayNearMe, and PayPal. Bettors can also send checks or deposit cash in person at PointsBet retail sportsbook locations in Illinois, Iowa, or New Jersey.
Withdrawal options will be fewer but still multiple ways to get your money, including checks, bank transfers, PayPal, or by visiting partnering sportsbooks in the states mentioned above.
Benefits of Signing Up With PointsBet
All the bells and whistles offered by top online sportsbooks like DraftKings and FanDuel are also available on PointsBet. Along with an extensive list of sports betting options and futures, PointsBet sports features competitive odds, a prominently displayed up-next section, PointsBet same game parlays, wagering weight with a game preview, cash-out early option, live betting, and live streaming of select events.
Bets include more traditional bet types like the moneyline, point spreads, or total points to more exotic prop bets, including will a player hit a home run, score a certain amount of points, or find the endzone. Whether it's spread betting, a quick parlay, or a futures bet, PointsBet betting markets are well stuffed with better odds on most games compared to its competitors. That's also thanks to its trademarked points betting feature!
Complete List of Sports Offered:
Aussie Rules
Baseball
Basketball
Cricket
Cycling
Darts
Entertainment
Football
Hockey
MMA
Motorsports
Rugby League
Rugby Union
Soccer
Along with a pregame write-up, the stats section shows the percentage of public money on each side and what side the money is on. More often than not, you're going to want to fade the public and go with the sharps and where they place their money.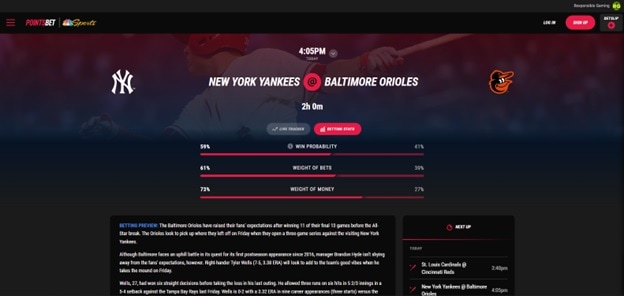 The PointsBet sportsbook knows the pain of a bad bet. To ease bettor's suffering, the Karma Kommittee meets every day at 7 a.m. to review submissions. Bettors can submit a request to have money returned on an L taken due to a significant injury or a bad call by tweeting the Kommittee using #KarmaKommittee.
Reward points redeemable for free bets are another way the online sportsbook looks out for new and existing customers. Fixed odds bets earn one point for every $5 wagered, while parlays pull in one point for every $1 bet. Every 250 points are worth $2.50 in free bet credits.
Does PointsBet Have a Welcome Bonus?
PointsBet sportsbook has possibly the most lavish welcome bonus going with a pair of risk-free bets totaling up to $2,000 refunded in free bet credits if the wagers fall flat. Be sure to use PointsBet promo code GUSA when getting started.
The first is a pointsbetting wager worth up to $1,500 in free bets returned. The other is on your first fixed odds bet up to $500 back in free bets for a bad bet. Live betting is eligible.
New customers have 14 days to use any free bets. Stakes using free bets are not included in any winning payouts. PointsBet sportsbook has zero rollover requirements on free bet winnings. Meaning free bet credits don't have to be played a number of times before being able to be withdrawn as cash. Only one welcome bonus can be redeemed per residence. Credit cards can't be linked to multiple accounts.
The online sportsbook also provides a pair of daily tokens for customizable parlay profit boosts. The bonus bets are split between a regular 3-leg parlay and one of the same-game variety. The parlay boosters can be activated directly from the bet slip every 24 hours. Other odds boosts are offered on a handful of wagers each day with a bump of +20-50.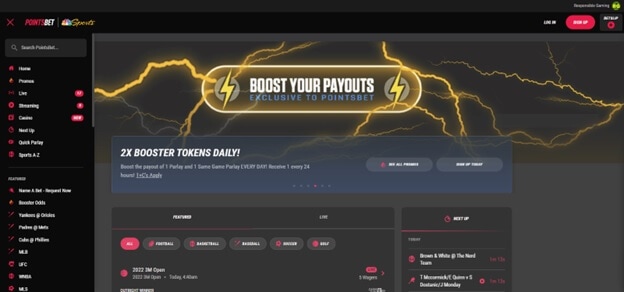 Problems Signing Up at PointsBet
The PointsBet sportsbook app releases updates almost monthly, which makes most of the problems signing up of the user-error variety. More often than not, bettors already either have an account or entered incorrect info.
Occasionally the geolocation may glitch, forcing users to restart the app. If sports betting on mobile, be sure to approve access to your location when opening PointsBet.
For problems beyond creating an account, users can get help by visiting the valuable FAQ section or via live chat for minor issues. Email contact info is available for more complicated matters. All three options can be found at the bottom of the page. Mobile app users can find them through the menu tab at the bottom of the screen.
PointsBet support understands responsible gaming is of the utmost importance. Resources are available for those that feel they might have a gambling problem, including the ability to limit the amount spent or time active.
10 x $100 Second Chance Bets
21+. T&C Apply
21+. T&C Apply
Awesome live betting
Multiple bet types
Huge range of sports & markets
PointsBet Registration FAQ
Can You Use PointsBet Out of State?
PointsBet users must be physically located in a state that allows online sports betting. A geolocation verification will be performed each time you sign in.
Can You Make Multiple PointsBet Sportsbook Accounts?
The KYC verification keeps users from creating multiple PointsBet accounts to claim multiple referral services or welcome bonuses.
What Information Do You Need To Sign Up At PointsBet Sportsbook?
The information you need to sign up at PointsBet is your name, date of birth, address, phone number, email, and last four of your SSN.
Why Does PointsBet Sportsbook Need My SSN?
Along with verifying your identity, state law requires sportsbooks to report winnings of more than $600. Bettors will need to file their taxes at the end of the year on the rest.
Where Is PointsBet Sportsbook Legal?
PointsBet is legal for bettors in Colorado, Illinois, Indiana, Iowa, Michigan, New Jersey, New York, Pennsylvania, Virginia, and West Virginia.
Does PointsBet Sportsbook Have A Welcome Bonus?
To welcome new users, PointsBet offers two risk-free bets totaling $2,000 in free bet credits on the initial deposit. The first is a fixed odds bet up to $500, the other a pointsbetting bet worth up to $1,500. Be sure to use PointsBet promo code GUSA to claim your free bets.